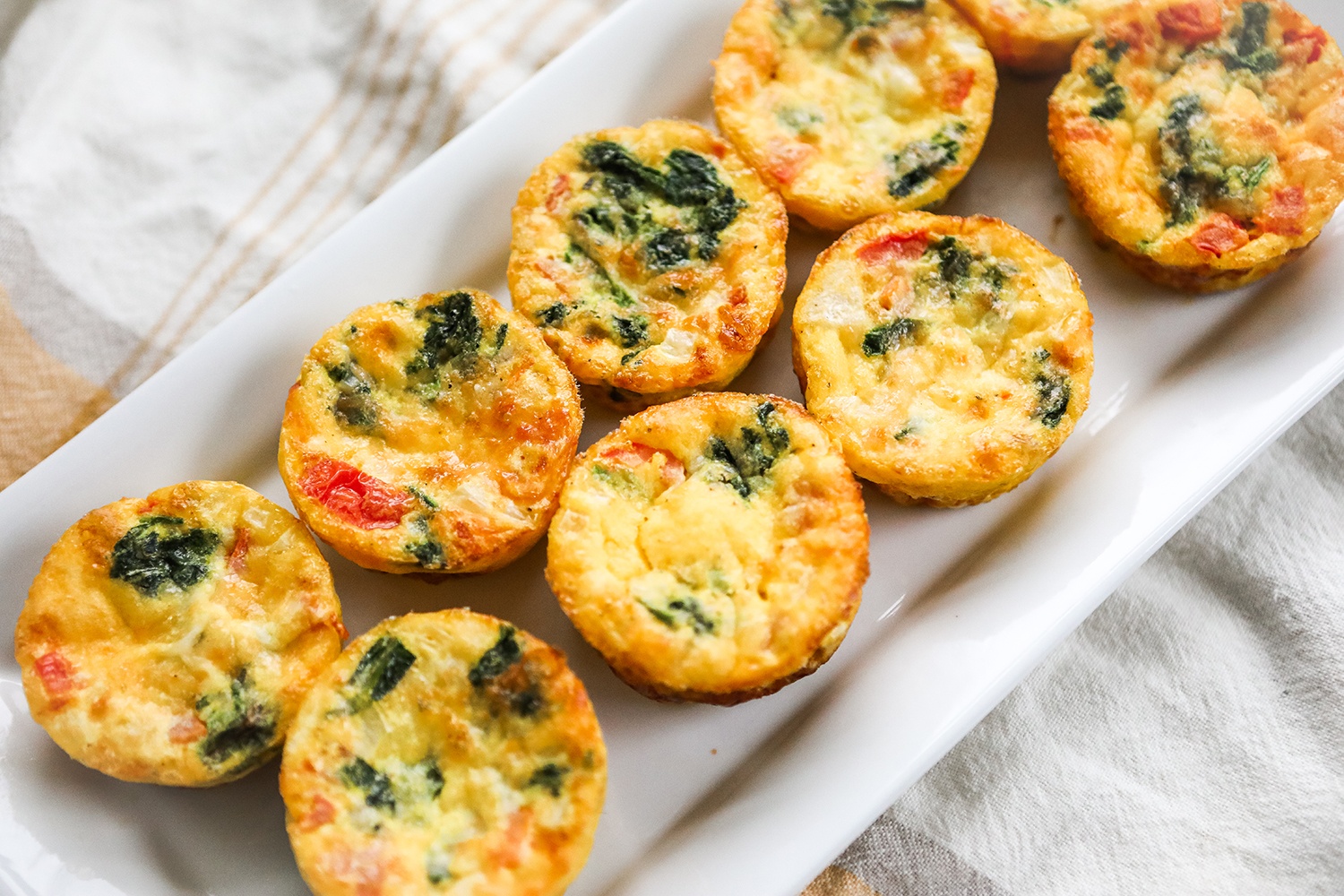 This week getting back to school has been hard! January always feels more difficult to me to get up and get going because:
1. It's still dark out here in west Michigan when we need to leave for school
2. It's very cold
Based on 1 and 2, I'm much more tired than I am in August when back-to-school is fun and more like an event. Now even the dog doesn't want to wake up.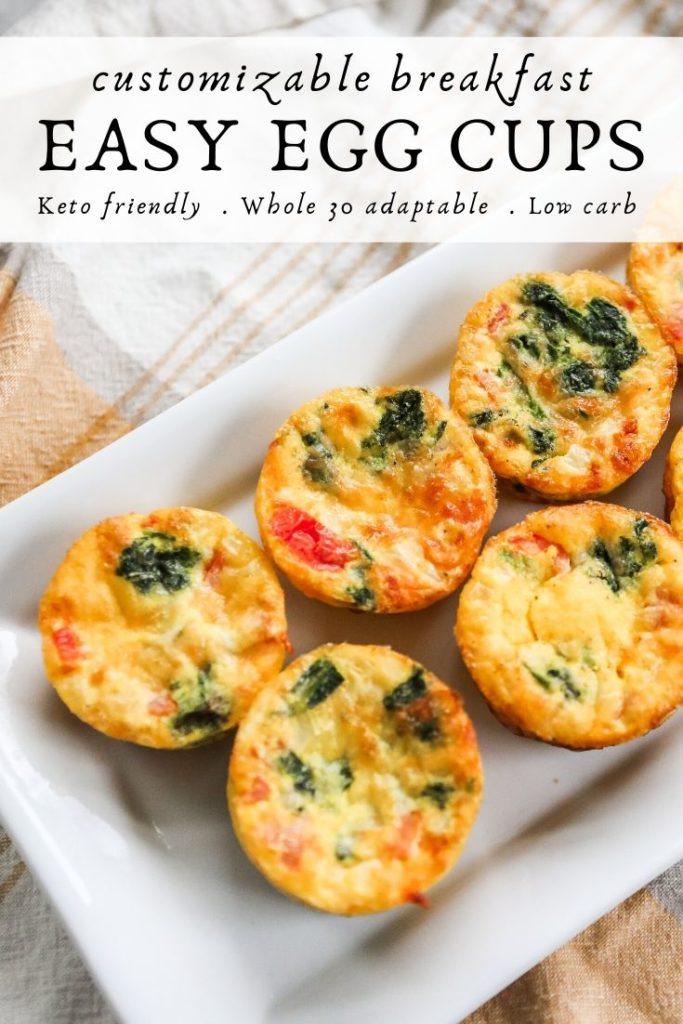 I'm always looking for shortcuts this time of the year. I need some ways to make my life easier in the morning with the kids, and for myself.
Breakfast is one of those things that's hard for me to get motivated to make. I'm not really a breakfast person to start with unless it's a giant up of coffee. Clearly, my kids need other sustenance.
Egg cups have become my go-to short cut for the week day breakfasts. They're easy to make ahead of time and then you can pop them in the microwave each morning.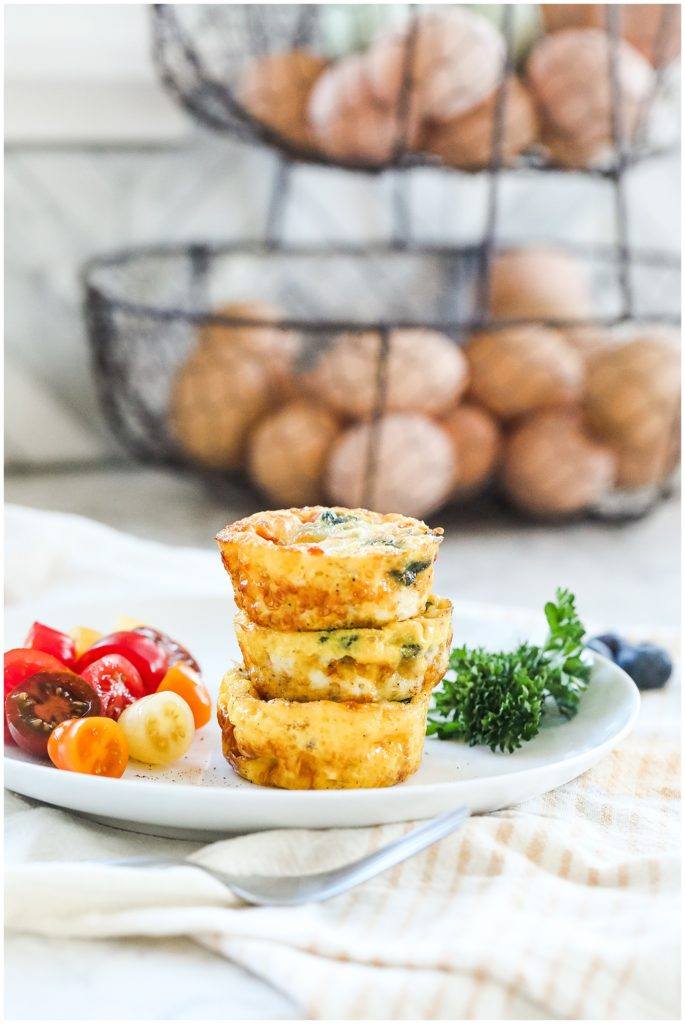 Egg Cups, a customizable breakfast
Egg cups are a great way to make sure everyone gets some protein in the morning to keep them full and get them going. AND you can make them any way you want them, which is a fantastic bonus!
This is a huge thing because with one batch, I can make some for me, some for my husband and some for my kids. If I make two pans, I have enough for everyone for the week.
I added spinach, tomatoes, onions, ham and mozzarella cheese to mine so I could get the protein but also some delicious veggies too.
For my kids, I have to do something more simple. It just might be an egg and cheese mixture. They won't eat a lot of the vegetables that work well in these. However, they're all about the egg and cheese egg cups.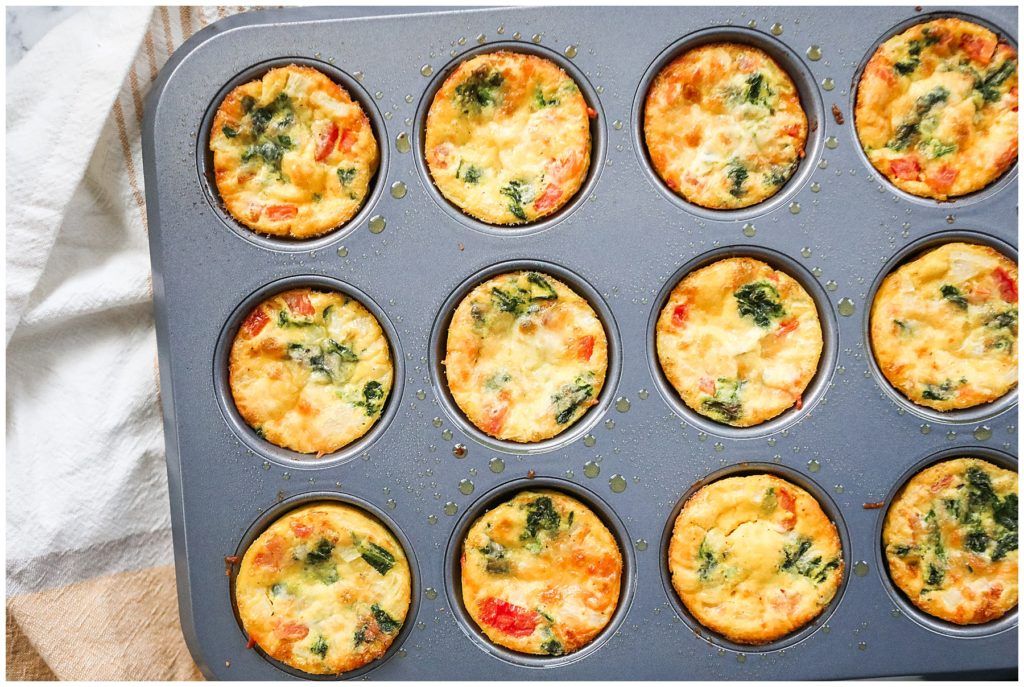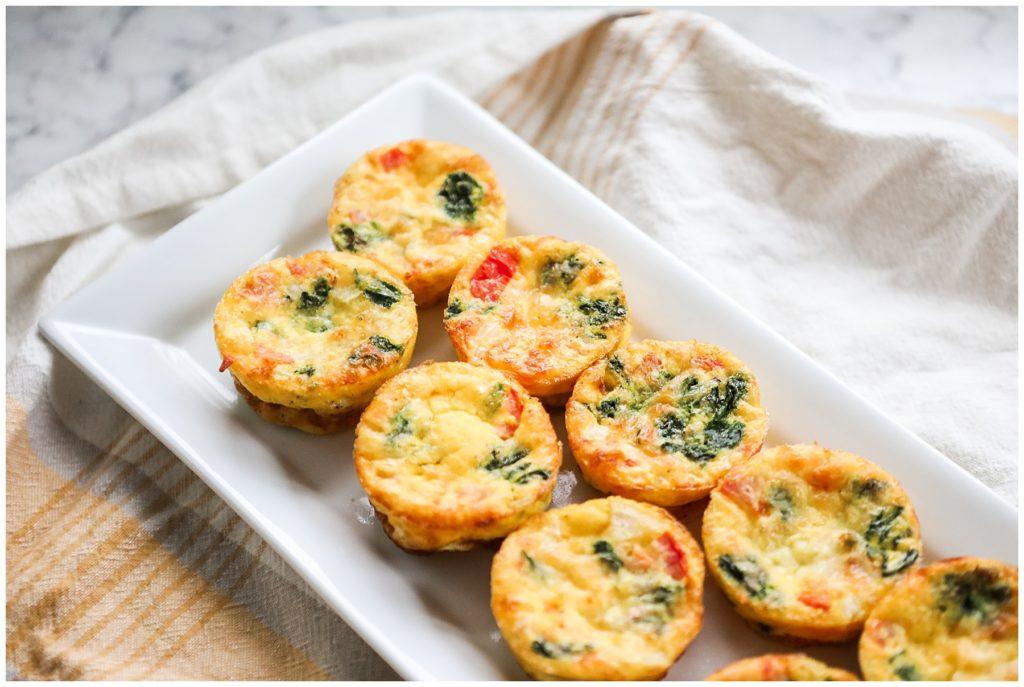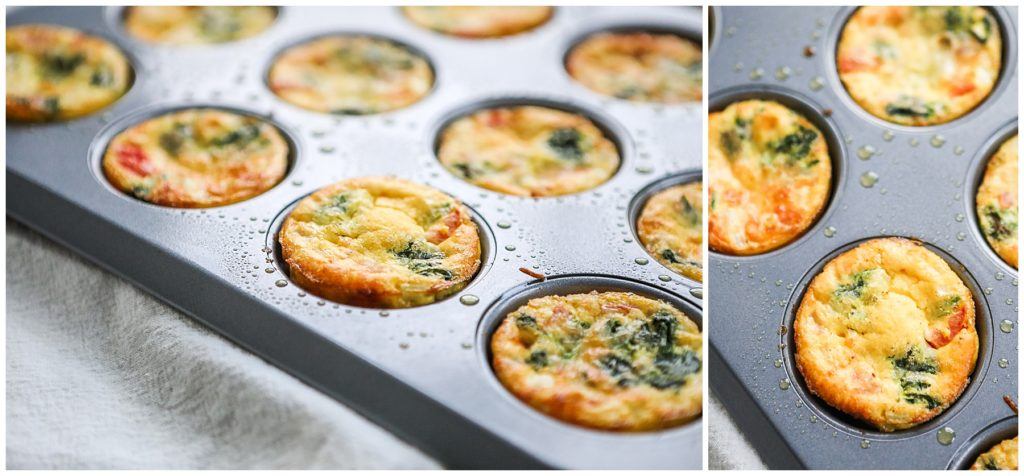 Make once, eat all week
If you've never made egg cups before then you should know you make them in a
cupcake tin
. You make 12 at a time and they're basically mini quiches.
Once you pour in an egg mixture, you can add in anything you want to your egg cups. I made these this weekend, and I have been enjoying them all week.
Once made, you can start eating them right away. But one of the major benefits to these is that you can put them in the refrigerator and heat them up throughout the week. I store them in tupperware and then heat them up for one minute in the microwave each morning. It's so easy!
Customizable for different diets
Another thing I love about egg cups is that they can be customized to your diet. Doing Whole 30? Great! Leave the cheese out and use unsweetened, unflavored almond milk. Keto? No problem! Keep the almond milk but add back the cheese. Cutting out night shades? Leave the tomatoes out and add in more leafy greens.
Basically, these are customizable in every way, unless you're vegan.

Farm fresh eggs
Lastly, my eggs probably seem pretty yellow, right? It's because I have chickens so we have our own organic eggs. Our chickens are somewhat free-range. They have a large, fenced in piece of our seven acres to themselves to eat as they please. However, after a fox attack last summer, we can't totally free-range, unfortunately. It's just not safe for them.
Get the full recipe below and tell me, what would you put in your egg cups?
For more breakfast recipes,
click here
.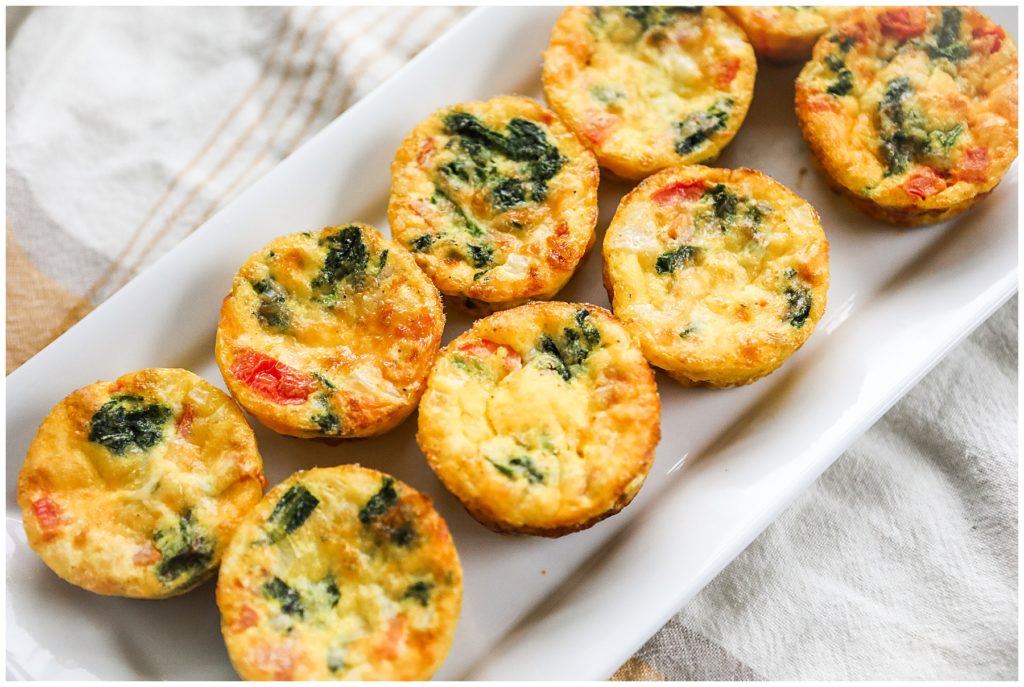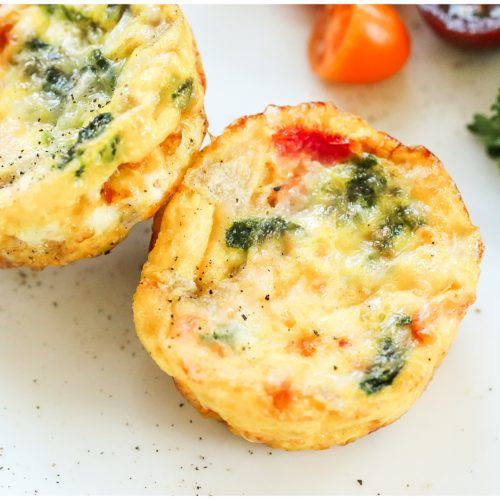 Easy Egg Cups
These egg cups are delicious and will give you a fast breakfast that you ca save for the whole week!
Print
Pin
Rate
Ingredients
10-12

eggs

3/4

cup

shredded cheese. I used mozzarella but you ca use whatever you want.

3/4

cup

ham. This can be deli ham or can be leftovers from a bone-in ham.

1/2

onion, diced

2

roma tomatoes, diced

1

cup

spinach

1/2

cup

milk. You can also use unsweetened, unflavored almond milk.

1-2

tsp.

black pepper

1.5

tsp.

salt

Olive oil or olive oil spray
Instructions
Preheat your oven to 350 degrees.

Add eggs to a large bowl and mix with milk.

Coat your muffin tin with olive oil or olive oil spray. I use the spray to get an even application.

Add your eggs to an easy to pour measuring cup and fill each cup hole to about 3/4 of the way full. If you're only adding cheese then fill a bit higher. Once in the oven your egg cups may start to rise a bit. They will fall once you remove them from the oven. So in order to have a full-sized egg cup you want to make sure the egg mix goes all the way to the top of the muffin tin holes once your toppings are in.

Add your other ingredients as you like. I added onion, ham, tomatoes and spinach, cheese and salt and pepper.

Add your muffin tin to the oven for about 20 minutes.

Once done, remove the muffin tin and pop your egg cups out. Let them cool for a few minutes and then enjoy!