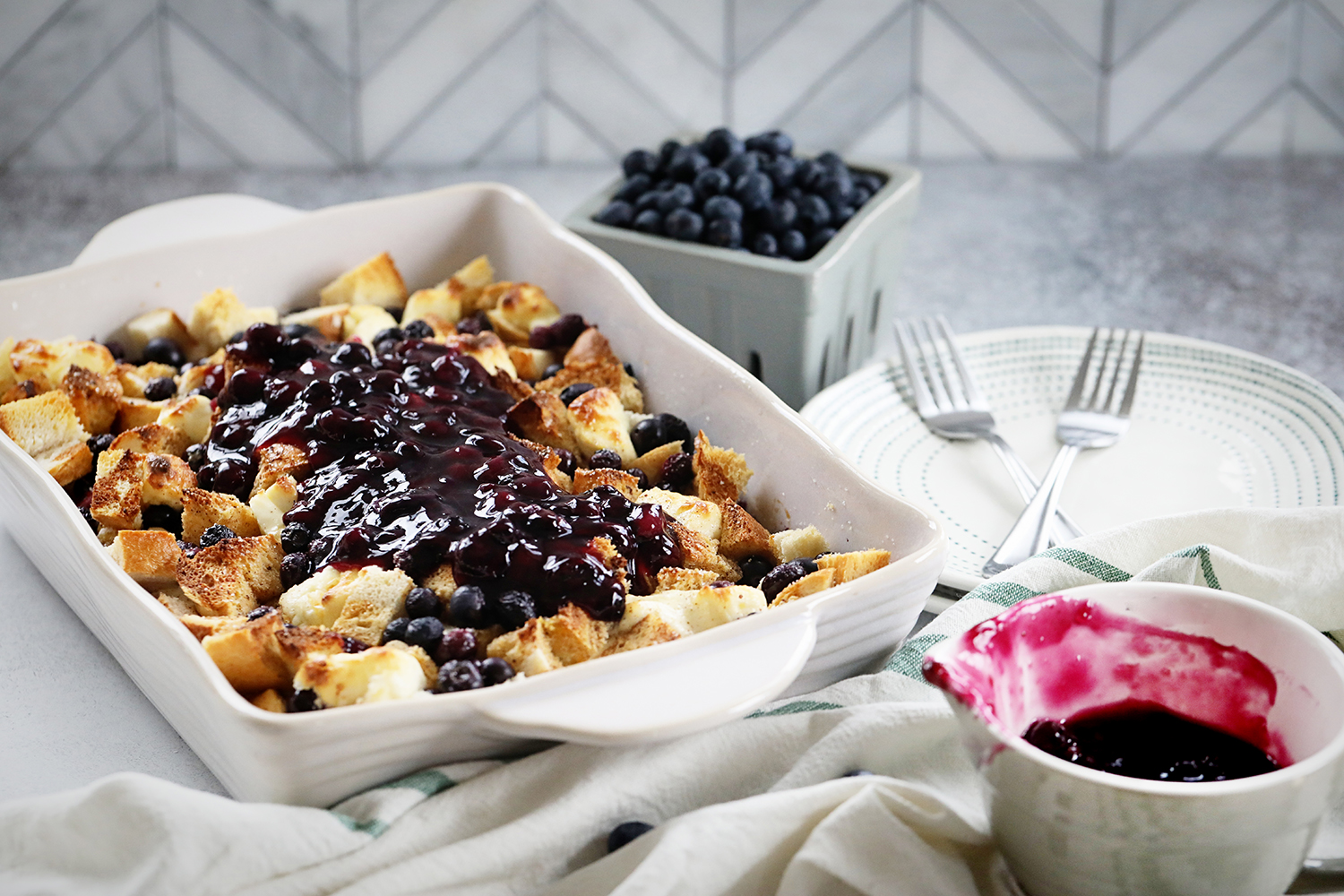 Spring is in the air and that means that people are coming out of hibernation and spring holidays are about to begin. With Easter, Mother's Day and sunny weekend days ahead, I thought you might need a few breakfast casseroles for these holidays and Sunday mornings that tend to inspire brunch and breakfast celebrations.
I've created these four strata casseroles to help you through this busy season in case you're feeding a crowd, a small gathering of close friends or just want to make something special for your immediate family on a beautiful weekend.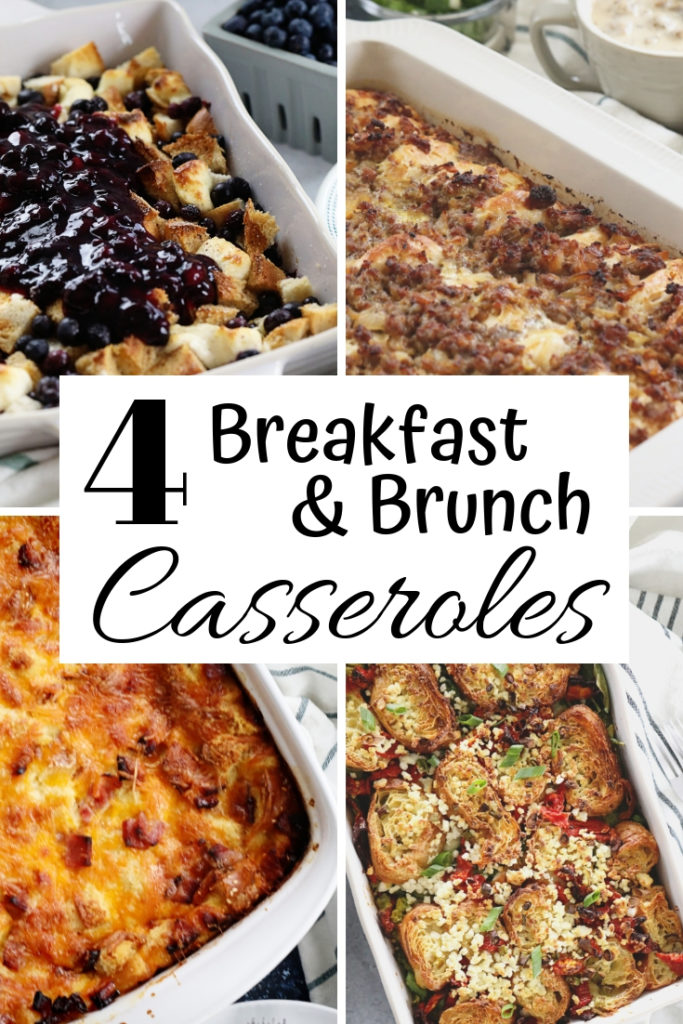 These breakfast casseroles are not only each delicious and drool worthy in their own right, but they also really provide you with a great meal full of protein, fiber, carbohydrates and more to fuel your day, your body and brain. Even though one of them is more like dessert, there's still plenty of nutrients to be found.
I know that everyone has different lifestyles and a lot of times there are ingredients that people try to avoid just because they think they're bad for you. That said, all of these include bread: Which  has many positive traits many tend to forget, or not even know about.
So, why bread?
Because everything in moderation friends – including bread. AND when you include it in a dish like a casserole, you're likely to eat smaller portions of it, while also gaining important nutrients and minerals that help fuel an active lifestyle.
Plus, having bread to start the day is a great way to kick-start your energy and keep you full. With only 80 calories per slice you're getting the same amount of calories as you are with an egg, string cheese or eight baby carrots.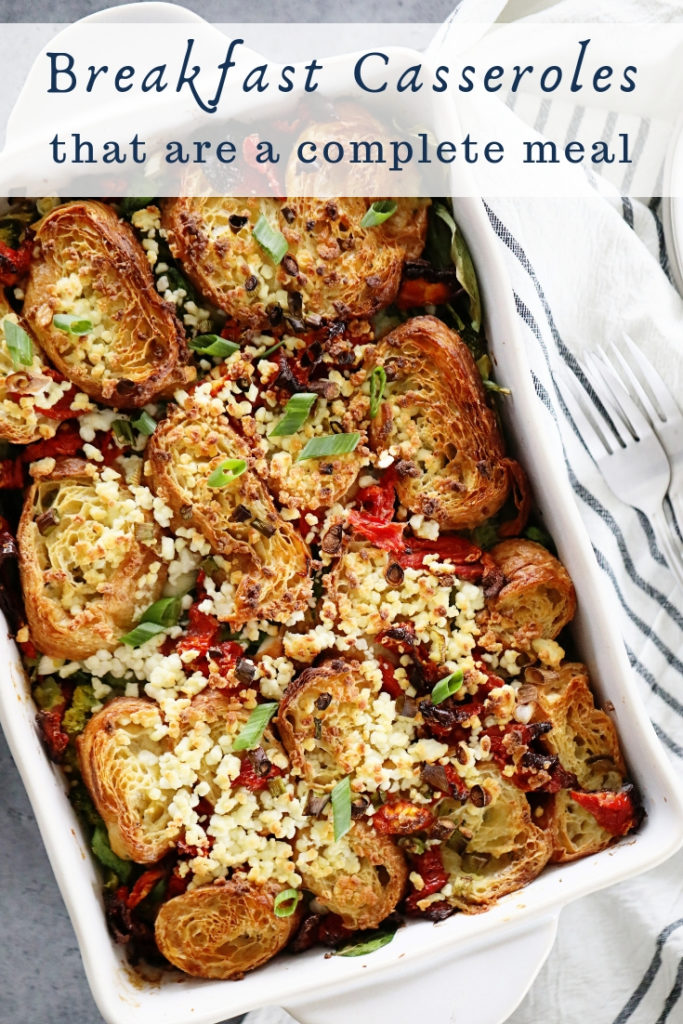 Four delicious Breakfast Casseroles
On that note, you also won't want to miss these dishes. They are all easy to make and most of them you can even prep the night before if you are hosting in the morning. That will put you ahead of the game if you're planning to serve a group for breakfast, lunch or even an early afternoon lunch.
Check out all the recipes below and tell me which one is your favorite!
Veggie, Egg and Cheese Croissant Strata
This one includes all the ingredients I dream of. Delicious croissant bread, fresh spinach and broccoli, sun dried tomatoes, eggs and goat cheese. I could seriously eat this one every day for multiple meals because with the bread, the vegetables, the eggs and cheese you really have a full, well-rounded meal with almost all the food groups.
You can find the full recipe here.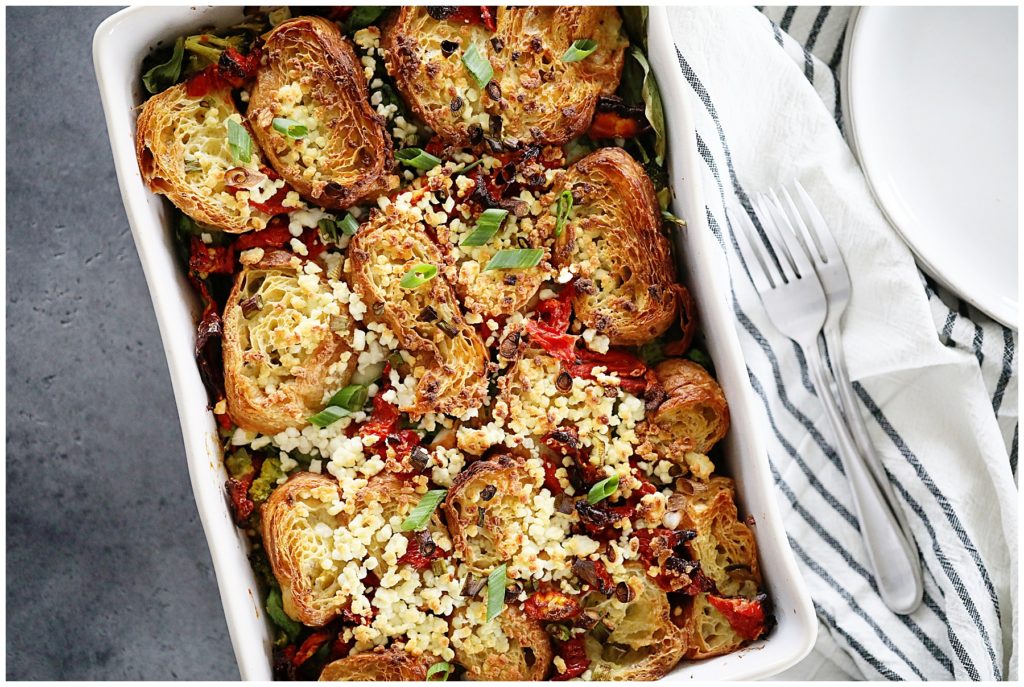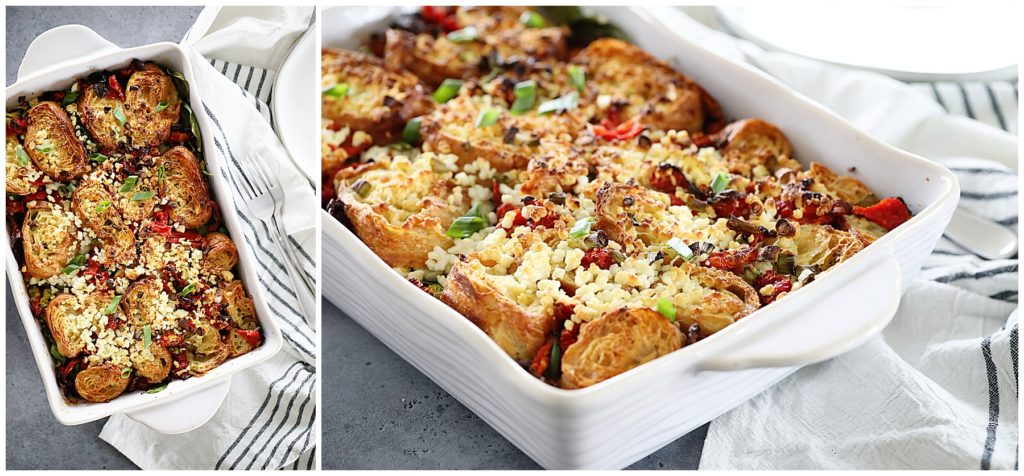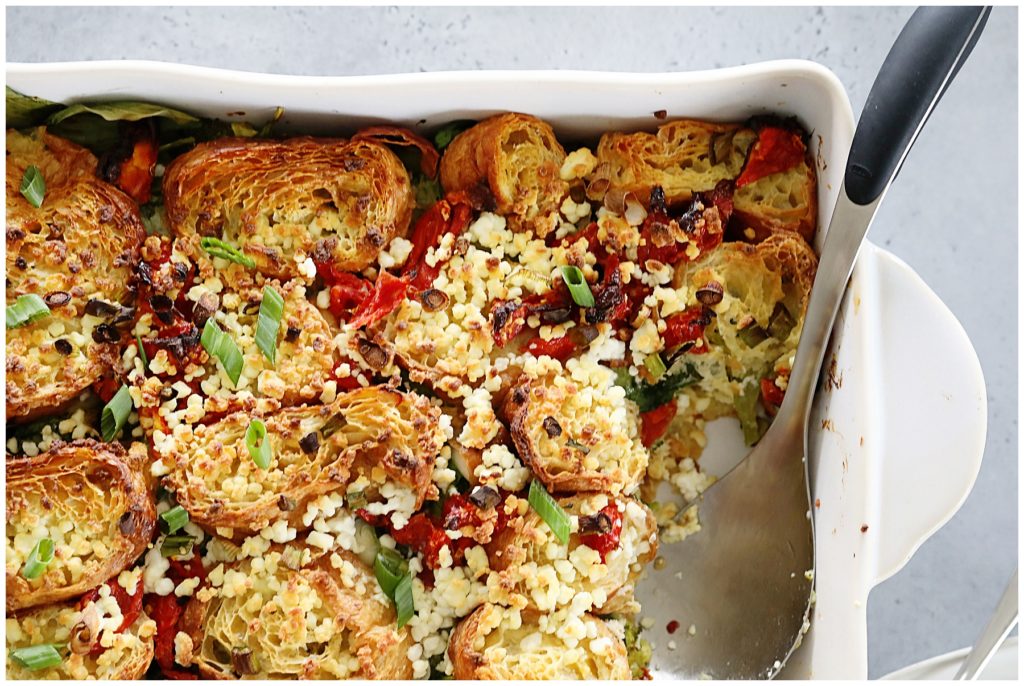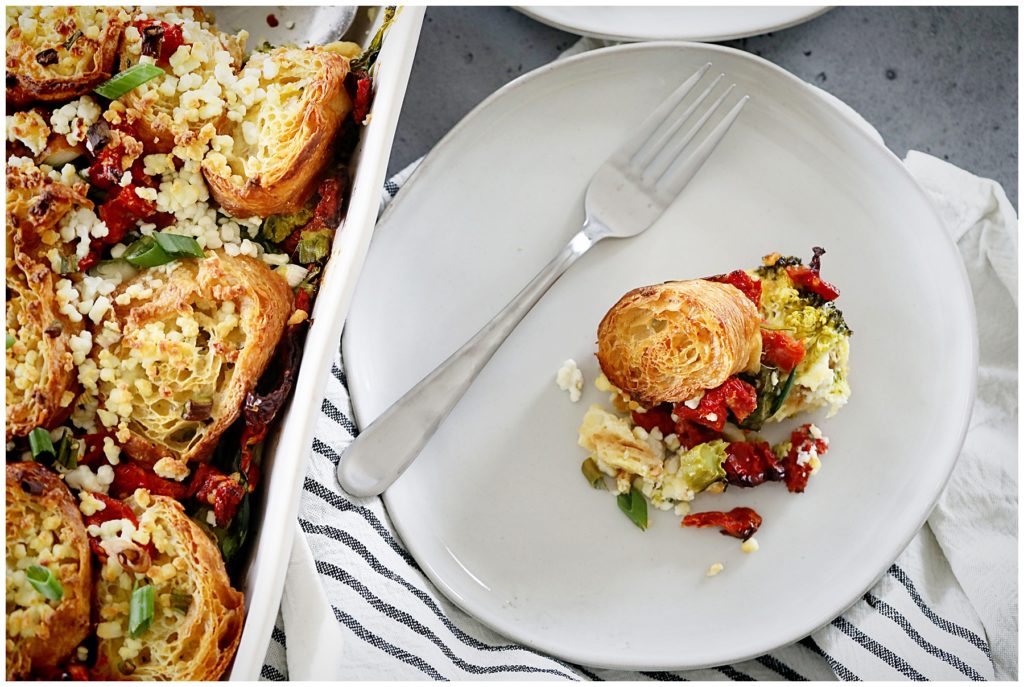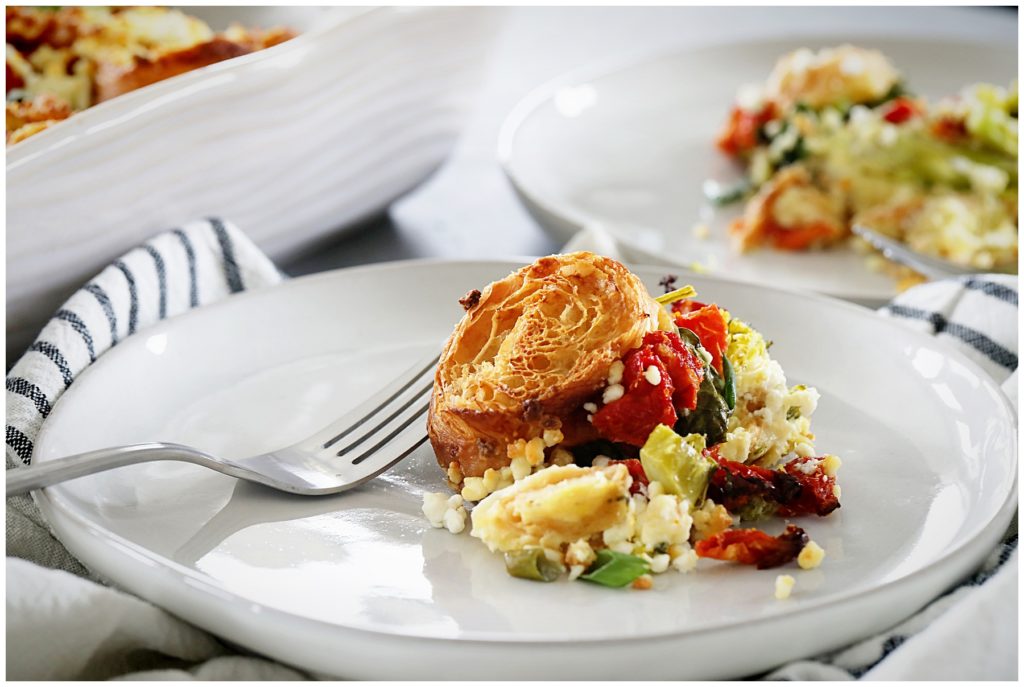 Ham & Cheese Strata
This dish is such an easy way to feed and please a crowd! It combines bread, eggs, ham and cheese and is a delicious breakfast or lunch. The bread soaks up all of the egg in a way that creates a fluffy, spongey dish that is full of flavor with a touch of sweetness from the ham.
You can also add to this recipe to make it exactly the way you love it. Try it with chopped green peppers, spinach and broccoli. Or add onions, cheese on top and add a little Sriracha to the side!
Also, I love that you make this recipe the night before you intend to serve it and keep it in the refrigerator. Pop it in the oven the next morning and you'll have a fantastic breakfast that can feed a group of hungry family and friends.
You can find the full recipe here.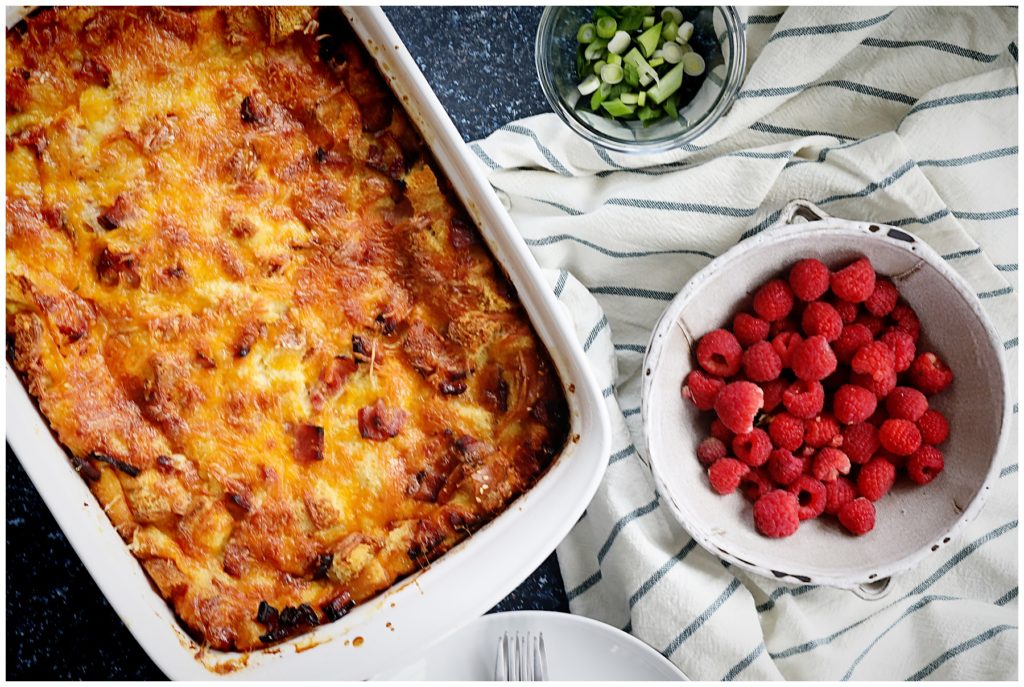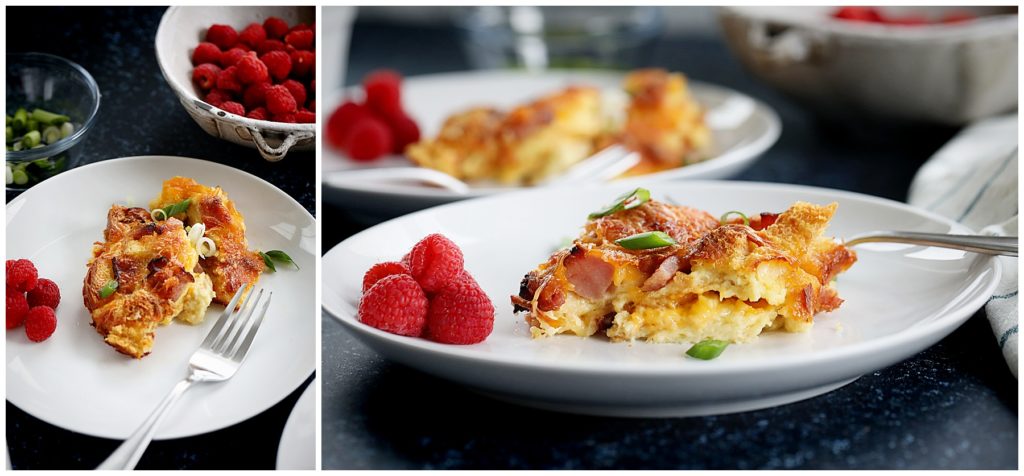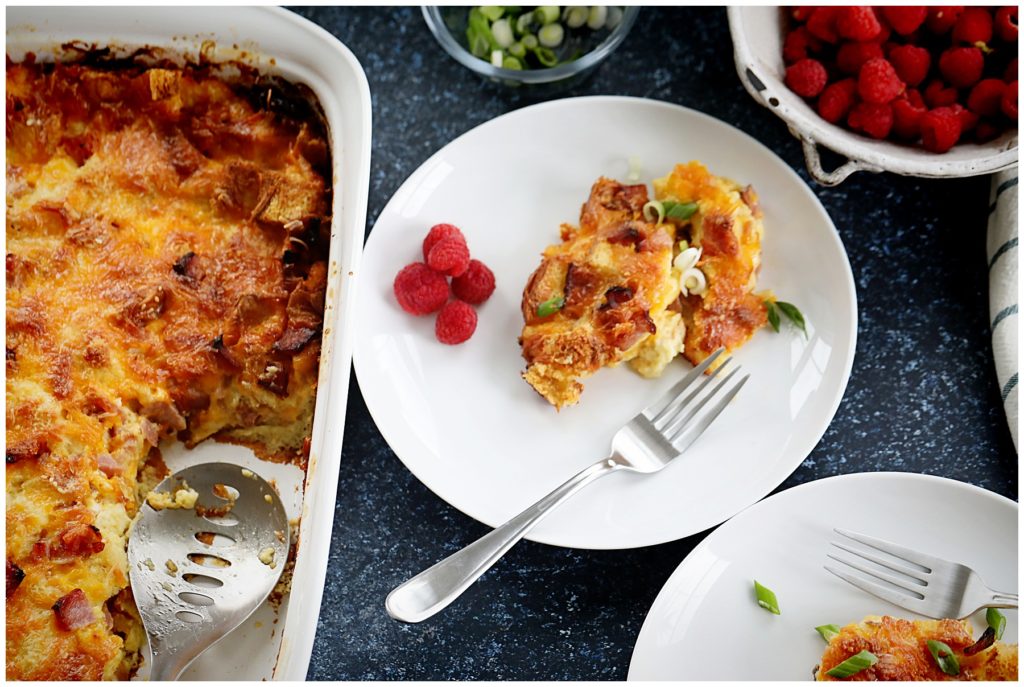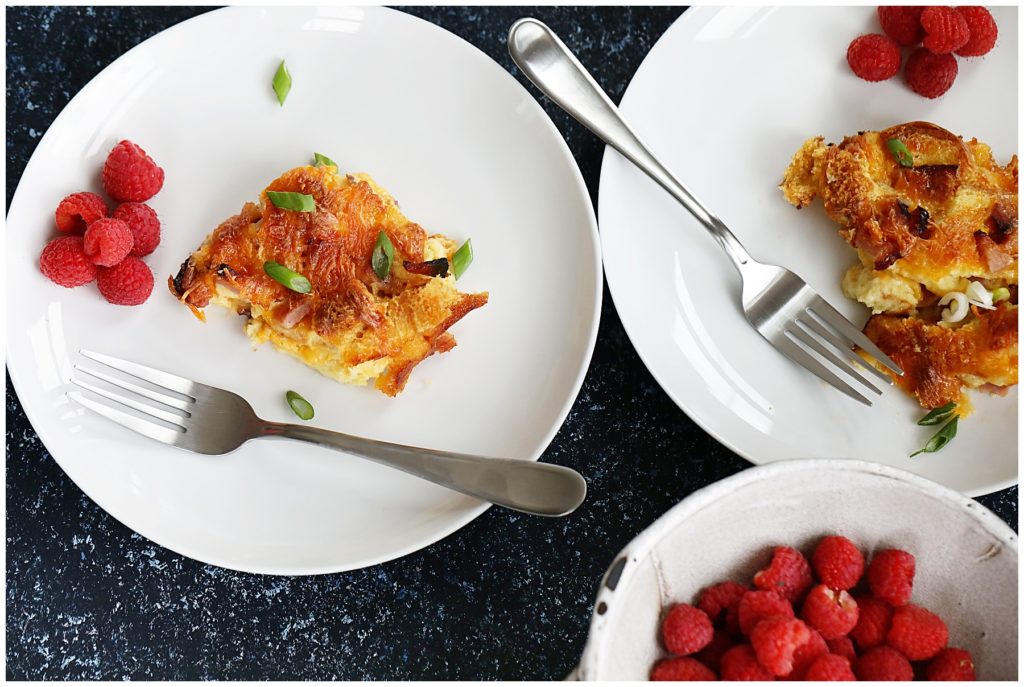 Sausage & Gravy Breakfast Casserole
If you're a fan of Biscuits & Gravy, then you're going to be a fan of this recipe! This takes a Southern breakfast staple and brings it to the table for everyone in a big way. It includes fluffy bread rolls, eggs, sausage, onions, salt and pepper.
I've also added a sausage gravy to this to complete the dish. The biscuits soak up all eggs and provide layers upon layers for the gravy to drizzle over.
It's so delicious with the gravy ladled over the top that you might think you're in the South…and I live in Michigan.
Grab the full recipe here.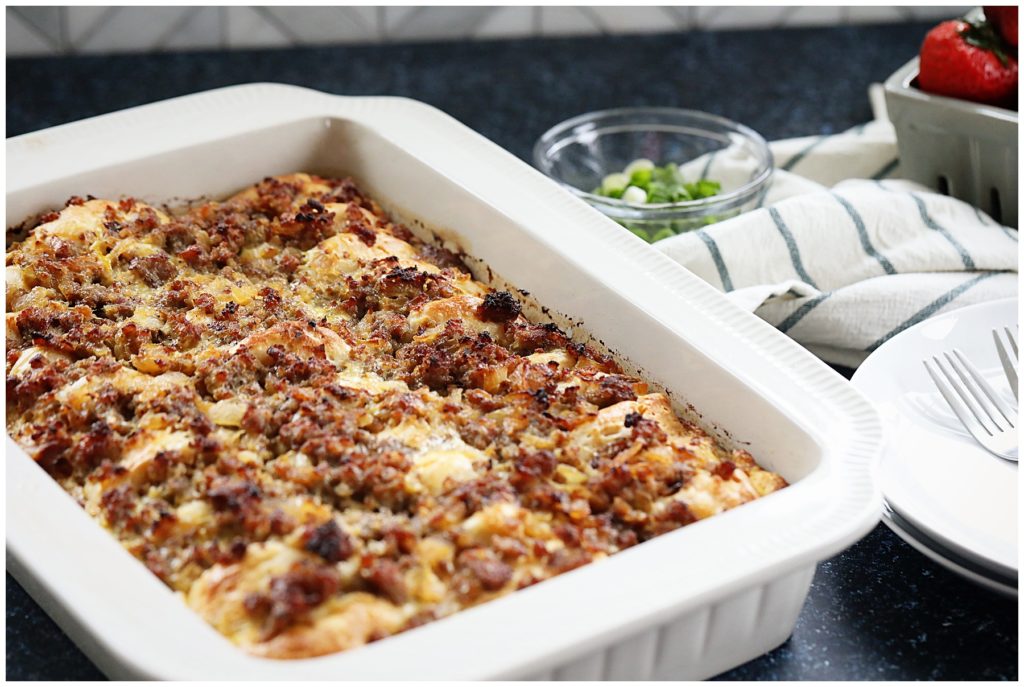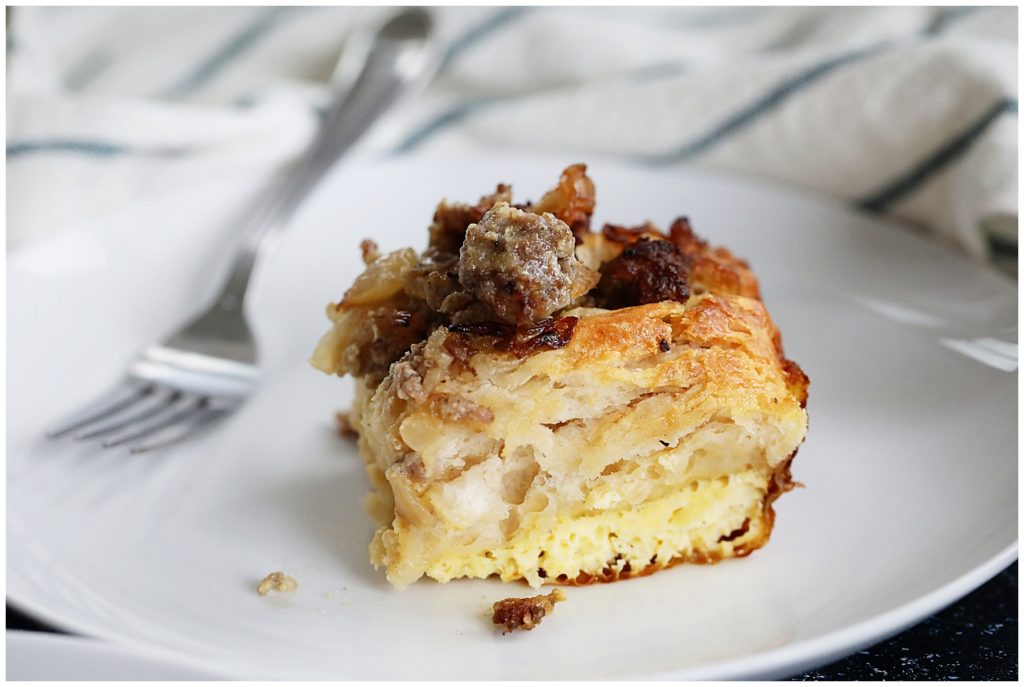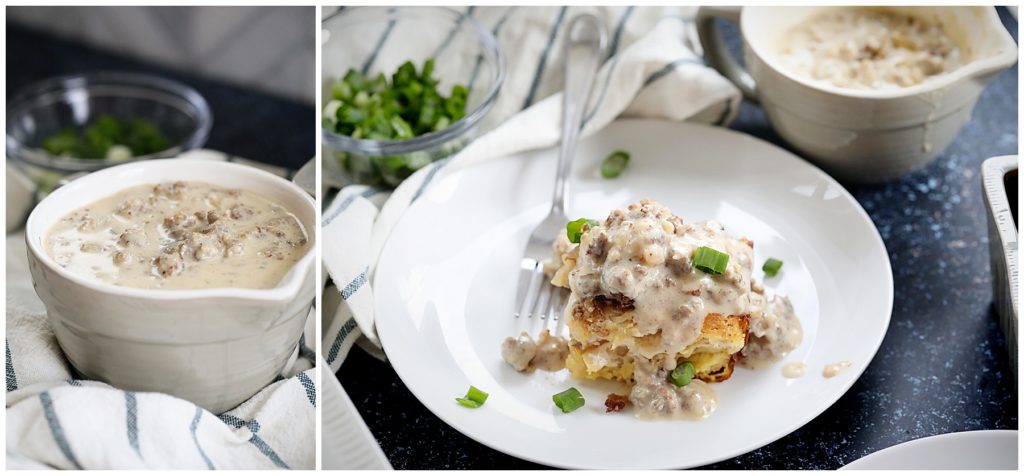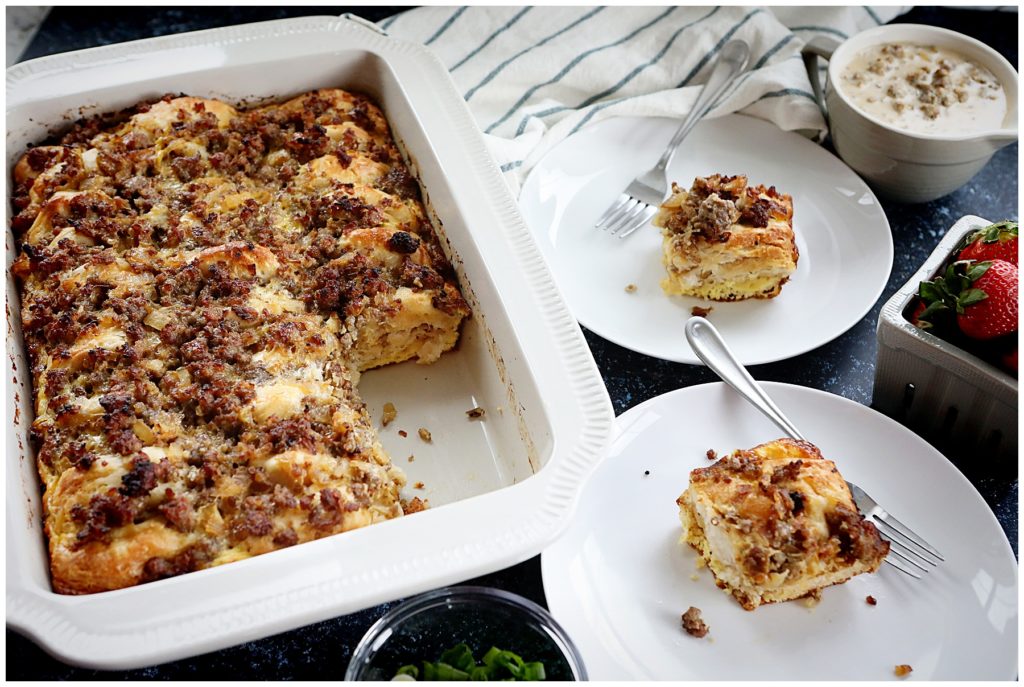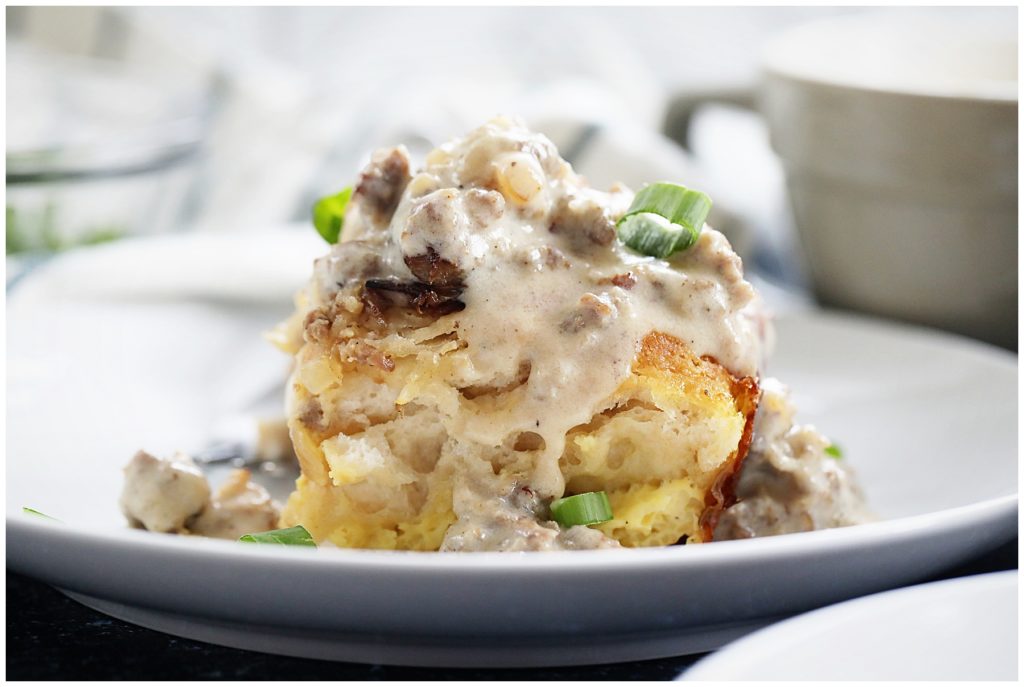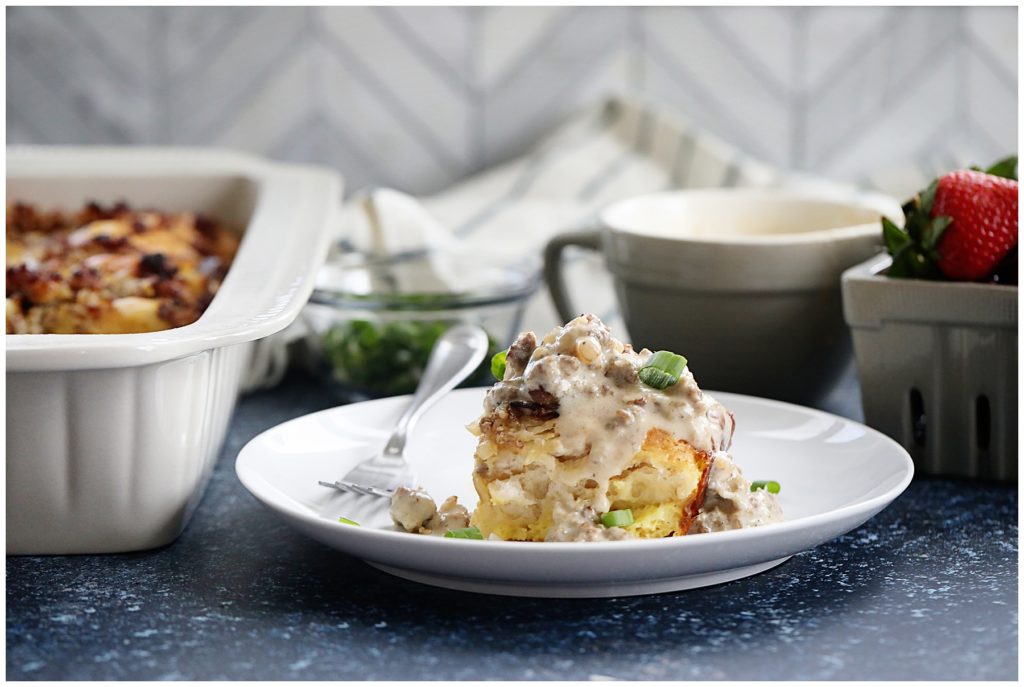 Blueberry French Toast Breakfast Casserole
When coming up with this recipe it was difficult to decide what to call it. Basically, if a cheese blintz and French toast had a baby, it would be this dessert-like casserole dish. Cream cheese and blueberries are sandwiched between layers of delectable French bread sprinkled with cinnamon and sugar.
The bread provides a perfect base for all the goodies in this dish and tastes exactly like French toast with some creamy cheese added in.
This is another you can make the night before and serve it for breakfast or brunch, but it also pairs perfectly with that afternoon cup of coffee that we all need around 3 p.m.
Find the full recipe here.