With Easter just around the corner, and my house being the designated "host" house this year, I have been thinking up ways to add extra, special touches to the holiday celebration. We rarely get to stay home for a holiday so I'm excited about this and I think the kids will be too. And, just because we are staying home doesn't mean it has to be less magical.
I came up with these cute, small bundt cakes as a way to delight my daughter. I love making holidays special for her (and my son too but he doesn't really get it yet). My husband says I make them more complicated because of all the things I like to "create." However, if it were just like any other day then we wouldn't be creating memories that will last a lifetime. My family gave me holiday memories to aspire to and I want to do the same for my children.
I'm planning on having a late brunch and just because the food will be breakfast-type fair doesn't mean we will be forgetting about dessert! These little Bird Nest Bundt Cakes will be a part of our Easter celebration this year. Check below for the full recipe.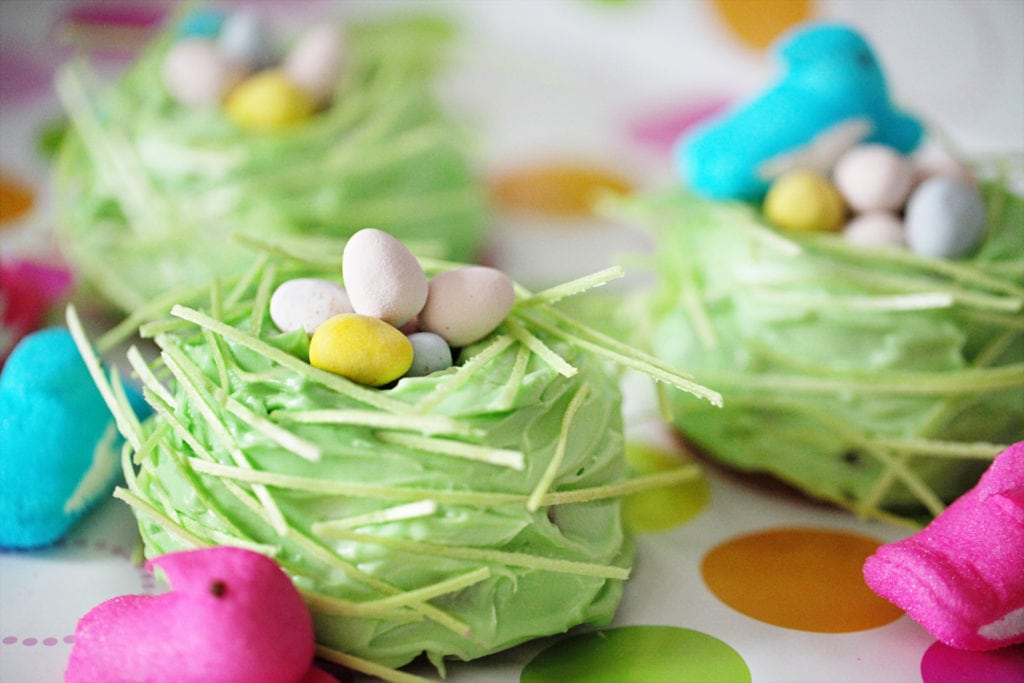 Servings: 9 small cakes
Bundt Cake Ingredients:
Bakers' Non-stick Cooking Spray
10 Tbsp. of butter, softened
2 cups of sugar
1 package of vanilla pudding. I was able to find one at Target that didn't have artificial colors or flavors.
2 ¼ cups of all-purpose flour
4 eggs at room temperature
1 ¼ cup of milk
2 ¼ tsp. of baking powder
1 tsp.  vanilla
Frosting Ingredients:
8 oz. of cream cheese at room tempature
1 1/2 cups of powdered sugar
1/4 cup of melted butter
1 tsp. of vanilla
Green food coloring
Other Ingredients:
Edible Easter grass in green. Also at Target.
Candy eggs
Peeps!

Steps:
1. Preheat the oven to 350.
2. Combine your butter and sugar with a hand mixer until it is well blended. If your butter isn't soft enough yet you can put it in the microwave for 30 seconds. Be careful not to burn it!
3. Add in your eggs and vanilla and mix well.
4. Add in your pudding, flour, baking powder and milk. Mix well.
5. Use the cooking spray or olive oil to prep your bundt cake pan. Make sure it gets into all the areas of the cake form. Be careful here because some sprays can cause excess browning. Also, if your pan is dark it can cause excess browning. Luckily, you frost the whole cake here.
6. Cook at 350 for 15 minutes. Check them to see if they are cooked through at this point. If not, stick them back in for 3 or 4 more minutes. Total cook time should not exceed 20 minutes.
7. When done remove them from the oven and let them cool for at least an hour.
8. Add your cream cheese frosting with a small spatula.
9. Cut your edible Easter grass to about 1-inch pieces. It's easier to manage once it isn't so long. Then place it randomly all over the frosted bundt cakes.
10. Add your eggs and either serve your Peeps on top or alongside.
I hope you guys love this recipe as much as we do! This is my favorite kind of frosting and this cake is so perfect and moist you won't be sorry you made it.
I usually have to make cakes a few times to get them where I like them but I was immediately happy with this. My husband went and took his third one for the day! Time to cut that guy off.
Happy eating, friends!
For more holiday recipes, click here, and for more desserts recipes, click here.