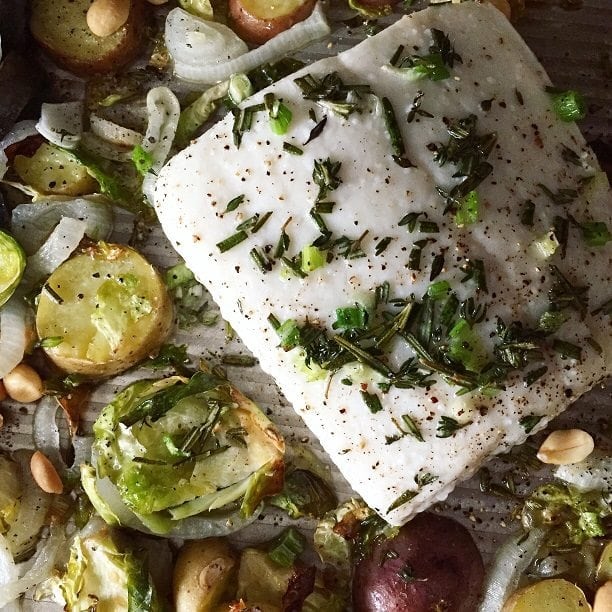 While I don't like the idea of "diet" foods, I do adhere to the idea of eating healthy and nutritious foods for most of my meals. I really try to eat foods that are nutritious for me including fish and lean protein. This baked halibut recipe really checks all the nutrition boxes for me.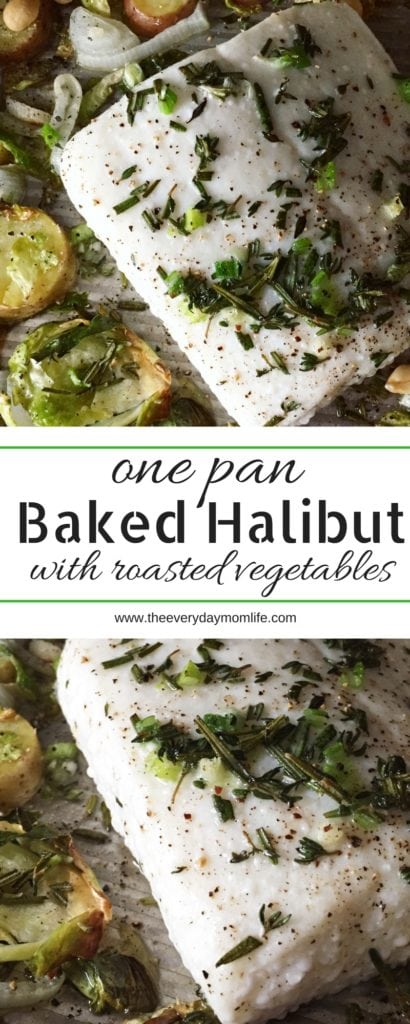 Halibut contains vitamins and minerals such as B6, magnesium, phosphorus, B12, calcium, iron, zinc and more, according to Livestrong.com. It has about 220 calories per 6 oz serving and is an oily fish, which is beneficial for the heart.
When I was younger I wasn't a huge fish person. Now we eat fish two to three times a week. My husband also used to hate fish and even he has come around to loving it.
The great thing about halibut is that it doesn't have a fishy taste at all. I've also never had bad halibut. It is a more expensive fish but it's really worth the price. It's thicker and buttery, but somehow still light. I always feel like I've eaten well after I eat it because I'm satisfied but not overly stuffed.
I meant to get this recipe up before Easter during the Lent season, party of the name halibut comes from haly, which means holy.  Although this makes a great, light summer recipe too. It's perfect for nights where you don't have a lot of time and don't really feel like cooking.
For those of you doing the Whole 30, leave out the peanuts and this one's for you. Check out the full recipe below.
One-Pan Baked Halibut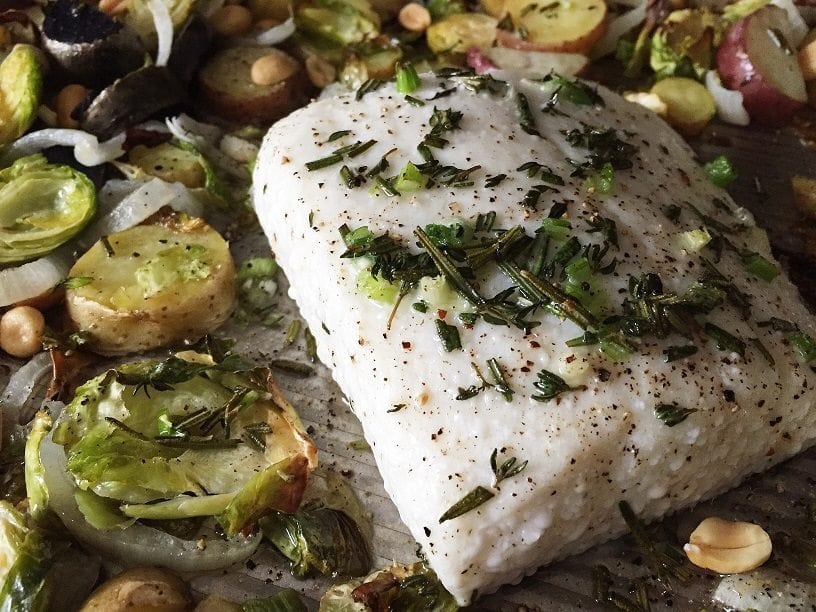 Delicious One Pan Baked Halibut & Simple Vegetables
Cuisine:
America, Whole 30, Gluten Free
Prep time:
Cook time:
Total time:
Ingredients
1 - 2 halibut filets
8 fingerling potatoes
1 lb of Brussel sprouts
½ an onion
3 Tbsp. olive oil
½ cup of peanuts (If you want to make this Whole 30, leave these out.)
¼ cup parsley, chopped
¼ thyme, chopped
¼ rosemary, finely chopped
Salt and pepper
Lemon, optional
Instructions
Heat your oven to 400 degrees.
Brush your sheet pan with a very thick layer of oil.
Add vegetables, peanuts and brush with another thin layer of olive oil.
Sprinkle half your herbs onto the mixture and toss to make sure everything is coated with the oil and herbs. Salt and pepper to taste.
Bake for 15 minutes.
Remove from oven and push the vegetables aside to make a space for the fish. Glaze it with another coat of olive oil.
Add the rest of your herbs, using them plentifully on the fish. Add salt and pepper to the fish to taste.
Cook for another 15 minutes depending on thickness. Our's was fairly think and this time was fine.
Serve and enjoy! Add lemon if you like.
This really is a perfect meal for the whole family. The fish is light and flaky and really comes out beautiful. It's one of the mildest tasting fishes out there so there should be no complaining about anything smelling or tasting "like fish."  It's really just a simple, perfect dish.
Happy eating, friends!