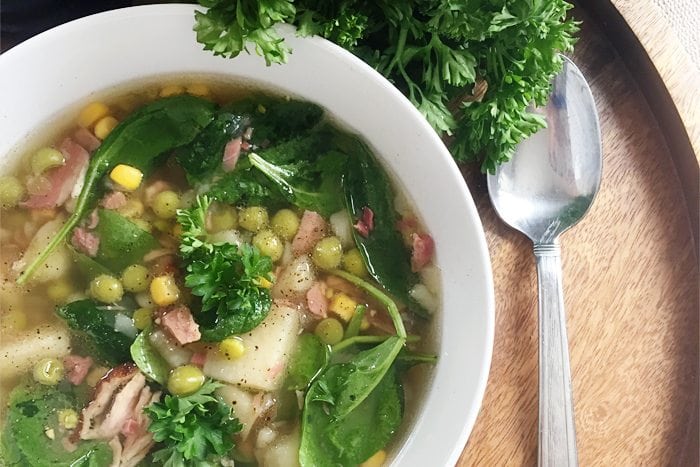 I love soups, all kinds of soups. I can eat them all year round, even in the heat of the summer, and I love making leftovers into a bowl of hearty goodness.
For me all holidays provide an opportunity to make a great soup from leftovers. Thanksgiving, Christmas, Easter and even the 4th of July all lend themselves to delicious soups that can continue to feed your family throughout the next week with minimal effort.
We hosted Easter this year and I purposely bought a ham a little larger than we needed so we could use it for leftovers and more importantly, Ham Bone Soup.
I'm going to preface this by saying that I had never made Ham Bone Soup before – or any type of bone soup really. My husband made a bone broth last year but that process was a bit different and he wanted to try it for the health benefits people claim to receive from bone broth. I wanted to make Ham Bone Soup because I love trying new things and I love seeing how I can make them work for my lifestyle instead of just recreating a recipe someone else made. I also knew it would be fairly easy to make this soup delicious in a crock pot.
I wanted to use my Ham Bone Soup as a way of squeezing in more vegetables because I can never get enough of them. Apparently there are usually beans in Ham Bone Soup, but I decided not to use them and instead use some vegetables that you might not think of when you think of the traditional Ham Bone Soup recipes. Check out the whole recipe below.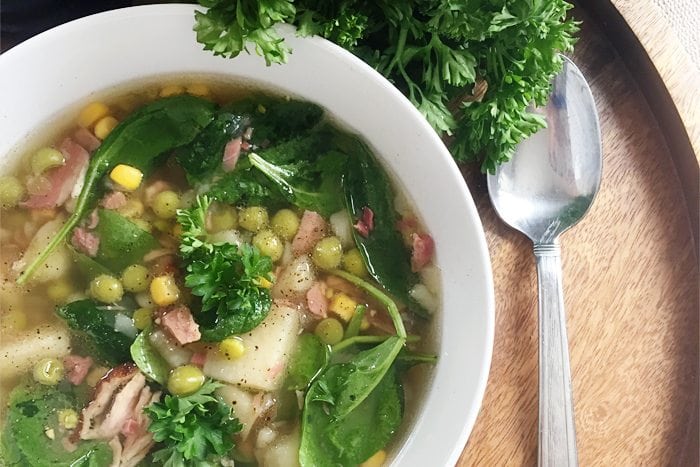 Slow Cooker Vegetable Ham Bone Soup
Ingredients:
1 leftover ham bone with meat still on it. (If you don't want to use ham on the bone you can also try this with any leftover ham.)
32 oz. of chicken broth
8 red potatoes, chopped
1 white onion, diced
1 bag of frozen corn
1 bag of frozen peas
4 cups of spinach and/or kale
A handful of parsley
Pepper to taste
Steps:
1. Slice any excess meat off your ham bone and chop it into bite-able pieces. You don't have to get too close to the bone because that meat will fall off in cooking, but anything that might still look like it could be used for a sandwich remove and chop.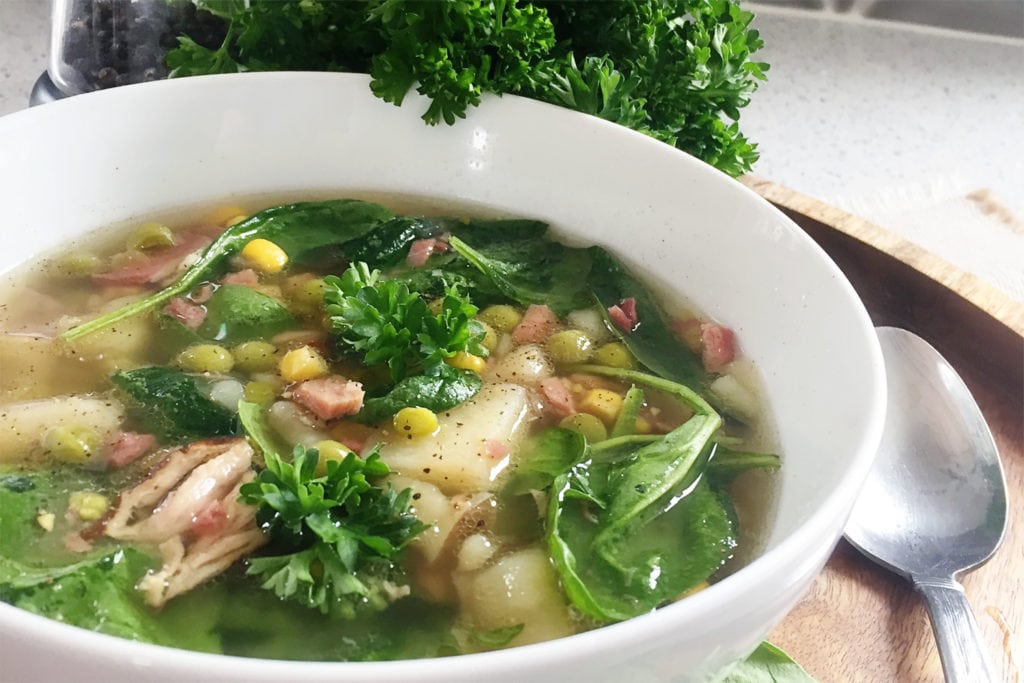 2. Add your ham bone and extra meat to your crock pot. Add in your chicken broth. I use regular chicken broth because I prefer it. You can use unsalted but I always find I'm adding salt back in when I use unsalted. Plus the honey and brown sugar on our ham (We had a Honey Baked Ham) and the salt combined to make a beautiful flavor.
3. Add in your chopped potatoes and onions.
4. Set your crock pot on low and cook for 8-10 hours. Add in your corn halfway through. If you aren't home you can dump it in with the potatoes.
5. Add in your peas about a half hour before the soup is done. If you add them too early, I think they will get too mushy and fall apart on you.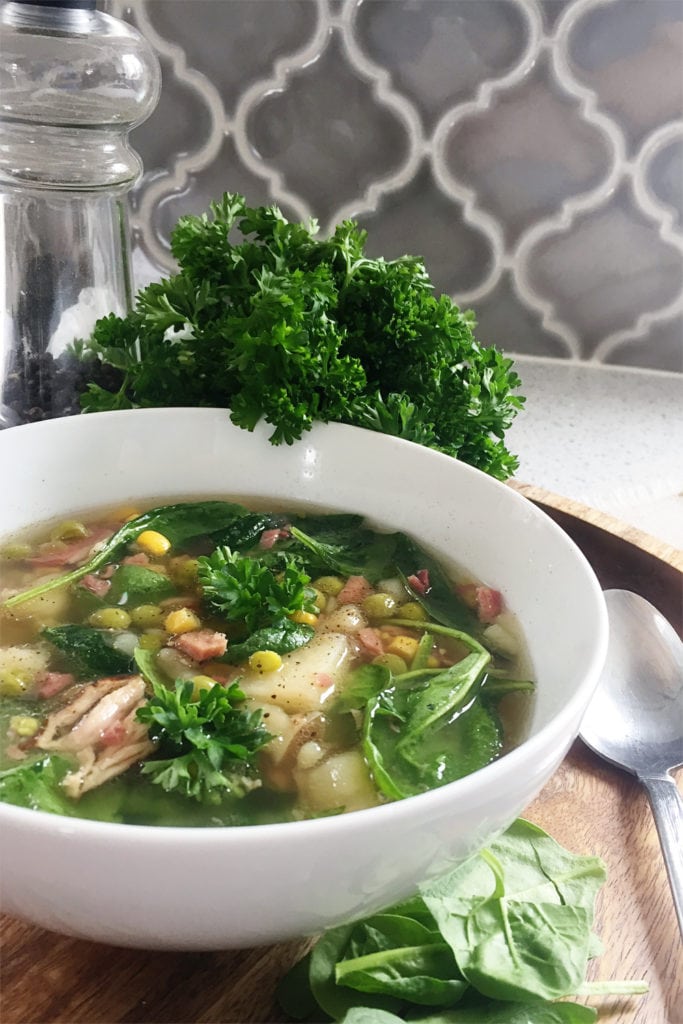 6. When it's done, remove the bone and any large pieces that may have broken off. The meat left on it should have just fallen off. Shred any larger pieces.
7. Add in your spinach or kale. The heat of the soup will cook it perfectly. You can add both if you have them. I added spinach the first day and then kale later in the week.
8. Top with ground, black pepper as desired and serve.
This is one recipe the whole family will love. Mine did – even my son who doesn't believe in eating loved the broth. The whole dish is hearty, flavorful and filling. I hope you enjoy it.
Happy eating, friends.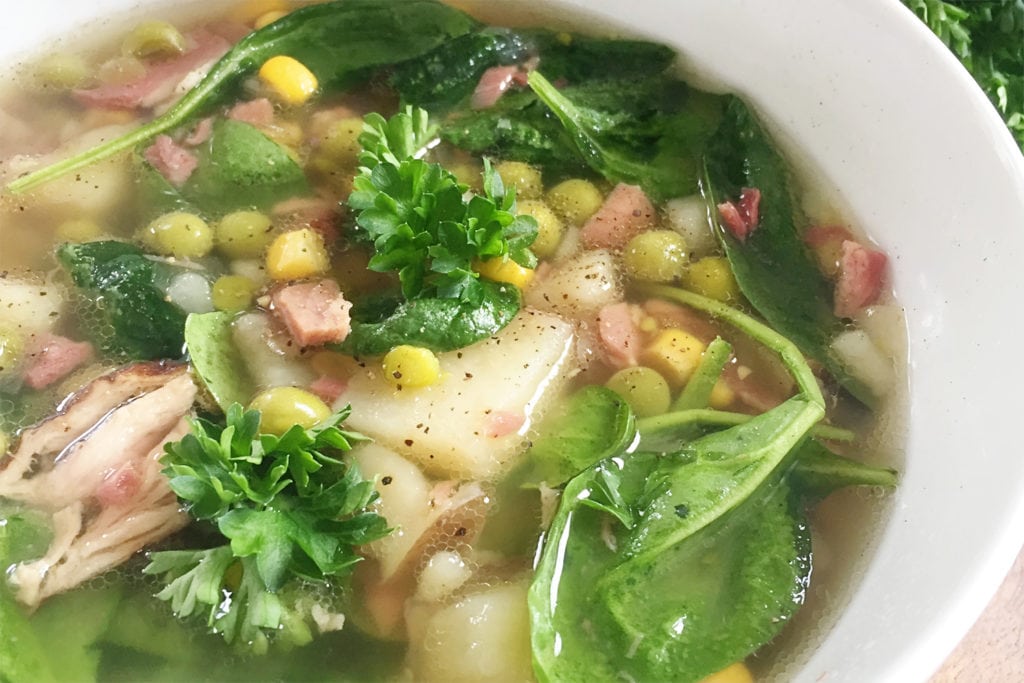 For more delicious soup recipes, see our Recipes Section.