Summer is by far my favorite season. I love warm weather, long days playing outside and barbecuing.I love to cook on the grill for reasons other than the delicious taste. I hate cleaning up. Nothing ruins a good meal for me like having to jump up and clean my kitchen.
When it's beautiful out my son wants to play outside ALL day. I do too. Since he is three and our yard isn't fenced I don't want him to play outside alone. Insert perfect dinner plans: grill everything.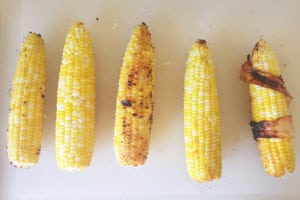 Since Memorial Day is right around the corner and I love to have friends over I decided I would test a few ideas I have been tossing around. I love corn on the cob. I am a Midwest girl and I believe corn is an excuse to eat dessert and call it a vegetable.
My plan was to make a traditional style corn on the cobb, but also some ears with different topping combinations to see which I liked best. I cooked all of the corn on the grill and wrapped them in tin foil, so as not to loose the toppings as they cooked. I also love to grill corn instead of boiling it. In boiling you loose a lot of the flavor in the water. When grilling, the natural sugar in corn makes it sweeter and the flavor intensifies instead of boiling out.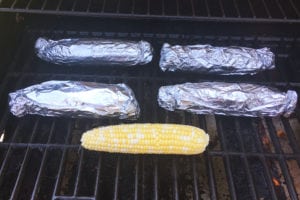 First I made a traditional corn smothered in <butter with salt and a little pepper. It came out delicious, sweet and tender. This was the control ear. Also, in case the others were a little too outside the box, I knew my son would be happy to get this piece. He likes corn as much as me.
The second ear I smothered in mayonnaise with a sprinkle of salt. If this sounds weird to you I promise it will not taste like mayonnaise in any way. It somehow cooks into the kernels and makes them so, so delicious! This one tasted the sweetest and ended up being my son's favorite.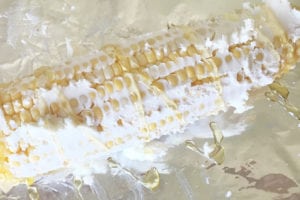 The third ear I decided to smother in goat cheese and drizzle with honey. I adore goat cheese. I like it savory and sweet with honey drizzled over it. I thought this one was worth a try. I was right. I recommend having a little extra to add to the corn after you cook it though.
Goat cheese doesn't get melty like other cheese but I did want even more added to it after it cooked. To be fair if you aren't a huge fan of goat cheese this one might not be for you. The smell of warm goat cheese and the delicious hot corn with warm honey dripping from it…a repeat for sure.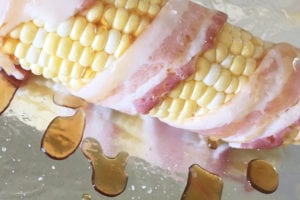 Finally, I made one that I thought my husband would really like. Turns out we all liked it.
I wrapped this ear of corn in bacon and then drizzled maple syrup over all of it. It needed to cook a bit longer than the others but it was worth the wait. The bacon cooked into the corn kernels and the maple syrup gave it the perfect sweet edge to the salty bacon. I also like that when you lay a tray of bacon wrapped corn on the cob out, people see what treat they are about to have with out the explanation that it isn't traditional corn on the cob.
I am excited to add these to our next BBQ.  Each of them were so easy I feel like I can make a variety of corn on the cob and let our guests choose which they want to try.  Hope you like them as much as my family did!