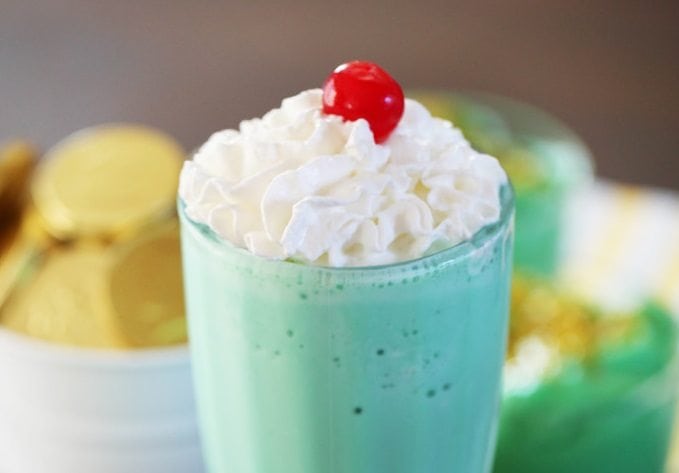 You know how you sometimes just get cravings for something minty and indulgent? Other people get these right? Especially around St. Patrick's Day when you know minty, green food is around every corner? It's literally around every corner when you consider the positioning of most McDonald's restaurants.
After having kids I decided I could no longer venture out each time I developed a longing for a Shamrock Shake though. I'd have two kids in tow and I'd have to share. (Side note: I'm not a good food sharer. I'm like Joey in Friends.)




Instead, I created a recipe that tastes just as good that we can make at home. I've decided that I like this recipe better and I like that I can control the portions for myself and the kids. Sometimes you just want a little minty, indulgence.
Check out the full, fast recipe below.
Servings: 2 large milkshake glasses, 4 or 5 kid-sized glasses
Ingredients:
6 scoops of your favorite vanilla ice cream
½ teaspoon of Pure Mint Extract
½ – ¾ cup milk(Use ½ cup for a thicker shake and ¾ to make it drinkable through a straw. We used 2% milk because that's what we had in the refrigerator. However, skim/whole will also work.)
7 drops of Green Food coloring
Whipped Cream
Cherries
Steps:
1. Add six, small scoops of ice cream to your blender.
2. Add in milk and mint.
3. If your blender gets stuck, stop the blender and use a spoon or fork to remove the ice cream off the blades before blending again. Or, you can add a wee bit more milk.
4. Pour into your favorite milkshake glass and enjoy!
As an extra treat chocolate chips are the perfect add for this milkshake. It makes it taste exactly like the most perfect mint, chocolate chip ice cream treat.
This is perfect for parties, St. Patrick's Day and just because! I hope you enjoy it.
Happy eating, friends!