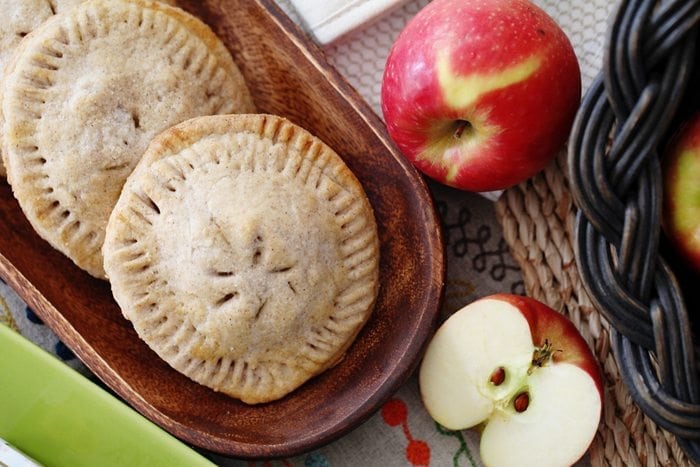 I think we can safely say it's officially apple season! Even though the weather here has still been hot, the apple orchards are in full bloom and full of families picking the sweetest, crunchiest varieties of apples to make their fall apple recipes.
We have yet to go but that hasn't stopped me from partaking in traditional fall sweet treats.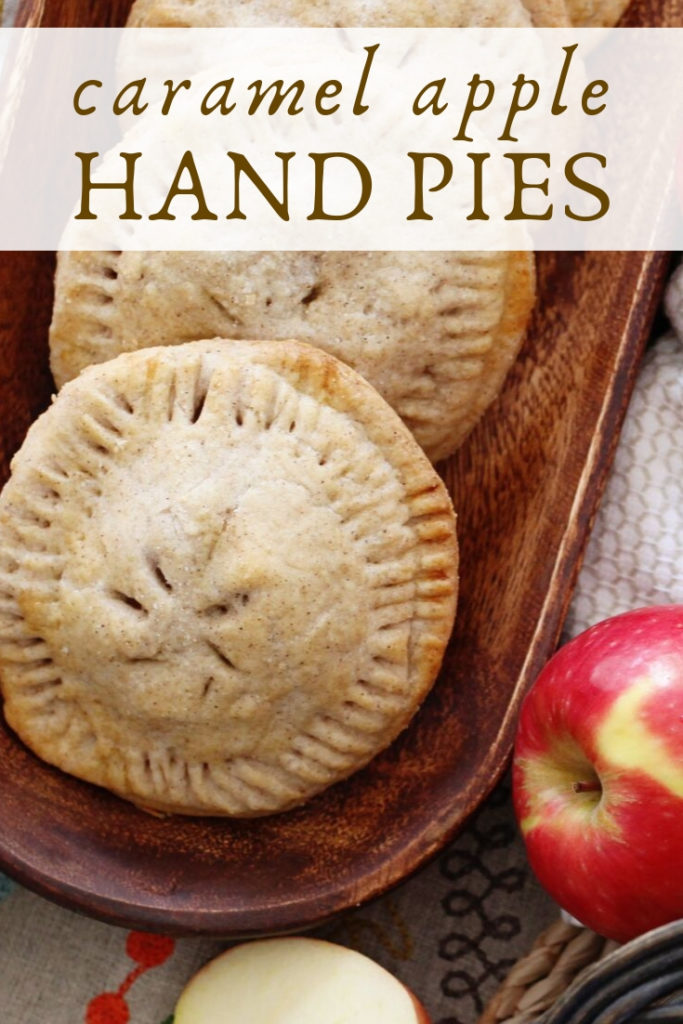 I love to bake on the weekends, sometimes it turns out wonderfully and sometimes it completely fails and I have to make a recipe three to four times before I feel comfortable putting it on here. This recipe for these Cinnamon Caramel Apple Hand Pies turned out perfectly though! My daughter, son and I gobbled up the first batch before daddy could really even get a taste.
If you're a fan of apple pie, this one is for you. The apples are perfectly sweetened and flavorful, the dough was moist and flakey and the caramel pulled everything together ever so nicely. Check out the full recipe and tell me what your favorite apple dish is below!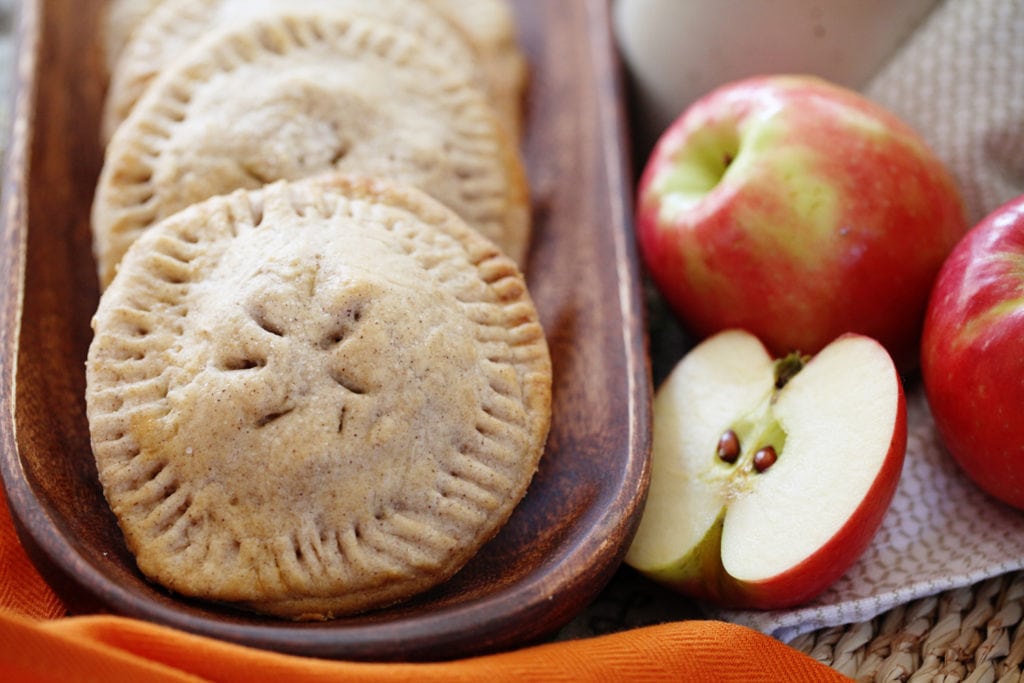 Cinnamon Caramel Apple Hand Pies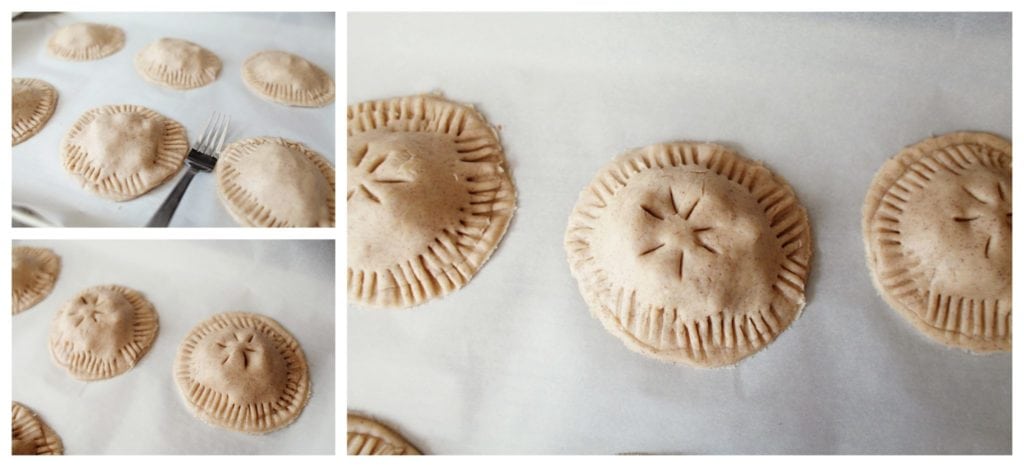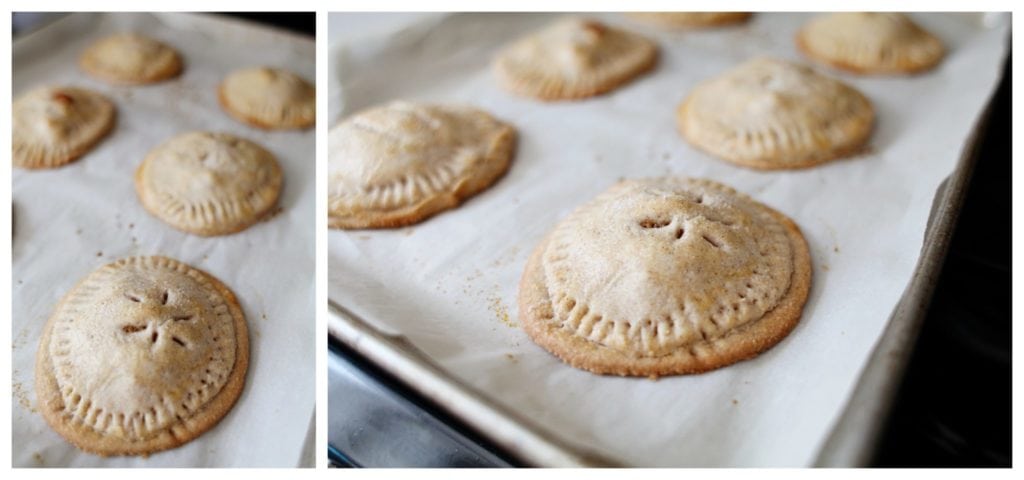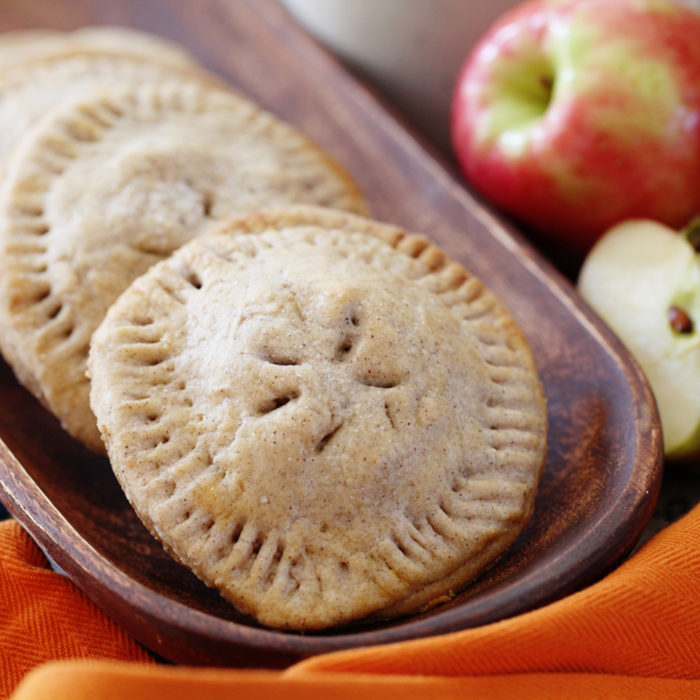 Caramel Apple Hand Pies
These Caramel Apple Hand Pies are like biting into fall. They're comfort food that you can hold in your hand.
Print
Pin
Rate
Ingredients
Pie crust ingredients
2 1/4

cups

flour

1/2

tsp.

baking powder

2

sticks of butter, softened and cubed

1

Tbsp.

cinnamon

1/2

cup

of sour cream

1

egg

1

Tbsp.

water
Apple filling ingredients
4

large Pink Lady apples

1/2

Tbsp.

cinnamon

1/4

cup

sugar

10

caramels, cut into small cubes

1

can

of lemon lime soda water
Instructions
Add flour, cinnamon and baking powder in a bowl and mix them together.

Add in your butter and use your hands to mix the butter in until everything is well blended.

Add more flour a tablespoon at a time until the mixture isn't sticking to your hands.

Chill dough for one hour.

Add the lemon lime soda to a bowl and begin cutting your apples. You want them in small cubes so that they fit within the hand pies. Once cut let them soak in the lemon lime soda so they don't brown.

Once they've all had a few minutes in the soda, drain the apples and pat them dry.

Add them to a bowl and add your cinnamon and sugar. Let this mixture sit for 30 minutes. You can chill it or you can cover it and let it sit at room temperature.

While apples are chilling, cut your caramels into cubes and set aside.

Preheat your oven to 425 degrees.

Remove dough from fridge and roll out with a rolling pin on wax or parchment paper. If the dough is sticky continue to dust it with flour so it's workable.

Use a coffee cup to cut out circles for the hand pies. I liked a coffee cup versus a regular glass because it was a little larger. It would give me more room for stuffing and it feels like a more substantial portion.

Line a baking sheet with parchment paper and layout six circles of dough.

Add your apple mixture to each circle. About 1 tablespoon should fit.

Add in two or three caramel cubes to each circle and then cover with another dough circle.

Use a fork to crimp the sides together and vent the top of the hand pies.

Whisk egg and tablespoon of water and brush the top of each pie. Top with an additional sprinkle of cinnamon and sugar.

Bake for 15 minutes and then let them rest for 10 minutes before serving.
This is a recipe that should be made and eaten in the same day. You can reheat them in the microwave for a few seconds if it is hours later. Once you get to 24 hours the dough and apples will start to dry out too and they won't be as good.

Like I said my family devoured these and we have made them again since. I also made apple pie cups with the dough and mixture I'll be adding next week! I plan to make this any crust recipe going forward. It's really that good! You need it in your life!