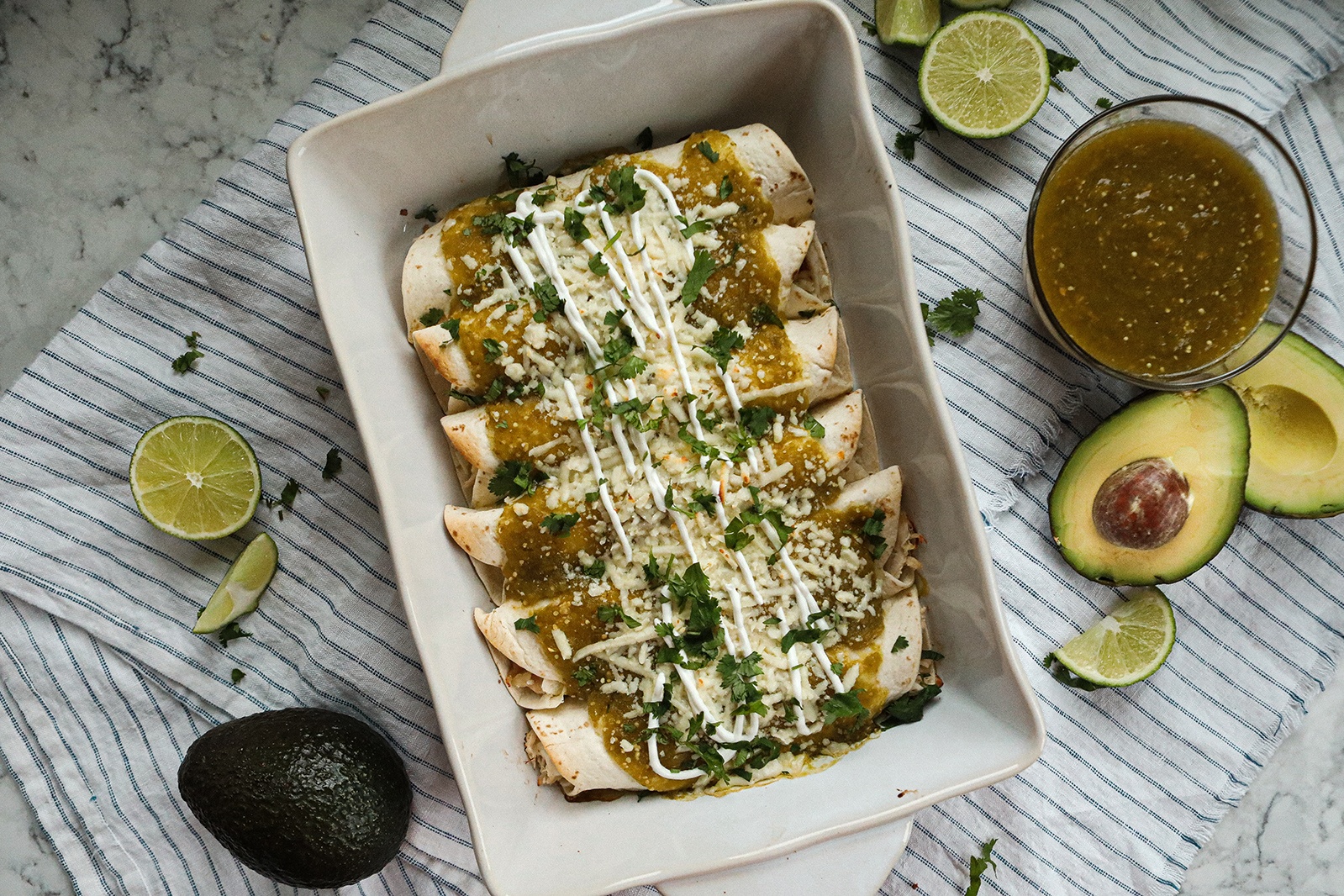 Chicken Enchiladas Verdes are easily one of my favorite Mexican dishes. How can you not love chicken smothered in delicious cheese, tangy green salsa all wrapped up in a warm tortilla with some sour cream added in?
Although, I must admit, it's difficult for me to pick a favorite when it comes to Mexican food. The flavors from the Mexican culture go so well together whether it's Cojita cheese, jalapeños, lime, salt, onion, tomato and more.
But what's difference about the Enchiladas Verdes is the green sauce on top. It's literally in the name "Verde" and it's really a salsa (or sauce as this Italian girl often calls it) that's one of a kind delicious.

The Star of Enchiladas Verdes
The Verde Salsa from Enchiladas Verdes is made with tomatillos. What's a tomatillo? Well, they look like small, green, unripe tomatoes once you peel back their husk, in fact the Spanish name actually translates to "Little tomato." But technically, they are a different fruit entirely and when it comes to taste, they're in a whole different league.
Tomatillos are native to Mexico and sometimes they can be difficult to find in the United States. However, they've been adopted by a lot of American farmers due to their resistance to disease.
Tomatillos taste tangy and more acidic than the sweet regular tomatoes people are used to. They're firmer than tomatoes too and much less watery. The unique flavor really makes them the star of Enchiladas Verdes. In fact, we use them to create a chunky salsa in our Turkey Chili every fall because they add so much tangy flavor to balance out milder dishes.
Perfect Chicken for Enchiladas Verdes
That said, you can't make the Enchiladas Verdes without a delicious, moist and flavorful chicken too. My recipe cooks the chicken in a pressure cooker to get it to shred perfectly and without a lot of extra effort or time. It takes just 15 minutes to cook in the pressure cooker (20 or so from completely frozen). We have this pressure cooker at home and use it all the time.
That said, if you don't have a pressure cooker, you can use a slower cooker too. Just remember to add the chicken before you go to work and cook it on low for at least 8 hours.
Overall time in the kitchen
Because there are so many fresh components to this dish, it takes about an hour to make from start to finish. It's a bit longer than my dinner dishes usually take to make but I love this one so much that it's worth the effort.
There is time that goes into making the chicken, as mentioned above. Time that goes into making the salsa and then you want to cook the whole dish as a whole to bring it altogether. It's really a dish not to be missed!
Things you might need
I've already mentioned that I cook my chicken in a pressure cooker and we use this Instant Pot one to make this chicken and a bunch of other delicious dishes including this Pozole Soup, which pairs well with this. However, you might also need a food processor. I love this mini one from Ninja. It chops so well (much better than my random blender) and I love that it's small too so it doesn't take up much space. Additionally, it's easy to clean so it makes me want to use it more than anything else.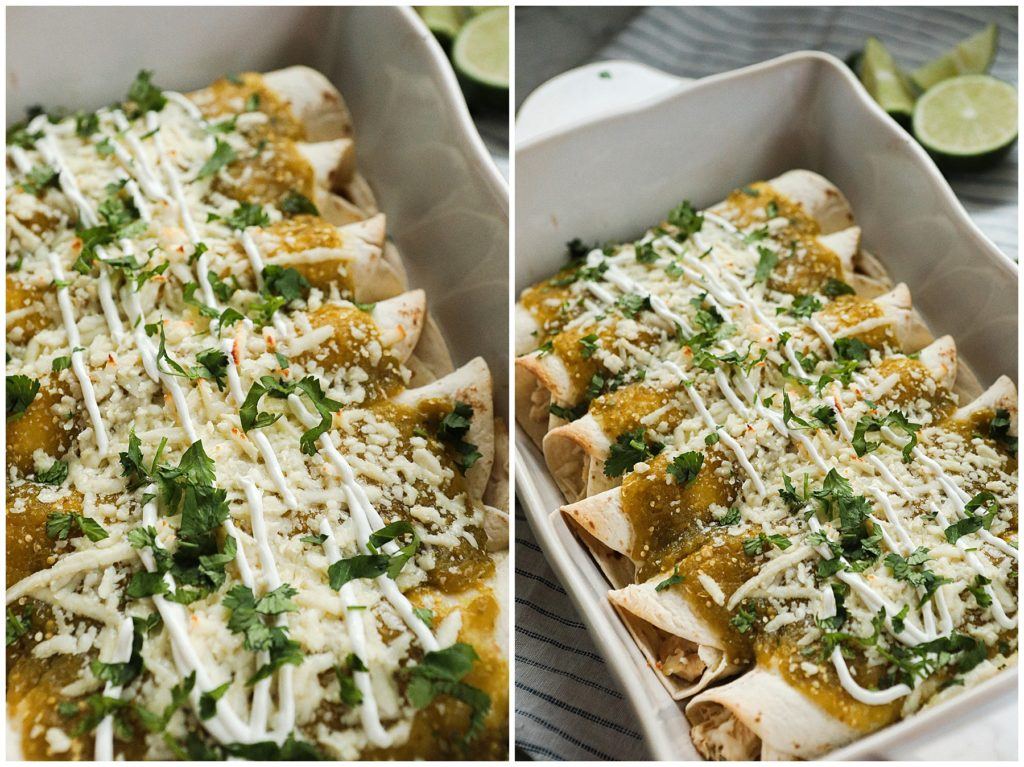 Thank you so much for visiting today friends! You can find the full, printable recipe for my Tangy Chicken Enchiladas Verdes below. And remember to check out that Turkey Chili too and pin it for this fall! These pair well with our Pozole Soup too!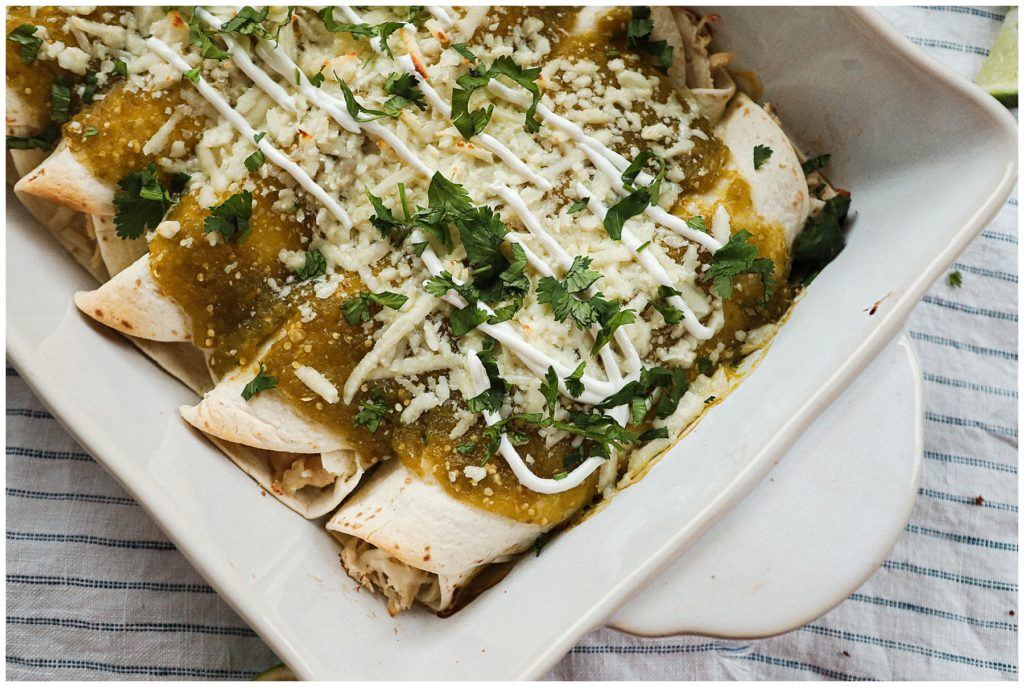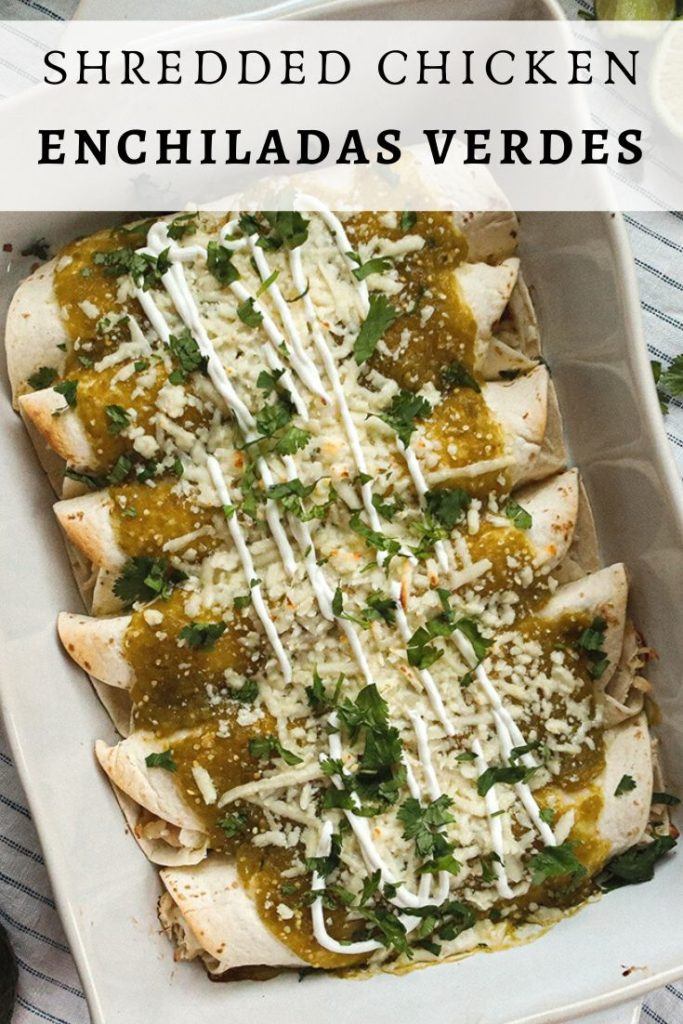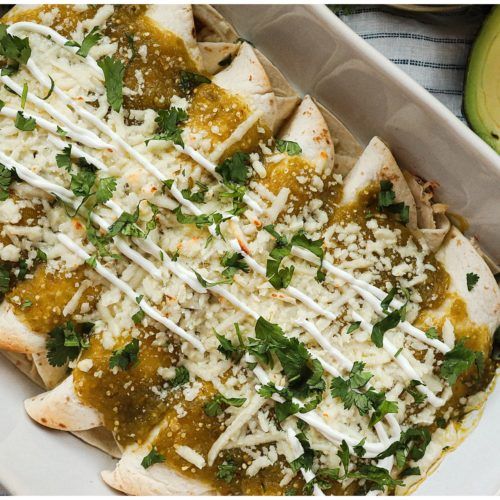 Chicken Enchiladas Verdes
This Chicken Enchiladas Verde is a dish that's so good, you'll make it again and again.
Print
Pin
Rate
Equipment
Pressure cooker or slow cooker

Blender or food processor

Cookie sheet

Baking dish
Ingredients
Shredded Chicken Ingredients
1.5

lbs

of boneless chicken breasts

1

cup

chicken broth

2

Tbsp.

lime juice

1

jalapeno, seeds removed unless you like the spice

1

tsp.

salt

1

large onion, diced
Salsa Verdes Ingredients
8-10

tomatillos

If you can't find fresh tomatillos, you can use canned. However, be aware they will include more water. If you decide to go this route then you do not have to roast them.

2

cans of green chilies in water. If you can find fresh green chilies and want to use them then I would get 8 and roast them with the tomatillos.

1

Tbsp.

lime juice

1

tsp.

diced jalapeno

2

Tbsp.

olive oil

Salt and pepper to taste

Optional: Water
Enchiladas Verdes Ingredients
4

cup

of the shredded chicken

3/4 -1

cup

Verde Salsa

3

cups

fresh Cotija cheese, crumbled or shredded and divided

1/2

cup

fresh, chopped cilantro, divided

3

Tbsp.

fresh, chopped parsley to top

8-10

Flour tortillas

Sour cream as desired

Salt and pepper to taste
Instructions
Shredded Chicken Instructions
Combine your chicken, chicken broth, lime juice, jalapeno, salt and onion in your pressure cooker. Set it on the chicken setting or set it manually for 15 minutes.

Once done, remove your chicken and shred it. Set aside until you're ready to build your enchiladas. If you don't end up using it all you can make soup out of it.
Salsa Instructions
Preheat your oven to 425.

While the chicken cooks, slice your tomatillos and place them on a cookie sheet.

Coat the tomatillos (and green chiles if you're using fresh ones) with olive oil on both sides and then add in salt and pepper.

Once done, blend the tomatillos, green chilies and other ingredients in a food processor on liquify. If you need to add a little water do so 1 Tablespoon at a time until you reach a consistency you like. Salt and pepper to taste.

Once done using you can store this for up to a week in the fridge in an airtight container.
Enchiladas Verdes Instruction Group
Preheat your oven to 375 degrees.

Add a tortilla to your baking dish and add in about two, large spoonfuls of chicken.

Sprinkle in Cotija cheese and cilantro and roll tightly. Repeat this process with all of your tortillas.

Once all the tortillas are rolled, add the Salsa Verdes to the top. Then add on the rest of your cheese.

Bake for 15 - 20 minutes until cheese is melted.

Remove from oven and top with the rest of the cilantro, parsley and sour cream. Serve with avocado and extra Salsa Verde.