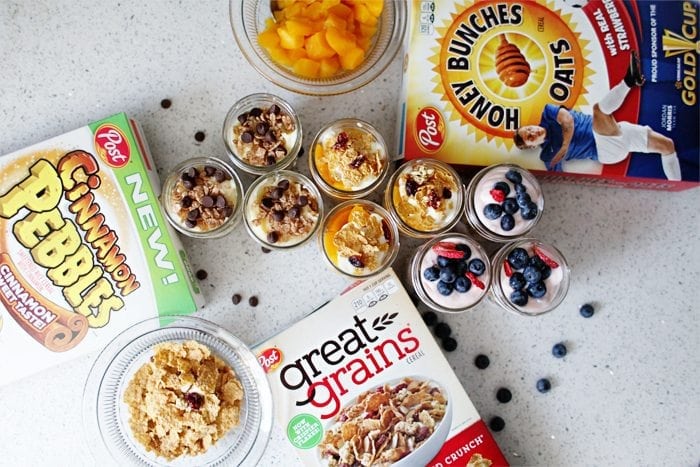 Back-to-school is just around the corner (Where did summer go?) and after long days in the classroom your tiny humans are going to come home hungry!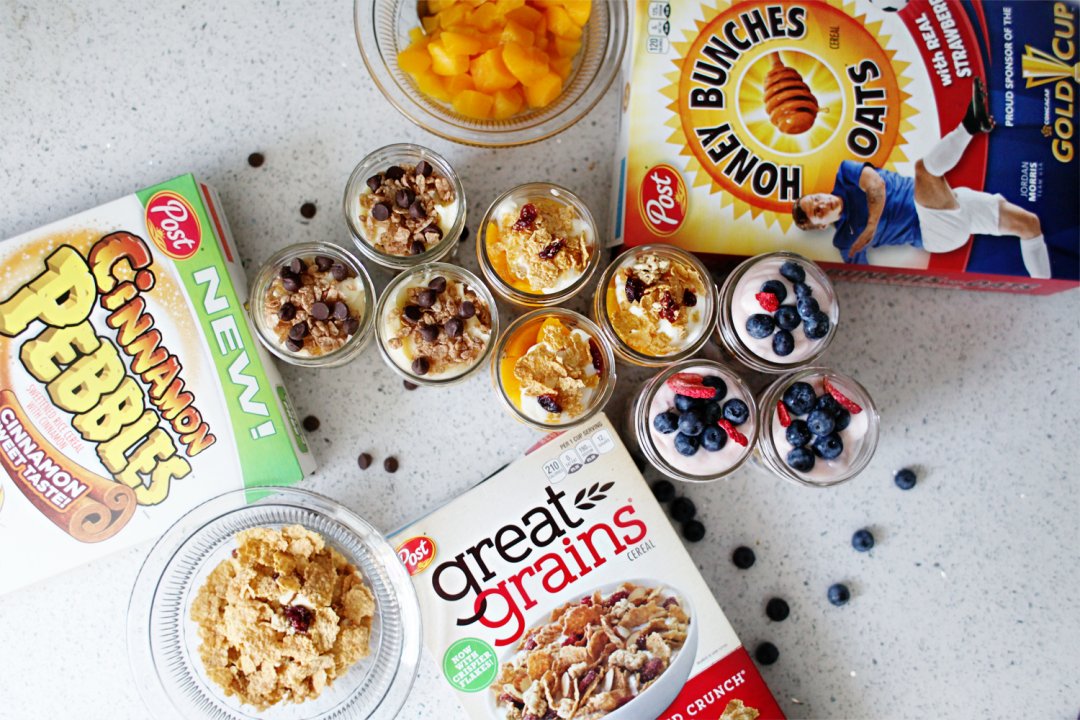 Click on the image above to shop these great cereal brands.
With all the money spent this time of year on school supplies and back to school clothes, shoes and backpacks don't spend money on extra snacks for those hungry babes. Re-purpose something you know they already love – like a delicious cereal.
We eat cereal all the time for breakfast, but I've never shied away from eating it during other day parts (dinner included) and it's always been perfect for a snack for my kids. I think it can be a perfect snack for your's too if you try out these great recipes created with Post Cereals from Walmart.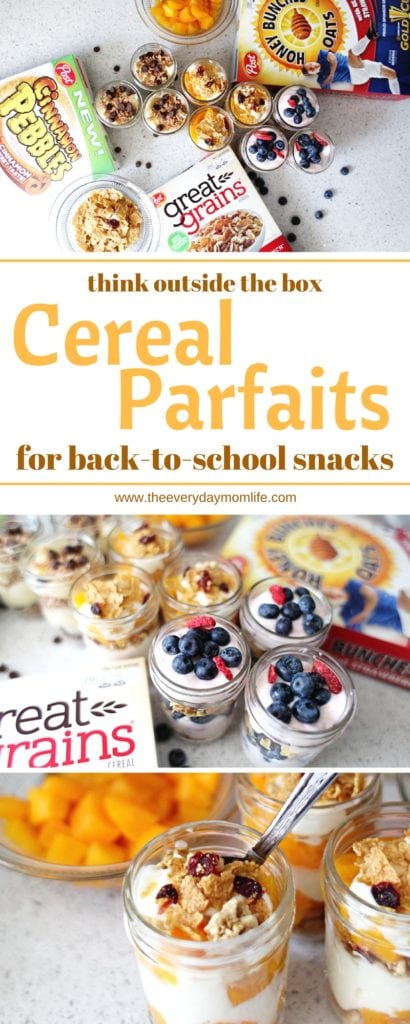 At my local Walmart all the cereals are in Aisle 16 and you can easily find the ones I've featured here including Great Grains® Cranberry Almond Crunch, Honey Bunches of Oats® with Real Strawberries and Cinnamon PEBBLES™.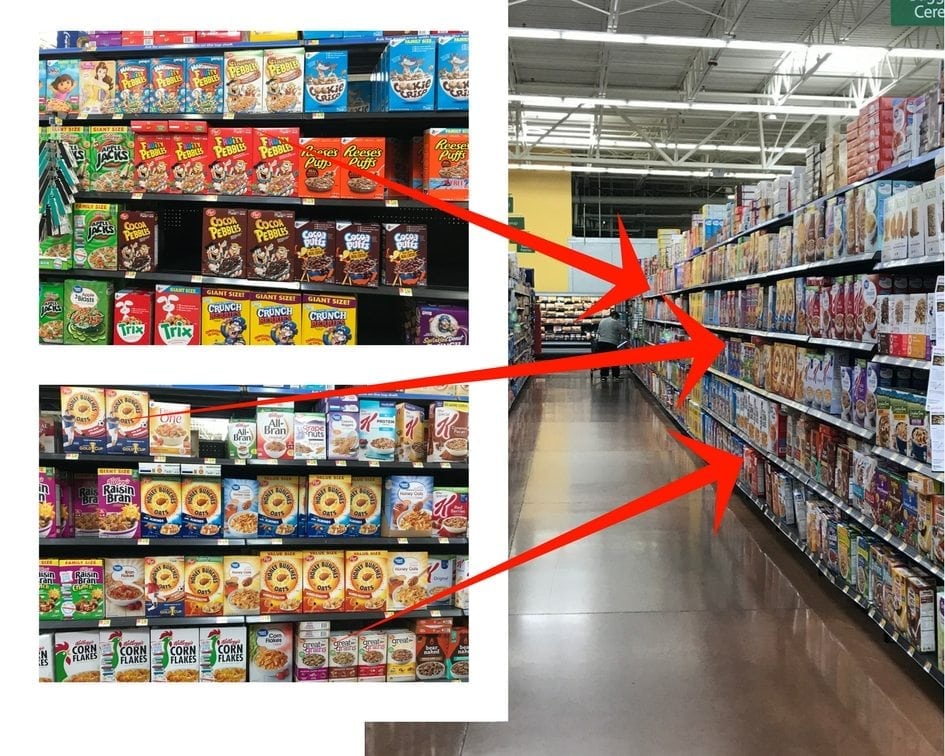 You can make a trip to Walmart and stock up on these before the school year begins so you're prepared.
The first one I decided to make was a fruit, yogurt and cereal parfait using Great Grains® Cranberry Almond Crunch. I loved the oat clusters and I love the idea of having a hint of cranberry because it's not a fruit that you see a lot of. I decided to use peaches as my fruit because I wanted to compliment the cranberry flavor and almonds.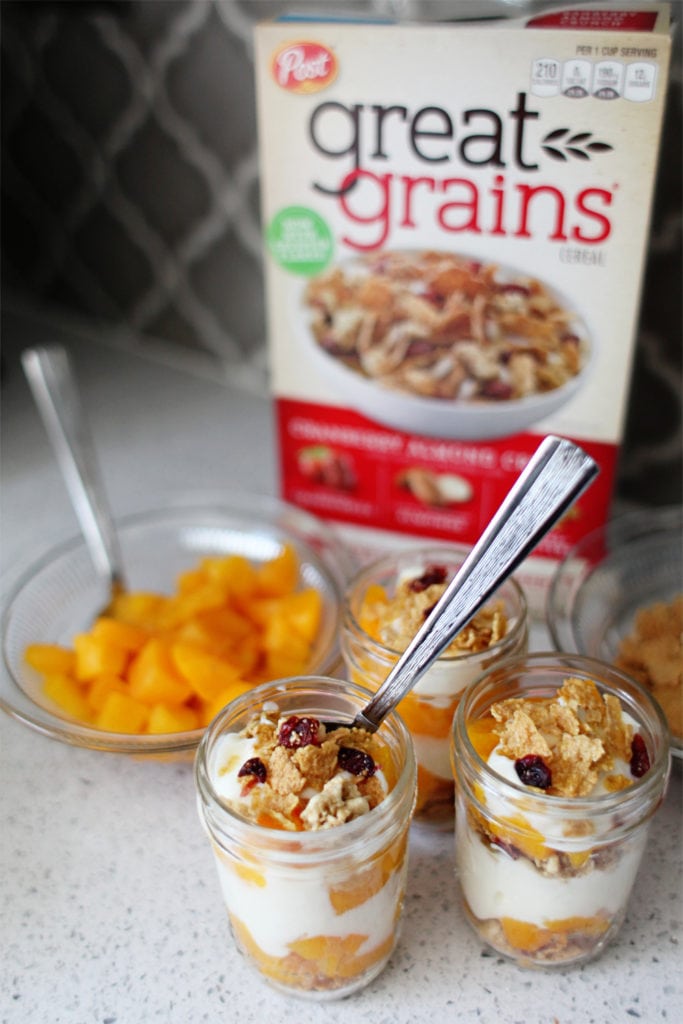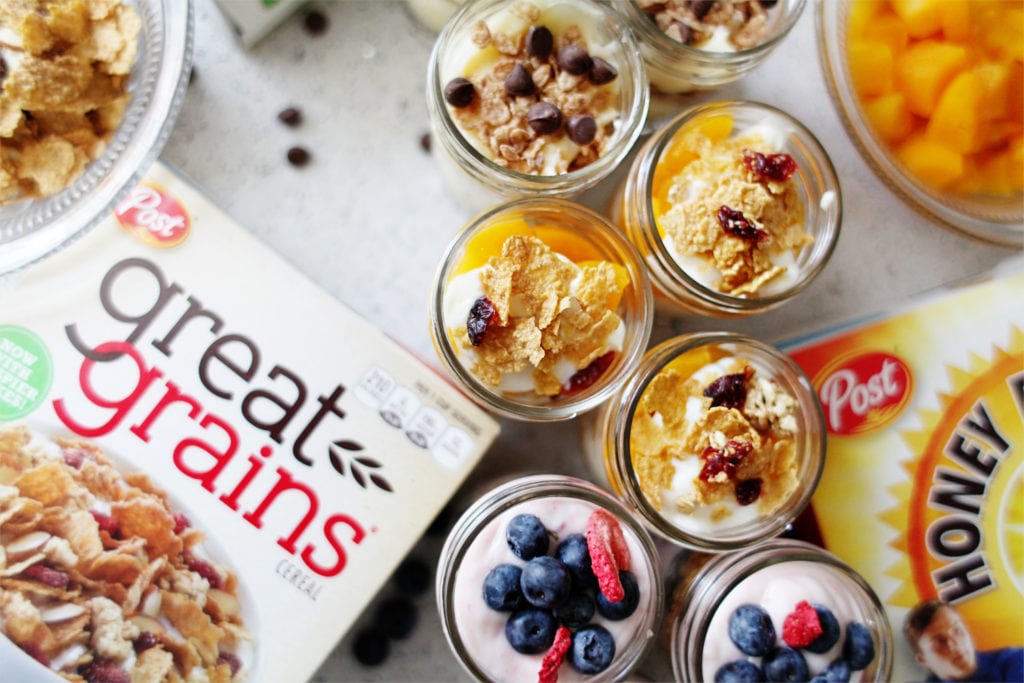 Servings: 3 small parfaits
Great Grains® Yogurt & Peach Parfait
Ingredients:
        

1½ cups of Great Grains® Cranberry Almond Crunch

        

16 oz. vanilla yogurt

        

1 can of peaches, drained and rinsed
Steps:
1. Begin layering your ingredients and start with Great Grains® Cranberry Almond Crunch. Crumble the flakes a little so that they don't sit funny in your cup or glass.
2. Using a large spoon add a layer of peaches next. Then add in a layer of yogurt.
3. Continue layering until you reach the top of the glass where you can add a final sprinkle of cereal.
4. Keep chilled or serve immediately. If you make them in little mason jars like I did you can cap them and stick them back in the fridge. These would be great for birthday parties or school parties too!
Since my kids love strawberries and fruit I also wanted to make a parfait that included some of their favorite flavors – strawberries and blueberries.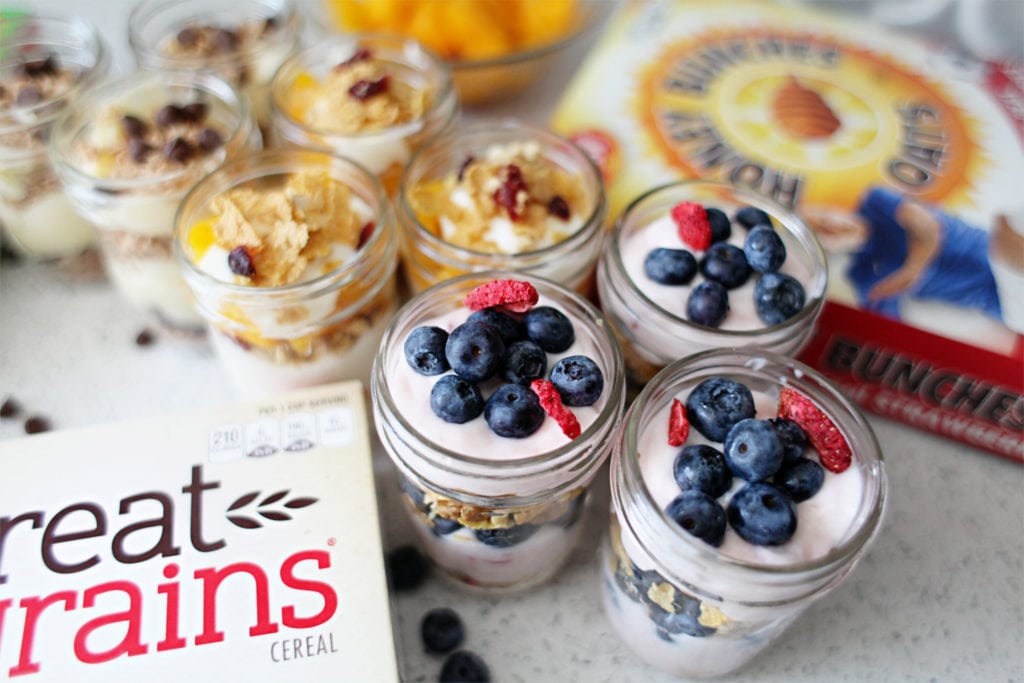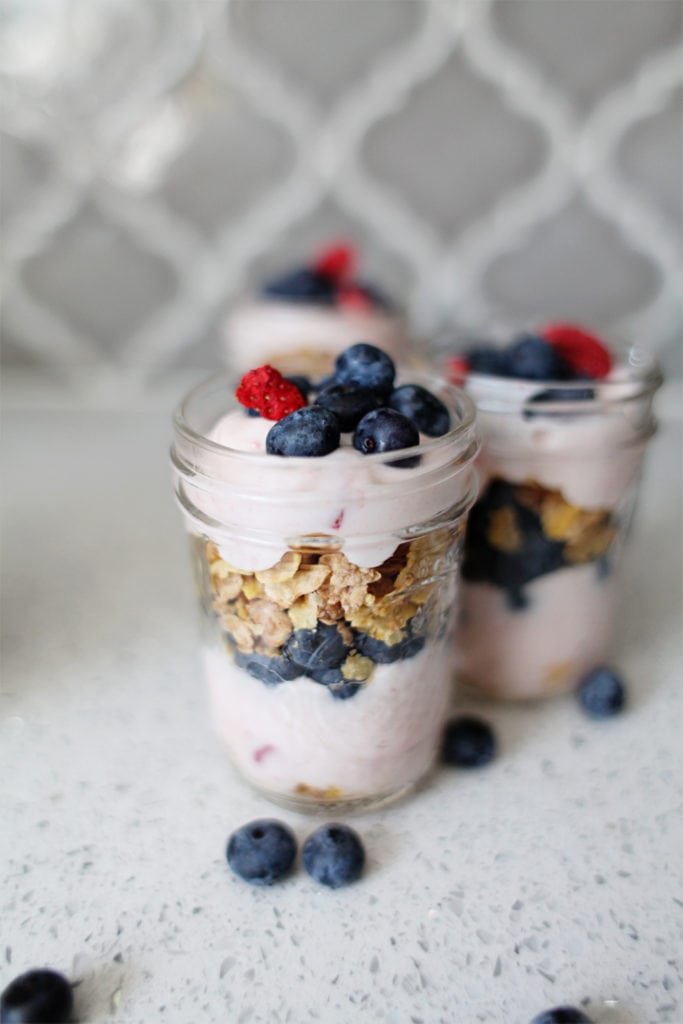 Very Berry Parfait
Ingredients:
        

1½ cups of Honey Bunches of Oats® with Real Strawberries

        

16 oz. of strawberry yogurt

        

1 cup of fresh blueberries
Steps:
1. Similar to the first parfait I started with a nice layer of cereal as the base.
2. Next add a few spoonfuls of the strawberry yogurt and then top it with the blueberries. Since the blueberries were so large, I decided to just have one layer of them in the middle.
3. Then use another layer of cereal and spoon in more yogurt.
4. Top off with a few more blueberries.
The last parfait I created was a pudding parfait, which is more of a treat because with the combination of cinnamon cereal and vanilla pudding it tasted a bit like a churro. Oh and there's chocolate too.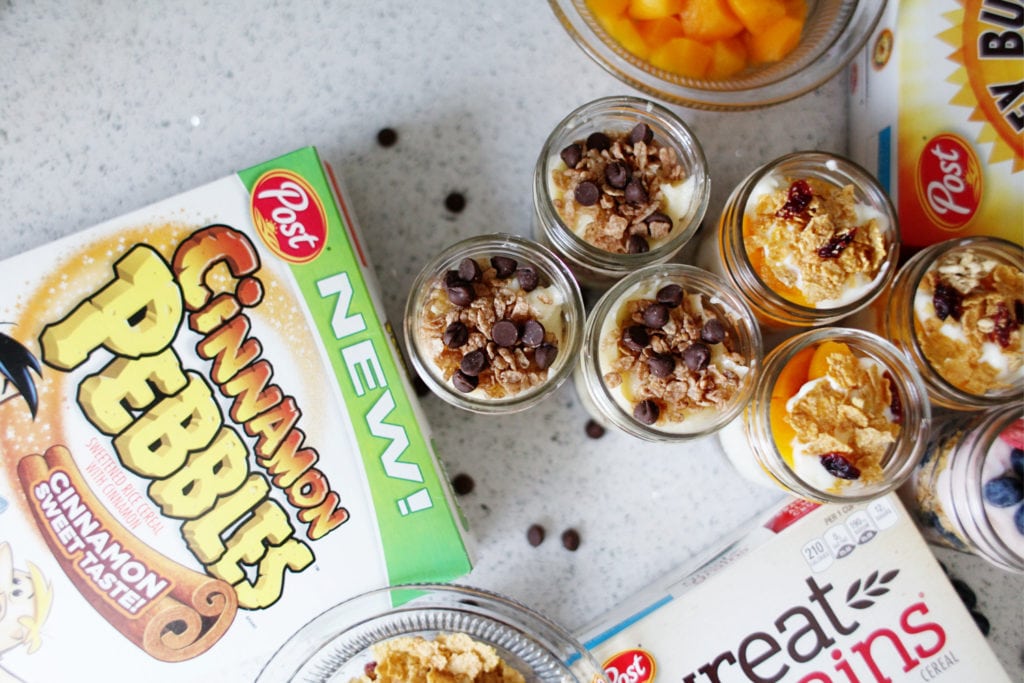 Cinnamon PEBBLES™ Pudding Parfait
Ingredients:
        

1 ½ cups of Cinnamon PEBBLES™

        

1 package of vanilla bean pudding (Pudding should be made prior to this by following instructions on packaging)

        

½ cup of mini chocolate chips
Steps:
1. Use about two large spoonfuls of cereal as a base.
2. Sprinkle in a few chocolate chips on top of that. Due to the fact that I was making this for my kids, I didn't actually do a layer of chocolate chips. Just enough to get a little taste of chocolate without going overboard.
3. Add in a few spoonfuls of vanilla bean pudding. Then add in another layer of cereal.
4. Add in one more, good spoonful of pudding and then sprinkle some cereal and a few more chocolate chips on top to complete the treat!
Your kids (and you) will love these little snacks. They're so easy to make but it steps up your mom game a bit to combine all these great ingredients.
To learn more about Post cereals, visit their website here and to get other ideas about how you can incorporate cereal into your day visit the Post Pinterest Page.
Grab these lunch time hacks too to help make your life easier during the school year!
THE FLINTSTONES and all related characters and elements © & ™ Hanna-Barbera.(s17)