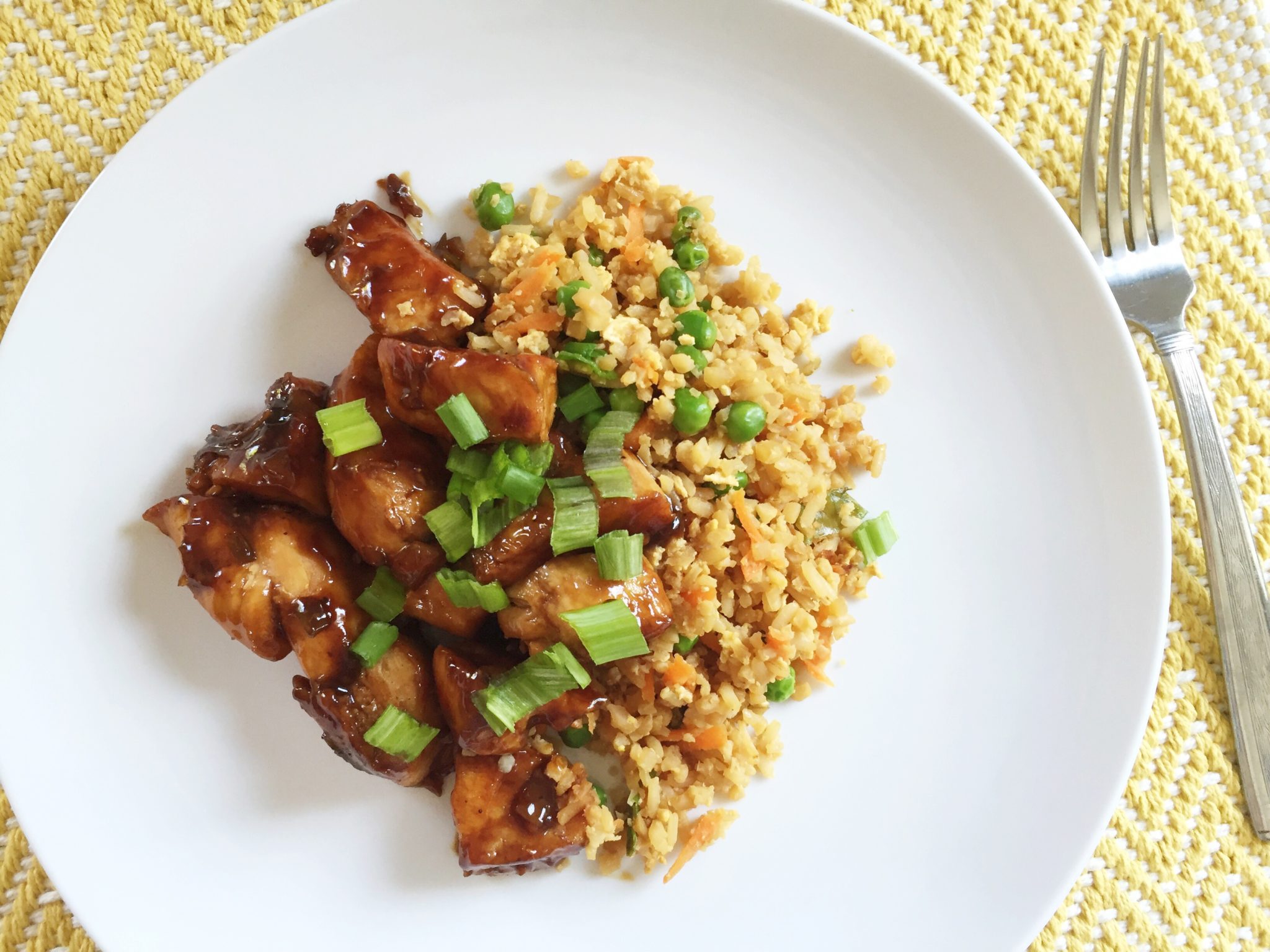 I love carbs. I'm Italian and they are my food group BFF. But, those carbs go straight to my bootie if I don't watch it. It's disappointing because for me there is no greater comfort food after a long day at work or at home with emails or laundry (or both) piling up. For the past decade I've been looking at ways to reduce them from my regular diet while indulging in them occasionally.Enter cauliflower.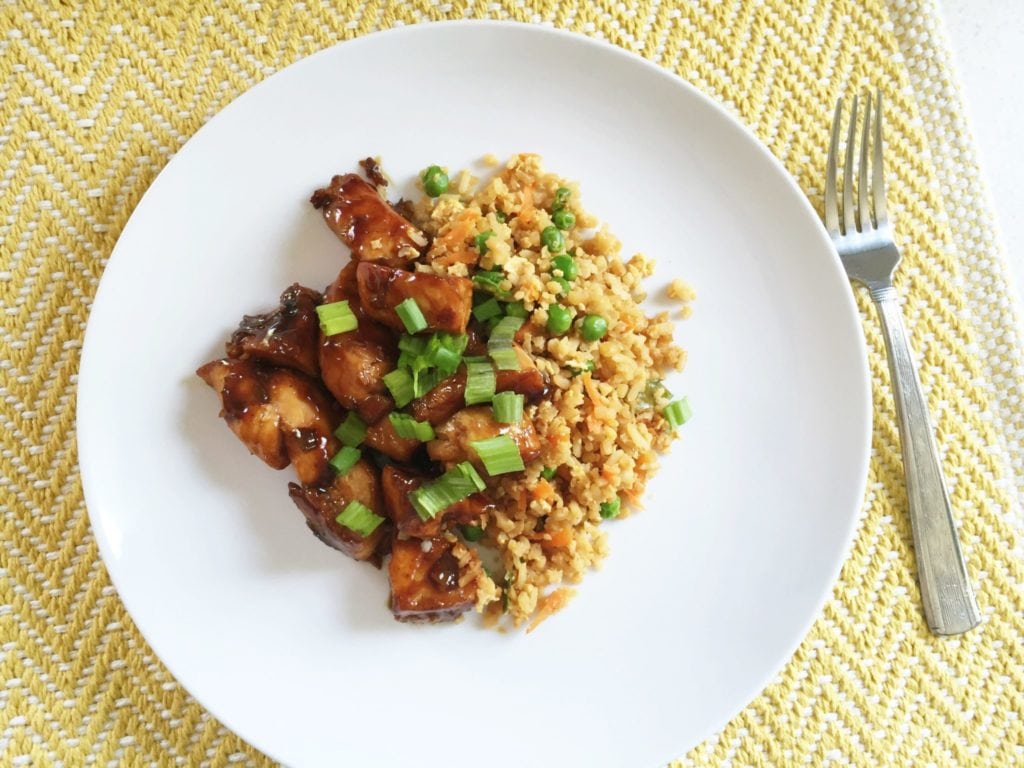 I recently found cauliflower rice in the frozen section of the grocery store and figured there would be no way it could taste as good as regular rice. I also thought there was no way my daughter would eat it. The texture had to be off. The color had to be off. The idea of it just couldn't replace real rice in my head. Well, I was wrong on all counts.
As opposed to using it as just straight rice, I decided I would make it into a fried rice dish as an excuse to add in even more veggies for my family. Not only did the rice taste like real, fried rice, but it fooled my daughter! She gobbled it up and asked for seconds! If my husband didn't know he was eating cauliflower, he said he would have never guessed it. Check out the recipe below to sneak in more veggies at your next family meal.
Time: 30 minutes
Servings: 5 for the rice, 4 for the chicken
Fried Rice
1cup of cooked, brown rice (I'm sure you could use white rice too.)
1 bag of cauliflower rice
2 cups of frozen peas
2 cups of shredded carrots (You can buy these shredded to save time or shred your own.)
2 eggs
1 cup of water
1/3 cup of soy sauce (regular and low sodium will both work)
1 tbsp of olive oil
1 tbsp of green onions (just the white base)
Teriyaki Chicken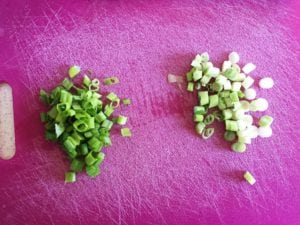 3 chicken breasts
2 tbsp of olive oil
Salt and pepper
1/3 cup of  your favorite teriyaki sauce
1/4 cup of soy sauce
2 tbsp of chopped green onion, just the green tops
1 tbsp of chopped green onion, the white base
2 tsp of chopped garlic
Steps:
Add the olive oil for the chicken to a skillet and heat.
Salt and pepper both sides of the chicken and then add it to the pan. Cook for three minutes per side.
While the chicken is cooking, boil your rice in a pot of water on the stove top. I used boil-n-bag rice which only took about 12 minutes.
Then, mix together the sauce for the chicken in a bowl. Add the soy sauce, teriyaki sauce, garlic and white base of the green onion.
Remove chicken from the pan and chop into cubes. (You can do this to start, but I always find the chicken is easier to cut once it has been cooked a bit.)
Add the chicken back to the pan and add the teriyaki mix. Cook the chicken until it is cooked through and reaches the proper internal temperature.
While the rice and chicken finish cooking, pour the frozen cauliflower into a microwave safe bowl and add in 1 cup of water. Microwave until the cauliflower is fully cooked. Our's took about 4 minutes.
Drain any additional water out of the cauliflower rice once it is cooked.
Then also microwave your peas with a little water added into the bowl.
Removed cooked chicken from the pan and wipe it down. Set chicken aside in a warm place.
Add your olive oil to the pan for the rice, then add 1 cup of the cooked rice and the cauliflower rice. I only added the real rice here because I wasn't entirely sure how this would turn out. I do think that it helped bulk up the cauliflower rice a bit.
Mix together and then add the peas and carrots.
Add the soy sauce. Mix.
Add in your eggs. I pushed the rice aside, cracked it right into the skillet and then mixed right there. You can also pre-mix the eggs in a bowl.
Mix everything together and heat through for about 5 minutes.
Plate with chicken and sprinkle the green onion tops (just the green) over the dish.
Serve immediately and fool the kids in your household.
This recipe looks like it has a lot of steps, but I promise, it is easy enough to do on a weeknight when you get home from work.
Happy eating, friends!