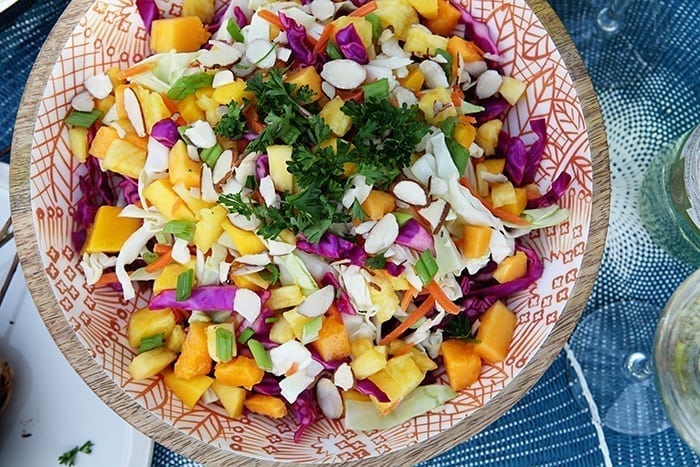 When I create a recipe or a dish, I like to create something that appeals to a wide audience. Sometimes though, people get stuck in one box with food. They fall back on old favorites because it's easier than venturing out and trying something new.
I'm guilty of this. I sometimes won't order things at a restaurant if I think a dish won't be worth the calories.
That said, I'm always 100 percent in favor of trying something new.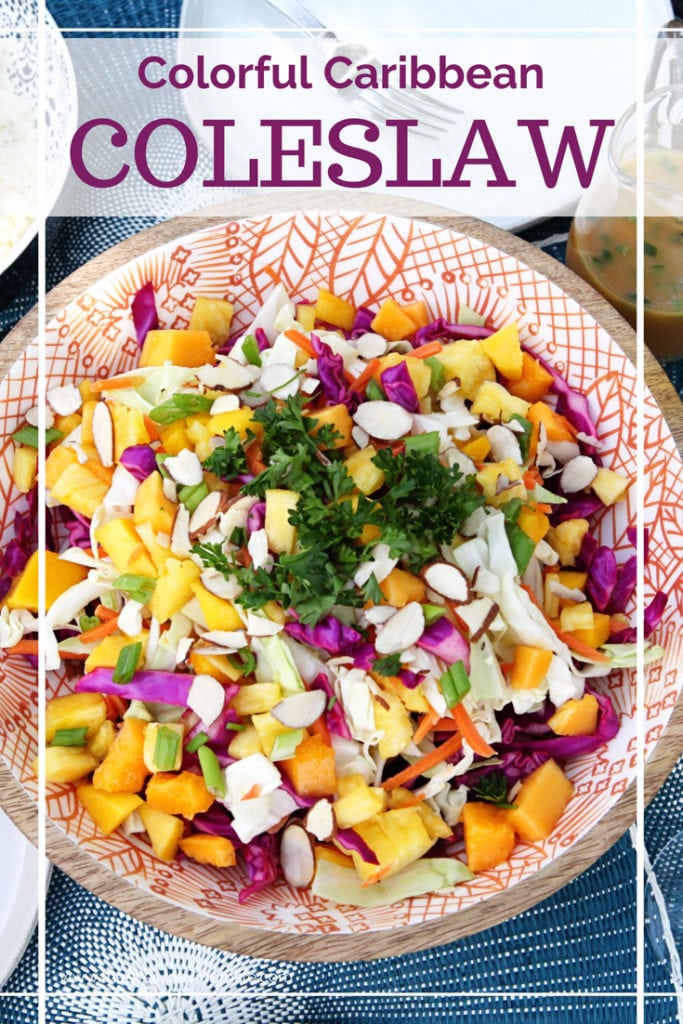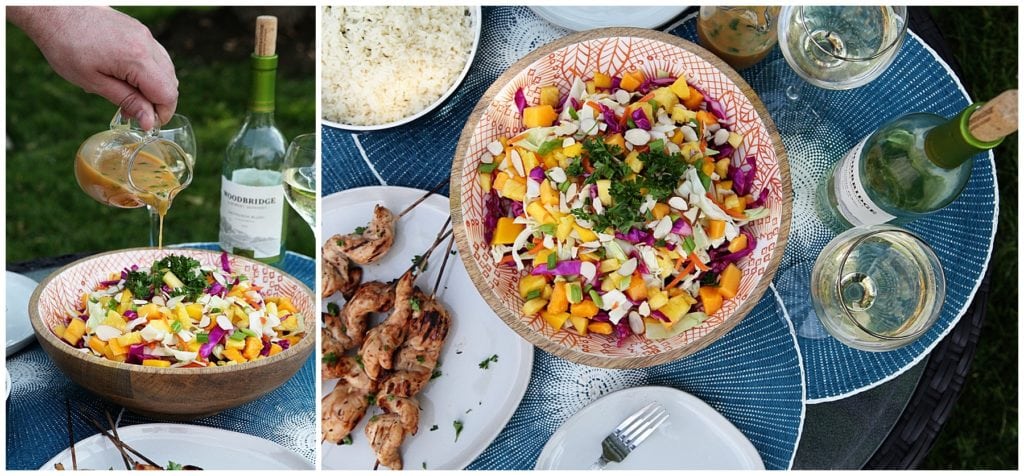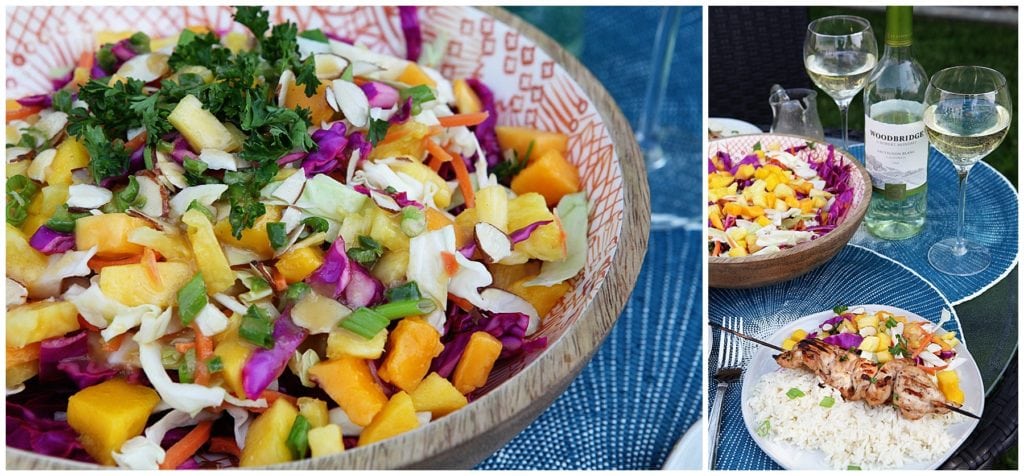 For Round 3 of the Woodbridge Wines by Robert Mondavi Summer Sides Cooking Competition, there was one rule: No cooking.
So, this round we weren't allowed to cook and when I was thinking of side dishes that I could create without actually turning on a burner or an oven, coleslaw was the first thing that popped into my mind.
That said, I didn't want to be stuck in creating just a normal coleslaw for this competition. My whole philosophy here has been trying to create dishes that would taste incredible, visually be drool-worthy and surprise and delight people with something they might not have tried before.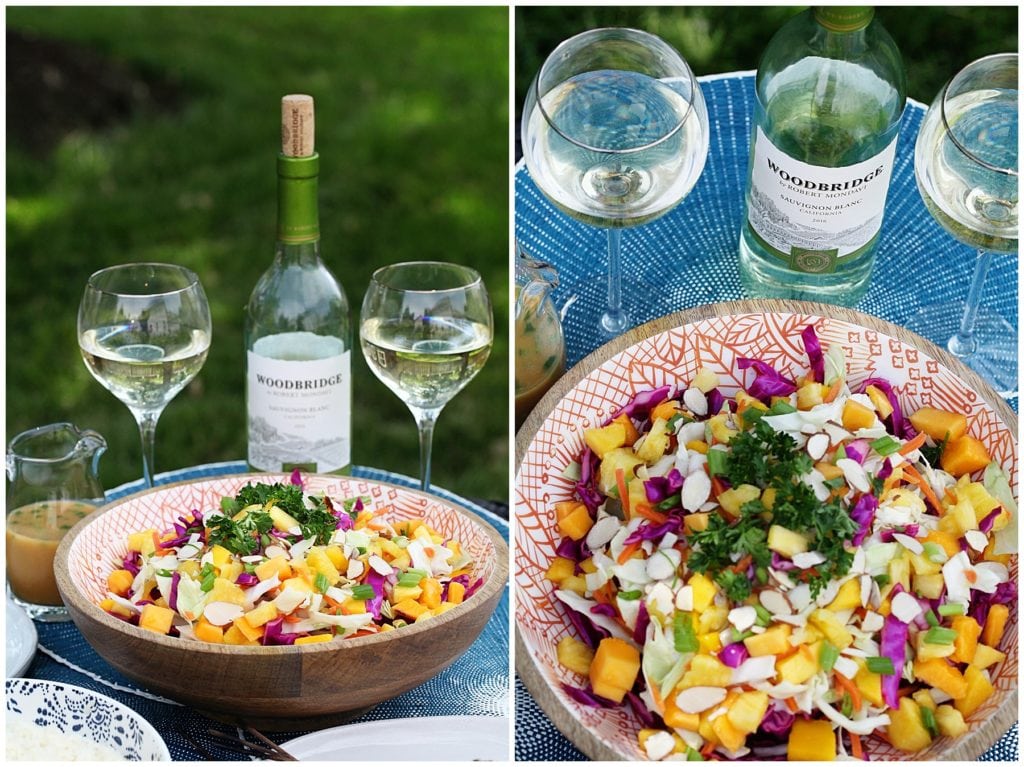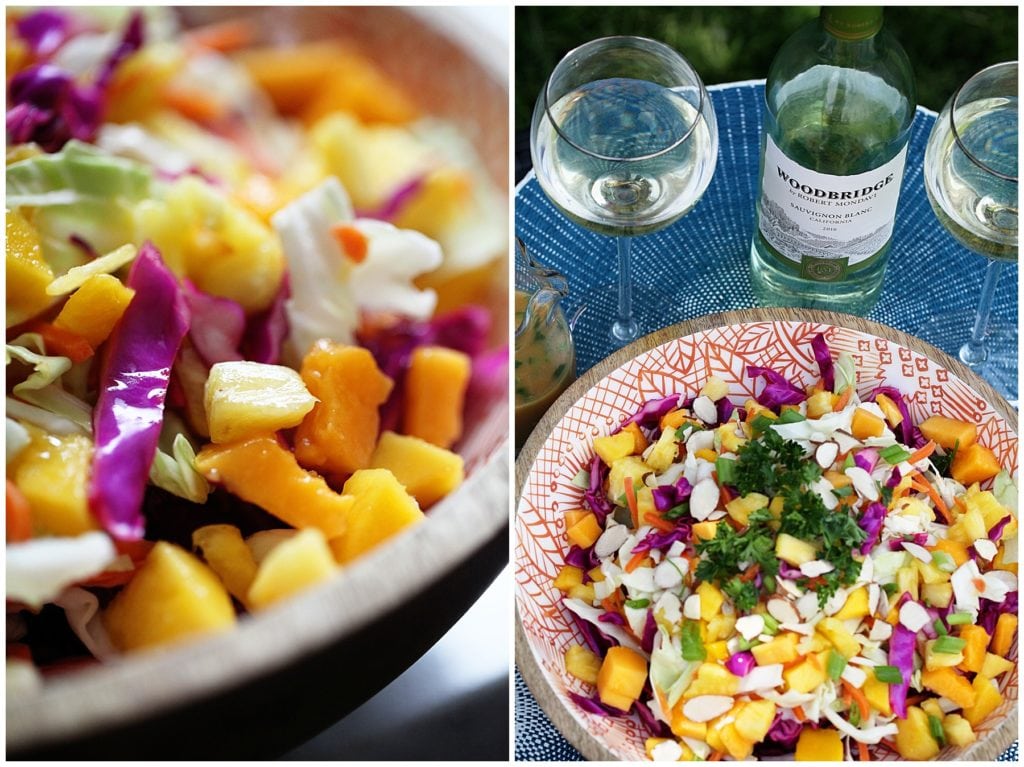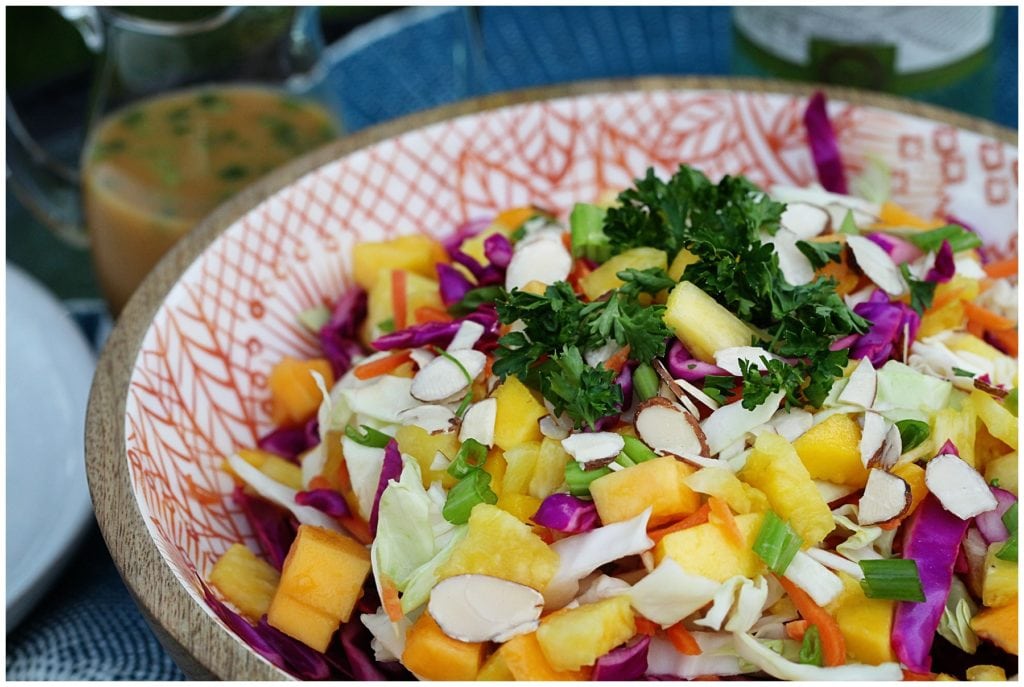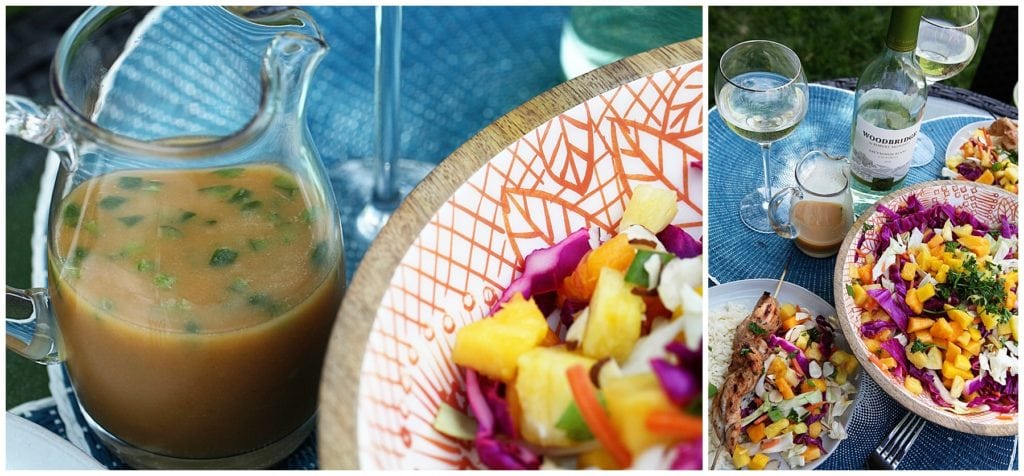 You wouldn't make plain coleslaw for an episode of Chopped or Top Chef, right? I wasn't going to make plain coleslaw for this. I was going to make a coleslaw that would be better looking and better tasting – despite it being outside of the box.
This Colorful Caribbean Coleslaw is a mayo-free coleslaw that's fruity, fresh and will taste a little decadent. It's made with all fresh foods and ingredients and combines some of the most tropical fruits around with just a little bit of tang and sweetness.
Please click here to vote for me!
Grab the full recipe below and make it this weekend! I served it will grilled, Jerk Chicken Skewers and Basmati Rice.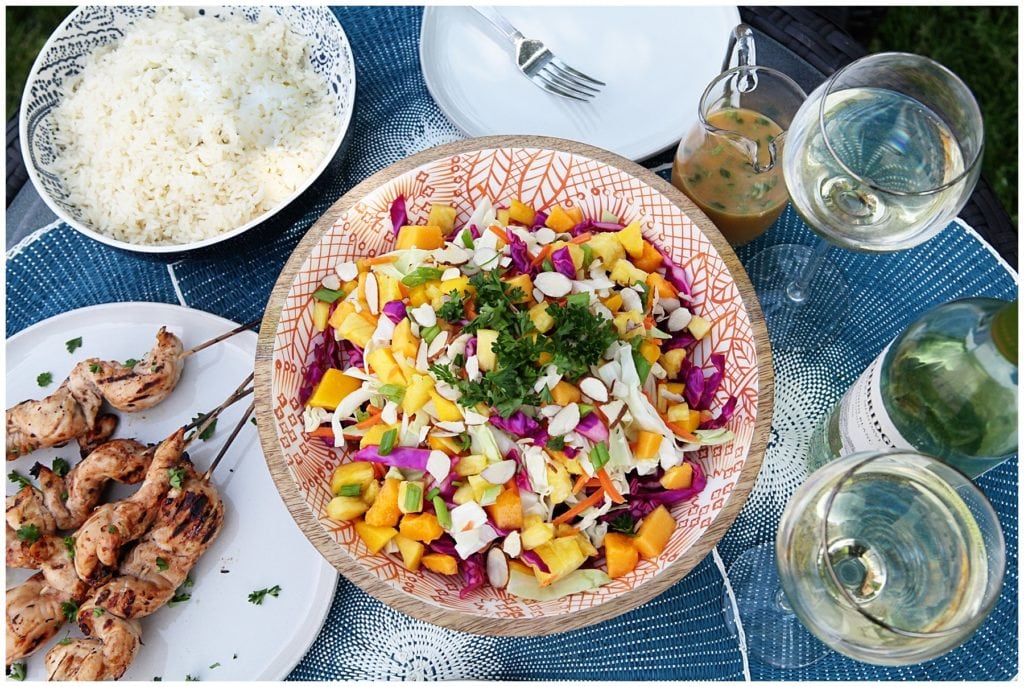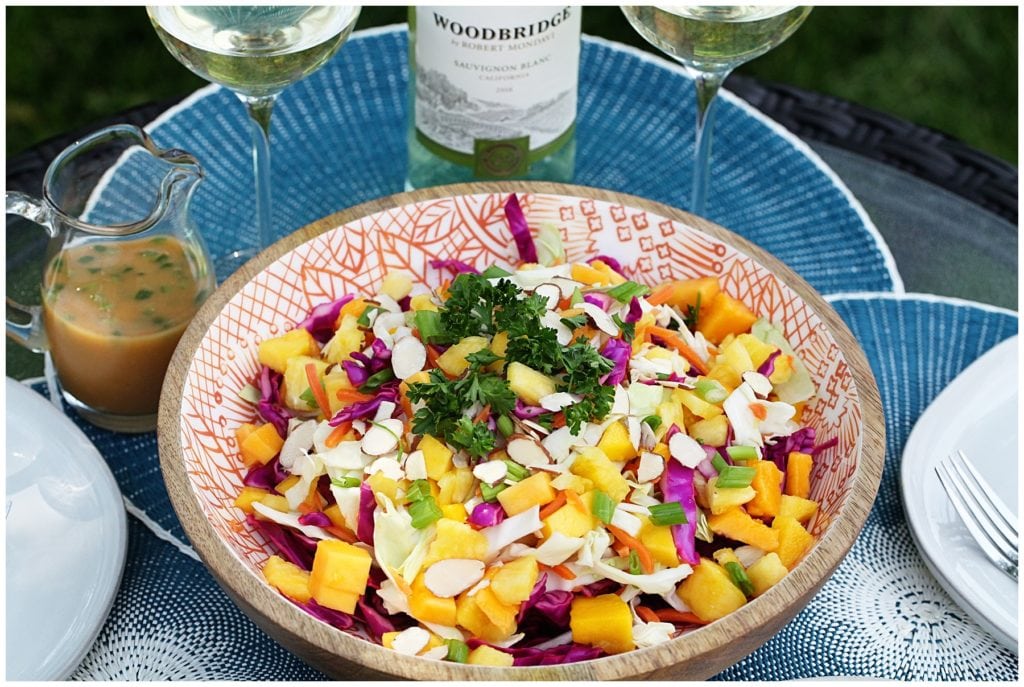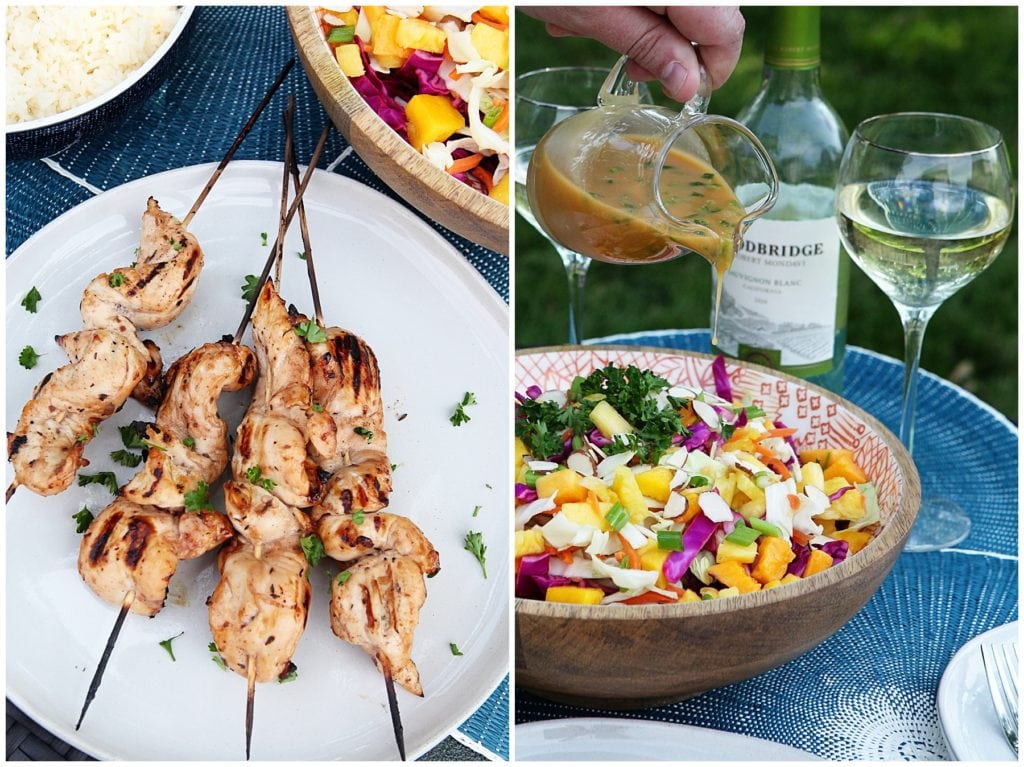 Colorful Caribbean Coleslaw
Ingredients
Slaw Ingredients:
• 3 cups of green cabbage
• 3 cups of purple cabbage
• 2 large mangos, seeded and chopped into small cubes
• 2 large papayas, seeded and chopped into small cubes
• 1 pineapple, cored and chopped into small cubes
• ½ cup of sliced almonds
• ¼ cup of parsley, chopped
• 3 green onions, chopped
Dressing Ingredients:
• 3 Tbsp. of honey
• 2 Tbsp. of Dijon mustard
• 2 Tbsp. of lemon juice
• 2 Tbsp. of Extra Virgin Olive Oil (High quality)
• 2 Tbsp. of Brown Sugar
• 1 Tbsp of Red Wine Vinegar
• 1 – 1 ½ tsp. of hot sauce
• 1 tsp. of garlic, pureed or minced
• ½ of a jalapeno, diced
Instructions
Combine all dressing ingredients and mix thoroughly. Chill until you're ready to use.
Slice your cabbage into thin strips and combine together.
Cut your mango, papaya and pineapple.
Mix 1 ½ cups of your fruit with your cabbage and mix well. Set the other ½ of each aside.
Just before serving, add your dressing to the coleslaw and mix.
Sprinkle your green onion over the salad.
Top your salad with the additional fruit, parsley and almond slices to serve. Mix again to combine and get dressing on all ingredients.