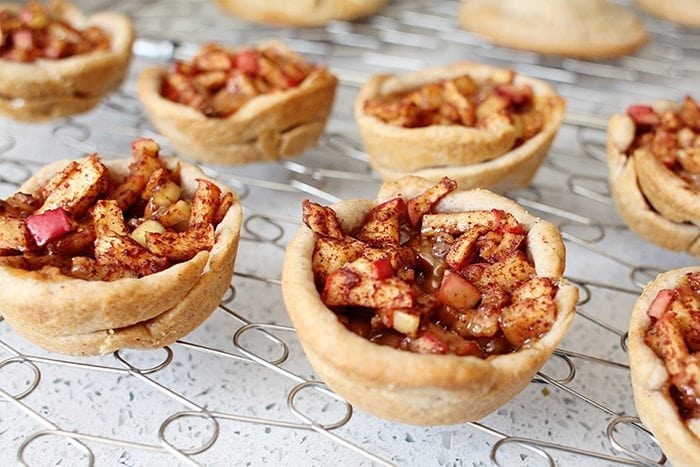 I can't get enough of the delicious food that is around in the fall. Truth be told this is the hardest time of year for me to control any and all cravings I have for homemade baked goods. Anything with baked apples, caramel, pumpkin and all the warm, cozy spices of fall just speaks to straight to my stomach. Self-control goes a little bit out the window when I'm confronted with treats like these delicious Caramel Apple Pie Cups.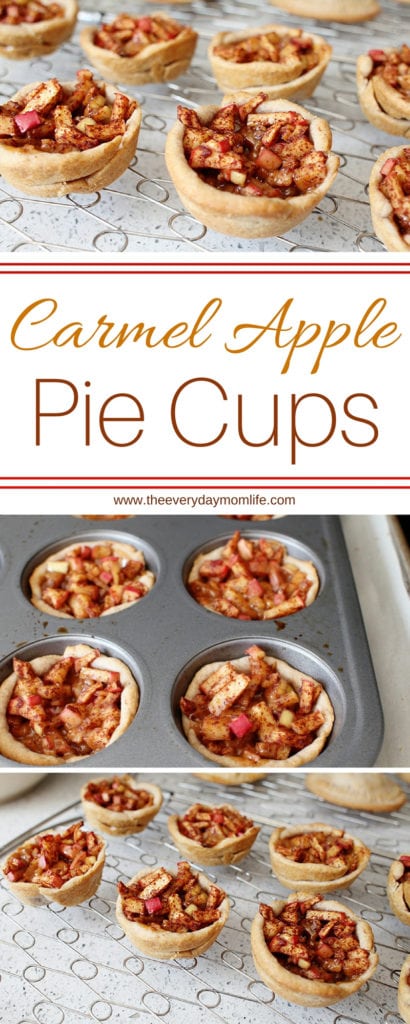 As I was creating another recipe for the season I sort of stumbled upon making these and I'm so happy I did! They are warm, gooey and a perfect blend of cinnamon and apple baked to perfection.
I had extra crust from another recipe – not enough to use to make more of my other recipe, but too much to toss without feeling guilty. I saw an empty cupcake pan and decided to get a little inventive. I had no idea if the dough would behave properly in "cup" form and I wasn't sure how everything would melt together, but it turned out to be a good use of the dough and my time.
One word of caution with these though…You won't be able to stop eating them. They're bite-sized, snackable and your guests will be asking for the recipe.
You need to make them either a few hours before you're planning to serve them or use them as soon as possible. Usually I can figure out a way to preserve baked goods for a day or two. Not these. By day two they have dried out. I blame the caramel.
For the full recipe, check out the steps below!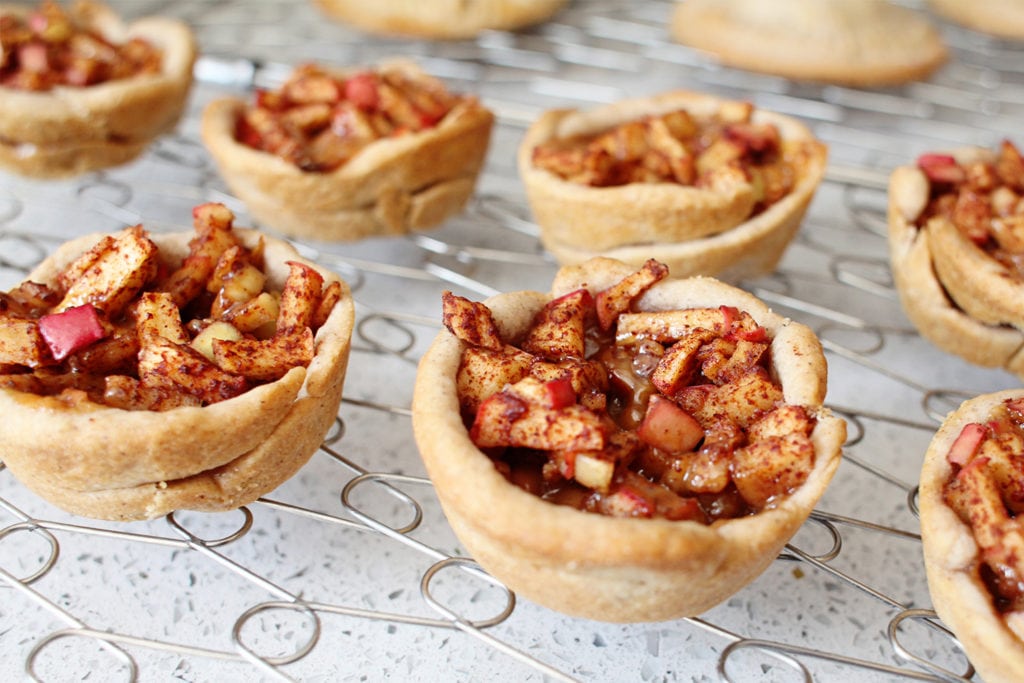 Pie dough ingredients:
2 ¼ cups of flour
½ tsp. of baking powder
2 sticks of butter, softened and cubed
1 Tbsp. of cinnamon
½ cup of sour cream
1 egg
1 Tbsp. of water
Pie filling ingredients:
4 large Pink Lady apples
½ Tbsp. of cinnamon
¼ cup of sugar
10 caramels, cut into small cubes
1 can of lemon lime soda or lemon lime soda water

Steps:
1. Add flour, cinnamon and baking powder in a bowl and mix them together.
2. Add in your butter and use your hands to mix the butter in until everything is well blended.
3. Stir in sour cream.
4. Add more flour a tablespoon at a time until the mixture isn't sticking to your hands.
5. Chill dough for one hour.
6. Add the lemon lime soda to a bowl and begin cutting your apples. You want them in small cubes so that they fit within the hand pies. Once cut let them soak in the lemon lime soda so they don't brown.
7. Once they've all had a few minutes in the soda, drain the apples and pat them dry.
8. Add them to a bowl and add your cinnamon and sugar. Let this mixture sit for 30 minutes. You can chill it or you can cover it and let it sit at room temperature.
9. While apples are chilling, cut your caramels into cubes and set aside.
10. Preheat your oven to 425 degrees.
11. Remove dough from fridge and roll out with a rolling pin on wax or parchment paper. If the dough is sticky continue to dust it with flour so it's workable.

12. Use a glass to cut out circles for the hand pies. You can also use a round cookie cutter if you have one.
13. Spray a cupcake pan with cooking spray or use olive oil to grease the inside of each cup. Make sure you don't skip this step and make sure that you get all the area inside each cup.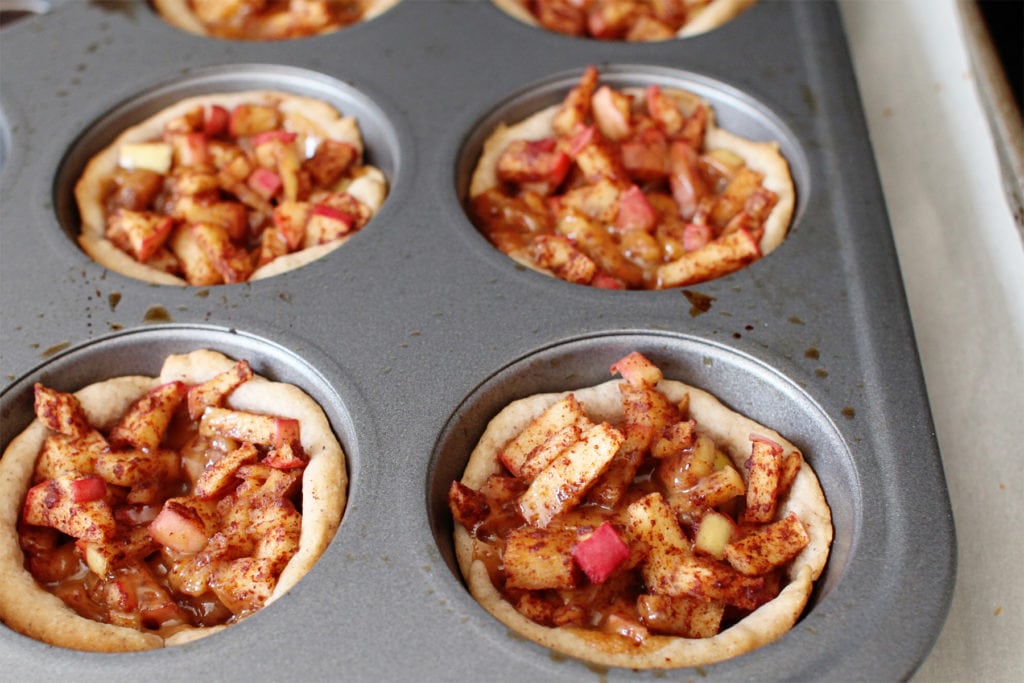 14. Add each of your round pieces of dough to each cupcake spot and spread the dough up the walls of the cupcake pocket. Add extra dough to the edges if you need to. This dough won't really expand so what you see is what you get.
15. Spoon in your apple mixture to each cup and add two or three caramel cubes to each.
16. Bake for 15 minutes and then remove them from the pan immediately using a knife around the sides to get them out if necessary.
17. Let them rest for at least 10 minutes before serving. Serve warm.
If you end up serving these a few hours after making them you can reheat them in the microwave. I suggest brushing them with a bit of water before putting them in the microwave to keep them for drying out.
Happy eating, friends! And happy fall!