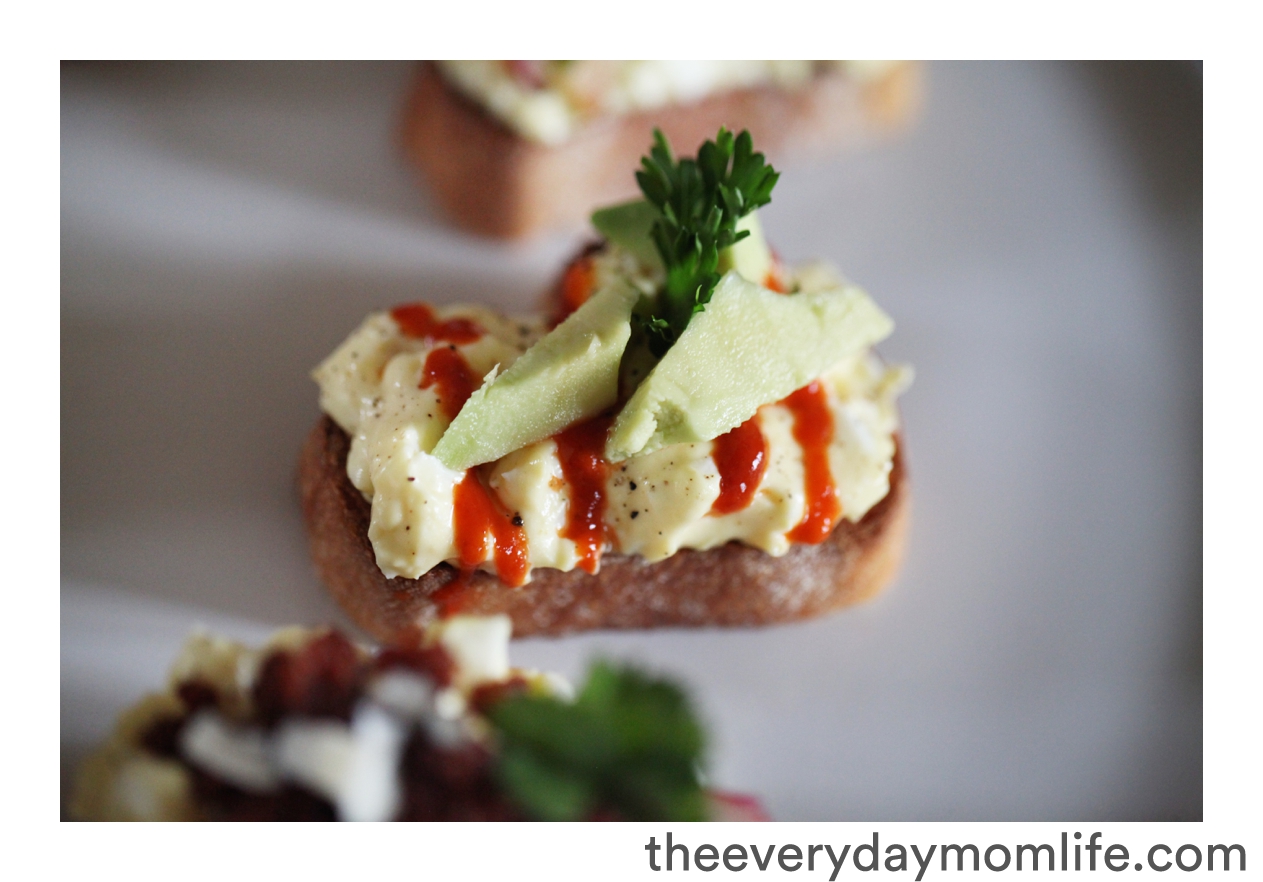 After the bunny comes on Easter morning, you may be wondering how you can use up all those eggs that your kids recently found. Instead of making egg salad, I decided I wanted to try something new this year and create a type of bruschetta that could be served prior to your Easter meals.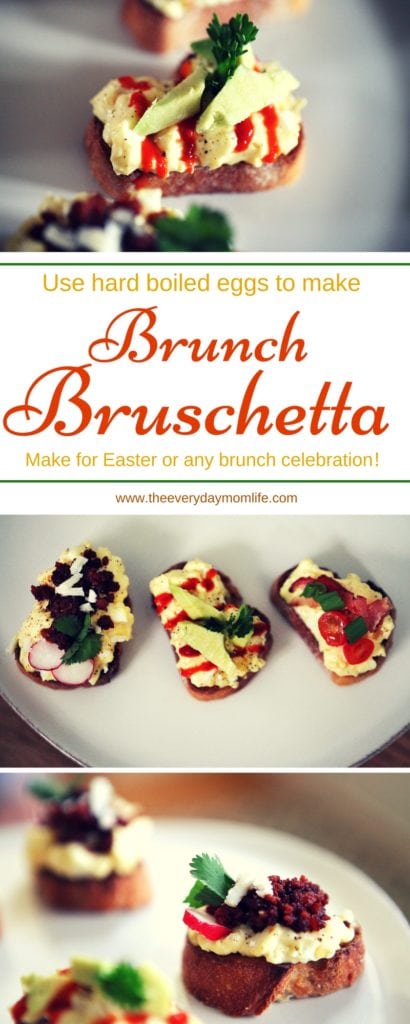 So, I set out to pair an egg spread with interesting toppings that would be fun for my taste buds. I created three kinds of Brunch Bruschetta with my eggs that I think will delight anyone's guests on Easter Day, and help to use up all those eggs. The results were delicious! Take a look and my Chorizo, Avocado Sriracha and Bacon & Eggs Brunch Bruschetta!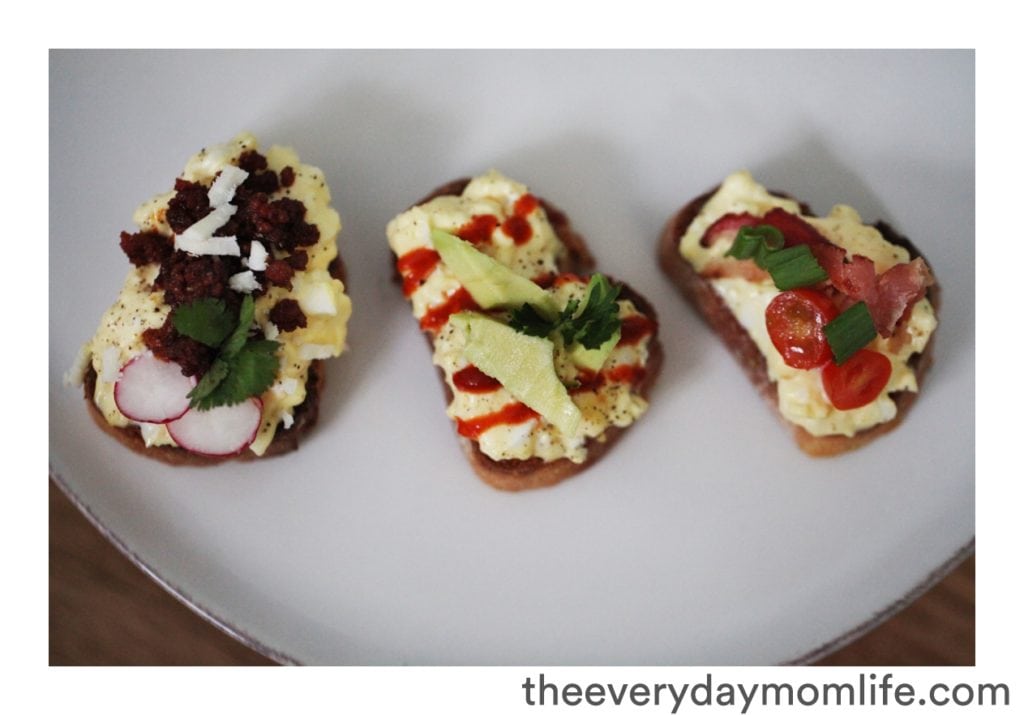 To create these combos, you will need the following: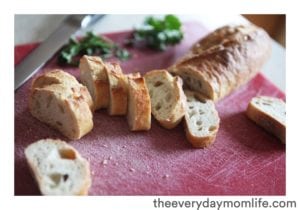 Base for Bruschetta (yields 10-12 servings):
1 baguette bread
1 Tablespoon of Olive Oil
4 hard-boiled eggs
1/2 cup mayonnaise
Pepper
Steps:
Slice baguette into 1/2 inch pieces.
Spread evenly on a baking sheet and brush with olive oil.
Put your bread in the broiler for about 5 minutes. Keep an eye on it. Broiler times may vary and you want it just slightly browned.
Peel hard-boiled eggs and mash in a bowl with a fork. You want to make the consistency finer than you would have with egg salad.
Mix in mayo and continue to mash/stir.
Keep this in the refrigerator until your toppings are ready.
When ready to top, spread a thick, even layer of the egg mixture over the bread. Top with pepper.
Add toppings as desired.
Bacon & Eggs Bruschetta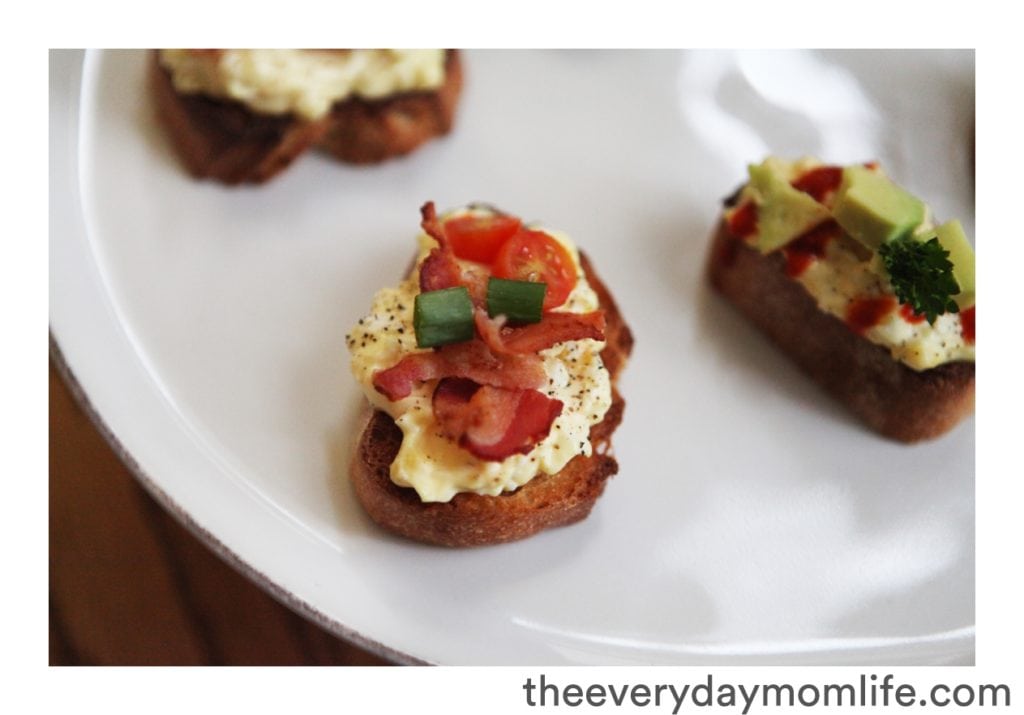 You will need:
4 strips of bacon
1 tablespoon of chopped green onion
6 sliced cherry tomatoes
Steps:
Cook the bacon until it is crispy.
Lay it on paper towels to pull some of the grease away.
While the bacon is cooking, chop you green onion and tomatoes. Set aside.
Once the bacon is cooled, chop it and top your egg mixture on the toasted baguette.
Add your tomatoes and green onion then serve.
Chorizo & Cheese Bruschetta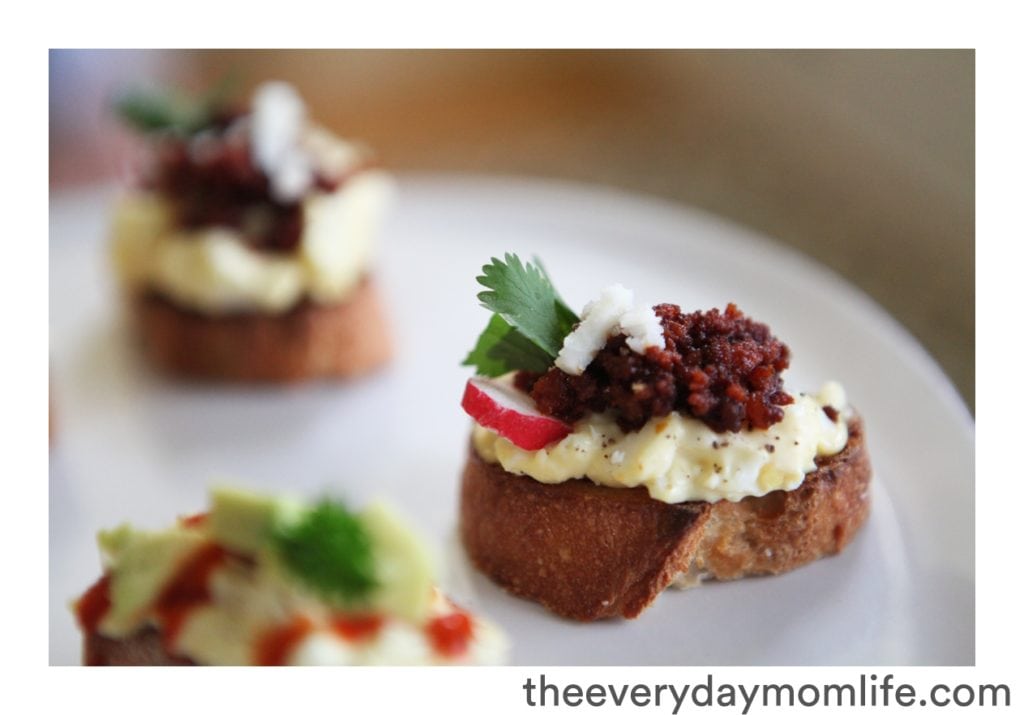 You will need:
1 package of chorizo sausage
5-6 radishes
2 Tablespoons of Cotija Cheese
A handful of cilantro (Very scientific, I know.)
Steps:
Take chorizo out of casing and cook thoroughly. You can cook this at the same time as your bacon from above.
While cooking, slice radishes, chop cilantro and grate cheese. Put all aside until the chorizo is done. Refrigerate if necessary.
Add your chorizo on top of your egg spread.
Add your sliced radishes to one side of the baguette.
Top with cheese crumbles and cilantro.
Serve!
Avocado Sriracha Bruschetta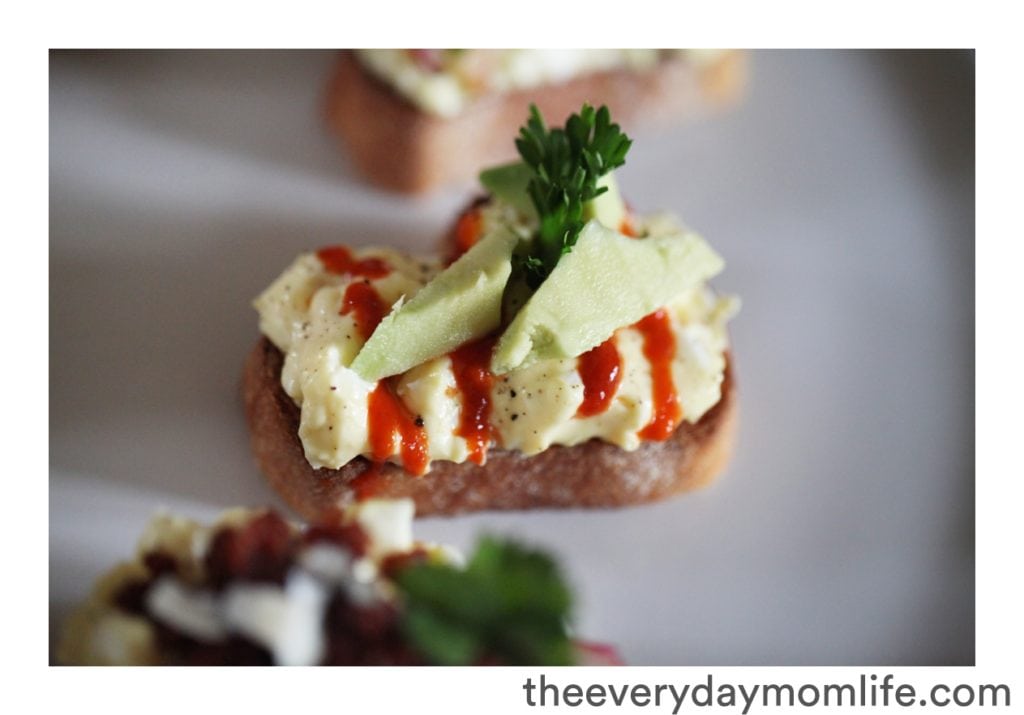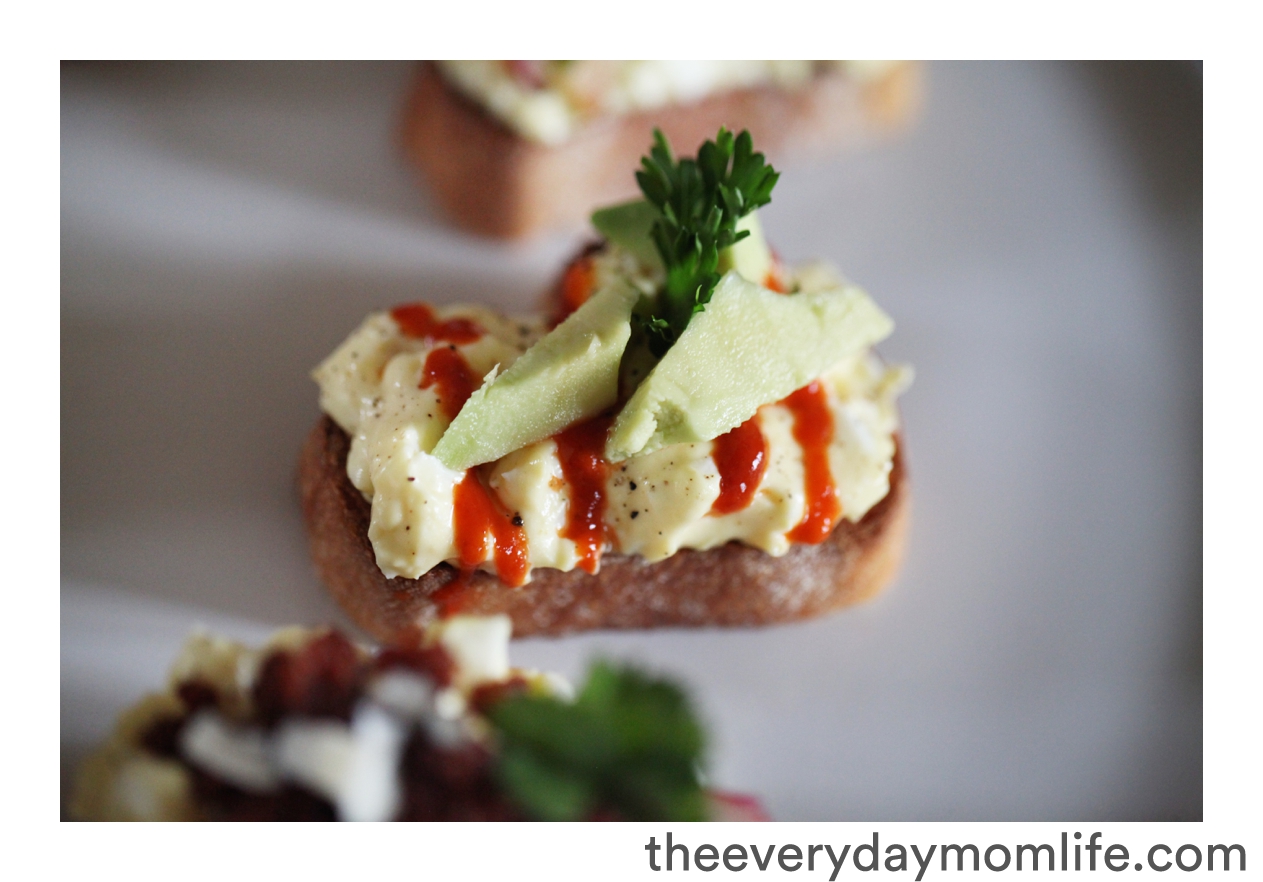 You will need:
2 ripe Avocados
about 2 tablesppons of Sriracha sauce
A few pieces of parsley
Steps:
Cut the avocado into slices and set aside. If you're making all three, make this one last as the avocado won't sit around long and have a chance to brown.
Cut up parsley.
Drizzle the Sriracha sauce over the egg spread on the baguette. Add as little or as much as you like.
Top with your avocado slices, about two per piece of bruschetta.
Add your parsley and serve!
Happy Eating, friends!