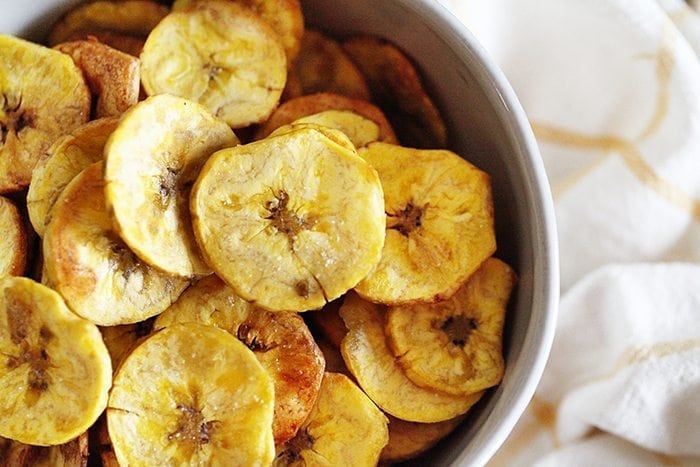 I've been wanting to make baked plantain chips for so long! I've been trying to create better-for-you snacks for myself and after eating plantains multiple times in restaurants (usually fried), I knew these would be something that I would love.
If you live in the United States, you probably don't eat plantains that often. However, they're a staple in parts of Africa, the Caribbean Islands, Central America and parts of Southern America.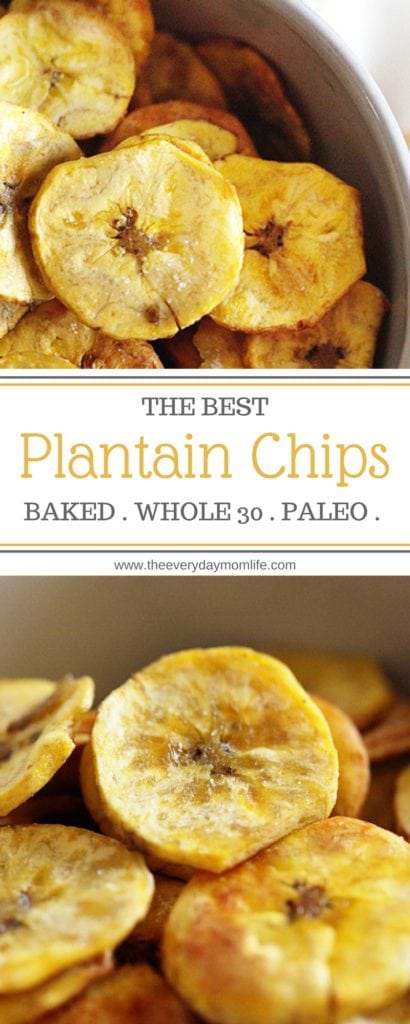 Plantains contain more starch and less sugar than regular bananas, which is why people often cook them before eating them.
When cooked plantains tend to caramelize, especially when fried, making them sweeter than if you were to eat them raw like a banana.
I love a great, fried plantain with some vanilla ice cream and sprinkled with cinnamon, but, that's not what this post is about… 🙂
That taste though is what compelled me to try making baked plantain chips and they were everything I imagined!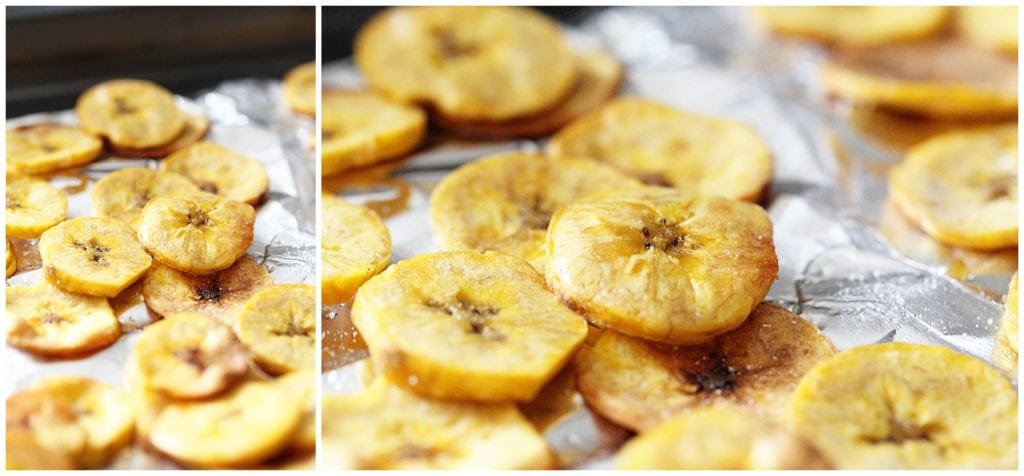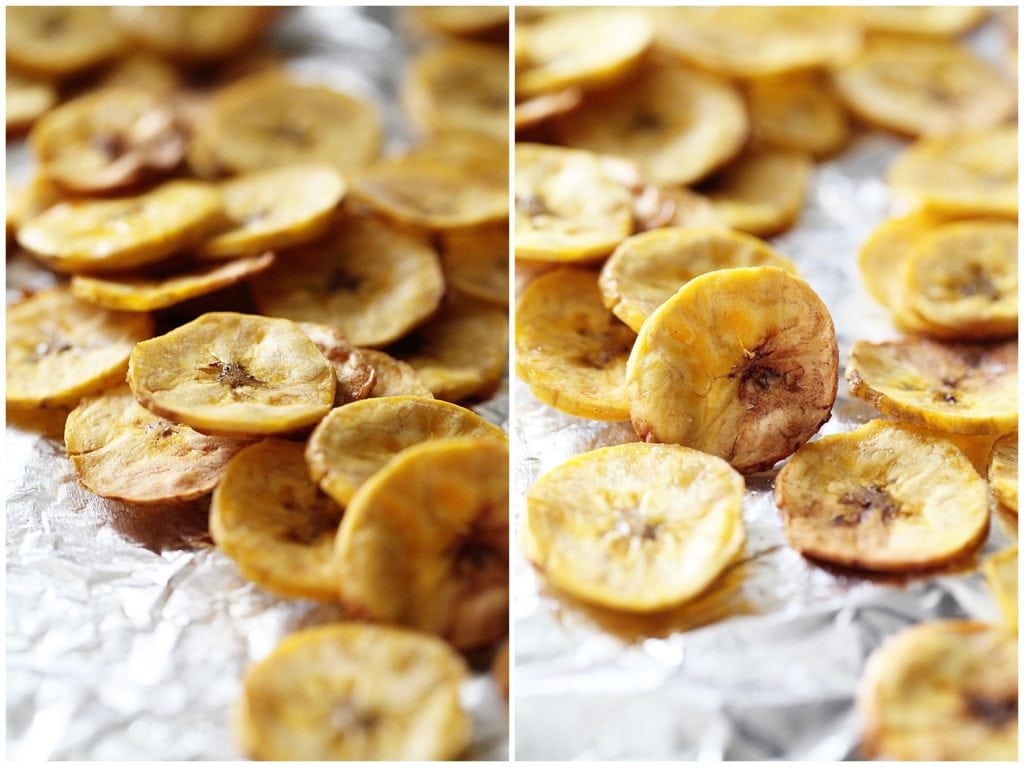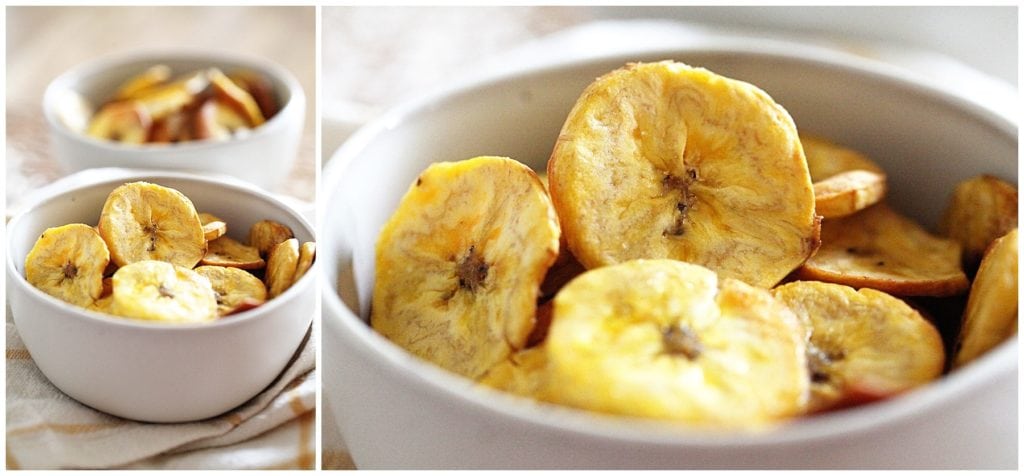 They were crispy with a light flavor and a hint of sweetness without actually being sweet. My husband and I agreed the ones that I sliced thin enough (I did it by hand) tasted exactly like a potato chip.
I also love these as a snack idea for Whole 30, Paleo or just anyone who wants to eat more fruits and veggies and fewer processed snacks.
Check out the full recipe below. It really couldn't be any easier than this.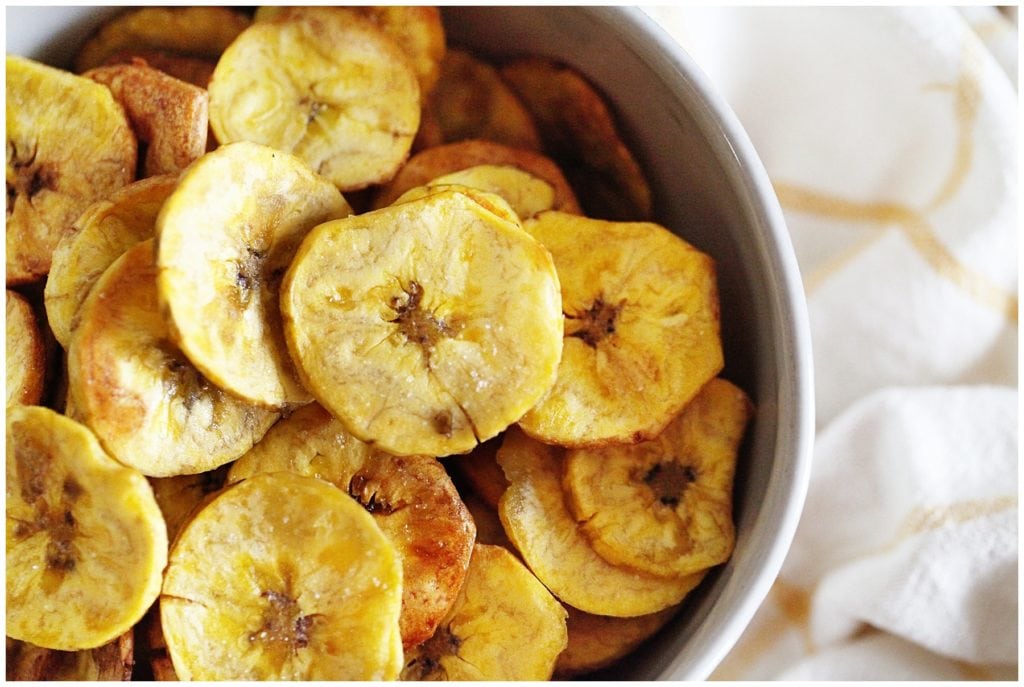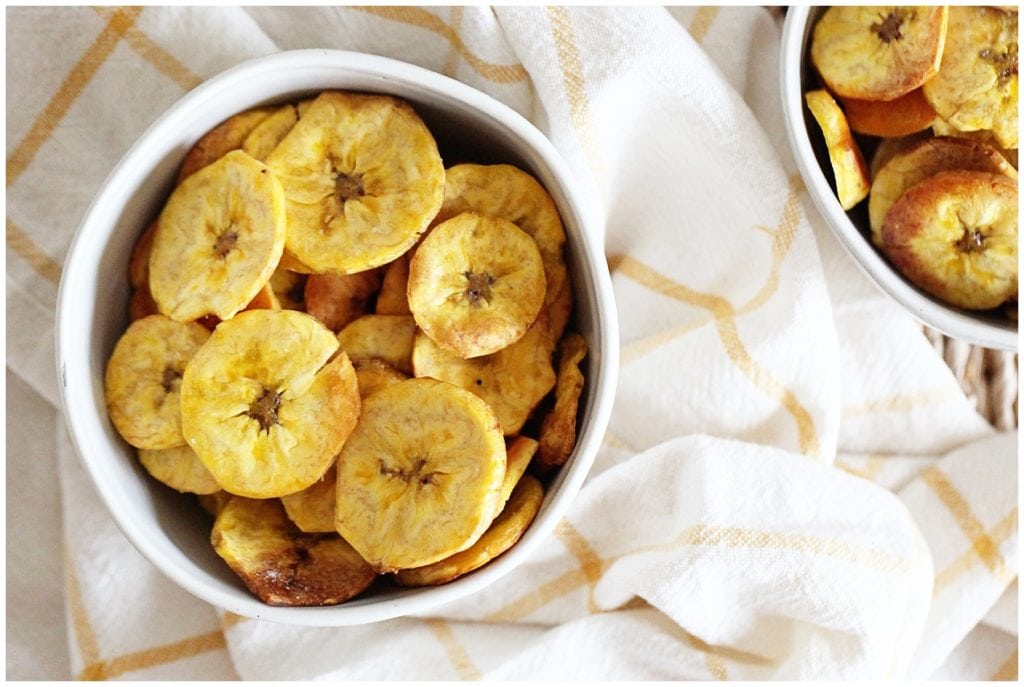 The Best Baked Plantain Chips
Prep time:
Cook time:
Total time:
Ingredients
4 plantains
3-4 Tbsp. of olive oil
Sea salt to taste
Instructions
Preheat your oven to 400 degrees.
Peel and slice the plantains very thin. You can use a vegetable slicer if you want but I used a regular knife and just sliced them as thin as I could make them. Be safe when doing this though.
Toss the plantains in a bowl with the olive oil.
Lay out the chips on a cookie sheet lined with foil paper. You want them in a single layer and don't want them overlapping.
Bake them at 400 degrees for 17-20 minutes. I'd check them after 17 minutes. You want them golden but not actually brown.
When done pull them out and sprinkle them with some salt to taste. I'm a fan of a lightly salted flavor.
You'll want to eat these fairly quickly – at least within a few hours of making them. The ones that weren't sliced thin enough became a little soft after a few hours. I still thought these were delicious, but it wasn't really how I wanted them.
The crunchy, potato-like ones were the ones that really made me happy since they fulfilled a crunchy craving in a nutritious way. These would be delicious with guacamole or even drizzled with honey if you want a sweeter taste.
If you try these please tell me how you like them! I'm pretty sure you'll be a fan.
Happy eating, friends!
For more delicious recipe ideas, click here.