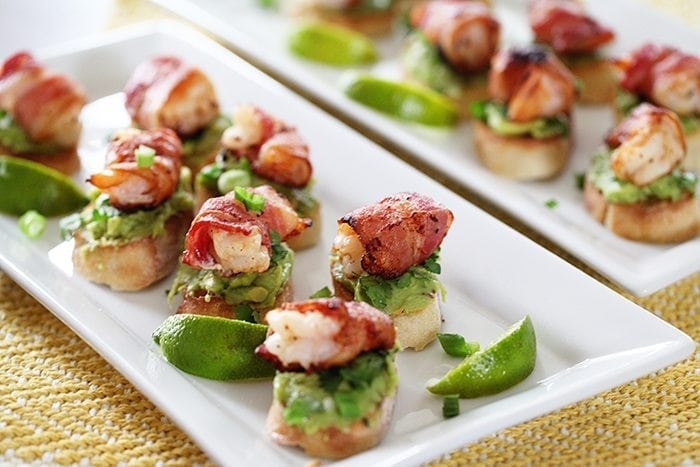 When holidays roll around my family often gets too busy planning the sit down meal and dessert(s) to think about any sort of munchie food prior to the main event. This generally leads to people snatching pieces of Italian deli meat, pickles, black olives, artichokes and other first course items while they're still being prepared. Every now and then, we'll remember, "Oh yeah! We should have appetizers!"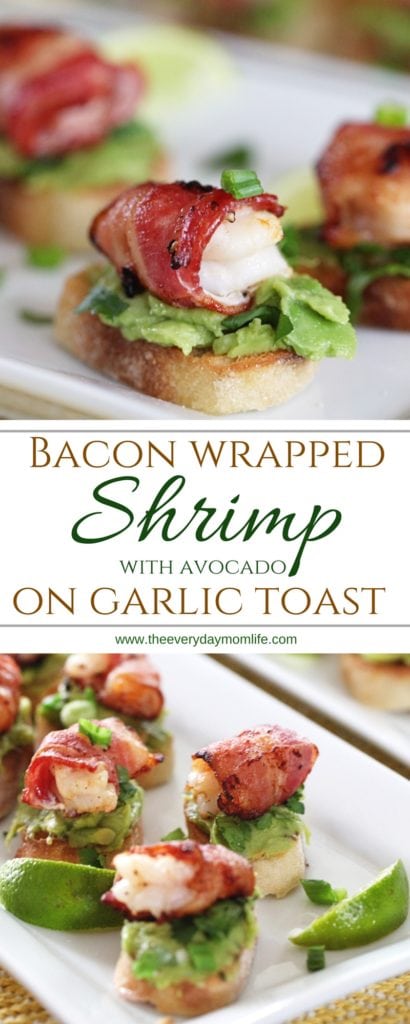 When making a big meal for a lot of people I think it's easy to overlook appetizers. Not only that but when you remember that you should have some appetizers it often feels like they're one more thing to do on a very long to-do list.
In the spirit of keeping it easy, (but delicious) I made this bacon wrapped shrimp with avocado on garlic toast (Could I have made than name any longer?) It is both easy, incredibly good and should hold everyone over until you can sit down for a full meal.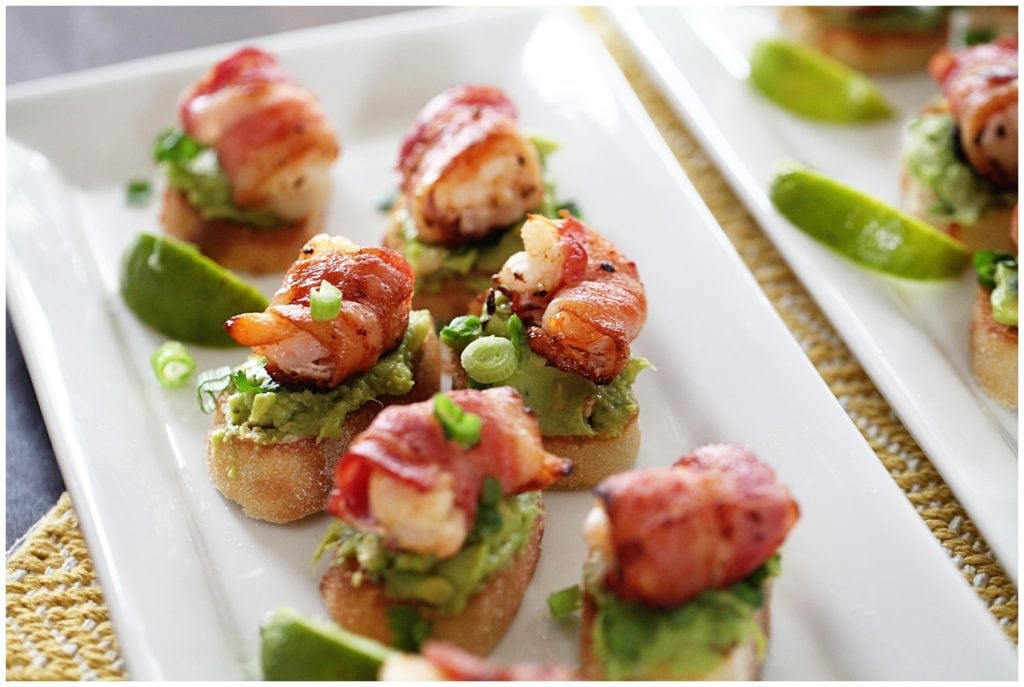 Bacon Wrapped Shrimp with Avocado on Garlic Toast
Ingredients:
1 baguette of skinny French bread, sliced into pieces about 1/2 inch wide
1 head of garlic, roasted or softened in the microwave
3 Tbsp. of olive oil
12-15 large shrimp, peeled, deveined with tails removed
2-3 avocados, smashed as seasoned with sea salt or as you like
Half a package of bacon slices, cut in half
1/4 cup of cilantro
2 Tbsp. of green onion
2 limes
1/2 Tbsp. Chili powder
1/2 Tbsp. of garlic salt
Fresh cracked paper to taste

Steps:
1. Brush 2 Tbsp. of olive oil onto the bread. Add your garlic. You can either chop it into small pieces or if it's soft enough (usually from roasting) you can spread it on the bread.
2. Broil the bread for a few minutes until it is golden brown and crusty.
3. While the bread cooks add your shrimp to a bowl with 1 Tbsp. of olive oil and the juice of one lime.
4. Add your chili powder, garlic salt and black pepper.
5. Wrap each shrimp with half a slice of bacon.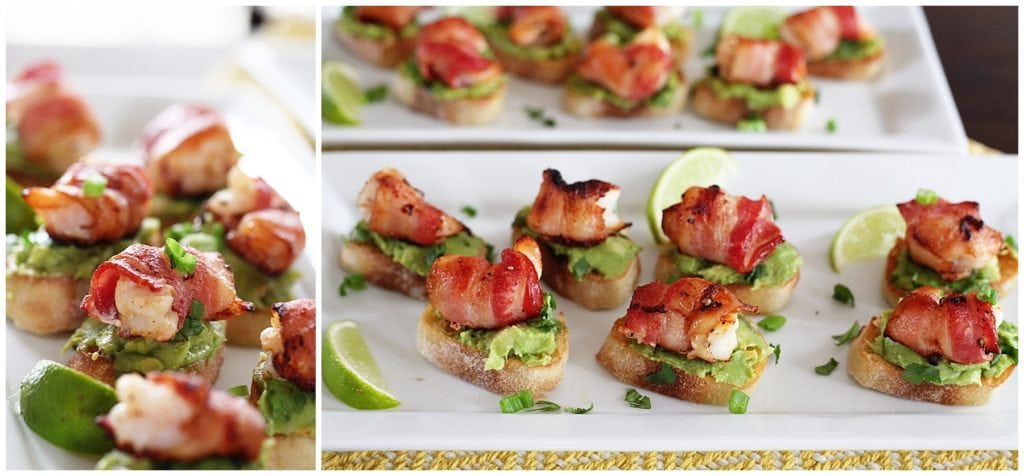 6. Once the bread is done preheat the oven to 450.
7. Cook the shrimp and bacon for 10-15 minutes. Check it after 10.
8. Then broil the shrimp and bacon for 5-8 minutes until the bacon is crusty.
9. Spread a thick layer of avocado onto the bread.
10. Sprinkle the cilantro on top of the avocado.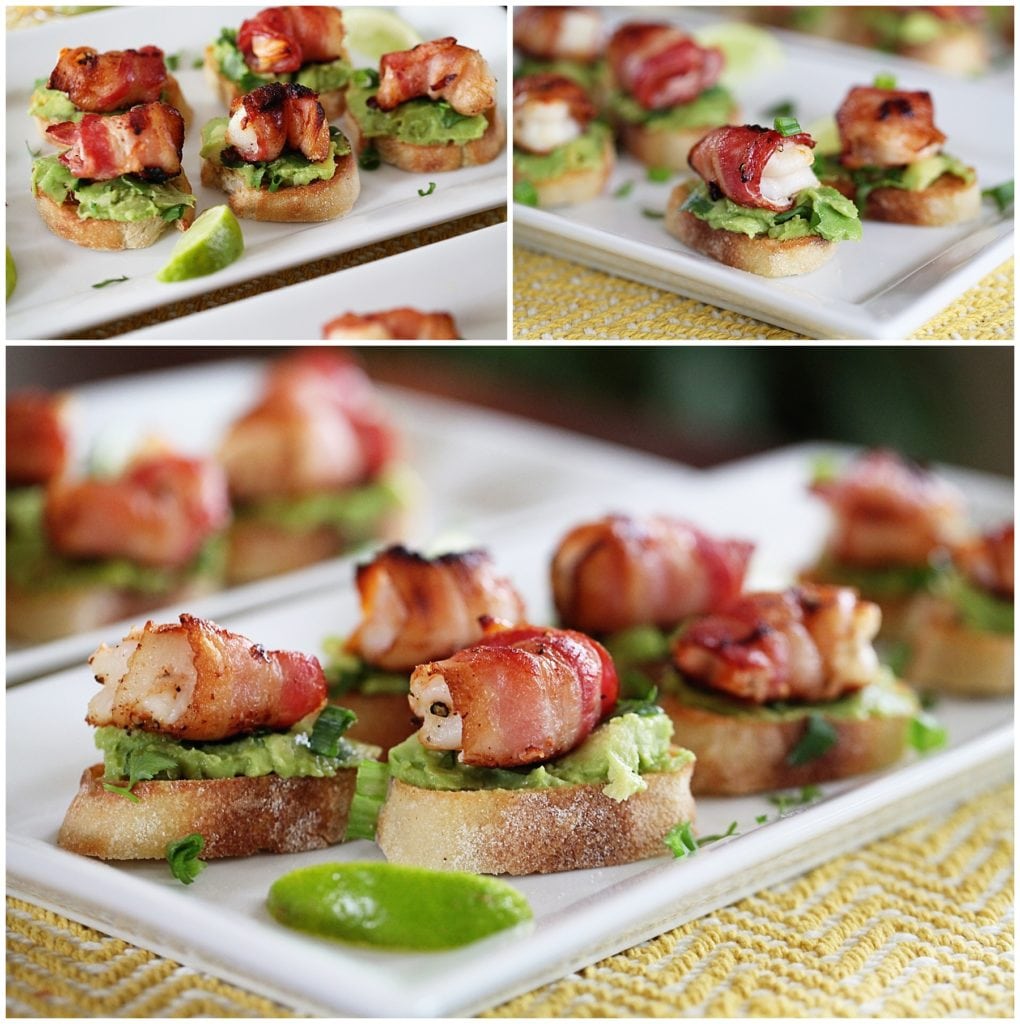 11. Add your shrimp and bacon to the top and then sprinkle with green onion.
12. Serve immediately with another squeeze of lime over the top.
I hope you love this quick, little appetizer. You can actually eat it in two or three bites with your fingers or a fork. Hopefully it will also help to keep you from picking at the pickles and antipasto tray. 🙂
Happy eating friends! For more appetizer ideas, click here.