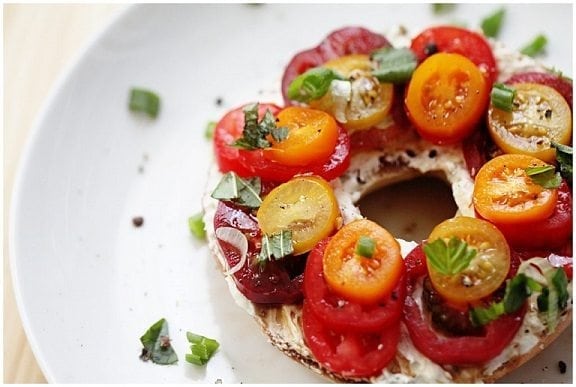 I don't host brunch a lot, but around the holidays it seems like people are always trying to squeeze in one more party, one more get together and one more excuse to gather round the table and eat. This usually mean more brunches.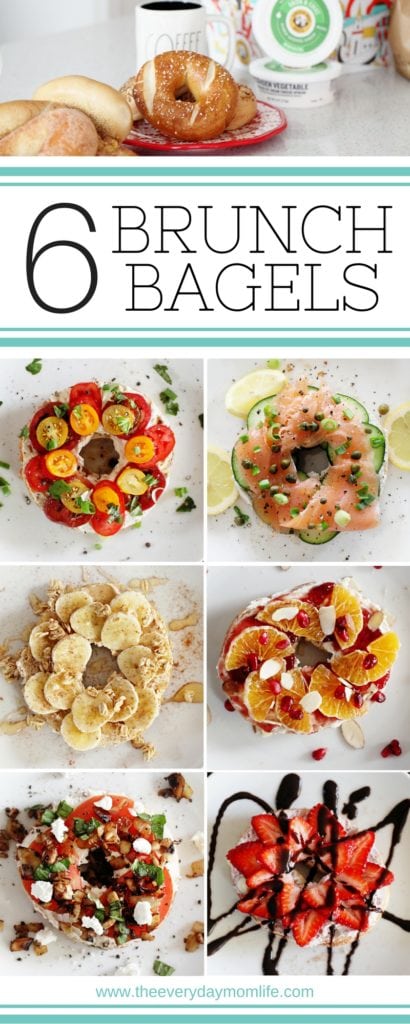 However, when I've been really busy working (cooking), making cookies with the kids and making food for other celebrations, I'm usually spent. Yes friends, I get tired of cooking and need someone else to do the work for me.
Also, whenever you have guests over you're often running around and trying to get everything ready and cleaned. Then you have to make everything…then clean again… During this process you don't often have time to really visit with people.
Enter Einstein Bros Bagels. When hosting a brunch or lunch, ordering bagels is one of the easiest ways for me to provide people with a substantial amount of delicious food without me having to do much.
And, it also lets everyone make something they really love. The Baker's Dozen Box, which includes 13 bagels and two shmear options, allows you to pick from a variety of bagel flavors and there are so many to pick from! My kids, my husband and anyone else can be happy as they gather round a bagel bar set-up and pick either a savory or sweet option to munch on as we all visit.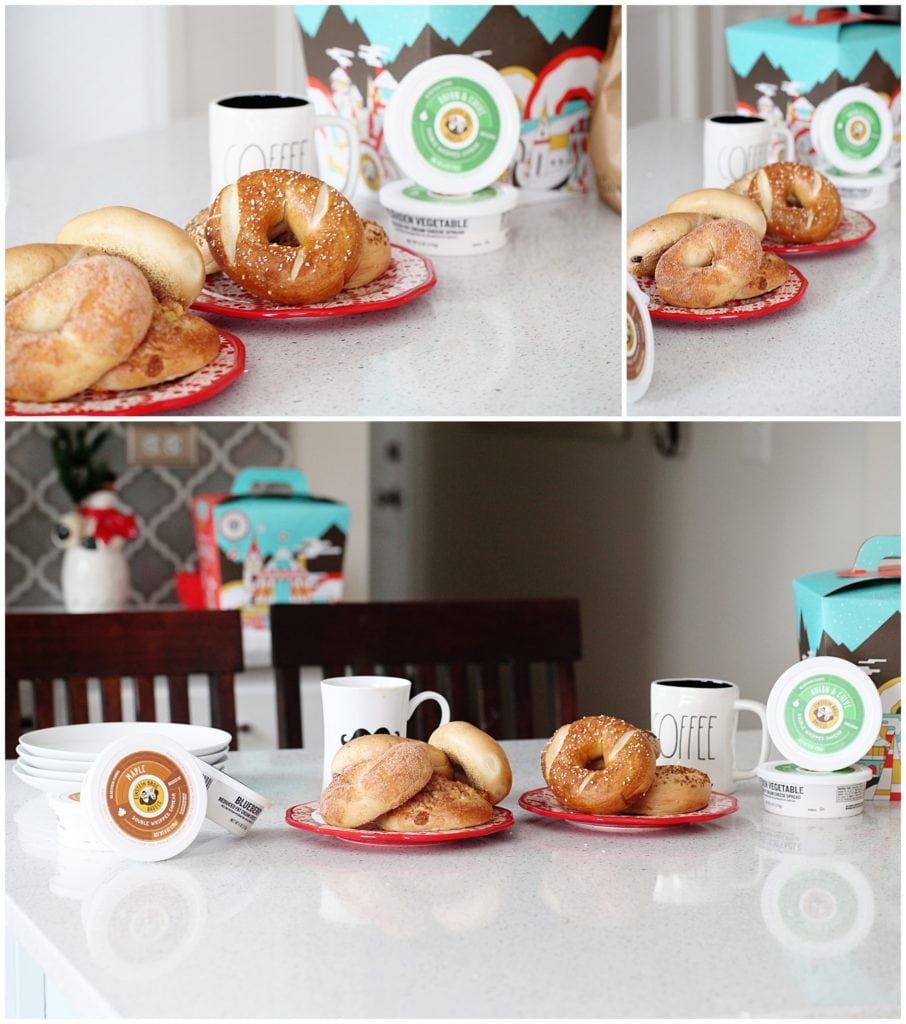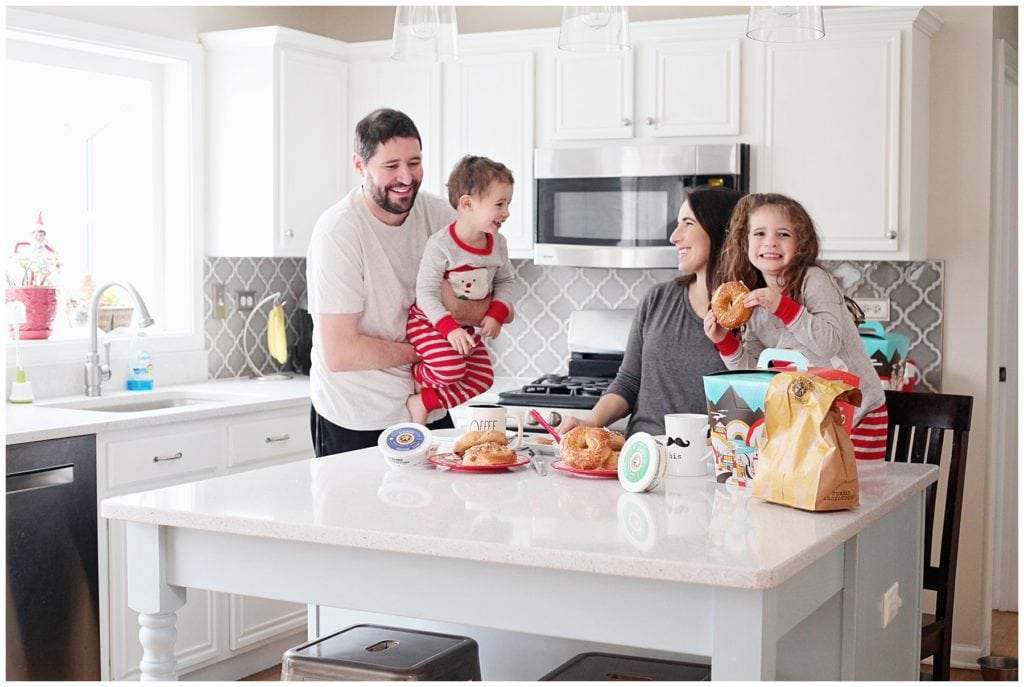 Check out some of my brunch bagels below! Hopefully they will inspire you to order in Einstein Bros. Bagels (They deliver!) and make some incredible creations of your own.

Lox with Cucumber
This one is an old favorite for a lot of people but I couldn't leave it out. It's one of my favorite brunch and breakfast, or even dinner, bagels. I added the cucumber because I wanted a little crunch and left off the raw onions.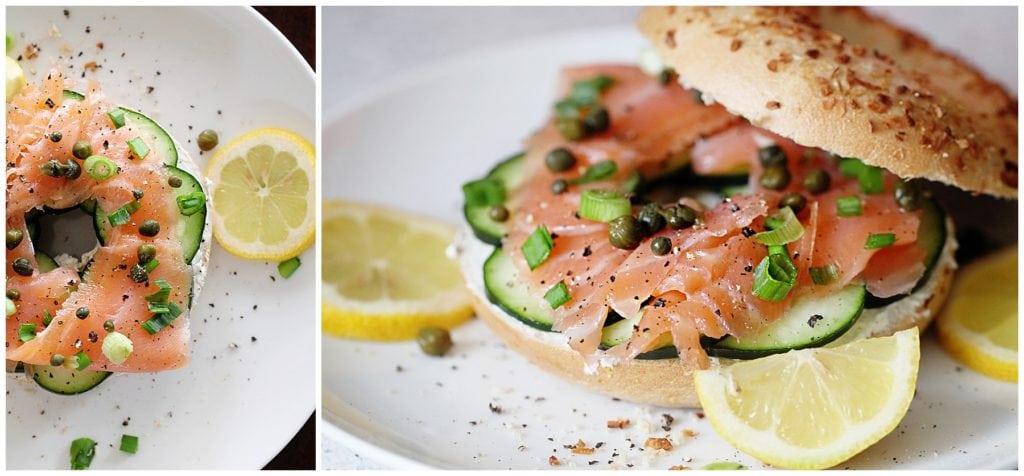 You can make it by layering the following:
Einstein Bros Garlic Bagel
Einstein Bros Plain Shmear
8-12 thin, slices of cucumbers
Lox
A few capers
Sliced green onion
Cracked black pepper
A squeeze of lemon across the top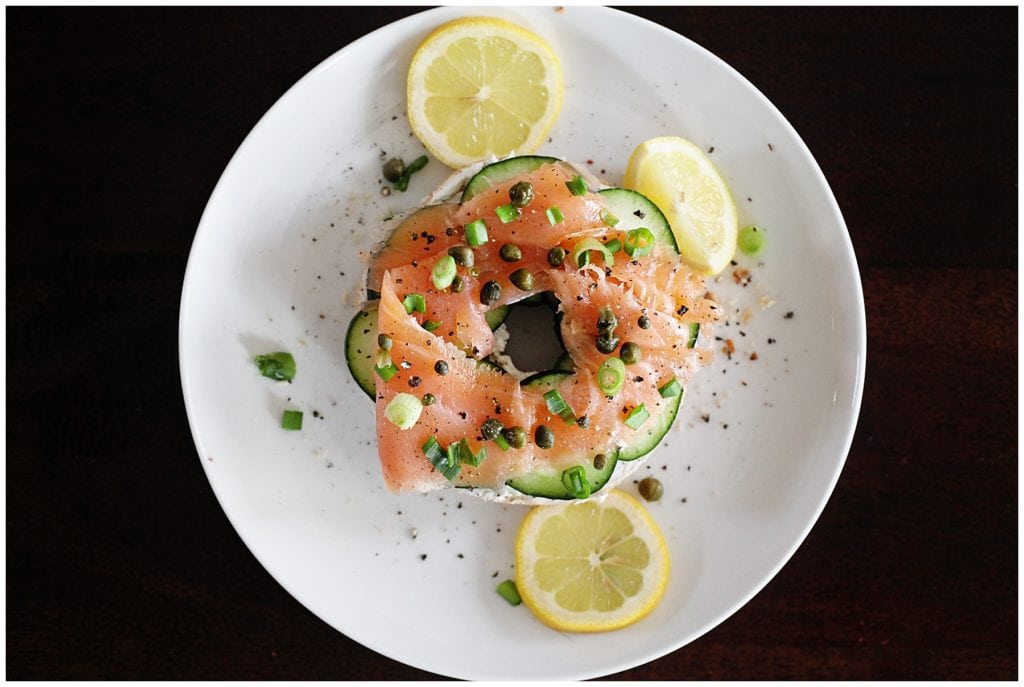 Balsamic Tomato
I made this bagel because it made me think of summer. Every summer we always make a beautiful salad with tri-colored tomatoes, fresh mozzarella, basil and balsamic. Since it's currently freezing outside, I wanted something that was delicious but bright and fresh.

Make this with the following:
Einstein Bros Asiago Bagel
Einstein Bros Garlic & Herb Shmear
Cherry tomatoes, thinly sliced. I used ones of varying sizes and colors because it looks pretty. 🙂
Fresh basil, chopped
Sliced green onion
Cracked black pepper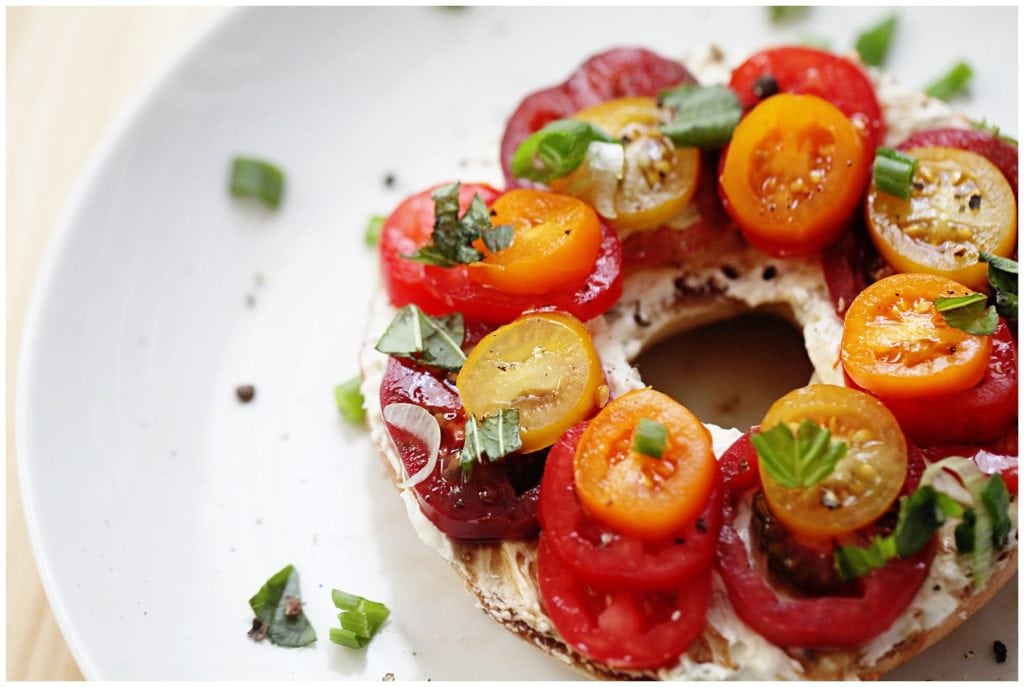 Orange Pomegranate
Pomegranates seem to be all the rage right now and they're currently in season. Citrus is also coming into season and you can find oranges everywhere, which is great because my kids love them. I wanted to combine these two fresh flavors into one yummy treat.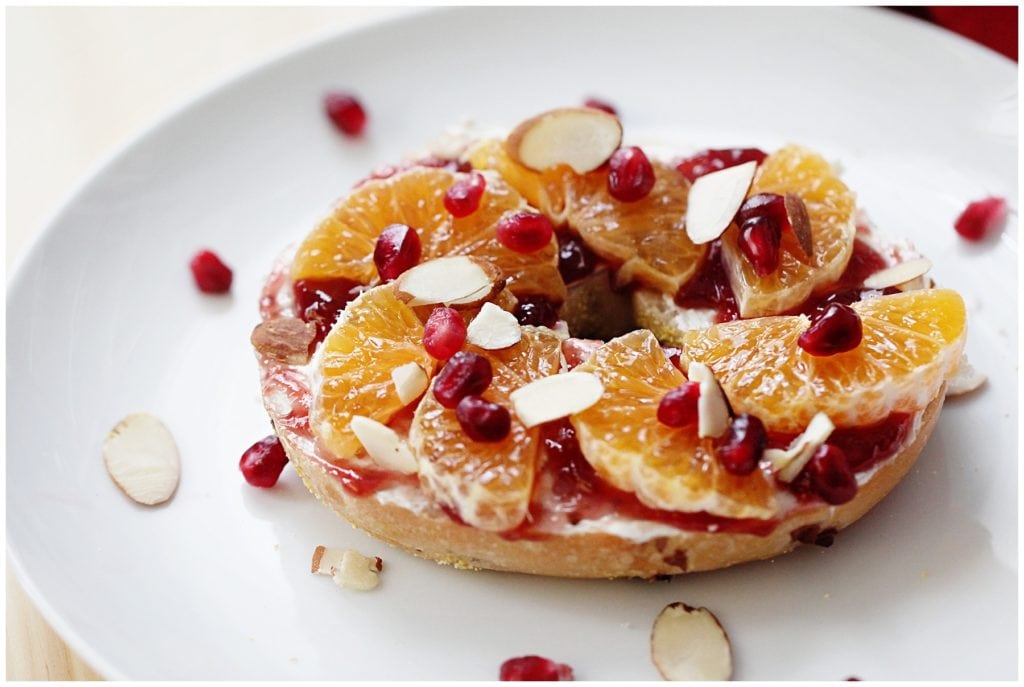 Make this bagel as follows:
Einstein Bros Cranberry Bagel
Einstein Bros Plain Shmear
A layer of pomegranate preserves
Small oranges, thinly sliced and peeled. I sliced mine first and then peeled the rind off.
Pomegranate seeds
Sliced almonds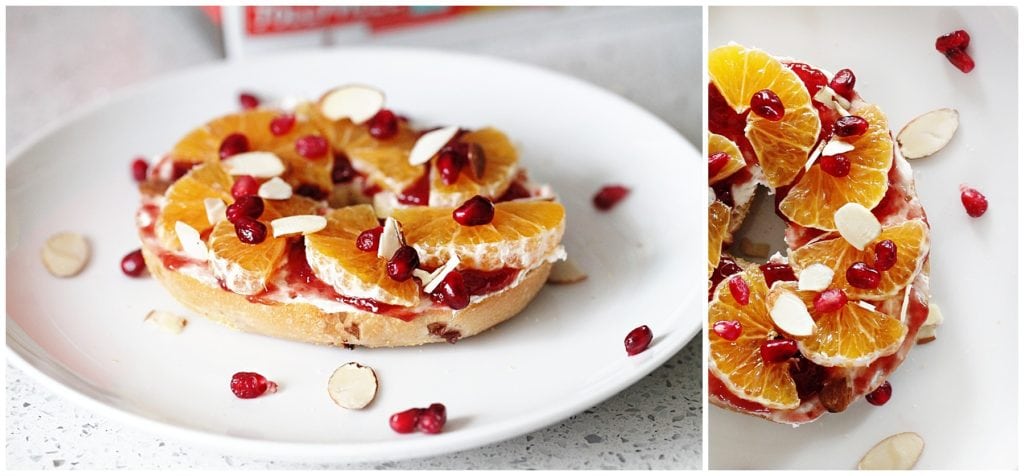 Bananas & Honey
I couldn't leave out something super sweet, could I? For this bagel creation I wanted it to taste as good as cinnamon French toast with all the same kind of gooey sweetness. You might need a fork for this one. Although I was able to put the other side of the bagel on top and eat it like a sandwich too.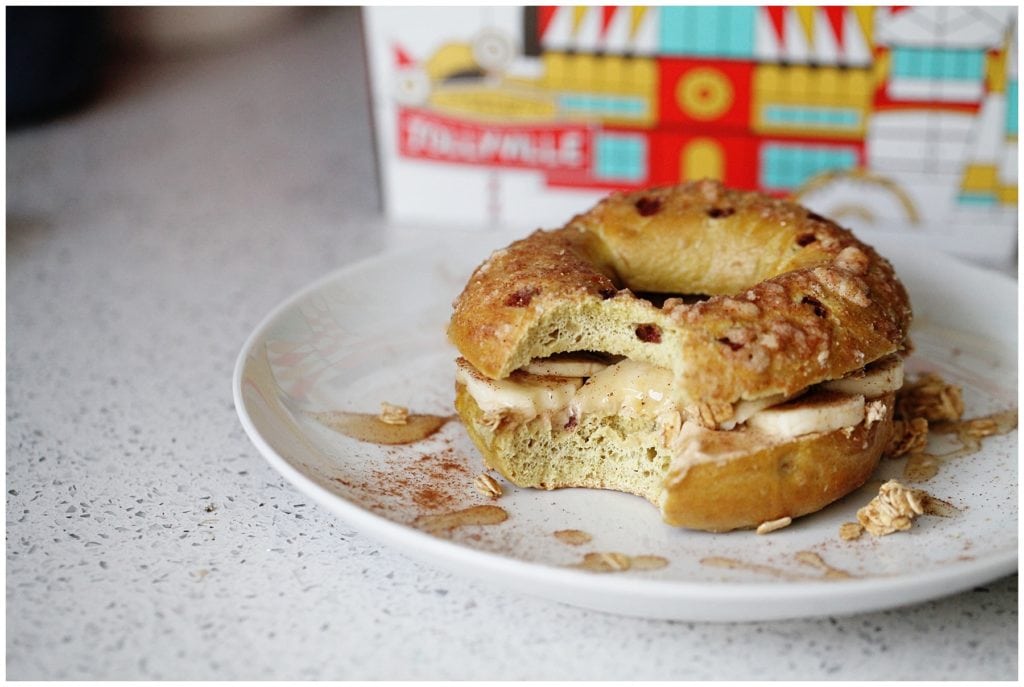 Make it as follows:
Einstein Bros Cinnamon Sugar Bagel (You'll think you're eating a donut. Seriously, it's so so good!)
Einstein Bros Maple Shmear
½ sliced banana
Honey drizzle
A sprinkle of brown sugar
Vanilla granola for crunch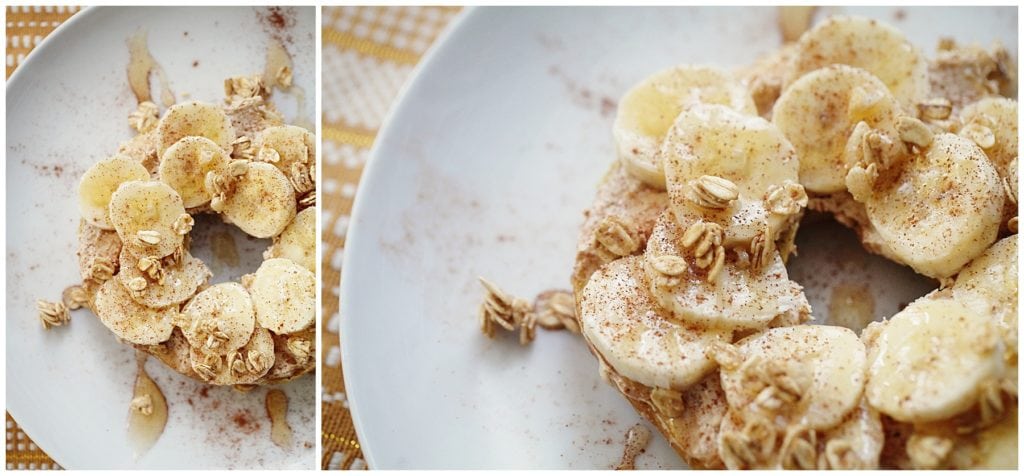 Mushroom, Onion & Goat Cheese
For most of these bagel combos I wanted to make it as simple as possible. For me this means no cooking. However, as I was walking through the grocery store searching for items for this post, this bagel just started sounding delicious…and I don't even really like mushrooms. However, cover anything in cheese and I'll eat it.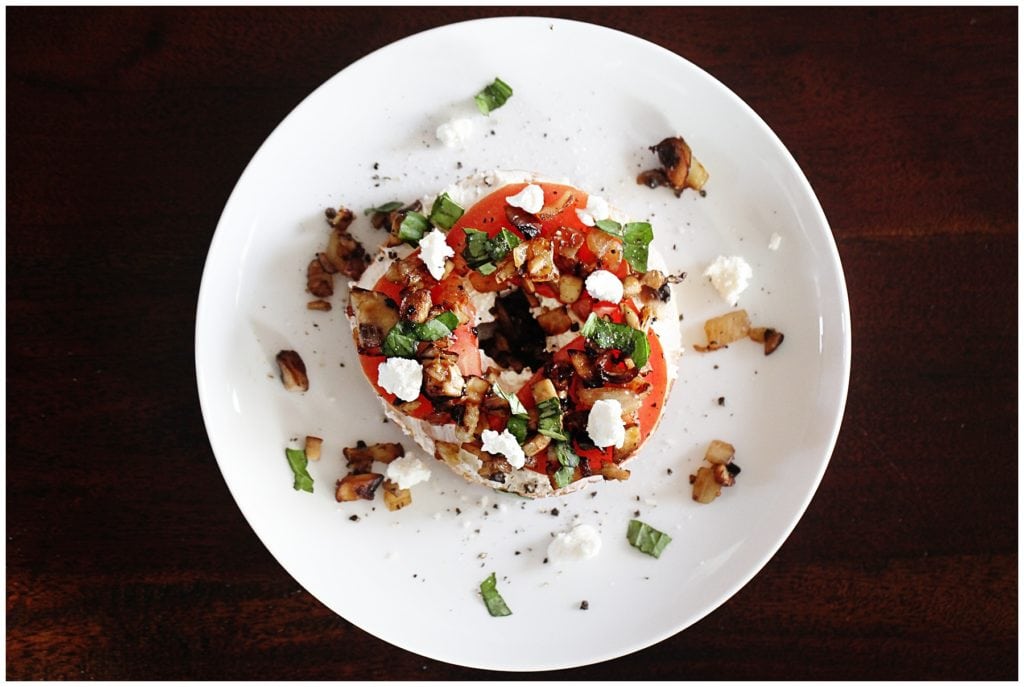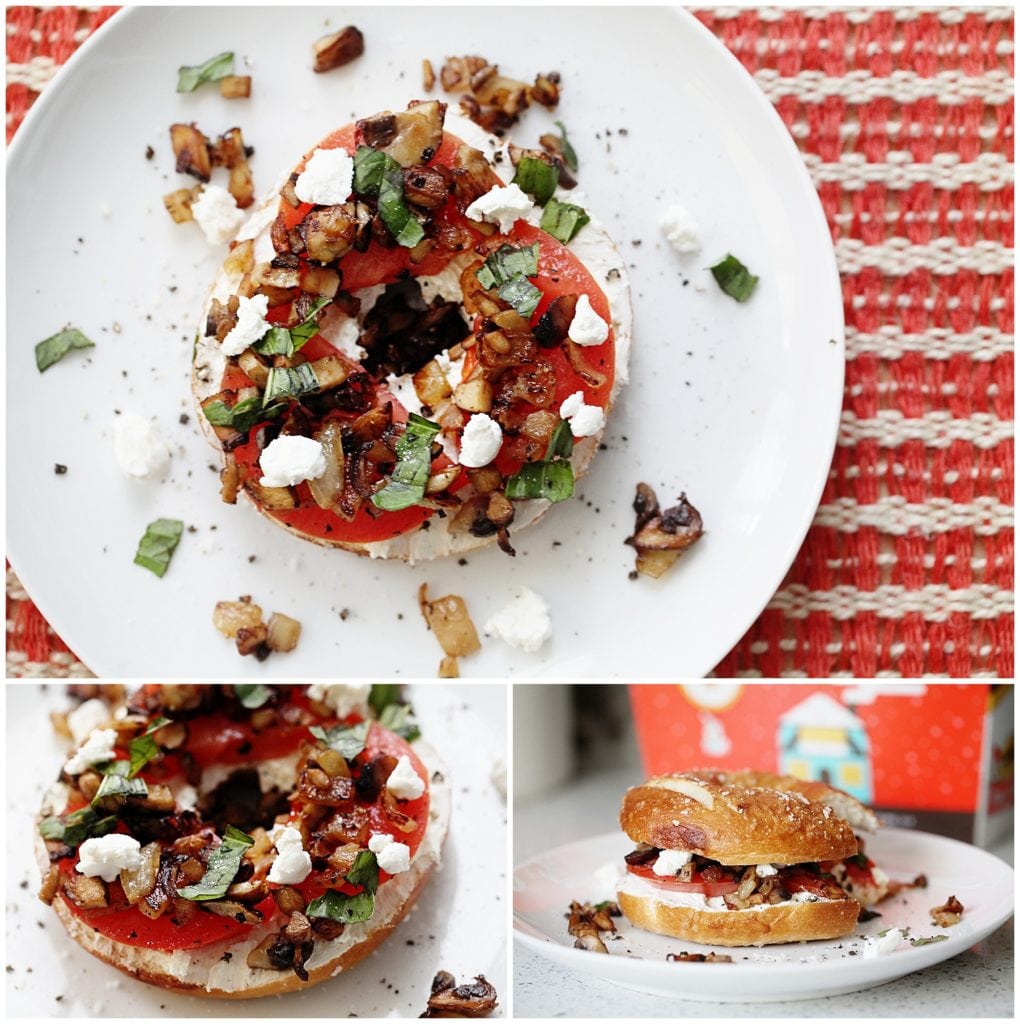 Make this bagel as follows:
Sauté half a white onion with 2 Tbsp. of olive oil. Add in mushrooms once the onions are translucent.
Einstein Bros Pretzel Bagel (Um, this is a little like a sliced piece of heaven.)
Einstein Bros Onion & Chive Shmear
Sliced tomatoes
Add your mushroom and onion mixture
Chopped basil
Crumbles of goat cheese
Crack Black Pepper

Chocolate Covered Berries
Chocolate should be a part of every meal somehow. Don't you agree? Last but not least I wanted to make a bagel that would work well with berries and be a little decadent. I was a little iffy on using chocolate with a bagel but chocolate just makes everything better so I went for it.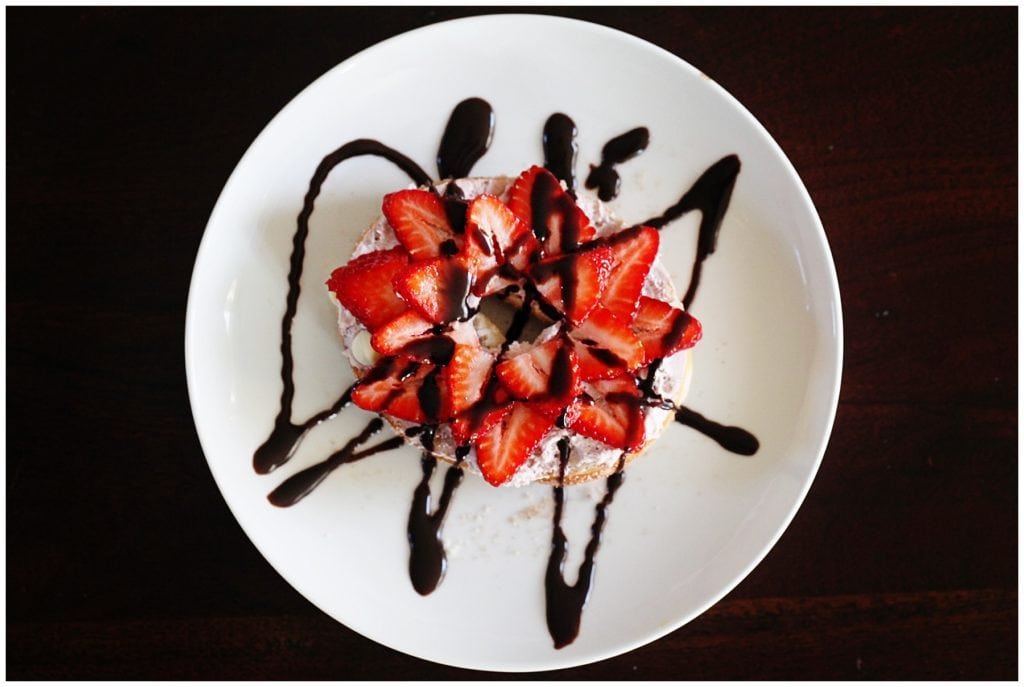 This bagel is made as follows:
Einstein Bros Blueberry Bagel
Einstein Bros Blueberry Shmear
Sliced strawberries
Chocolate drizzle
So friend, which one (or two) do you think you would make? And how often do you gather round the table and brunch?
If you want to use your bagels for a group, try making a bagel bar! Click here for tips.