Childhood trauma resonates through generations. That's the headline from a new research study conducted at the University of California at Los Angeles and published yesterday in Pediatrics.
This is the first study showing a correlation between parents' adverse childhood events (ACEs) and their children.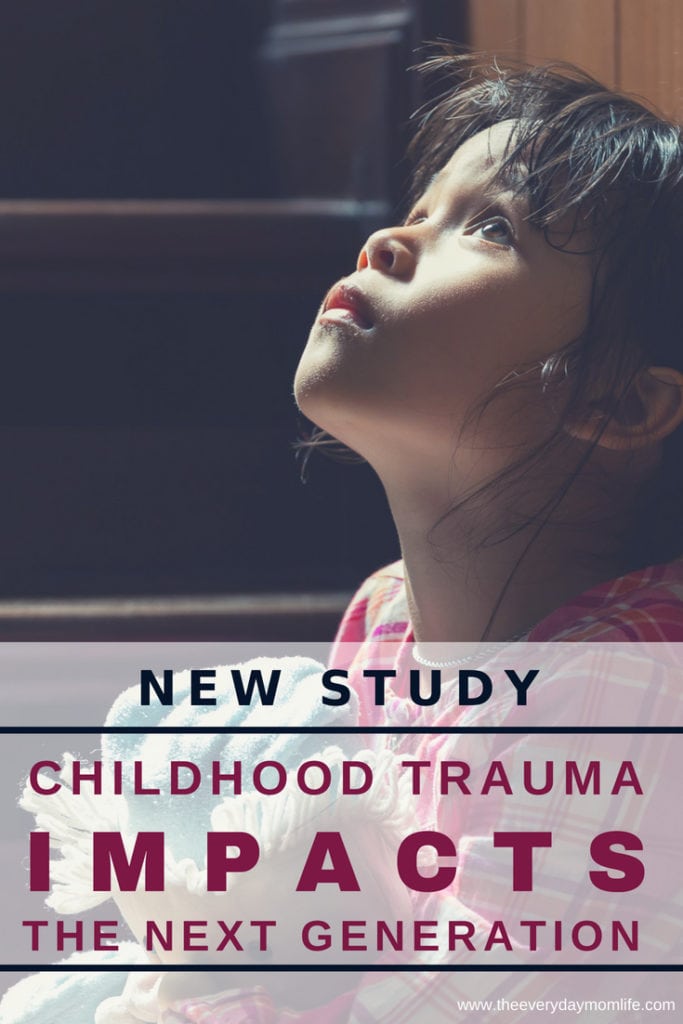 The study findings indicate that children who experience severe childhood trauma and stress are more likely to have behavioral problems as are their children in the future as the trauma reverberates.
"Early-life experiences — stressful or traumatic ones in particular — have intergenerational consequences for child behavior and mental health," the lead author, Adam Schickedanz, clinical instructor in pediatrics at the David Geffen School of Medicine at UCLA, told ABC News. "This demonstrates one way in which all of us carry our histories with us, which our study shows has implications for our parenting and our children's health."
The types of childhood trauma include experiences ranging from:
Divorce or separation of parents
Death of or estrangement from a parent
Emotional, physical or sexual abuse
Witnessing violence in the home
Exposure to substance abuse in the household
Parental mental illness
The study, conducted solely on families in the United States, looked at a sample of families from previous research, specifically parents who had participated in a 2014 Child Development Supplement and 2,529 of their children who had complete data in the 2014 Childhood Retrospective Circumstances Study.
Severity of the behavioral issues was measured on a scale called the Behavior Problems Index, a 28-point rating scale or parent report of child behavior developed by Nicholas Zill and James L. Petersen.
Researchers gave the primary caregivers of children ages 3 to 17-years-old a series of questions to assess current problems that include anxiety, depressions, dependency, hyperactivity and aggression.
A link was found between children with a high rate of behavioral problems and parents who experienced more traumatic childhood occurrences or ACEs.
In fact, the research found that children who suffered four or more adverse events before they were 18were more likely to have children who suffered from behavioral issues such as being hyperactive or trouble regulating their emotions.
About 20 percent of the parents in the study had four or more traumatic experiences as children.
Additionally, researchers found that children were more impacted negatively when it was their mothers that experiences the trauma as children versus their fathers. They noted that the mothers were often the primary caregivers.
Given the study findings and the situation with the immigrant children at the U.S. boarder, ABC News asked Schickedanz if the research may relate to those children.
Schickedanz said the evidence suggests the ACEs "take a toll in large part as a result of toxic stress responses that appear to be universal, since they have been demonstrated across families from diverse backgrounds."
"Based on the available evidence, one would expect that the stresses and trauma children are experiencing due to family separation at the border will have intergenerational behavioral health consequences," he stated.
Schickendanz added that the next step is to look at whether grandparents ACEs can be linked to their grandchildren's behavioral health.
"If we can identify these children who are at a higher risk, we can connect them to services that might reduce their risk or prevent behavioral health problems," Schickedanz said in an interview with Science Daily.
This study focused on behavior resulting from ACEs but other research has shown a connection impacting physical health too.
Read the full abstract here.
For more news and research, click here.