Despite the first-ever baby being born via IVF turning 40 this year, IVF can still feel like a hit or miss field with many more chances for failure than opportunities for producing a new life.
When you're going through infertility treatments, all you want are answers. You want the facts. You want to know what your chances are for success. You want to know what the drugs are and what they will do to your body. You want to know all the costs involved so you can be prepared. You want to know all the ways to stack the odds in your favor.
However, when it comes to one of the biggest questions most women going through IVF have, science now says there is no one-size fits all answer for IVF patients and embryo transfer.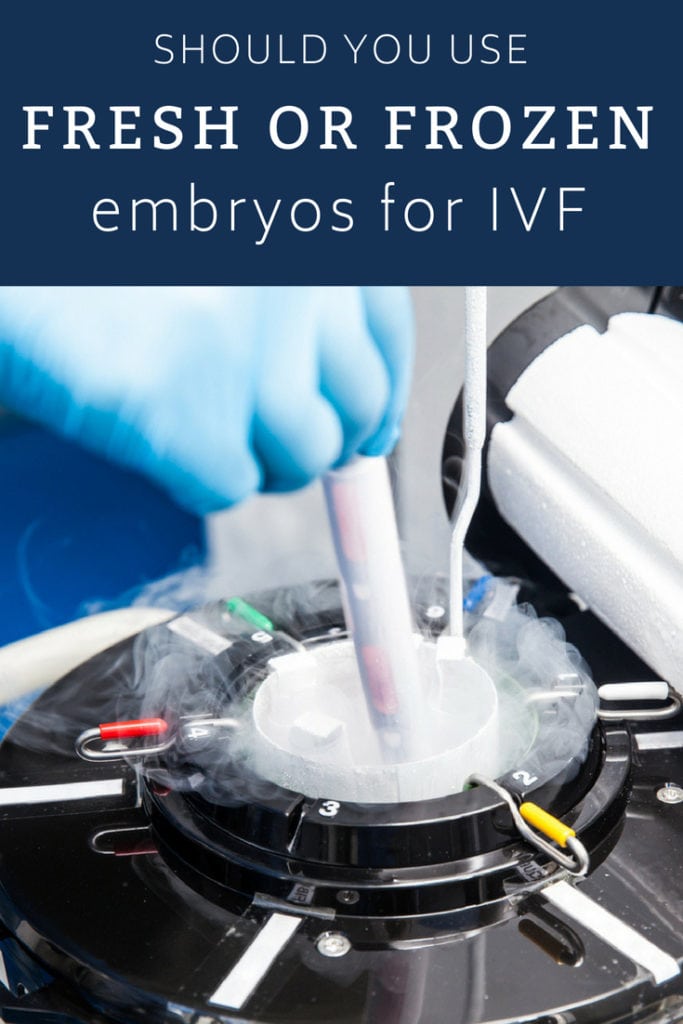 There's been a debate in the infertility medical field for years when it comes to using a fresh embryo or a frozen one. The findings of a new study from Duke University Medical Center suggest that it may depend on how many eggs there are to work with.
According to a study published in Fertility and Sterility this month, the best technique may vary and depend on how many eggs the patient produces. The data comes from almost 83,000 first-time IVF patients included in the registry of the Society for Assisted Reproductive Technology between 2014 and 2015.
To make conditions right for a fresh transfer, patients take hormones for several weeks to stimulate egg production. The doctors then retrieve the eggs, fertilize them and place one or more than one in the mother all during the same procedure.
However, many clinics now have been encouraging patients to freeze all their eggs and wait a few weeks for a new cycle to begin.
"In the past five years, some clinics have advocated for freezing everything with the belief that the process that stimulated the eggs makes the lining of the uterus less welcoming for pregnancy," said Suheil Muasher, M.D., a senior author on the paper and reproductive endocrinology and infertility specialist at Duke.
However, the new Duke study found that waiting to use frozen embryos during embryo transfer may only benefit patients who product 15 or more eggs after hormone stimulation. The birth rates for these patients, so called "high responders", were 52 percent which is several points higher than those who received fresh transfers at 48 percent.
The study also found that women who produced fewer than 15 eggs after the hormone treatment were more successful in terms of pregnancy and birth rates when they used fresh transfers. Women who produced one to five eggs after the hormone treatment were considered low responders. Intermediate responders produced six to 14 eggs.
Kelly Acharya, M.D., a fellow in reproductive endocrinology and fertility at Duke and the study's lead author believes there are also other benefits, including emotional benefits, to using fresh embryo transfers.
"From the patient perspective, if they can go ahead and do a fresh transfer it saves them the additional waiting and having to take another cycle of hormones," she said. "Freezing also can lead to another one or two months of waiting and not knowing whether the procedure will be successful, which can be emotionally draining for patients. From these data (points), it doesn't look like there is any benefit to waiting."
The earlier research suggesting to freeze all the embryos had been limited in the number of patients included in the study, Muasher said. He believes this study is a more accurate representation of patients in the United States today but also believe more research is needed. Authors were not able to evaluate the reasons patients decided to use a frozen embryo versus a fresh embryo.
Still, Acharya hopes that the Duke study helps ease the emotional weight for those who may be a low or intermediate responder.
"The bottom line for patients is that they're likely seeing a lot of information out there saying frozen transfer is best all of the time, and we are seeing that may not be the case," she said. "Hopefully, this could put some patients' minds at ease if they are a low or intermediate responder and doing a fresh transfer."
To read more about the study, click here. For more research and parenting news, click here.