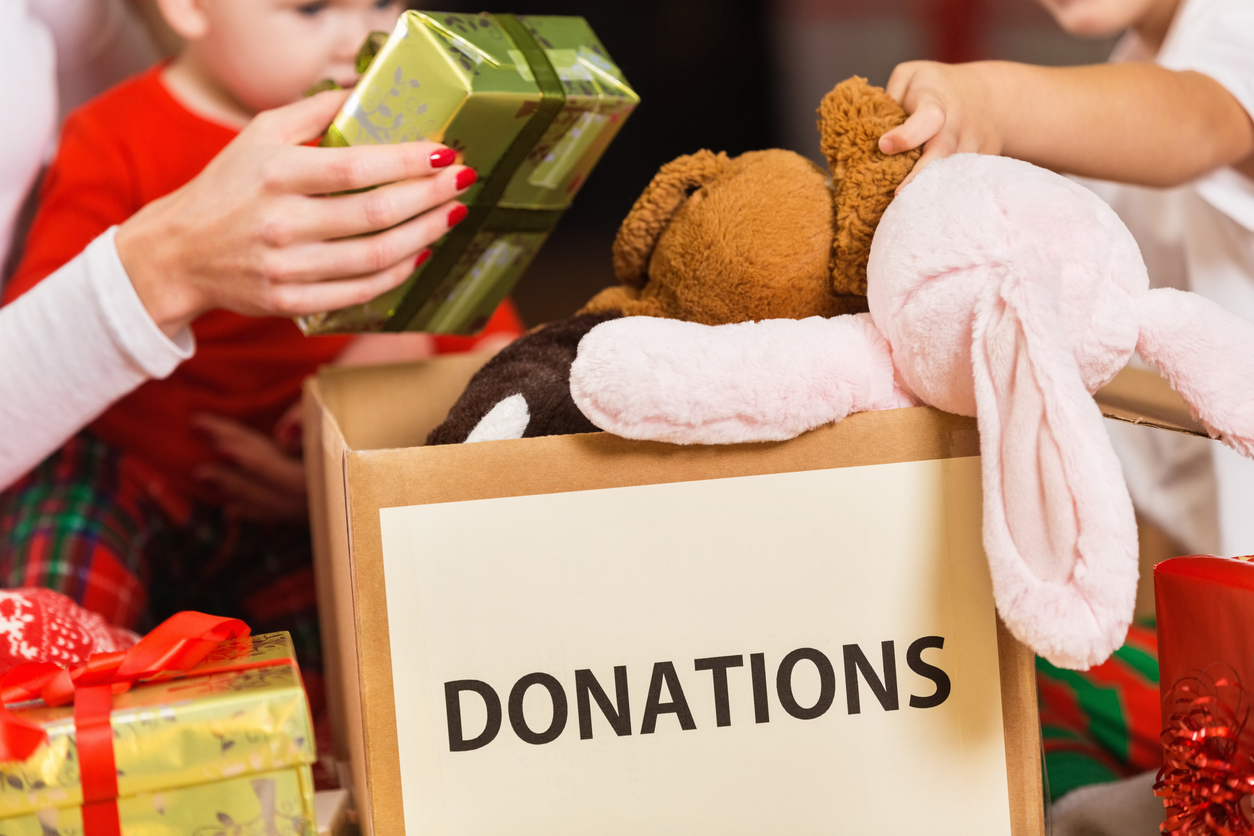 Whenever the weather changes, I have the urge to clean house – literally. I love to go through the closets, the kitchen and the kids toys to see how we can get rid of items to that we're no longer using to make our existence a little lighter. In doing so, I always make it a point to donate the useable items.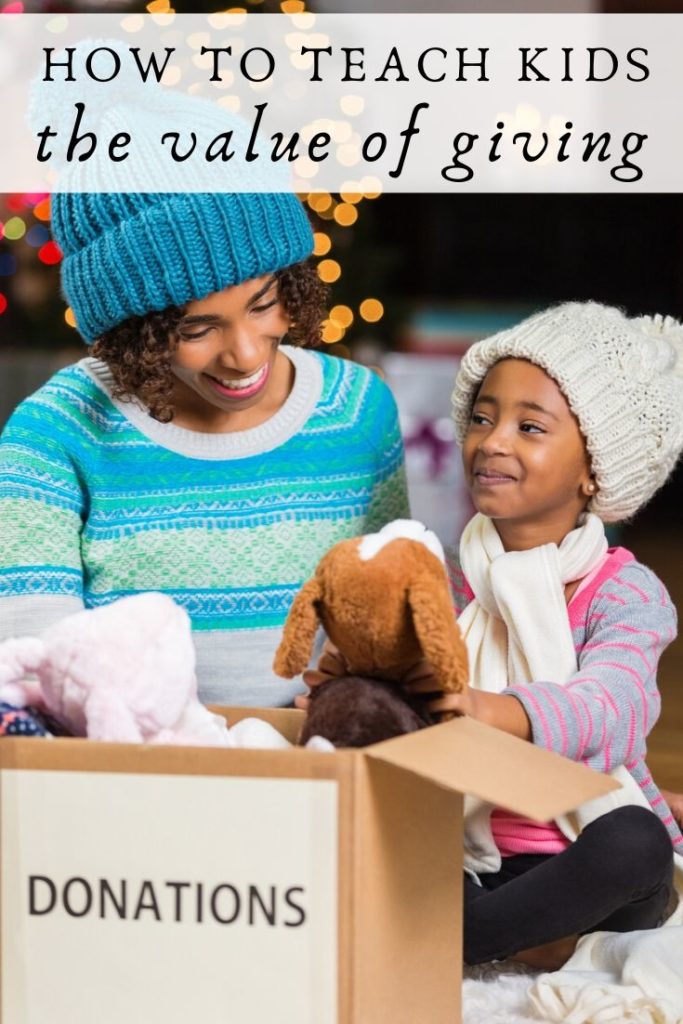 Throughout life I've believed in giving to others – whether it's just extra change in my purse or a bag full of clothing. I'm a big advocate of trying to always pay it forward. As my kids get older, I want to teach them the value in giving to others and how in being altruistic you can be a better person while helping to make someone else's day a bit brighter. Here are six ways I'm going to teach my kids the value of giving:
Donate goods or money
I decided it was time to actively start exposing my children (who are 2 and 5) to the value of giving. As I mentioned each season I go through closets throughout the house and find items that are still in good condition to be donated. Donating is one of the easiest ways you can teach children to be altruistic in life and it is also one of the easiest, especially when you have children that are constantly growing out of things.
If you don't have goods but have some extra funds, you can always donate money too. So that this is visible to your children, write a check and take it to the organization you want to donate it to. Make sure you bring your children along so they can see what or who their money will be helping. If you're donating to an organization you can't visit, show your children the organization's website and explain why you believe they should receive the gift.
Or, if your children are a little older, let them research organizations they feel passionate about and decide which organization your family donates to.
Be a good example
Children often learn by observing and modeling their parents' behavior. From a very young age you can see this taking place as they pick up all your habits – good or bad. If you want your children to be altruistic, be a good example for them and show them how you give throughout the year.
Discuss opportunities to give or lend a helping hand and make them a part of the experience, or if they're too young to participate in something talk to them about it afterwards and why donating time, money or goods is a positive thing to do for all people.
I believe you will be impressed by their natural ability give and help others at a really young age.
Let them help decide 
If you're donating clothing, toys or other items, let your children help decide what goes and what stays, especially if it's their stuff. This will help them to see that once they've outgrown something, others may still benefit from it.
That said, sometimes you need to coach them. Obviously if their clothing is too small it's moving on to a new home, but when it comes to toys, bedding or even small furniture items in their room, let them pick what stays and what goes. Explain if they haven't used it in a while that it might be time to give that item to another child who would use it more and love it just the same.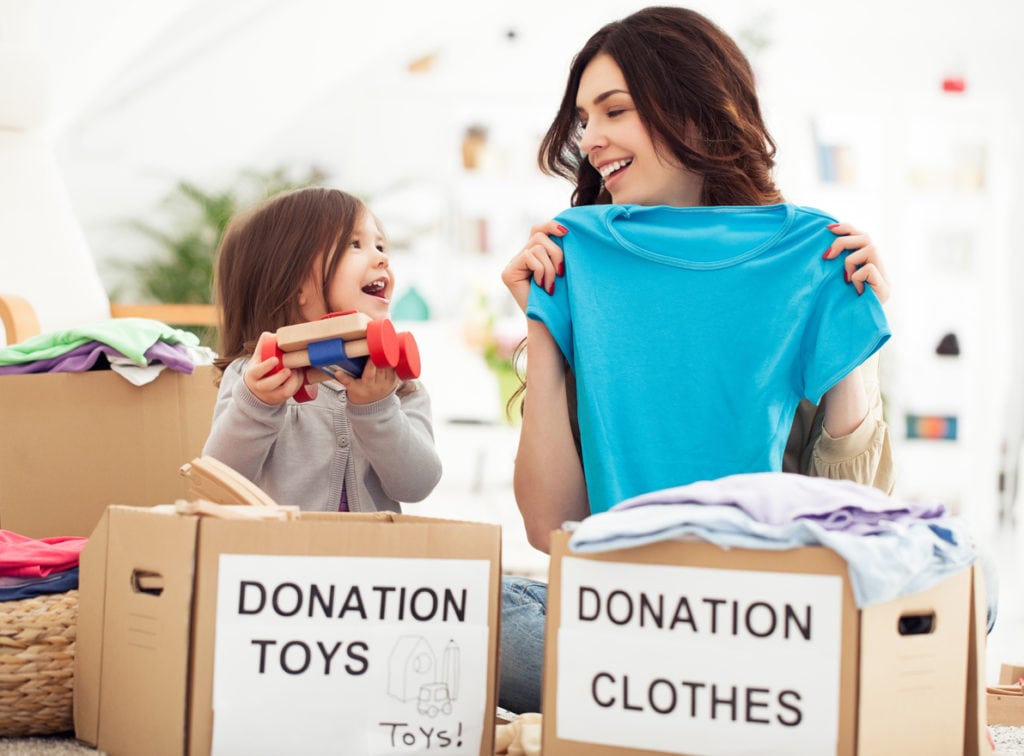 Volunteer
If your children are a little bit older and might not have as much clothing or toys to give, volunteer and let them pick an organization that the family donates its time or services to. For example, let them pick among helping in a soup kitchen, helping to build a house or picking up trash along the highway.
This way they feel like they have a voice in the decision and a say in how they're spending their time. Not only that but it gives them a chance to try multiple activities and find one they're really passionate about.
Get their hands in it
No matter how old a child is, letting them help in the giving process is important.
We had our children help us pack the bags of clothes to donate to Goodwill. Just this simple act involves them in giving right from the start. Even if they don't necessarily get the purpose of their actions, you're building a foundation for future giving.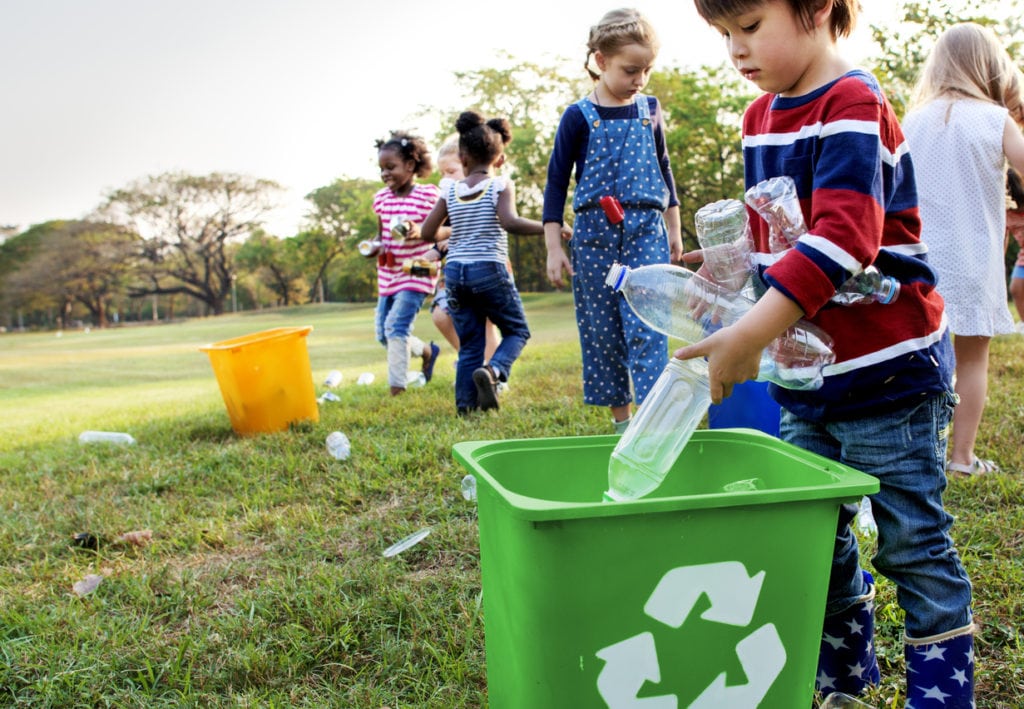 For older kids this will let them see how they can make an impact firsthand and possibly inspire them to do more. In an article in Psychology Today, psychotherapist Sean Glover said he has seen children make sudden "leaps" in maturity due to learning to be altruistic. He states involving kids in volunteering and giving activities increases their personal happiness, fosters interconnectedness, strengthens personal identity and inspires a sense of mission.
Overall volunteering teaches even young children compassion, empathy, tolerance, gratitude and responsibility for their community.
Do it together 
Giving together as a family is important for the family unit. It allows kids and parents to spend quality time together while doing something to help others. It's a great way for families to actually get to know one another better, especially when your children are teenagers and might not be as forthcoming around you. It also cultivates empathy and helps even young children to recognize and appreciate their lives.
For young kids, teens and really up through adulthood, volunteering or donating together can be a family bonding experience.  And, it can become a family tradition that will build positive memories for a lifetime.
Do it often
Consistency is often key with kids. Being able to be charitable doesn't always have to be about giving something away or even donating your time. Being charitable can mean so many things.
Here are some ways families can make a difference together on a regular basis: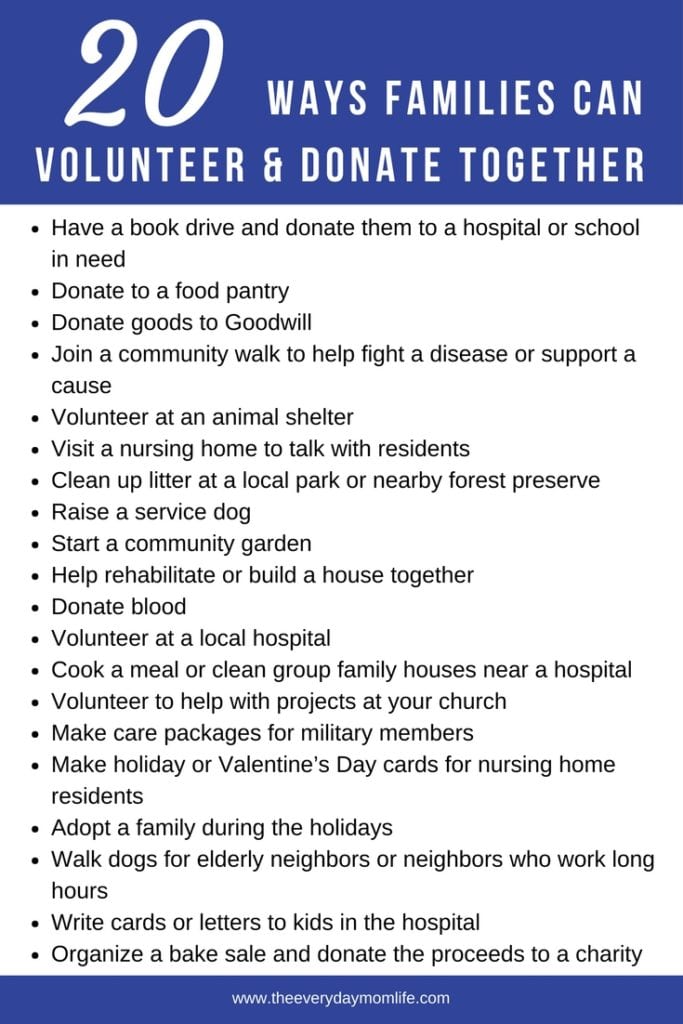 What are some ways you are working to teach your children the value of giving?
For more parenting tips, click here.