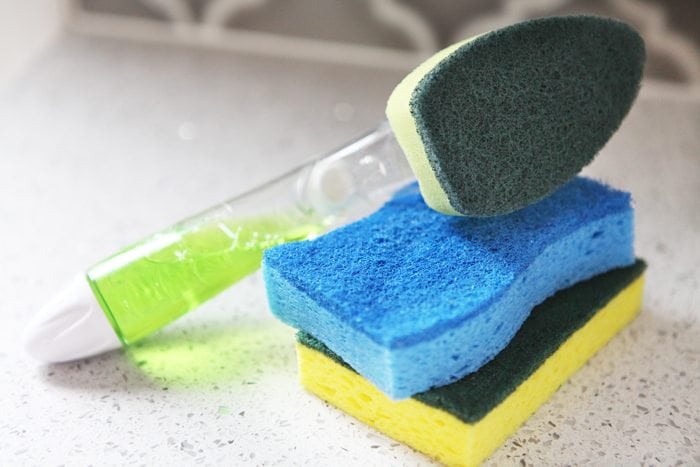 It stresses me out when my house is a complete mess. Don't get me wrong, it is often messy. I have two kids, a dog and then this summer we have had a babysitter here with her two kids four days a week. Four kids under 4, one animal and three adults – the place gets very messy and it makes me crazy. For me, a messy kitchen is the worst.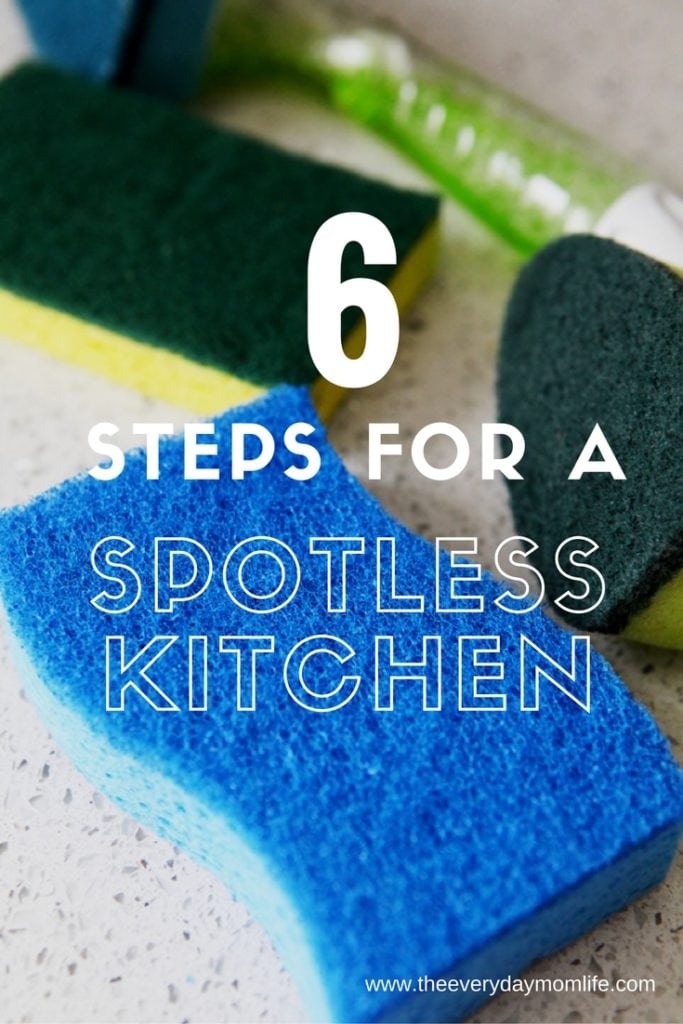 If you are a regular follower here, or if you follow me on Instagram then you know we cook all the time. This means my kitchen is a mess all the time.
You might also know that we recently remodeled our kitchen. We took it from the golden cabinets that were popular in the late 90's and laminate counter tops to a new, sophisticated kitchen with white cabinets, Quartz counter tops and a ceramic backsplash. It has been completely transformed from a kitchen that was purely functional before to a unique space that I love.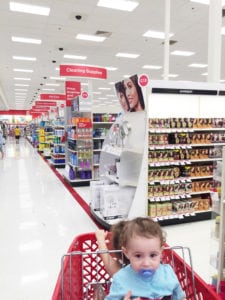 I made a silent vow to keep this new, pretty kitchen cleaner than the old one and since I just don't function as well with a messy kitchen, this is something we have been really committed to now.
Scotch-Brite® Sponges and Dishwands from Target are a huge part of that process. You can use the sponges and wands throughout the entire kitchen to do many different tasks and they make cleaning up a breeze. I love that they have different sponges for different uses. It's easy to remember that the green sponges are for heavy duty jobs and the blue are non-scratch sponges.
You can often find the kids and me at the Target store in Batavia, Ill. You can find the Scotch-Brite® Sponges and Dishwands at Target in the Cleaning Supplies section of the store. At our store, the sponges were below eye level in baskets and the dishwands were above hanging.
Steps For A Spotless Kitchen
There are a few simple steps we take daily to try to keep the mess and my stress at bay when it comes to the kitchen. Depending on what day it is, these things happen in the morning or after dinner. Some days, we clean up twice.
Please prepare yourself for the real mom life moments ahead. It doesn't get more real than me cleaning the kitchen with my hair up and no make-up on.
Organize the mess
Usually there are things spread out all over the house – bottles in the family room/baby's room, mixing bowls and cutting boards on the island, pots and pans on the stove, etc. It's not a pretty site. Throw away anything you can throw away and then group everything you need to wash by the sink so you can see it all. If you need to take a trip around the house to find these things, do that. I know how glasses can wander away all by themselves.
When I photographed the kitchen, I had been making zucchini bread that I'll share later in the week on the blog. I had bowls, ingredients and paper towels, which I need to use like crazy while I cook, all over the place.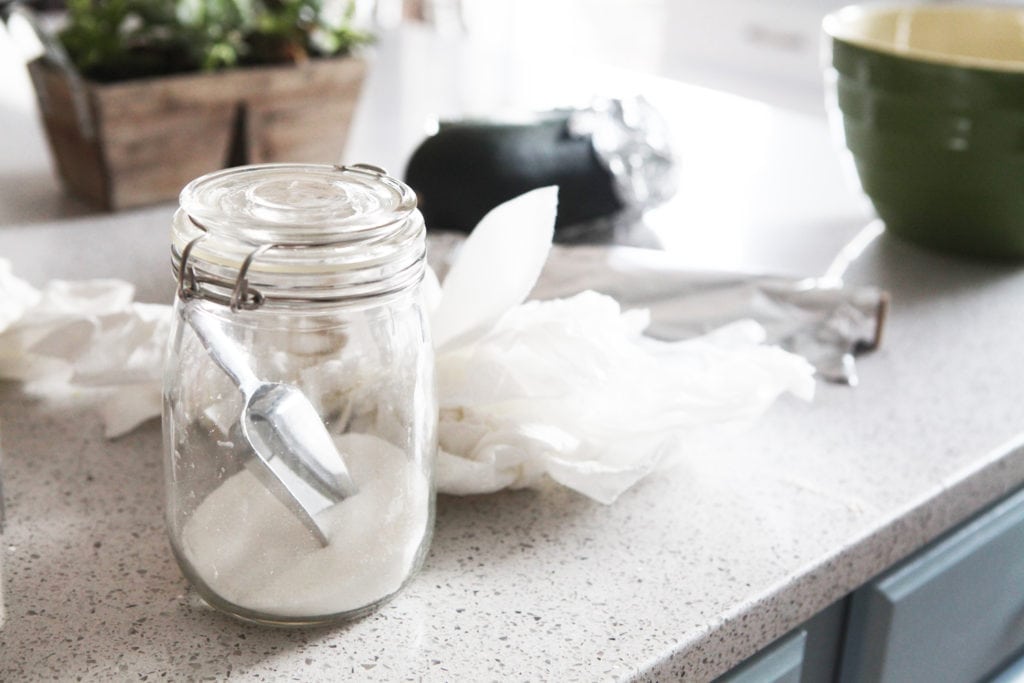 But, literally just a minute or two later everything was organized by the sink and the island and other counter tops were clear. I had already made progress just by grouping dishes together.
Dump and soak
Fill up any bowls that might have stuck-on gunk with soap and water. Let these soak while you work through the other steps. Toss in any wooden or bamboo spoons too. While I love these spoons because they don't scratch my pots and pans, I hate that they frequently get crusty. They can be more difficult to wash than the metal counterparts. More on how to handle that in a bit.
Clean the grease
We always use olive oil when we cook and often the oil tends to make a mess. It gets all over the stove, the new backsplash and the microwave, which is over the stove. After our meals or baking extravaganzas, we wipe down all of these with Scotch-Brite® Sponges. I use the Scotch-Bright® Heavy Duty Scrub Sponge on the stove because that is usually the worst. Not only will the stove have oil on it, but it will usually have bits of whatever we made for dinner or breakfast. This sponge takes care of all the grease and the crusty remnants of whatever we have been eating.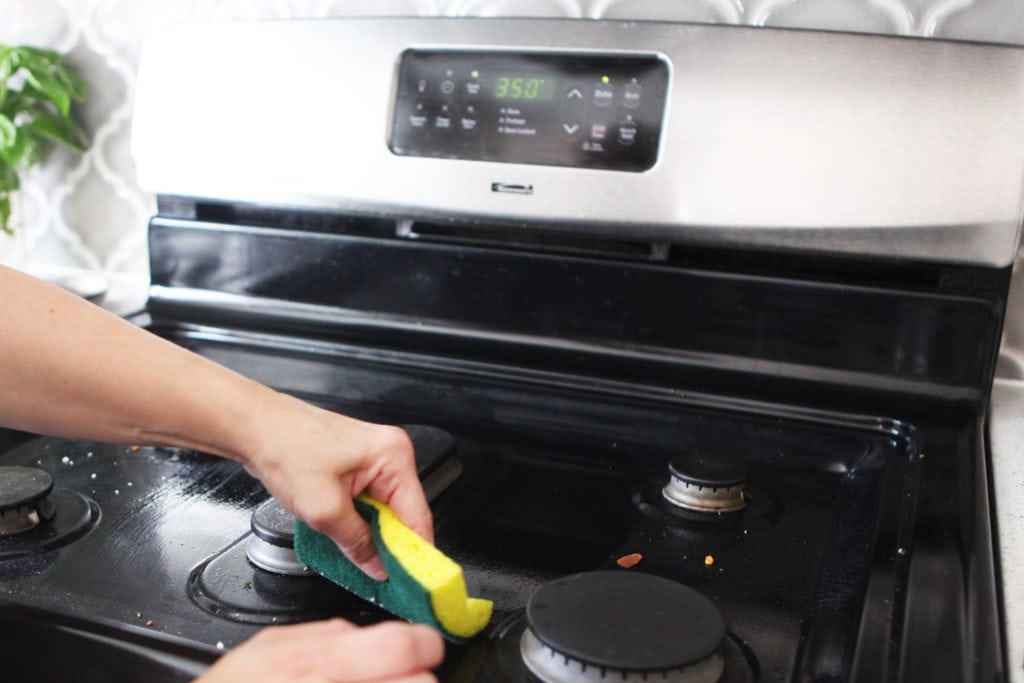 On the microwave, I use the Scotch-Brite® Non-Scratch Sponge to clean the stainless steel, door and keypad. I love that I don't have to worry about it scratching the stainless steel. I also use this sponge to clean the new ceramic backsplash and Quartz counter tops. We went with Quartz because it is stronger than granite, but I still like to make sure I'm using cleaning supplies that won't damage the surface in any way. It's shiny and new and I want to keep it that way.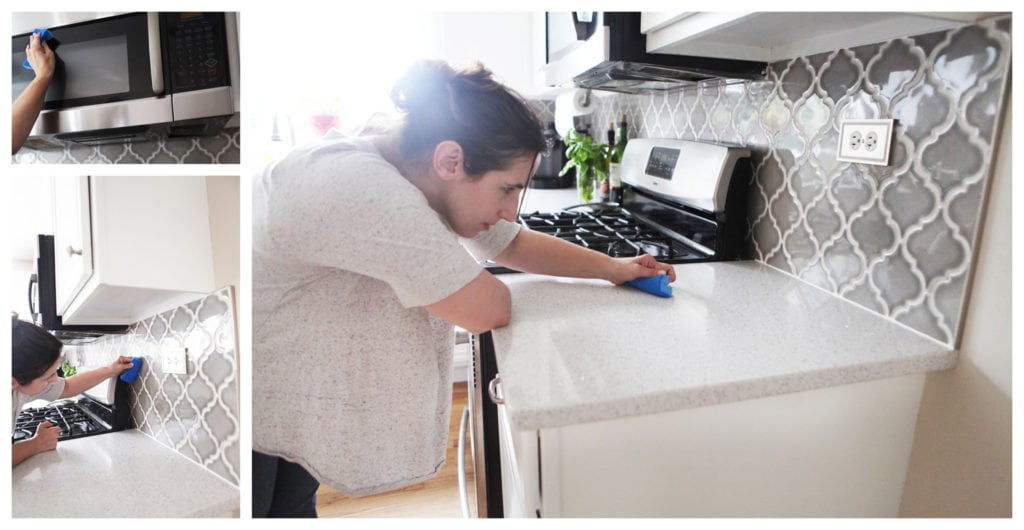 Unload the dishwasher
Now that the grease is gone, tackle the dishwasher. Unload it if it is full. It's obviously got to be clear in order for you to make additional progress.
If you have young kids and you're doing this while the kids are awake, prepare to helpers. If you have older kids, make them help!
If it was previously unloaded or had dirty dishes in it, then you get to skip this step!
Clean the crusty things & refill the dishwasher
Remember those things we left soaking? It's time to clean them. I often find that I need some elbow grease for this part and like to rely on the Scotch-Bright® Heavy Duty Scrub Sponge for my mixing bowls and those bamboo and wooden spoons. Depending on the object, I sometimes also use the Scotch-Brite® Heavy Duty Soap Dispensing Dishwand. Both these tools really help me to get the mess of the dishes without a lot of fuss, faster than other sponges I've used. Eggs are often the worst once they dry and the sponges even get those off the utensils.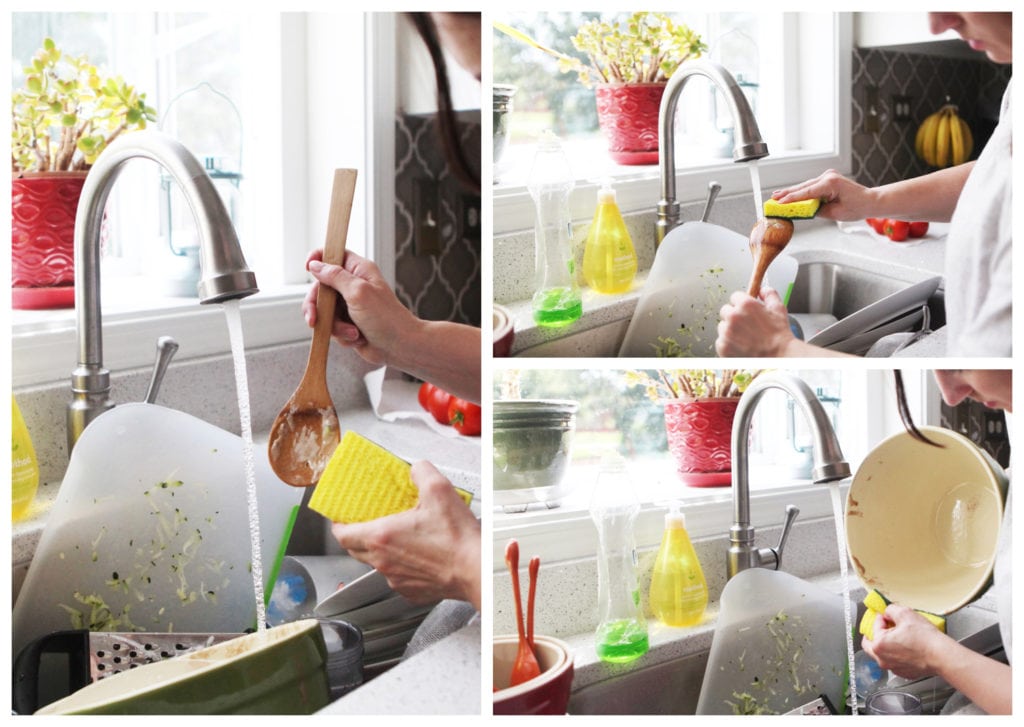 We will often run into a plate that has ketchup and/or ranch crusted onto it too. I blame the chicken nugget eaters of the house. When I come across some sauce that's stuck on my plates, I use the Scotch-Brite® Non-Scratch Soap Dispensing Dishwand.
Because I photograph food so often, and I use my real life plates when I do, I want to keep them looking good for as long as possible. I hate when I get a plate in a restaurant that is all scratched up. Remember, blue is for non-scratch.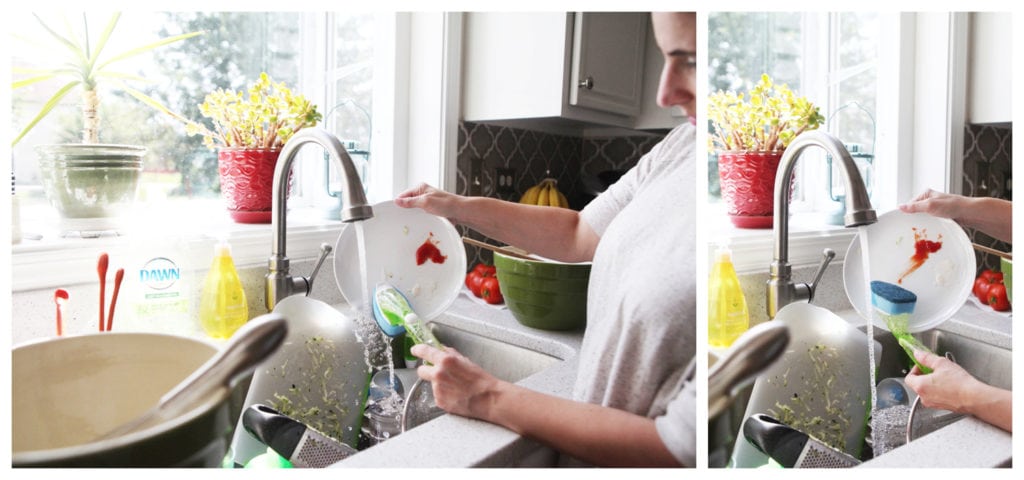 Once you have removed the crusty things from your dishes, reload that dishwasher, press start and move on.
Counter tops & cabinets
You're in the home stretch and this whole thing has only taken about 10 minutes so far! Grab the Scotch-Brite® Non-Scratch Sponge again and finish whipping down those counter tops. You can use the rough, dark blue side to scrub anything that's stuck on and the lighter blue side to wipe up messes like this zucchini juice.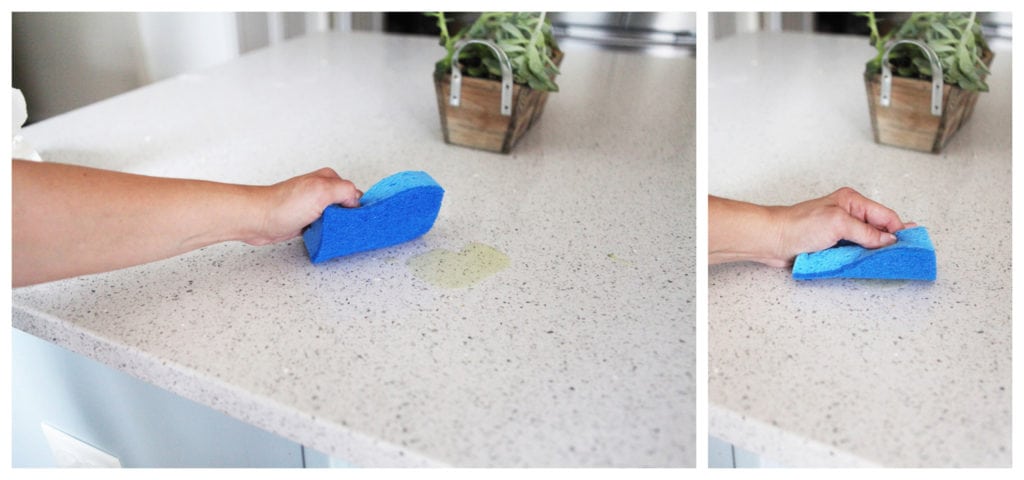 Once you have the counter tops clean, use that same sponge to just wipe down your cabinets. We painted our cabinets white and you can see the mess more now. A quick wipe with the Scotch-Brite® Non-Scratch Sponge takes care of most of it and it is gentle enough that I'm not worried about scratching the paint.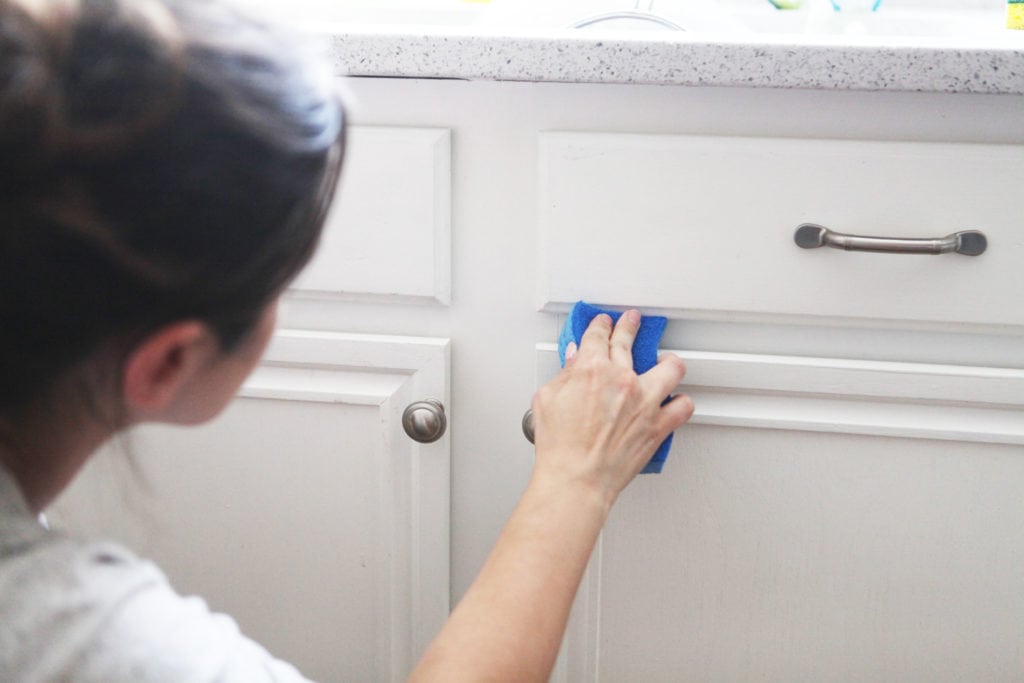 I promise you, I think this will take you 15 minutes tops with Scotch-Brite® Scrub Sponges and Dishwands. And once the kitchen is clean, don't you just feel better?
Save now on Scotch-Brite® Scrub Sponges at Target with this Cartwheel offer. Also, through August 20, Target is offering a $15 gift card when you spend $50 on Household Essentials.
Do you need more cleaning tips and inspiration? Check out this link to see what other messes people have cleaned up with their Scotch-Brite™ products. You can also follow them on Pintrest here.
I hope these work for you as well as they do for me in the new kitchen! I'll share more about what we did in another post soon!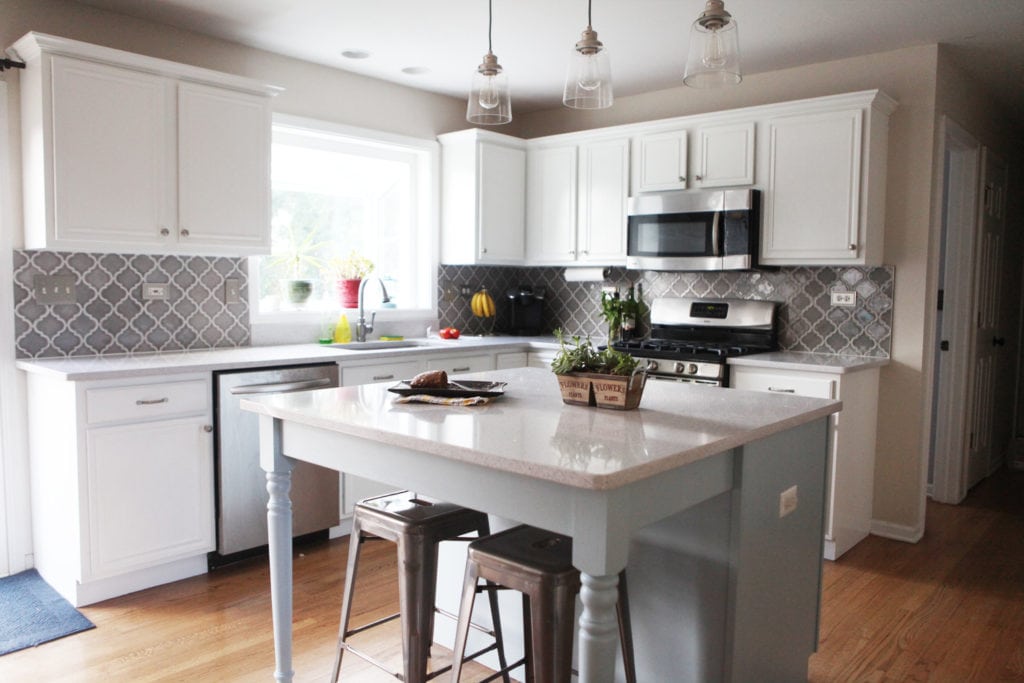 To get more tips from The Everyday Mom Life, click here.