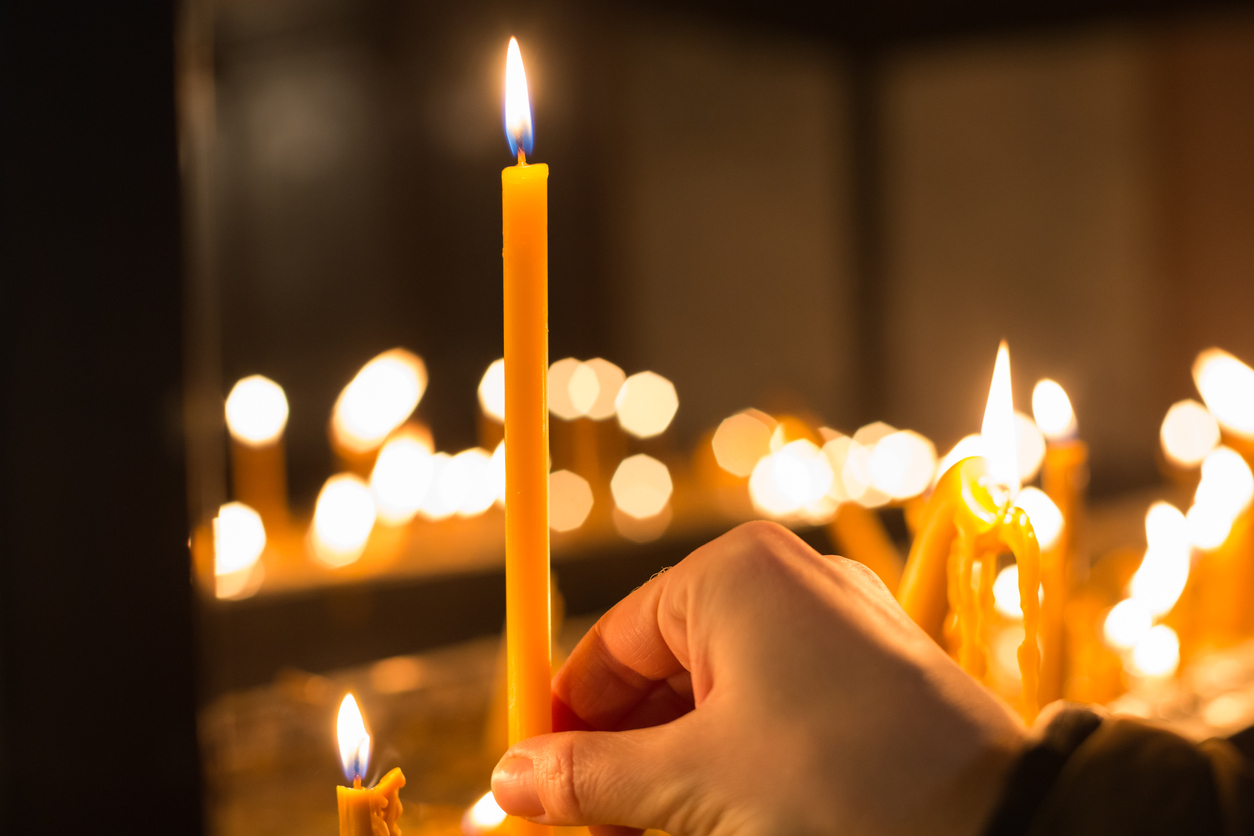 Most people will tell you that Christmas time is about joy, family, giving and the birth of the savior. It's literally supposed to be the "most wonderful time of the year." The song says so.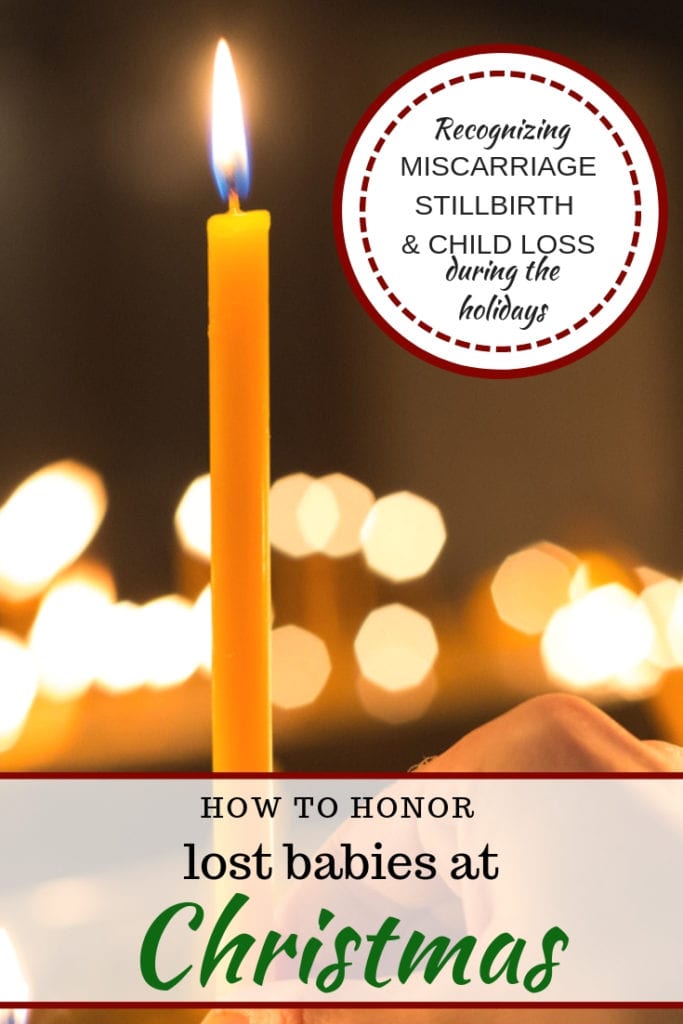 However for some people the idea of Christmas is bittersweet. For parents who have lost a child, Christmas can be one of the saddest and most anxiety producing holidays. Instead of joy you feel anguish for what might have been, you have an emptiness that's hollowed out your heart. The first year is especially difficult.
Six years ago we were facing a Christmas like the one described. I was too numb to even be considered a mess. Most days I don't really understand how I was functioning.
Christmas hit just six months after our son Alexander died. I was lost in grief still and so angry when I thought about the joy of the season. My family, the one I had dreamed about all my life, was missing the biggest piece.
I'm not really sure how we made it through that first Christmas. We put up the tree, but left all the ornaments off sans a few angels I picked up. We went to the celebrations, where I generally cried in the bathroom at some point. We went to church and I prayed for my heart, for my son's heart that stopped before he was born and for the new heart that was growing inside me.
We put one foot in front of the other, we took deep breaths and one forced smile at a time, we made it through that Christmas. Along the way we found ways to cope and, for us, that meant involving Alexander in as many ways as we could.
Most people will shy away from bringing up the name of a lost baby or child. But to parents longing to show some proof of existence for that child, not talking about them at joyous times of the year can be as painful.
You worry people will forget your baby. You worry you will forget. But the truth is you can still make that baby or child a part of the happy times in your life. They don't always have to be remembered with sorrow and longing. You can remember them with love and honor them in ways that will help make a difference for your heart and will leave a positive impression on the memories of their siblings.
Here are a few ways to include your angel baby in "the hap-happiest season of all," even when it doesn't feel so happy.
Ornaments
My husband and I buy each other a special ornament every year at Christmas time. We've done this since our first Christmas together when we were dating and today our tree is filled with our memories.
When our son died I started buying an ornament for him each year too. I did this inadvertently. It started with an ornament I saw of a fairy holding a baby and every year since then I try to buy him an angel ornament and/or an ornament with his name on it. By now our tree is filled with his ornaments too and every time I see them there is a little bit of longing there, but there is also comfort in knowing he existed and was a part of our lives.

Stockings
Each year my son's stocking goes up right along with his sibling's stocking. I love doing this because it's the one place I can see our complete family. Most of the year we can only carry Alexander with us in our hearts, but at Christmas time this is another visual reminder that he is there.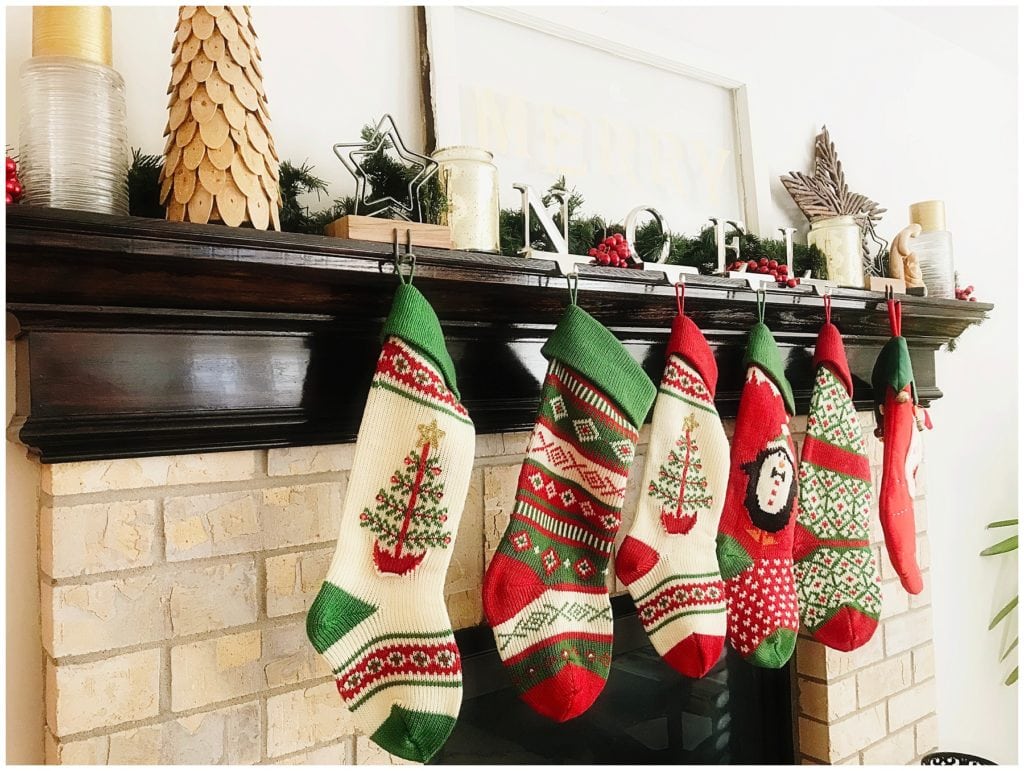 Santa gifts
Since that very first Christmas I have purchased gifts from Santa for Alexander. Some people probably think it's silly but I place them under the tree, right next to the presents for everyone else and I love this tradition.
Later in the day we head to the cemetery to open the gifts and leave them with him. For this reason the gifts are usually little toys or trinkets that will hold up in the Chicagoland weather. I try to match the gifts each year to his age and think about what he might like. This will admittedly get more difficult as he "gets older" but for now it brings me a lot of comfort.
Usually, the cemetery leaves the toys there for a few seasons or so. In the spring, summer or fall my kids end up playing with those toys whenever we go to visit. Watching them do this is so beautiful and precious to me. For them it's just playing with toys, but for me it's the only way I get to see them play with each other.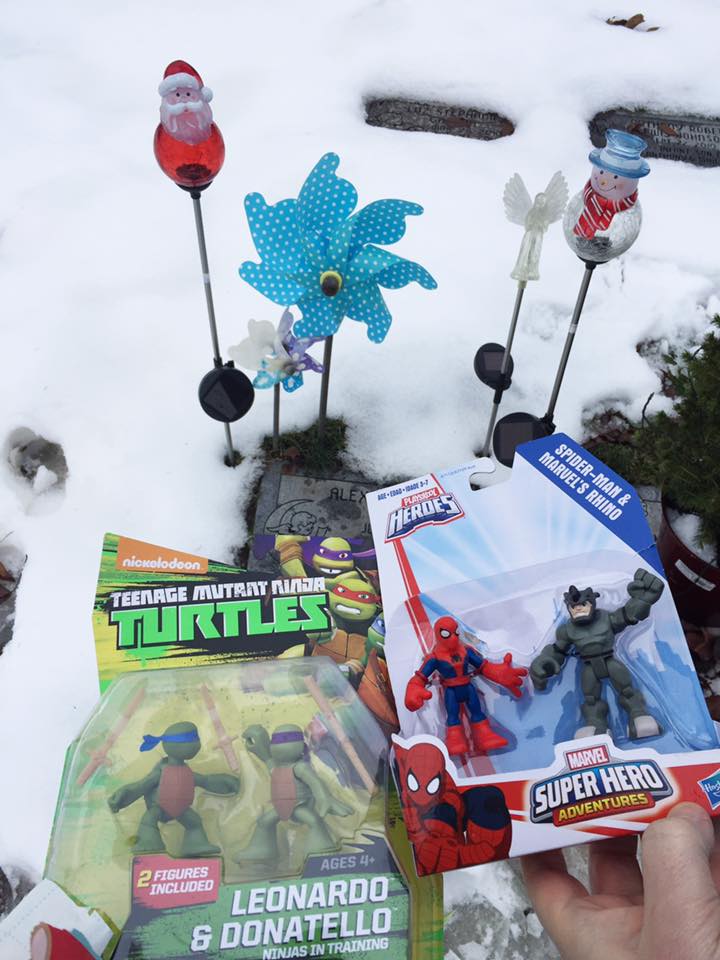 Giving toys in the name of that child
We are starting this tradition this year and giving some toys to toy drives in the name of our son. My daughter actually spurred this idea because there was a toy drive at school that she wanted to buy toys for. It was so sweet hearing her make the suggestion to give to someone else, and I knew she would love to help me pick out some toys in the name of her older brother to gift.
Make them special Christmas flowers
Most cemeteries sell wreaths you can buy and have them place on behind or near the headstones. We've done this in the past but I usually make Alexander a special Christmas flower bouquet. Making fake floral bouquets is much easier that I originally thought it would be, and I like the idea of being able to do something for him specifically versus something to help me cope or to help someone else.
As a parent of a child who died, you don't really get the opportunity to parent them. I look at making the Christmas bouquet as sort of a way of dressing him for the season. My other kids have to wear uncomfortable cloths and shoes that hurt their feet. It's only fair that I bring him a bouquet with too much glitter and something that lights up too. 🙂
Volunteering
This hasn't been part of the way we honor Alexander yet because that first year I was too damaged to help. The second year we had our daughter and now I feel both kids are still a little too young to help out with a toy drive or some other type of volunteer effort. However, this is something I would like to include in our future ways to celebrate the season with Alexander, especial as our children grow and he "grows" out of the stage where Santa toys might make sense.
Include them in the Christmas card photo
A lot of loss mothers I know look to incorporate their lost children into family photos and Christmas cards. Some include their Molly Bear, which you can read more about here. Others will wear jewelry, a necklace or a bracelet that represents that child. In Christmas cards I've seen angels that have represented a lost baby too.
I haven't done a Christmas card in a few years (Bad mom!), but those first few years I would write his name along with our's at the bottom of the cards. This was obviously more overt than a necklace or a bracelet, but, especially that first year, I was searching so hard for way to make him real and validate his existence. As the years have gone and my pain has dulled, I've included him more subtly because I realized that it's not important if other people know he was there. I will always know he existed.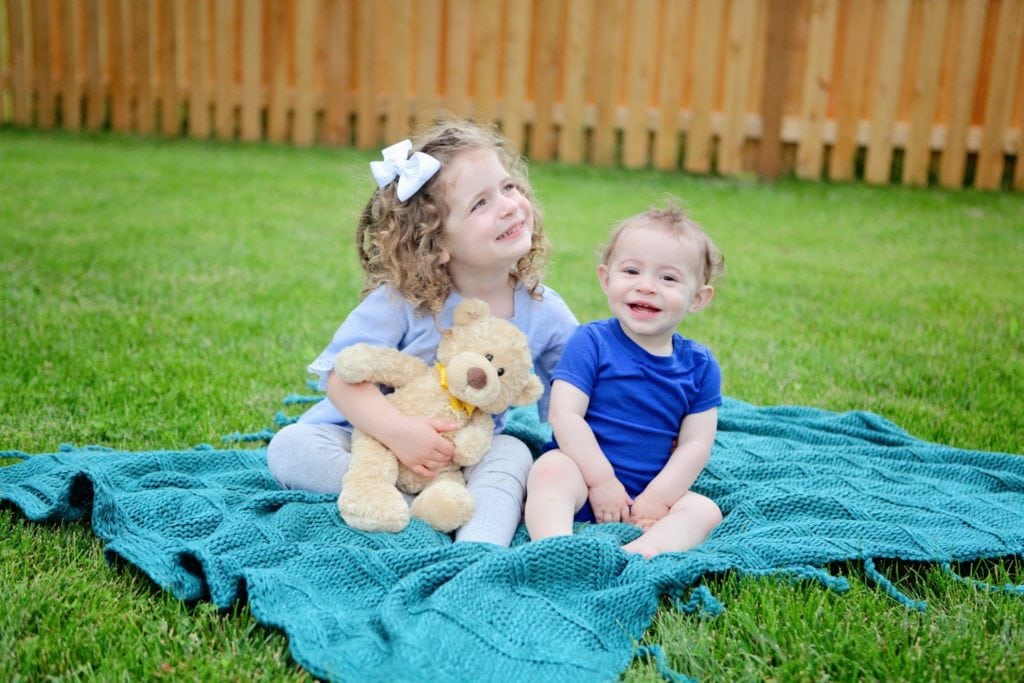 If you have lost a child this year and need tips on how to get through the holidays and loss milestones, click here.