By the time 6 p.m. rolls around I am dead tired. After working all day, making dinner, feeding the dog, doing dishes and a loud of laundry or two, I'm just done. Unfortunately, as a working mom that's really the only time I get to play with my kids during the week. If you're a stay at home mom I know you have plenty of reasons to be exhausted too, and finding appropriate preschool activities ways to entertain your little ones can be a full time job.
I feel awful about being too tired to play so I've come up with a few ways that don't take a lot out of me or even literally allow me to lay down.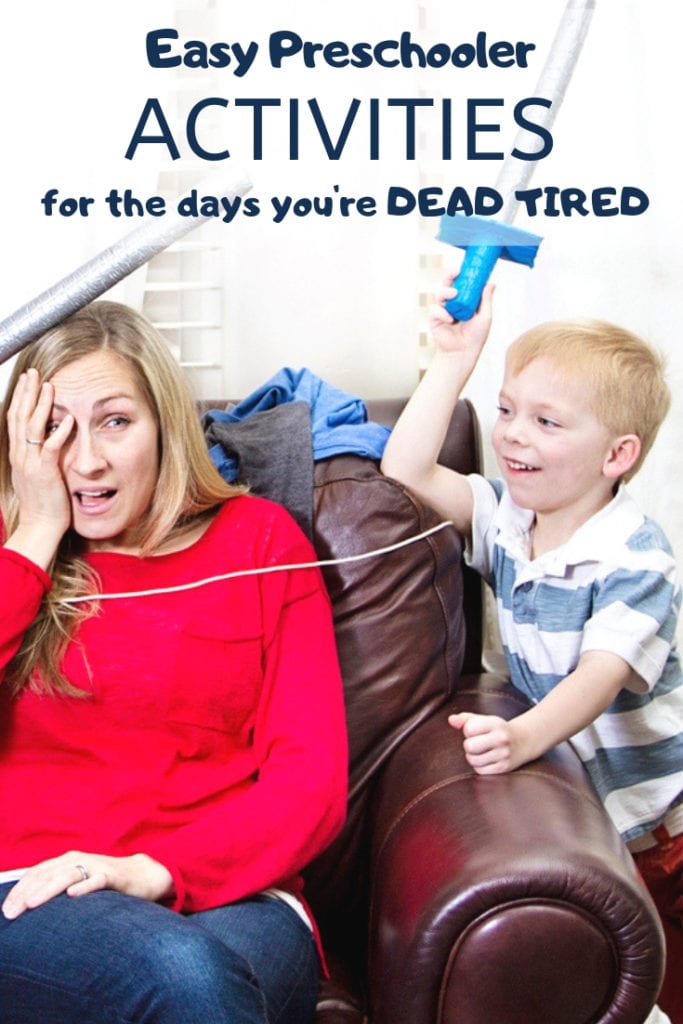 Easy Preschool Activities
1. Hair Dresser
I am usually the client because my daughters loves playing with my long hair. I sit on the couch, she sits in back of me and brushes my hair. She usually attempts to braid it. The brushing feels wonderful at the end of a long day and we still get to connect.
2. Mommy as a Mountain
Lay on the floor on your stomach and let your kids use your body as a mountain. They can roll cars and trucks over you, use you as a snow hill or even really pretend that their characters are climbing a mountain. This is one of my favorite preschool activities since it lets me lay down. 🙂
3. Crayon Face Coloring
When I was little, my dad used to pretend to color my face with crayons. Then I would do it to him too. Obviously, it's an imagination game since the crayons don't leave marks. We would get really detained with "coloring" eye brows, hair and rainbow freckles. I taught my daughter this game and she loves it. I can sit on the couch, she sits on my lap and we just take turns. Usually, I end up coloring her face more because it tickles and she likes it. It's low key enough that you can do it right before bed without having to worry about your kids getting too amped up.
4. Doctor
If this isn't one of your favorite preschool activities, it should be. My daughter loves to play doctor with my husband and I love to let her. You get to sit or lay down while still having a decent conversation with them (because all pre-K doctors have a wonderful, talkative bedside manner) and it makes them happy. Let them work on your arm, your leg, your foot, your knee and lay back and relax. Warning: At some point you will have to be a doctor and you will be on call longer because they will realize being the patient is more fun.
5. Cutting and Gluing
Not the best night time activity, but if you're a stay at home mom and can deal with little pieces of paper all over in exchange for some quiet then this one is for you. It's also an activity they can do in your presence but they don't really need you to do it as long as you're comfortable with them using those blunt scissors. Basically, give them some paper to cut and tell them to make a mosaic or stained glass window on another piece of paper using the glue. You can even sketch out a design for them to fill in out just let them do whatever. The point is that they're entertain and you're a part of it. Bonus that it helps with fine motor skills.
6. The Staring Game
You remember this game from elementary school, right? It's less awkward when you do it with your own child and you almost always win. Follow the playground rules, whomever blinks first loses. You can sit on the couch, lay on the floor or even in bed side-by-side as long as you're at the same eye level.
7. Puzzles
I like puzzles. I like that my daughter is still learning the rules and that it's a quiet (usually) activity. You can play these with physical puzzles or you can play on a tablet. Either way it's a low-key activity that's perfect for some down time before bed or quiet time in the afternoon.
8. Play-Doh
I realize PlayDoh is a double edge sword. Like the paper and glue above, you need to exchange cleanliness for quiet because Play-Doh always makes a mess. If you are a little OCD about the Play-Doh not getting mixed up you will need to let go of that too. The good thing about Play-Doh is it is an activity they can do with or without you right next to them. As long as you're in the vicinity and you trust them, you can read a book or close your eyes for a little nap. I'm lucky. I can nap for about 20 minutes while my daughter entertains herself. My son…he's another story. I take my eyes off him for about 15 second and he is trying to scale the fireplace.
9. Fort
This is a good afternoon activity, especially for rainy afternoons. If you don't build forts frequently then the novelty of this will keep your children busy. I always like to use a table as the base. This way I can put minimal effort into actually making the fort and clean-up is easier. You can then use the chairs to make tunnel systems for the fort.
10. Treasure Hunt
Draw them a map that leads them to "treasure." It could be toys, it could be a snack or something cools for the Fort above that ends up being the treasure. It doesn't really matter what it is, they will have a blast looking for it. Just a word of caution, if your kid is easily scared, they may want you to come on the hunt with them. My daughter won't go into her playroom by herself anymore because she saw a spider. Very frustrating. If this is the case, just make sure your map includes rooms they don't have any issues with.
11. You Be The Baby
My daughter has just started getting into playing house. She usually asks me to be the sister, which doesn't involve much, but being the baby is best. You can totally get your kids to take care of you this way. She will get me the remote or snacks and sometimes she will even stroke my forehead to try to put me to sleep. This game usually makes me feel like I'm a good mommy because she is so sweet and loving to Baby Mommy.
12. I Spy
My aunt taught my daughter this game this past summer and she is a little obsessed. They were fishing and it kept her busy for about an hour. We usually play this in the car but I'm about to start playing it at home since it is such a great preschool activity. A stationary game where I get to relax sounds much better than a car ride where you have to guess within seconds.
13. Coloring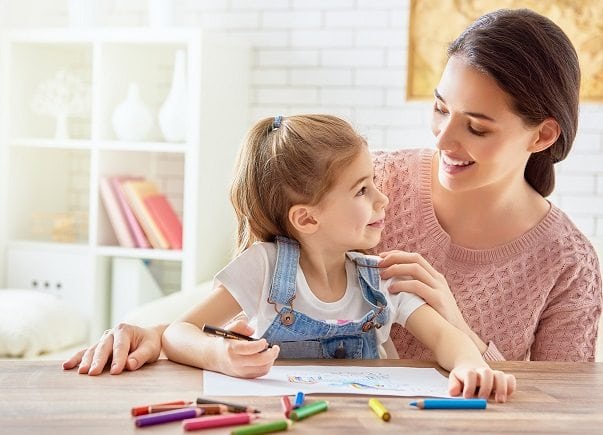 Last week my husband told me that my daughter said her favorite part of the day was coloring with me. It was my favorite part of the day too. My husband had purchased an adult coloring book for me for Christmas and she loves doing it with me and using my "big girl" markers. Coloring is a regular activity in our house, but using my book and special markers make it better for her. I recommend having a special book that you only color with your child so they don't see it as an everyday thing when you do it with them.
14. Painting
This is not for the faint of heart, but it will keep kids busy for an hour or more. I get my daughter all set up – plastic table cloth over the table, a palette of colors on a paper plate, a cup of water for her brushes and a smock. Then I let her use her creativity to paint whatever she wants. Sometimes I buy wooden letters or characters for her to paint. She is happy with a piece of wood too.
15. Decorating Cookies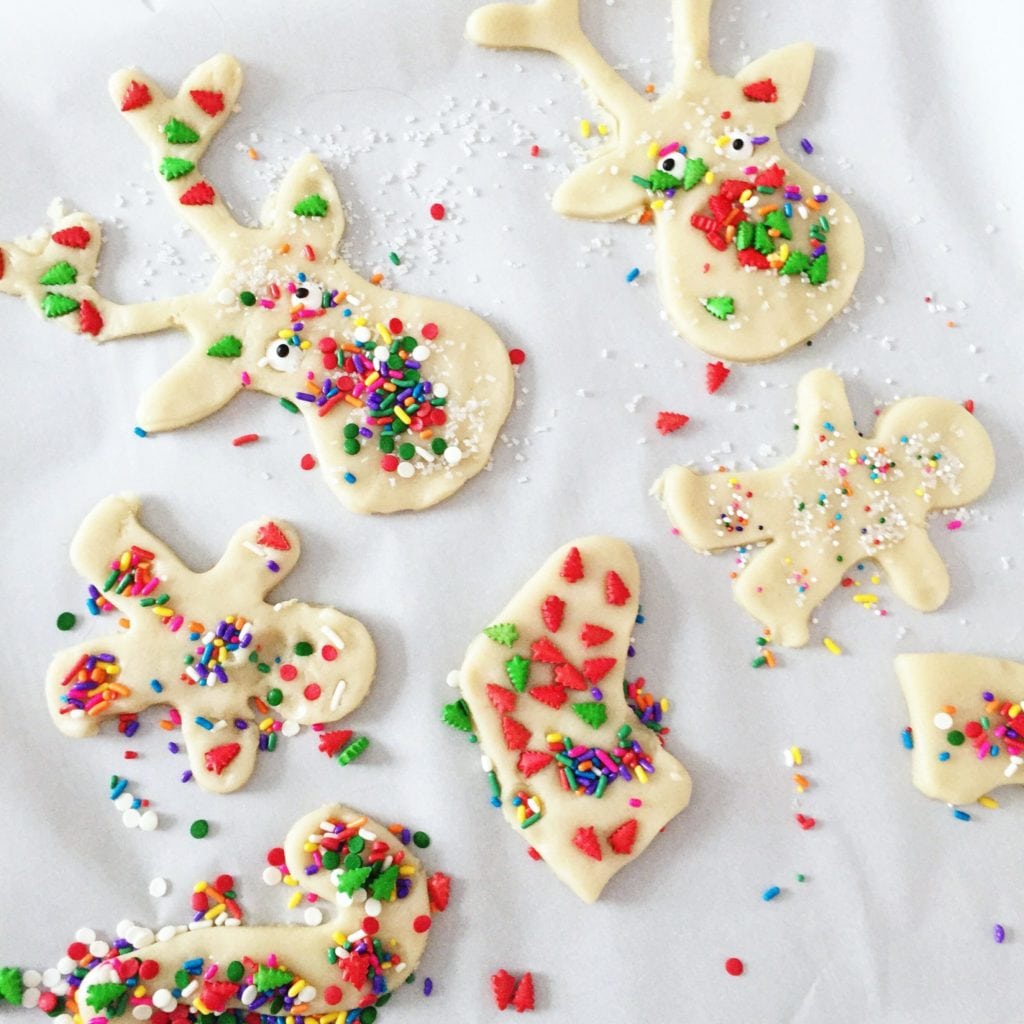 It doesn't have to be Christmas time to make cookies! Make them at other times of the year and keep the kids occupied with decorating them. It took my daughter a half an hour for one cookie sheet over Christmas. She may have inherited some of my perfectionist tendencies, but it's still fun to watch her create or create with her.
16. Individual Book Time
While my daughter can't read yet, sometimes she likes to pretend she can and "reads" to herself or recites the story based off her memory. With individual book time, she can read her books and I can read mine. Sometimes I don't have to actively engage her as long as I'm in the same space as her and doing the same activity. This one doesn't last very long but I know that once she can read book time will last a little longer and still feel like something we can do together.
Whether you work or stay at home, all these preschool activities can be done with minimal effort on days you feel like you're dragging. Since it is winter here, I've kept these to indoor activities for now. We will have to see what summer brings for us this year since I'll be staying at home with them.
Do you have some kind of activity you do with your kids when you're tired? I'd love to hear about it.
Find more mom and kid experiences in our Family Section.