We were at my niece's birthday party a few weeks ago and my 3-year-old did something I told him not to do. He proceeded to do it a second time. I told him not to do it again. I was excited to be at my cousin's house and visiting with my family. I was looking forward to the food and the fun we were going to have.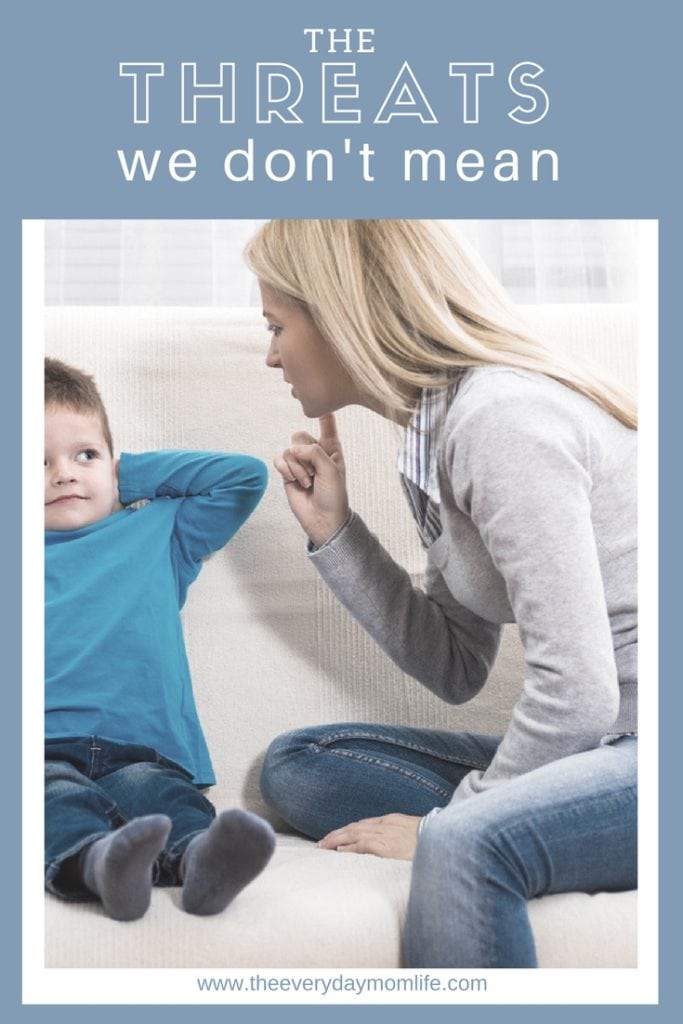 We had only been at the party for about 10 minutes. He did it a third time and before I thought about what I was saying I blurted out, "If you do that again we are leaving!"
Boom, he immediately did it again. I was so mad. I did not want to leave. I regretted making my threat so much. He looked at me and said, "We aren't really leaving are we?"
I saw the tears in his eyes as he waited for my response. I knew I needed to follow through on what I told him. He burst into tears when I told him we were leaving. I wanted to cry too.
How many times have you been at a park or an event and heard a parent say an over the top threat that you know they don't mean? Have you ever said, "If you do that one more time…," only to repeat the threat several more times?
I promised myself I would not do this when I was a parent. Promises like this are easy to make when you don't actually have kids. Flash forward to present day.
I have a 3-year-old and a 6-week-old. I am human. I am tired. Very tired. I try so hard to only say things I mean but I have found the catch. I now realize why we sometimes say things we don't mean.
The reason is, we ACTUALLY DO mean them. I want to leave if he throws the mulch at the playground. I want to throw away all of his toys when they are littering the floor. I actually mean it, I just can't follow through with some of them.
I have said, "If you don't hurry I am going to leave without you."
I would NEVER leave my child home alone and go to the grocery store without him, even if he is taking 15 minutes to put on his shoes.
I have said, "If you don't put your toys away, I am going to throw them away."
I have no intention of throwing away an expensive toy that I know he loves just because it is taking multiple reminders to clean it up.
I realize though that every time I threaten my son with something I won't follow through on, my son will learn a lesson I don't want. He will learn that I can't be trusted to actually do what I say. He will learn that he can sometimes "get away" with misbehaving, even when I am really mad. He will learn that at times my anger is guiding my language and behavior.
My husband and I came up with things that we know are reasonable punishments that we can follow through on every time. It's not easy and it takes commitment but I hope it will be worth it. Another benefit of this is that when I am really, really mad I have had to pause and think for a moment about the threat that I want to make.
This pause sometimes gives me a moment to get a little perspective. Is his behavior dangerous to himself or someone else? Is it destructive? Is it disrespectful? These help me assess what the appropriate punishment should be.
The punishment I think most effective is if it is similar to what the natural consequence of his behavior would bring. For example, if he is throwing his toys or playing too rough with them, they could break. I warn him that they can break and then if he continues I take it and it goes on a shelf in the garage. He then sees it every time we get in and out of the car. It is a reminder of the toy he can't play with and that if he is rough, his toys could break and then he won't have them.
We have several consequences that work for us. Time out is good because he can stand in time out anywhere we are. He hates it when we are out and he is missing the fun, even just for a few minutes. Taking a toy away and putting it in the garage for a day or more is also effective. Taking away his screen time is one we use a lot. His screen time is limited but the 20 minutes he gets to play a game or watch a show is something he really likes. There are more but these are the ones that work best for us.
The reason we punish our children is to correct their behavior. My hope is that by teaching him to behave and do the right thing now, he will apply these lessons to the big decisions he will make later in life. Now if I can just do my part to watch my temper and only say what I mean.
For more mom life experiences, click here.