Today is our 8th wedding anniversary and as I started thinking about what I would write on the blog – what words of sage wisdom I would provide on how we make our marriage work – I came up empty. The truth is, after eight years I'm not at all sure how we make our marriage work.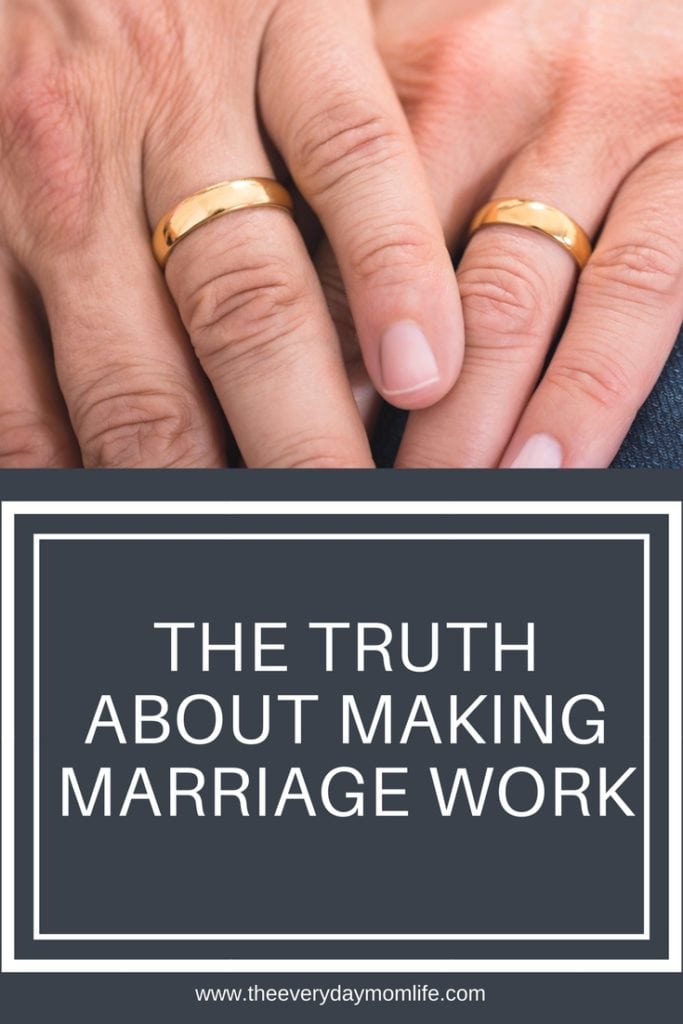 A woman I worked with once told me there were "hard years" in a marriage. I was 20-something, newly engaged and had stars in my eyes about what our life would be like.
I thought we would be different, like everyone does. We were so often on the same wave length in terms of life's decisions and direction, I knew it wouldn't be perfect but didn't think hard was the right word to describe it…and I was right. In the really difficult years, "hard" doesn't even begin to describe it.
I know we've had times where both of us have wanted to give up. I know we've had times where we strongly disliked each other and we've both questioned it.
In those times, I've found that marriage is very much about going through the motions. At the end of the day do we just deal with life because separated is messy, hard, painful and too much work when we're both exhausted from the everyday of it all?
But maybe going through the motions IS really what it's all about. Packing up the kids in the morning, driving off to school and work, calling each other when you're on your way home, eating dinner together, putting the kids to sleep…within those motions, you find normal.
In those motions you find everyday life and you get to a place where after a big fight there is a thaw. You get to a spot when whatever it is you were mad over lets go of you, and you can communicate again.
From there you build it again and again because that's what marriage, love and life are about. And that life is what you make together- in good times and bad, in sickness and health.
Making a marriage work isn't always about it being a fairy tale. In fact, it's usually not and anyone who says their marriage is, is probably lying.
It's about the peaks and valleys, and more often than both of those, the flat landscapes that you end up walking together. Somewhere deep down, even when you're mad, you know it's better than walking them alone.
Eight years isn't a lifetime, but it sure is a pretty good start and I feel like we're just starting to find a natural rhythm to our life together. We're past the point of trying to conceive and welcoming more babies into our home, we have lived in our house for seven years through major renovation projects, we no longer have babies per say and we have both been headed down a specific path for employment for awhile now. With all those things behind us it feels like we are entering a new phase of life where we can stop waiting for the next thing to happen and just live.
So while most days I can't tell you how we do it – I can't tell you how I survived him being completely introverted or how he has survived me making every, little thing into a project or how we survived the death of a child – maybe it doesn't matter. Maybe the how isn't really important at all. The point is that we have survived and we have done it together.
After eight years in, for us marriage has been about working through the worst times, wading in the mediocre moments and finding the love underneath it all again and again.