September is an odd month for me. It's my favorite time of the year, but it's also a month that was supposed to make me a mother for the first time. It didn't.
Our first son's due date was September 30 but when he was stillborn in June all I was left with was an empty belly and a year full of holidays and milestones to experience as an invisible mother.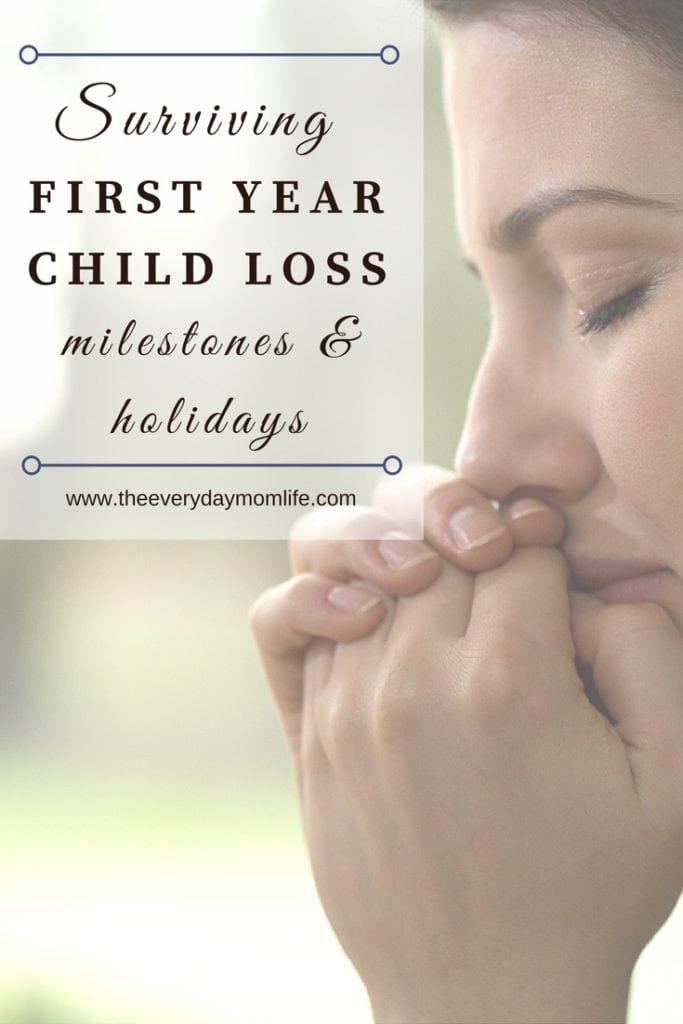 The first year was the hardest. The first few months were a haze. Learning how to get through the moments and all the holidays that were supposed to be celebrations was vital to being able to exist.
You lose the birthdays, the photographs, the ups, the downs, the happy…the memories. You lose the life you expected and you're left with getting through what's left of it all on a broken heart.
Sometimes I'm surprised I made it through the first year. Truth be told, there were times in the beginning where I wish I hadn't made it at all. I wished for a long time that it had been me we lost instead. Or that both of us had died. Living through the pain of losing a child is so intense and so all-encompassing that I just wanted to be with him again. Even if that didn't mean "being" at all.
That wasn't really a choice though and once the haze started to lift I was able start to moving forward, even when I didn't really want to.
It wasn't easy and wasn't fun, but I started to take baby steps towards living like a normal person again.
Each month there were new hurdles to jump over. In the first six months I had my birthday, my son's due date, Halloween (which I had already been planning a costume for), all the fun fall activities, Thanksgiving and of course the holidays.
Each month I had to figure out ways to handle all of these joyous occasions that were just empty moments of aching for me. Some were worse than others, but each time something approached I was able to get through it – usually better than I expected.
Here's how I did it.
6 Ways To Survive Child Loss Milestones
Know that the anxiety is worse than the actual day
Everyone who goes through a loss gets very anxious and even stressed as milestones – the sixth month mark, the one year mark, the due date, etc. – or holidays approach. You imagined all these days so differently and living through them without your child is pretty much the worst thing you can think of. Everyone I know who has lost a child experiences this.
The good news is that the anticipation about the day is usually worse than the day itself. It passes just as quickly as it arrives and then it's over and you can move on from it.
Keep yourself busy on the actual day
This was always key for me. If I sat and cried on the couch all day, and sometimes I needed to do that, it didn't make it better. But if I filled my day, usually with positive things, I would be able to handle everything better.
Find a craft project to work on, go for a hike to get some fresh air, organize your closet…anything that feels like busy work will usually help the day pass quickly.
Be selfish with your time
Don't feel bad about taking a Saturday to stay in bed or two or three. In the beginning your time is important for processing. You do a lot of thinking, a lot of blaming (yourself mostly) and a lot of playing moments over again in your head. You need to allow yourself space to do all of that because it will be important in the grief process.
Since I didn't have any other children I sat on the couch for weeks. I binge watched episodes of Roswell, I read, I looked at his pictures, I laid in the cemetery and I cried. I needed all of that to get me to the next stepping stone – even though other people wanted me to be me again sooner.
Say, "No." 
Don't feel bad about telling people no. You don't need to do anything when you're grieving such a substantial loss. Say no to weekends with friends who have kids, say no to family functions, say no to your husband if you need to, skip family holidays if you feel like it's going to be too much and do something smaller Just know that you're the one that will set the boundaries after a loss and you need to make sure they're in place to protect your heart. Don't feel bad about that.
Find ways to remember
When you have the head space to think, there are ways to weave your child into all those milestones and holidays.
Each Christmas I buy an angel ornament for our tree, I put up a stocking for my son and I wrap small gifts from Santa that we bring to the cemetery.
On his birthday we have cake, bring him balloons and presents to the cemetery and sing, "Happy Birthday," to the sky as we let balloons float toward Heaven. The first year I actually threw a large party. It helped to keep me really busy that day and keep some of the hurt away to just spend the day planning for him.
Volunteer if you're up for it 
Once you feel like you can, give a little back. I didn't get here for a while. In fact it took me well over a year to be able to get to the point where I felt like I had anything to give, but once I did, it just became a great connection point to other moms who had lost.
I volunteered for a local SHARE organization for a few years. Some moms make memorial boxes and donate them to the hospital, other knit tiny hats for future lost babies and one amazing mom I know donates school supplies each year to kids who would be in the same grade as her son. The catalyst might be sad but knowing you're helping someone is really the best thing you can give after you lose so much.
None of these "ways" will be perfect. However, each of them will chip away at the shell you form around yourself after you lose a child. Together they will help you walk through the dark first year and come out the other side as a survivor.
You can read my full story here and what I learned in the years after the loss here.
To find support near you, you can visit Share Pregnancy & Infant Loss Support here.