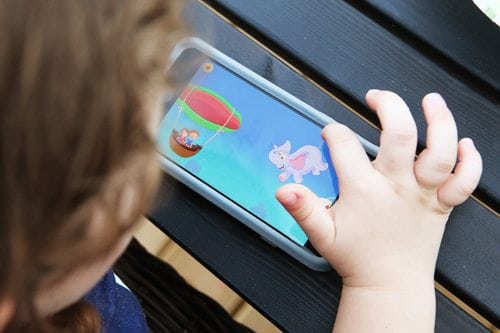 I am one of those people that always has the TV on in the background. It's a holdover from when I was a journalist and would watch at least six news programs a day. I'd constantly be looking for a new story idea or a new angle on something happening in the world.
My husband is a bit of a big computer nerd. When we first started dating I thought it was cute. Sometimes I still do. Just don't tell him. 🙂
Basically, both of us have always been big screen time people. Before having kids, I didn't even think about the whole screen time debate that has been raging for years. I didn't think about it until I came home one day and found my husband sitting in front of the computer with our daughter on his lap watching a YouTube video of the ABC's.
I wasn't sure what I thought about it. Part of me was like, "She is way too young!" The other part of me was like, "Hmmm…she seems to like the music and it's the ABCs." Then I felt guilty because there were people in my mommy Facebook groups vowing to never let their kids watch television.
My husband quickly defended his reasoning for screen time. It went something like this: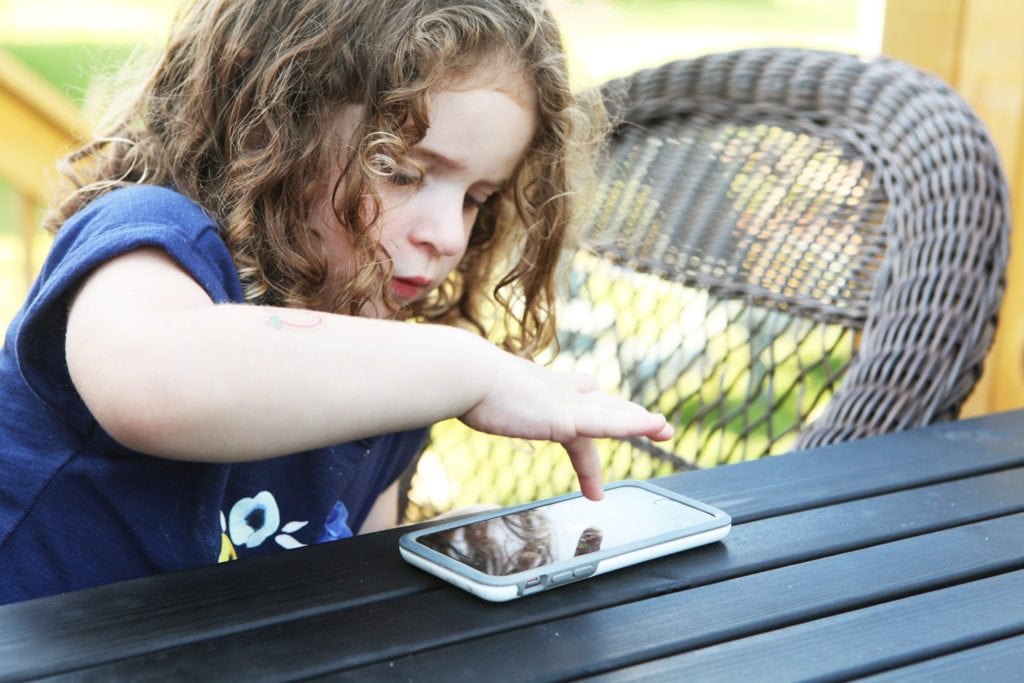 "Everything is going that way. She will be learning on computers, tablets and probably devices that we haven't even imaged yet. Pretending like the technology doesn't exist is silly because it is there and will always be a part of their lives. If it can be educational, why not show her how to use it and allow her to access all the knowledge out there. Teach her how to use it and normalize it."
He sold me. Honestly, it is probably the fastest he has ever won a debate in our house.
Recently, the American Academy of Pediatrics backed him up acknowledging that digital environments are the reality of the time we live in now and providing some parameters for positive screen time.
Now that my daughter is 4 I've found that a lot of apps, even those designed for younger children are too challenging for her to really play and learn on or too babyish to hold her interest. When we received the KidloLand app to test out last month, I wondered which direction it would go.
Much to my surprise though, my daughter was smitten with it. She will sit down with my phone (which I foolishly downloaded the app on) and spend time going through the different programs.
From games and songs to phonics and numbers to shapes and even days of the week, this app seemed to be the perfect companion for her lessons at school and it keeps her interested in learning. The choices KidloLand provides really seem endless. Within each lesson, there are multiple sections that build upon themselves and expand the learning opportunities.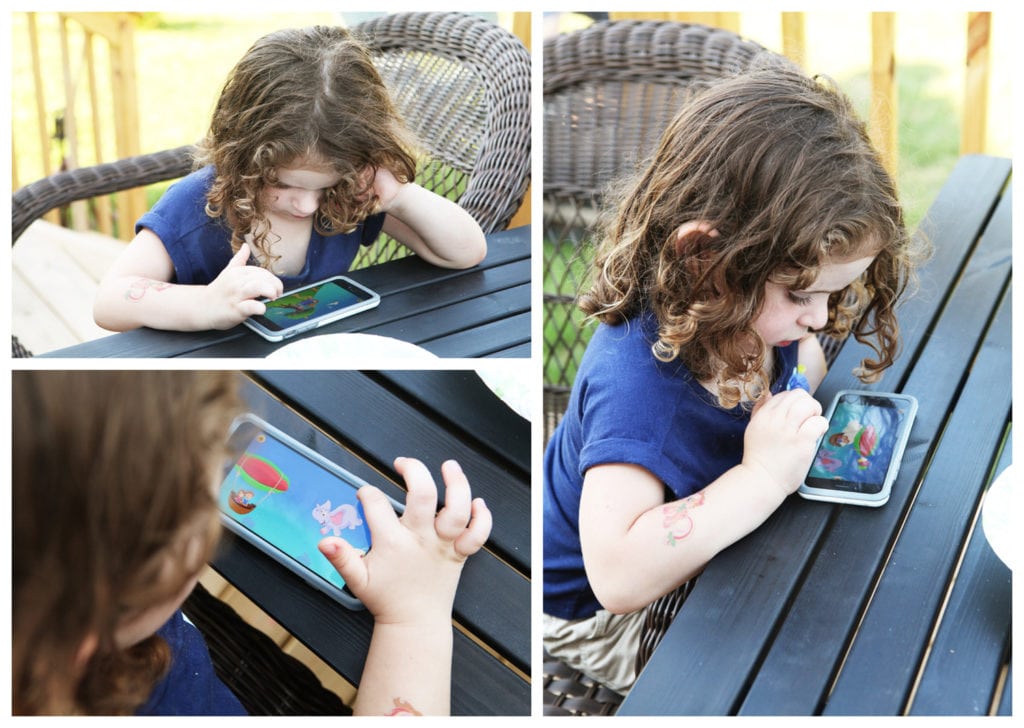 We've spent a lot of time on the counting section of the app. While she has her letters down, numbers have been more difficult for her to visually recognize. Since we have been using this, she has improved leaps and bounds with her recognition. All the while, she thinks it is just a fun game that we are playing together.
But my daughter isn't the only one interested in this app. My son who just turned 1 tries to snatch the phone from her every time we turn this app on. He loves the bright colors and the music. He will relax with me and snuggle as we sing the nursery rhymes together.
He is learning how touch technology works right now. We are working on being gentle and using the pointer finger versus slapping things. This app helps because unlike some other apps, you have to touch the specific character you want to animate. All the characters within the apps lessons and songs sing and dance, but when you touch each one there are extra surprise movements or dances built in. On a very basic level, the app is teaching him cause and effect too. Oh and he dances to the music, which is pretty much the cutest thing in the world.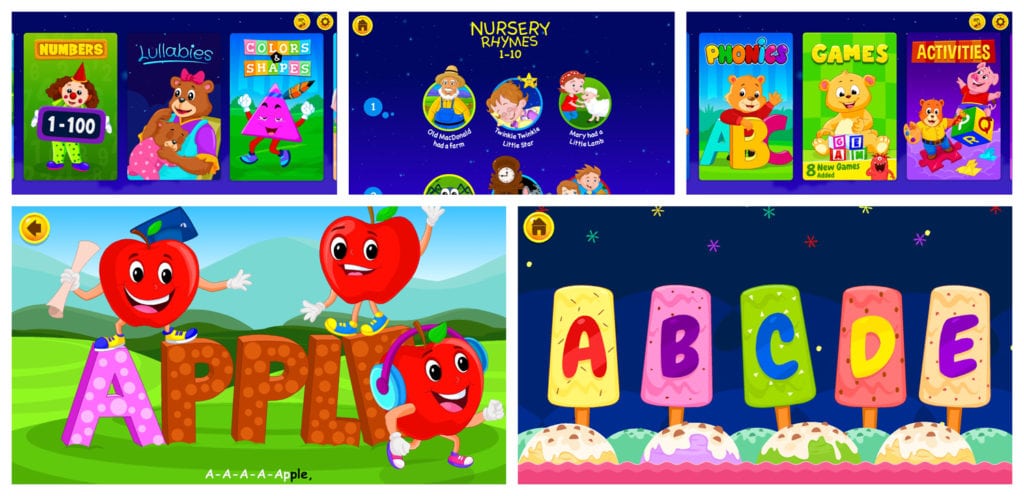 I honestly feel like we hit the jackpot with the KidloLand app. It is so engaging and the possibilities within it are so vast that my daughter will play on it while I make dinner or just sit and drink my coffee. Now, I just need two of them so I can keep my son busy as well.
Details
The KidloLand app has free features including:
Games & Activities
ABC songs
Nursery rhymes
Vehicle recognition
Animal recognition
And more
There are also paid features that include:
Colors & Shapes
Months of the year
Additional nursery rhymes
Phonics lessons
Numbers & Counting
Dinosaur songs
Christmas songs
And more
You really can't go wrong with the KidloLand app.
What's your screen time philosophy? And have you changed it as your kids have gotten older?
For more product reviews, click here.