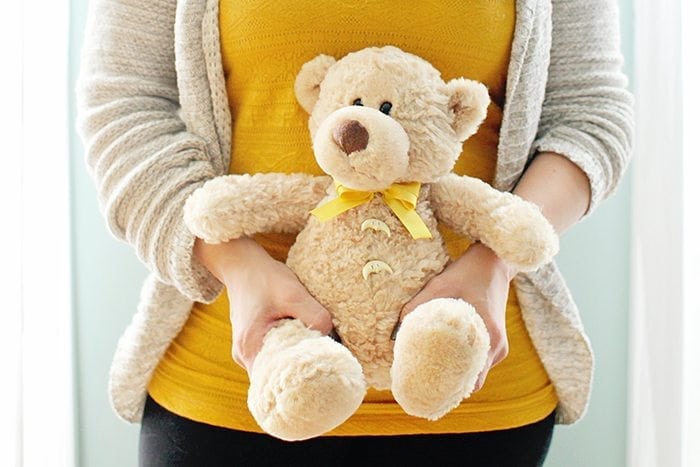 October is National Pregnancy and Infant Loss Awareness Month and after everything we've gone through to be parents, this is a month that's close to my heart.
Unfortunately, my body and I have had different views on fertility. 
After seven pregnancies that resulted in two, living, breathing children, this month is a reminder that
our family really looks
completely different than most people see it.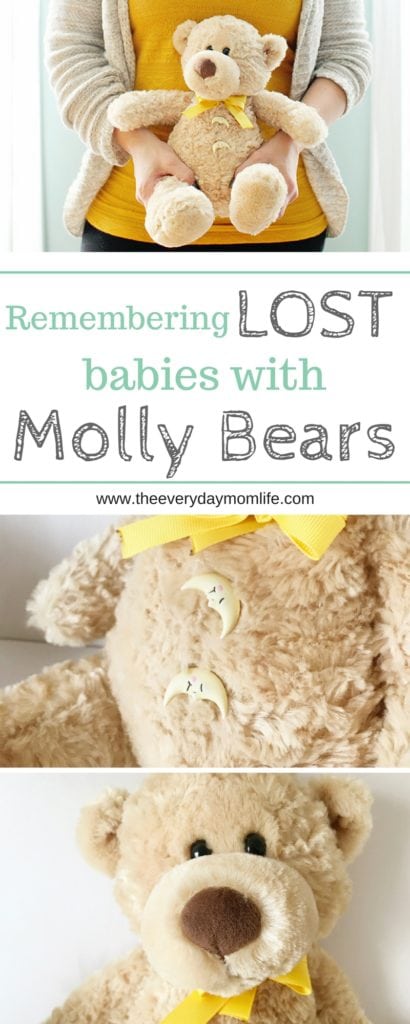 The loss that impacted me the most was that of our
stillborn son, Alexander.
 June 19, 2011, the day he died, a part of me died too. The work it takes out of you to just breathe after an experience like that cannot be matched. My emotions suffocated me in grief. Nothing was great, good or even just okay. It all just was. And it was like that for a very long time. There was no joy.
Today, I have joy in my life on a daily basis thanks to my
rainbow babies
. Today, I can see beauty in leaves falling from trees, the sun shining through clouds and even the mess from the toys scattered all throughout my living room. I can see the life.
Though the further we move away from the days surrounding Alexander's death and birth, the more cloudy the moments become.
Today I remember them like a dream, or nightmare, I had once upon a time. The moments blend together like the rain blends together when it is falling fast and hard, almost creating a physical barrier between you and whatever lies ahead, or in this case, behind. I have pictures of him thanks to Now I Lay Me Down To Sleep, but I rarely look at them anymore with the exception of one we have in the living room. I have a blanket that he was wrapped in in the hospital that is now tucked away in a closet. I slept with it for months. I have tokens and trinkets given to me by the hospital. Most of them are also now tucked away.
I have his hospital stats burned into my brain – He was 1 lbs 9 oz, 12.5 inches long and born at 2:18 p.m. on Monday, June 20, 2011.
The one thing I didn't have was a reminder of the way he felt and I honestly can't remember the way he felt in my arms. You only get to hug them for moments whereas most people get a lifetime. We had an afternoon and one night before we let him go. About three years ago, around this exact time, I was given a reminder about what it felt like to hold my baby and I'm eternally grateful for it.
Just before Alexander's I signed up for Molly Bears, weighted teddy bears that are created by Bridget Crews, who lost her daughter Molly in the 34th week of pregnancy. She created Molly Bears to help her grieve and in the process, began a non-profit that has helped thousands of families since. You can read more about her story 
here
.
Here is my handsome Alexander Bear weighing 1 lb 9 oz.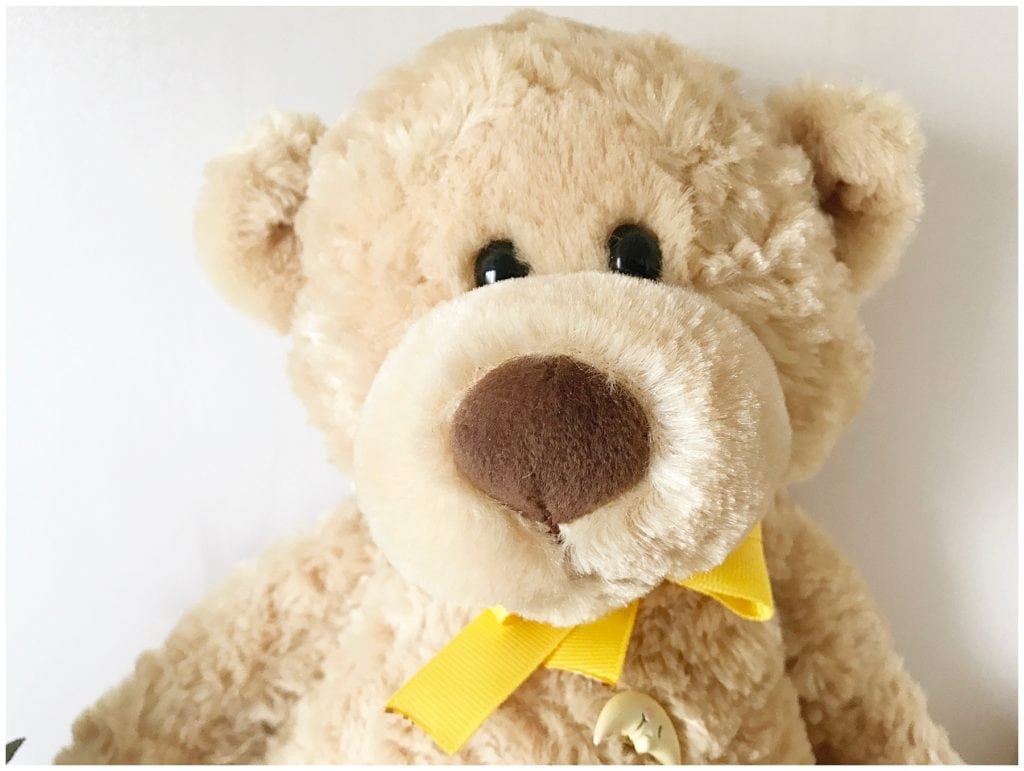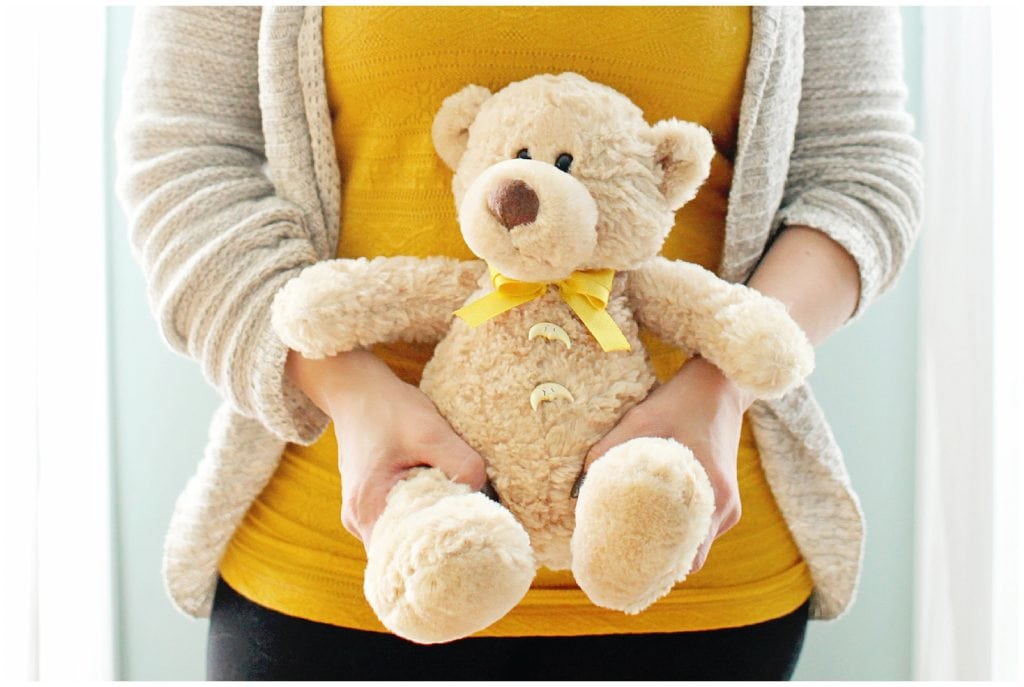 The moons on my Alexander Bear were a special request. Molly Bears tries to personalize each bear a bit. When I was pregnant with Alexander, I bought a box light for his bedroom that says, "I love you to the moon and back." When he died, we decided to have that message on his headstone and I've always felt more connected looking up at the moon. It is my constant reminder of my sweet boy and now with more than six years since he died, I struggle to find him in everyday life.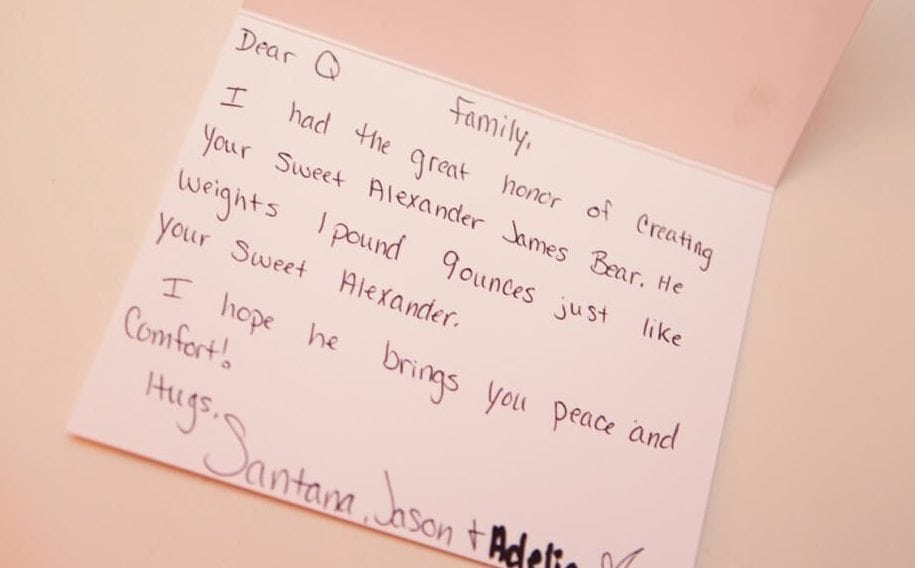 I don't think of him everyday and I'm ashamed to admit that.
Life moves ahead though
, even when you want it to stop. But my Molly Bear reminds me each time I see him sitting in my office. It reminds me to see him and allows me to feel him in my arms even though I'll never hold him again.
If you have been touched by the loss of a child, or know someone who has,
Molly Bears
has multiple ways you can donate and help. To order an actual bear, you have to get on the waiting list, which is open on the 30th of each month. There is a small (very small) donation fee for the bear and then it takes a few months for the team to fulfill the orders. But, it's worth the wait.