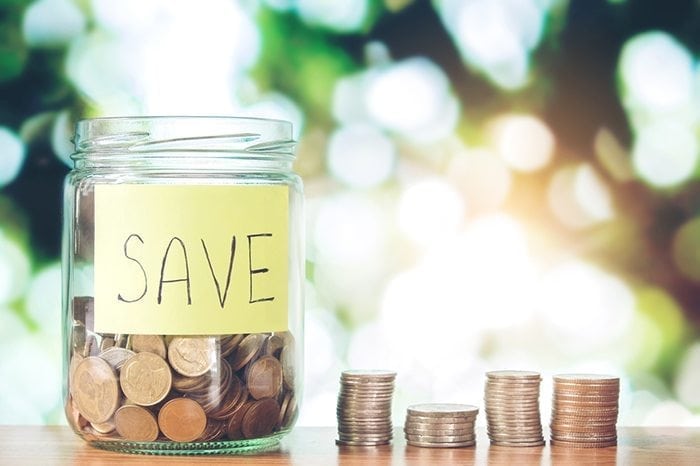 When you're kids are little college can seem like it is a million years away. Time marches on though and it marches faster than you think. One day you have a baby to hold in your arms, the next a toddler running away from you (toward something mischievous), an elementary school student in the school play, an emotional middle schooler, a know-it-all teenager and then you're there. It's time for that baby to go to college.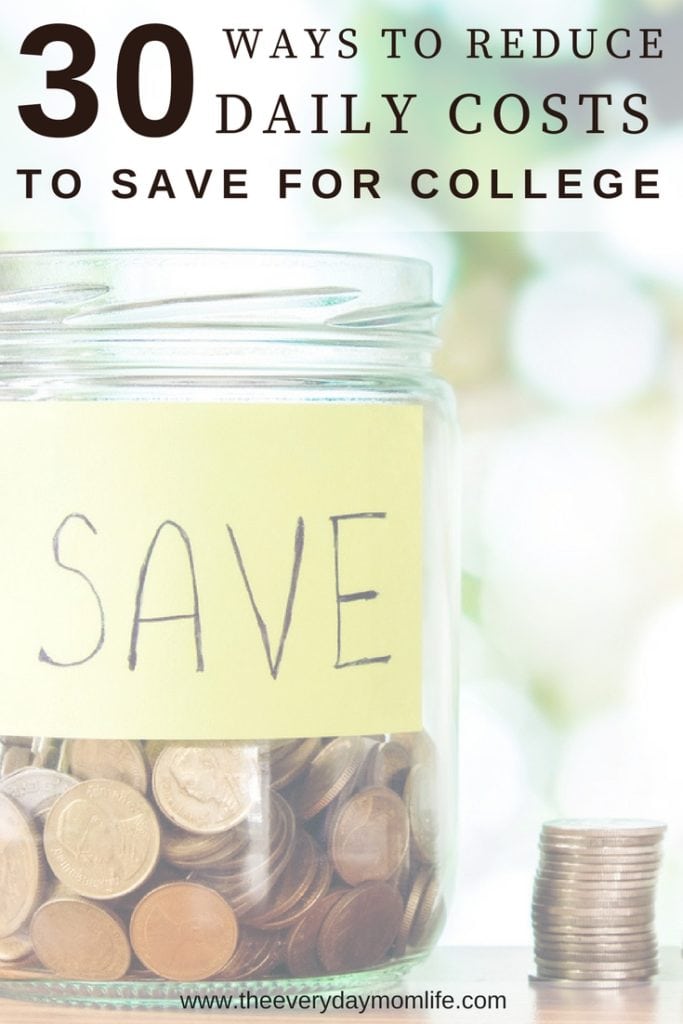 While the costs of college can seem daunting, there are small ways to save on a regular basis and many, many ways you can cut back in daily and monthly life to make saving for college a reality. Check out these 30 ways to reduce your daily and monthly costs so you can put that money away for a time that will be here before you know it.
Eliminate the daily/weekly coffee stop
Everyone I know does this. Why? Because getting coffee from a coffee shop is fun. It tastes delicious. It's social. For moms coffee can be life. For a long time this was me, and I honestly slip back into it every now and then. I only drank coffee from a coffee shop on a daily basis. After having a child my husband and I calculated the costs and OH MY GOSH! Now I drink coffee at home, most of the time, and we save the money.
Cut the cord on cable
Full disclosure, next to our mortgage this use to be our largest bill. It cost us $250 a month for cable and internet so we cut the cable cord and found cheaper internet. We now watch most of our TV online from the TV.
Reduce eating out
This is also a big one for us because I don't like to cook on Friday or Saturday nights. However, if we just make something simple on one of those nights, it can save us $40 a week.
Budget for clothing and stick to it
I don't buy a lot of clothing anymore for myself but I do for the kids. There are just so many cute outfits for them! However, we have had to stick to a month budget here. We can't eliminate it because our kids are still growing but sticking to a budget has helped.
Shop at thrift stores
I don't generally shop at thrift stores but sometimes you can find some really great things in there! It's a great way to save money on basics, like jeans.  
Bring your lunch to work
My husband is guilty of buy lunch out a lot. I used to bring mine when I worked and it saved us a ton. I'm trying to get him to make the switch because this can save hundreds of dollars each month.




Do your own nails
This is something I've started doing because while it's nice to get my nails done every now and then it is a costly habit – not to mention time consuming.
Collect loose change
Have a jar in the kitchen where you can collect lose change. It seems like it might not be a lot, but a little always adds up.
Buy in bulk ONLY when it makes sense
Some people are obsessed with buying in bulk. However, it doesn't always make sense to get 20 cans of beans. Make sure the items you're buying will get used and you're not just buying in large quantities because it seems like a good deal.
Cancel magazine subscriptions
We have two magazine subscriptions that we bought years ago. The truth is that I have almost no time to read them and when I do it's almost always information that I could have found for free online.
Turn the lights off when you're not in the room
A simple one but a solid way to keep a few cents so you can save for college. 
Make or bake gifts for people instead of buying them something
I love the idea of this. It's one that I'm getting on board with this year so we can save for college. 
Color your hair at home
I don't color my hair yet so I don't have these costs but the costs are huge! Some friends I know spend $150 to color their hair every month or every other month. I realize this might not be a spot people are comfortable cutting back but keeping in mind the costs do add up.
Find free date ideas
There are a bunch of things you can do together that cost little to no money. Hiking is a huge one in this area since we have a lot of hiking trails.
Have a hand-me-down swap with friends
Swamp kids clothing, or even your clothing, with friends. My friends and I have been swamping hand-me-downs for a few years now and everyone benefits from this.
Use coupon websites and manufacturer websites to help you save on weekly groceries
My cousin is a coupon guru and she saves a ton of money each week/month doing this. There are even coupon groups you can join on Facebook to help you understand the strategies and tactics for couponing.
Find ways to workout at home instead of joining a gym
I have a gym membership and I actively used it for 9 months. Then fall became packed with activities and now I haven't been in a few months. Luckily, I have a treadmill in my basement and free weights. I realize most people don't have this, but you do have access to plenty of free workouts on YouTube and anyone can get a set of free weights at the store for a relatively low price. You can easily build a routine at home and stay in shape without a monthly membership.




Have friends over instead of going out
My friends and I love going to out together, although it doesn't happen much since kids. However, it is always a small fortune when we make it happen. The funny thing is, we can have just as much fun hanging out at one another's houses. This is a much cheaper option too.
Don't save credit card info on your phone
Just go remove it now. It make it too easy and too tempting to use it to buy all the things.
Remove your credit cards from your wallet
We did this years ago and now we use our bank card that's attached to our checking account exclusively. If you want to take it a step further you can even remove that card and use cash.
Drive instead of fly
We are driving across the country twice this summer because it is cheaper than buying airline tickets for a family of four. Sometimes you can find amazing airline deals, but it's hard to beat the cost of filling up the car three or four times – even when compared to a cheap airplane ticket.
Use home rental services for vacation instead of staying at a hotel
We are doing this later this year when we go to South Carolina and it was $1,000 cheaper than staying in a hotel. It is also right on the beach, has a kitchen and a private patio. I see this happening more in the future.
Sell your kids' old toys they are no longer using
It great to do this a few times a year with toys or clothing that's still in good condition. There are social media groups that make it so easy to sell (and buy) and this will bring in a few extra bucks.
Set up a babysitter swap with neighbors
Instead of paying for a babysitter, get all the neighbors together and rotate weekends for watching them. This way you get a night out once a month without needing to pay a sitter and the kids have a fun time with neighborhood friends.
Unsubscribe from store emails to reduce temptation to buy
Enough said here. There are a few stores I can't resist shopping from but if I don't see what they have, I don't miss it.
Remove shopping apps from your phone
I know what you're thinking, "NOOOOO!" But these apps make it so easy to spend money carelessly instead of thinking about the purchase. It's just too easy when it's at your fingertips.
Sell old furniture
Instead of putting it out by the curb, see if you can also sell old furniture in the social media groups too.




Find and refurbish used furniture before buying new
You can find furniture at flea markets, in those online groups, at garage sales, etc. If you're in need of an item see if you can find it in one of these places first and then make it shine with little elbow grease.
Avoid the dollar spot
This one is hard right? Well, have you noticed that not everything costs a dollar in the dollar spot? In fact some of it costs $5. You buy two items and you're already $10 down.

Set expectations with your kids about buying them "stuff"
Before I enter a store with my daughter she and I have a conversation about what she will not be getting. If we are there for new shoes, she will not be getting a toy. If we are there to go grocery shopping, she will not be getting a coloring book. I've found doing this helps her to realize that she can't get something every time we go somewhere.
With the money you save here, which can easily more than $400 a month. That is money that can be invested in college education plans and savings accounts.
To find out more about how you can save, click here for 10 Tips and learn about the seven mistakes parents can make when saving for college here.  
To learn more and give your children the gift of a brighter future, visit COUNTRY Financial for financial tips and ongoing support. Follow them on Facebook, Twitter, and Instagram as well for more updates.