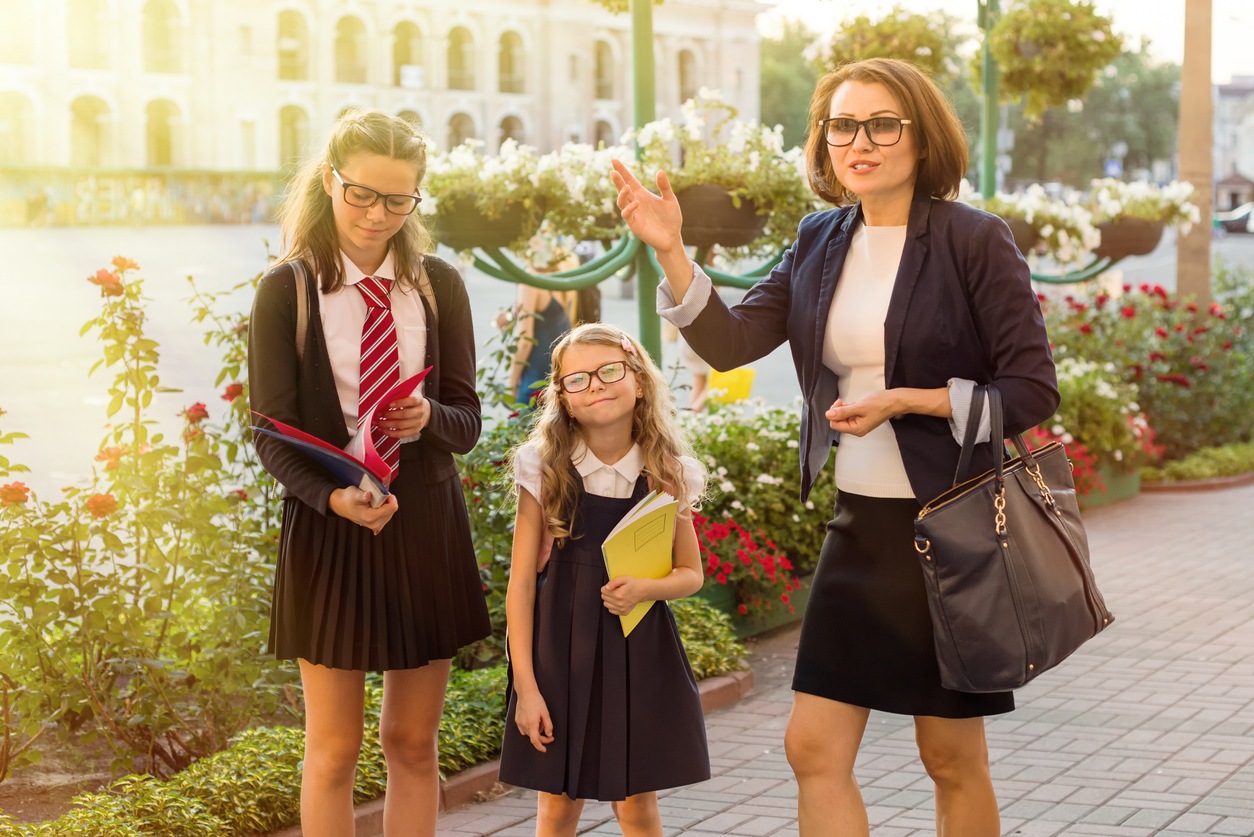 Our morning routine before school should theoretically go like this: I get up and shower. I get kids up. The older ones shower if they didn't do it the night before. They gets dressed, brush their teeth, fixes their hair. I do any hair braiding, etc. that has been requested.
The kids go downstairs and eat breakfast and pack their lunch while I dry my hair and get dressed. (Make up happens in the car between drop off times.) I come downstairs, let the dog out, check lunches, grab my lunch and something to eat in the car on the way to work. Then go over the check list of everything everyone needs to leave the house, and then we leave.
When it all works well, our morning routine is a thing of beauty. Everyone is calm and happy. We often celebrate in the car. We talk about great team work and what went right.
It doesn't seem to matter how many morning routines, shortcuts, or years of practice we have had at leaving the house before school, we are constantly running late. I have three kids and I work full-time so mornings can be chaotic.
Let me be clear. I expect my kids to have an active roll in their morning routines. They are older and should no longer need me to remind them to eat breakfast and put socks on. At some point in the next few years they are going to need to be functional adults so the least I can do is foster some independence.
That being said, I do have posted check lists of morning routines. I do prep a lot of the lunch food to make it fast and easy to grab. I do send them to a school where they wear uniforms so clothes should be easy. I do give them enough time in the morning.
Yet without fail, one of the three will do some random thing to make us late.
Morning Routine Clothing Annoyance
As I previously mentioned, my kids wear uniforms. They put on the same style of pants and polo shirt every day. Somehow they never have any clothes to wear. They suddenly don't like the pants they have worn all year. They don't like the material of the eight shirts that are clean and folded. Their socks don't fit right. They don't like the color red. They can't find a replacement item only by opening the dryer door.
No Food
"Did you eat breakfast? Is your lunch packed?"
They show me a bag of sprinkles and when questioned about how this is a lunch, they tell me there is no food in the house. I will point out all the food that is available for lunches.  They just stare at me. They don't want that kind of food. They sometimes will actually unpack as I pack.
Without fail during our morning routine one of the other kids will decide they need to tell me something very important at that exact time.  It is never actually important but their need for attention clearly is.
Shoes
I know what it is like when you want a specific pair of shoes to go with an outfit. I don't know what it is like when you want a specific pair of shoes to go with the same outfit you wear everyday.
My children like to refuse to put on the matching pair of shoes two feet away from them in order to hold out for the shoes that are nowhere to be found. As you might have guessed from their inability to find pants, their shoe hunting skills aren't any better. They each tend to just wander in circles in the living room or walk up and down the stairs, announcing that they can't find anything!
That is the extent of their searching efforts. Then, they will usually start crying if I tell them they need to actually look for their shoes or put on the pair that is right next to them.
Bathroom Emergencies
We have three bathrooms and three kids so theoretically each child can use the bathroom at the same time. This doesn't work when there are preferred bathrooms. The bathroom preferences change depending on which one is already occupied. Suddenly the bathroom nobody wanted to go in yesterday is in high demand today and we need to fight about it in the hall.
If things go well, there is a lot of downtime in the morning. But my kids never want to waste it doing lame things like pooping. Nope, that has to happen after we start getting in the car. Have you ever tried to get a kid to hurry it up when they have to go No. 2? What are your options really? Can you just drag them off the seat? I am really looking for advice on this one.
Charles Dickens Syndrome
This is my all time favorite. This is when I become one of the ghosts from A Christmas Carol. I am in my house, speaking to my children and it is like they can't hear me or see me. I have become a ghost or hologram.
There is no pause in conversation or even a glance my way to acknowledge me. I have had to actually grab them and put my face in front of theirs to get their attention. They are always startled and don't seem to understand my extreme behavior.
"You could just tell us it is time to go. You don't have to be so dramatic."
Seriously, this one makes me question my sanity.
By the time I drop the kids off I am worn out. I have just won some sort of battle with no real prize. I like to reward myself with drive-thru coffee. I don't even feel guilty about it anymore. I just need to reset and start over with my coffee so I can be a pleasant person at work.
I know I am not alone in the morning battles.  What is your prize for winning?
For more parenting experiences from The Everyday Mom Life, click here.