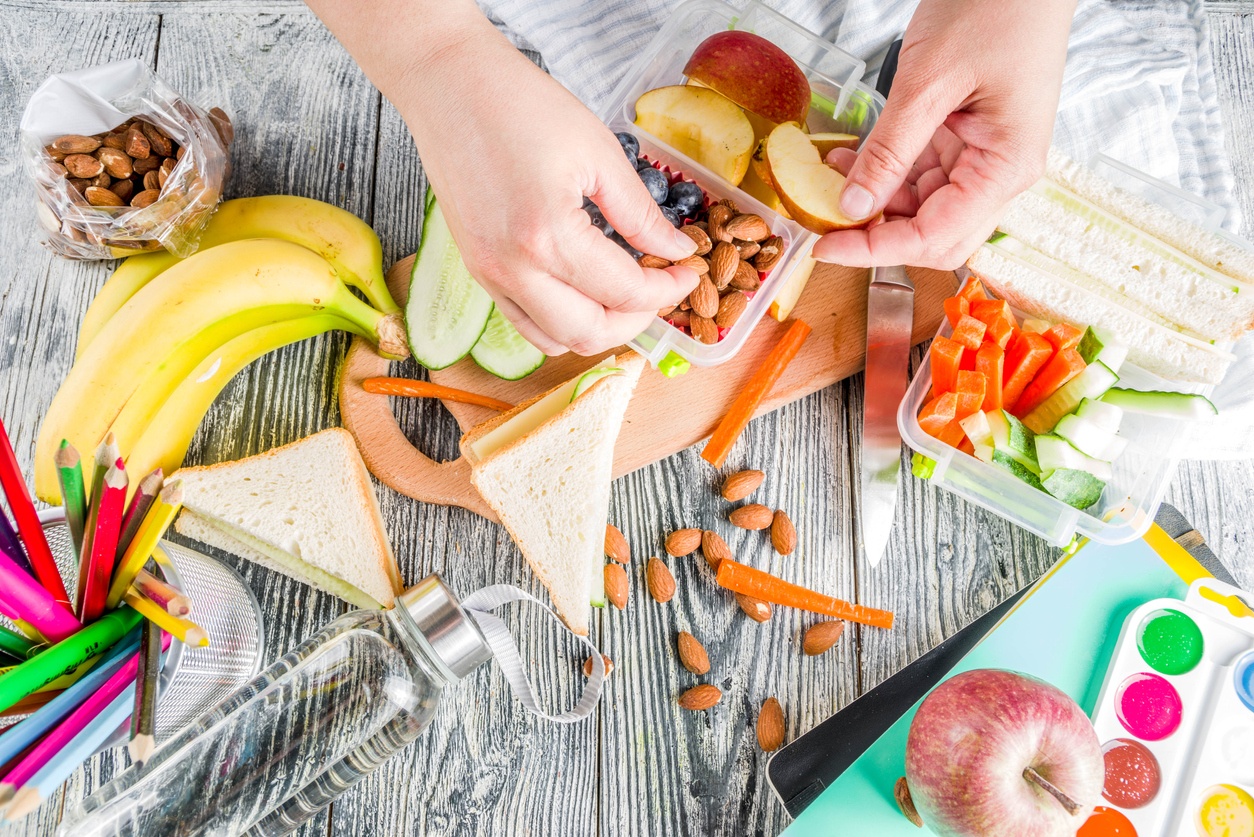 As a family constantly on-the-go with work, school, extracurricular activities and errands, it feels like we're always running somewhere. While we are going places, it never fails that my kids will be hungry and want a snack.
In the early days of motherhood this caught me off-guard and I suspected snack requests were a way for my daughter to con me into going to a fast-food restaurant. Through the years I've learned to be ready for their requests with nutritious snacks that will fill their tummies and keep us going in whatever direction we need to go next.
Here are a few of my favorites.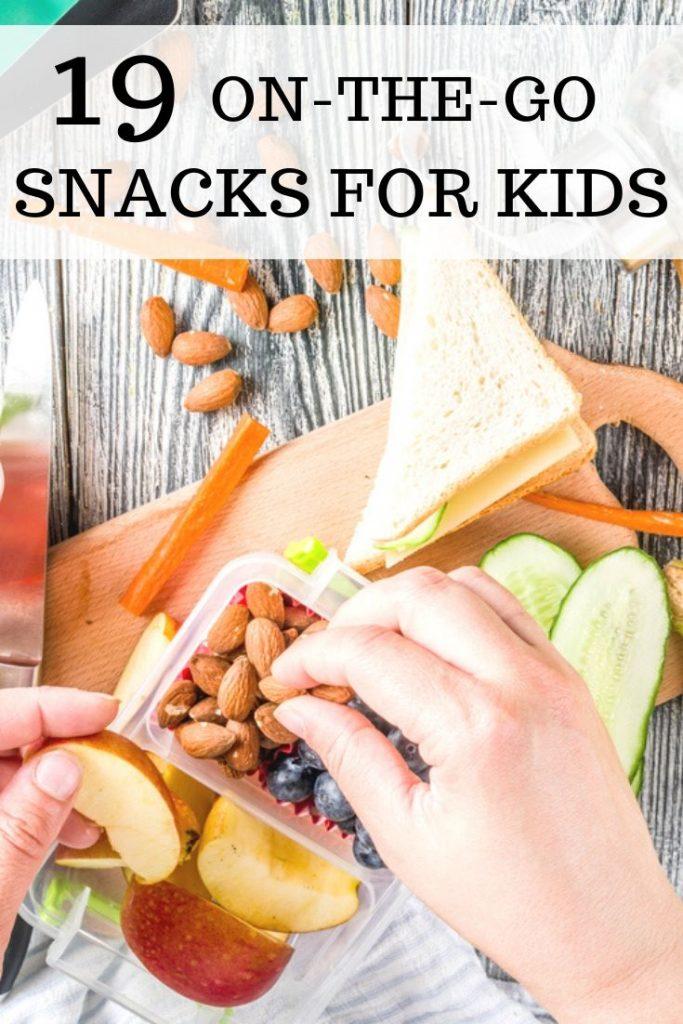 Celery slices
Celery is a terrific source of vitamin K and a good source form vitamin B, copper, vitamin C, vitamin A and more. It's low on the glycemic index so it's not going to impact the blood sugar like a snack with sugar. This makes it a good snack for the kids and for you. 🙂
Cereal
One of the easiest snacks to bring with you is cereal. Put it in a baggie (plastic or reusable) or a to-go cup and you have a take-along snack that's great for all occasions. Most cereals now have extra vitamins and minerals included so if you don't pick one that's full of sugar you end up with a mostly nutritious treat. 
Stonyfield Organic Yogurt Snack Packs
Stonyfield Organic Yogurt Snack Packs are great if you want to bring yogurt plus a little, nibbly snack along with you. They come pre-packaged making them convenient for you to throw in your diaper bag or purse and bring anywhere. Made with USDA certified organic yogurt, the packs are low in fat and contain various combinations including strawberry, chocolate and vanilla yogurt with cookies or pretzels.  The yogurt is all low-fat and you don't even need a spoon!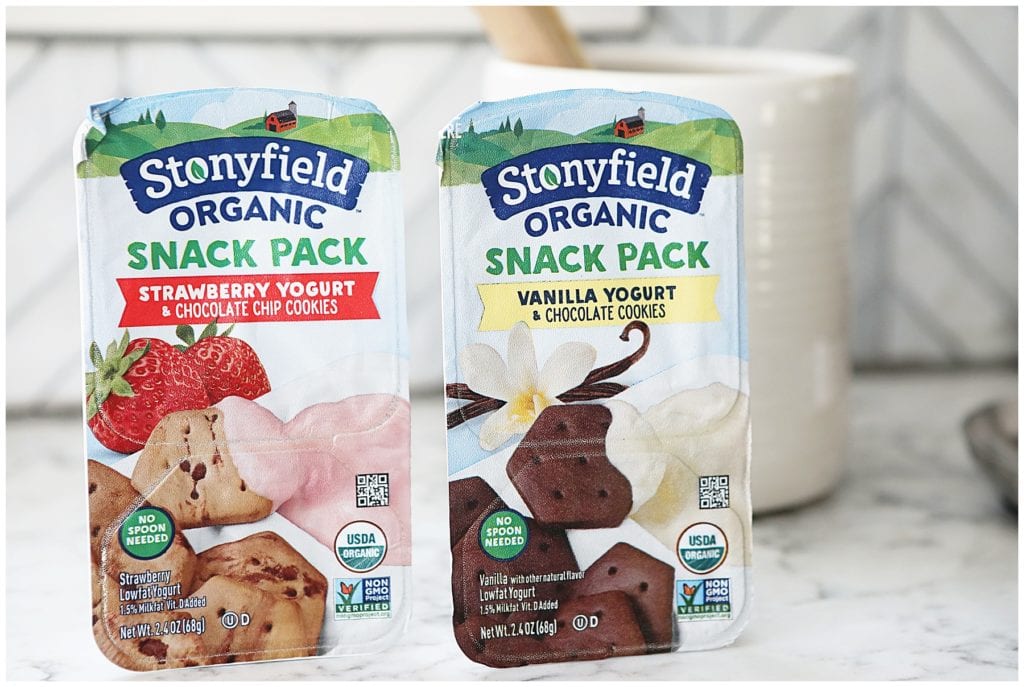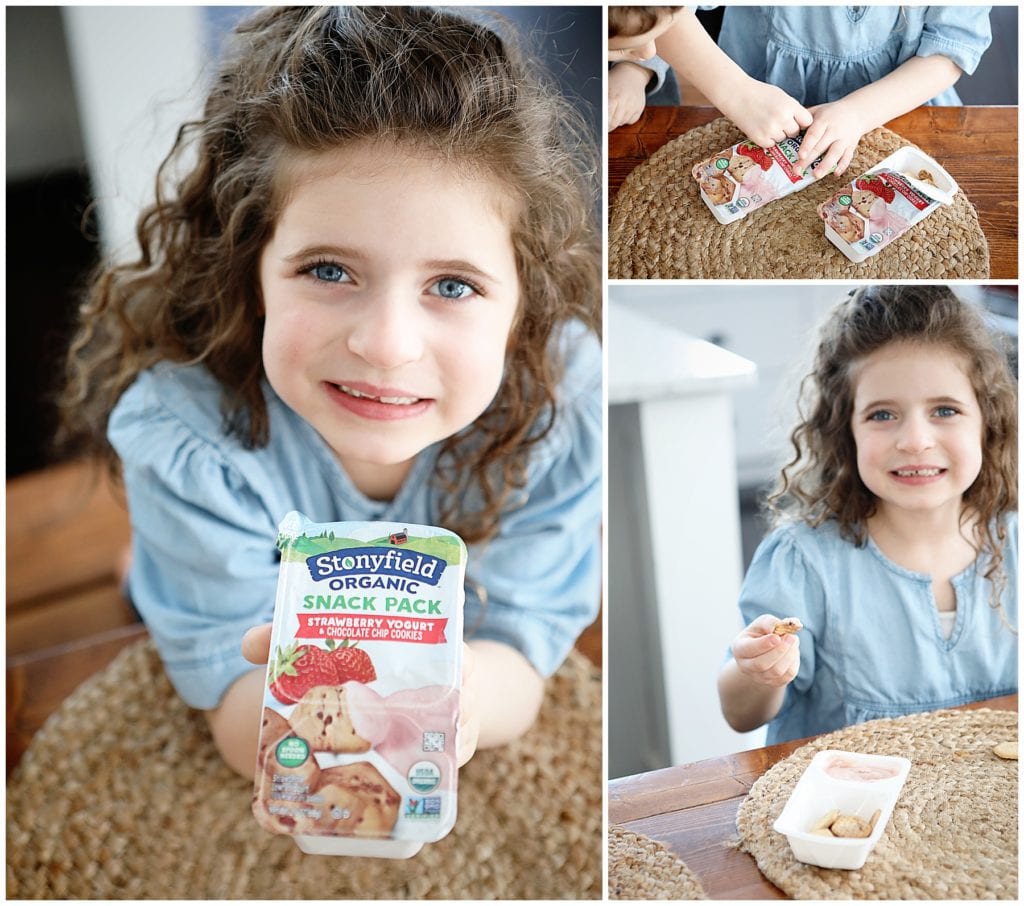 Another bonus is that the Stonyfield Organic Yogurt Snack Packs have 3 grams of protein. I have a problem getting my kids to eat any sort of protein so I always appreciate it when I can find it in yogurt.
The newest flavors include Strawberry Yogurt and Chocolate Chip Cookies and Vanilla Yogurt and Chocolate Cookies. Find them today at Target, Walmart, Meijer and more.
And don't just think of these for on-the-go. These are also a great and easy snack at home too.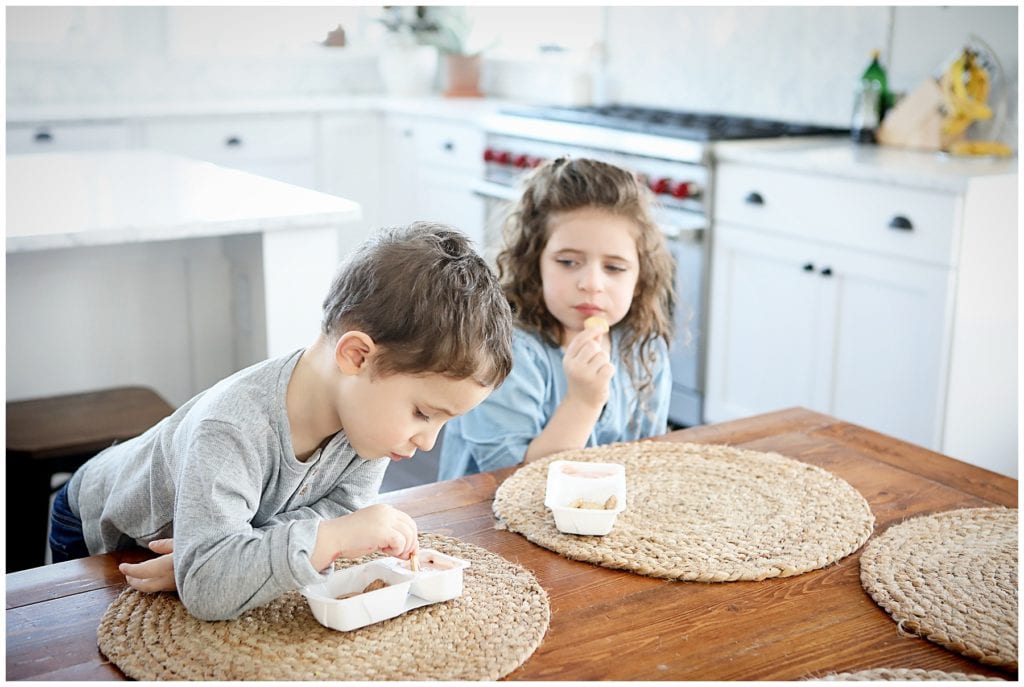 Bananas
Bananas are one of the most popular fruits in the United States and contain fiber antioxidants and potassium. They also come pre-packaged by Mother Nature, so they are extremely easy to take along with you.
Orange slices
These are great because like bananas they come pre-packaged. If it's citrus season you can also find the small, kid-sized oranges that are easy to peel and then eat without too much of a mess.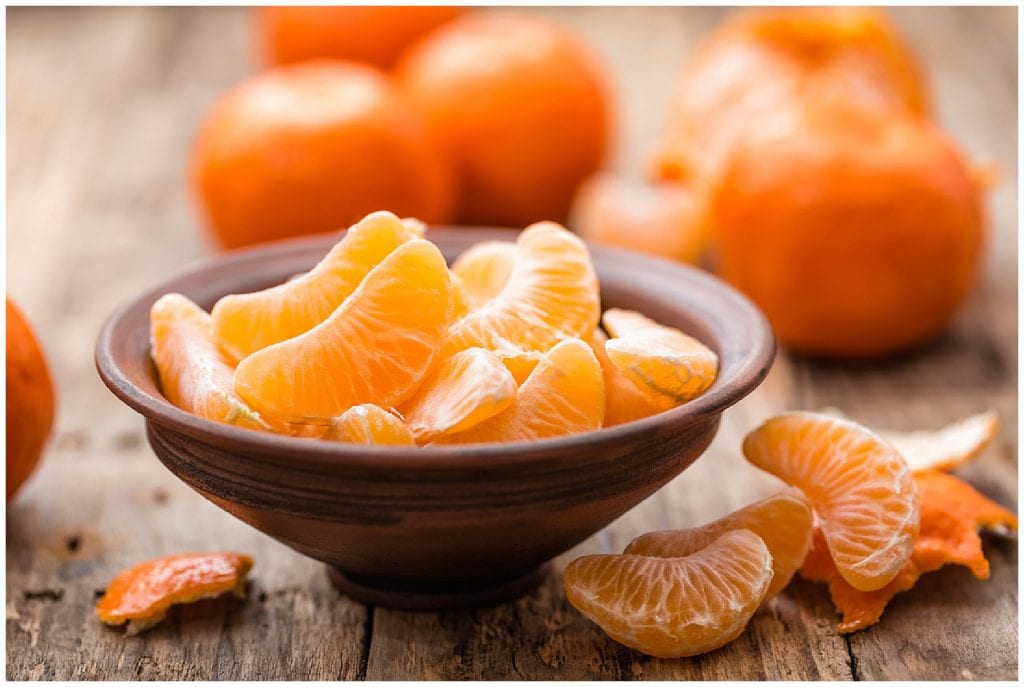 Carrot sticks
If you're looking for a vegetable to take on the go, carrots are one of the most popular for kids. They're easy to peel and then pop in your diaper bag for the day and the best part is that – unlike some other vegetables and fruits – they won't begin to wilt or turn funny colors.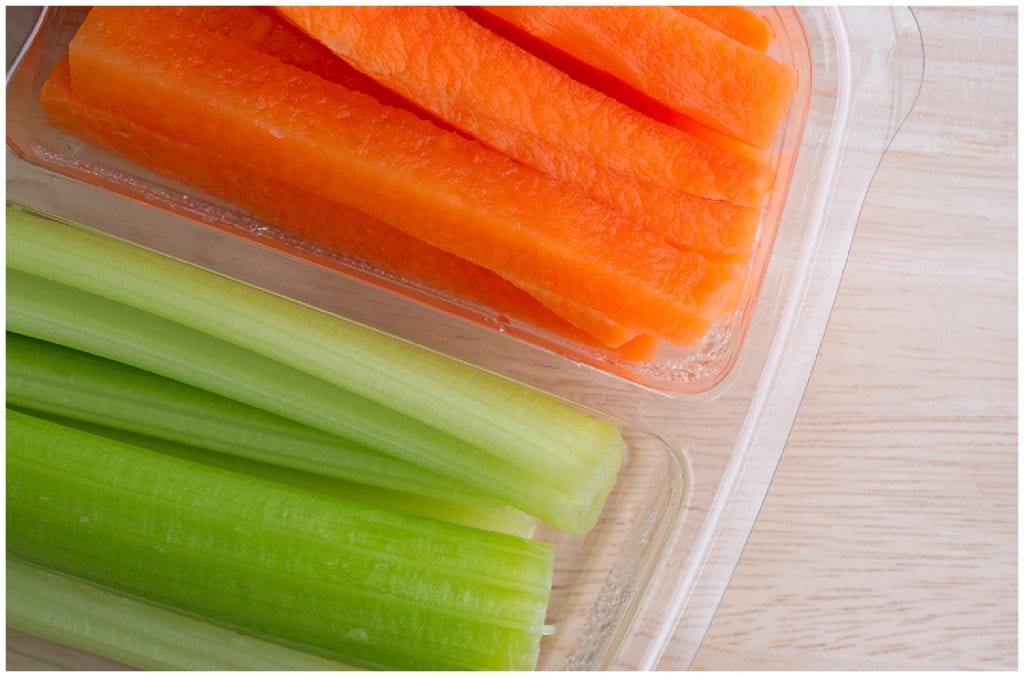 Apple slices but…
Speaking of turning funny colors, kids love apple slices, but they can be one of the more challenging snacks to pack. If you want to bring these with you make sure you put them in a little lemon juice and water bath first.
Sugar snap pea pods
If you want to bring a green vegetable along for the kids then sugar snap peas are another easy one to grab, wash and go. These are one green vegetable that should also stay fresh and crisp for you. These are sweet and high in vitamin C.
Squeeze Pouches – Fruit, Vegetable or Yogurt
Squeeze pouches are one of the best ways to bring vegetables, fruit and yogurt along with you today. Stonyfield makes yogurt squeeze pouches filled with their non-GMO and USDA certified yogurt. They include fruit and vegetable flavors in case you have to squeeze in any vegetables without your kids knowing.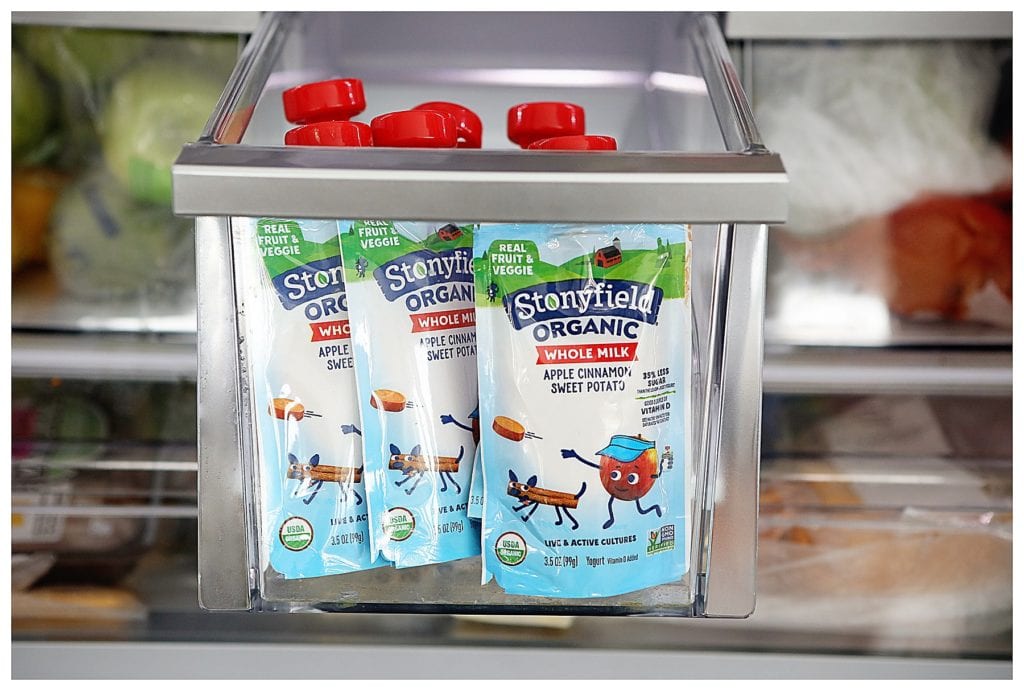 Strawberry slices
Sliced strawberries are another fresh fruit I like to bring along with us. It is easy to pack them in a small container or two and then eat them in the car or even on a green patch of grass in the park.
Dried fruit
Dried fruit is an easy take along since it won't go bad on you. It's sweet and an easy treat anytime.
Almonds
If your children will eat these, almonds are a great option for a snack that you can take when you're on the move. They contain healthy fats, fiber, protein, magnesium and vitamin E.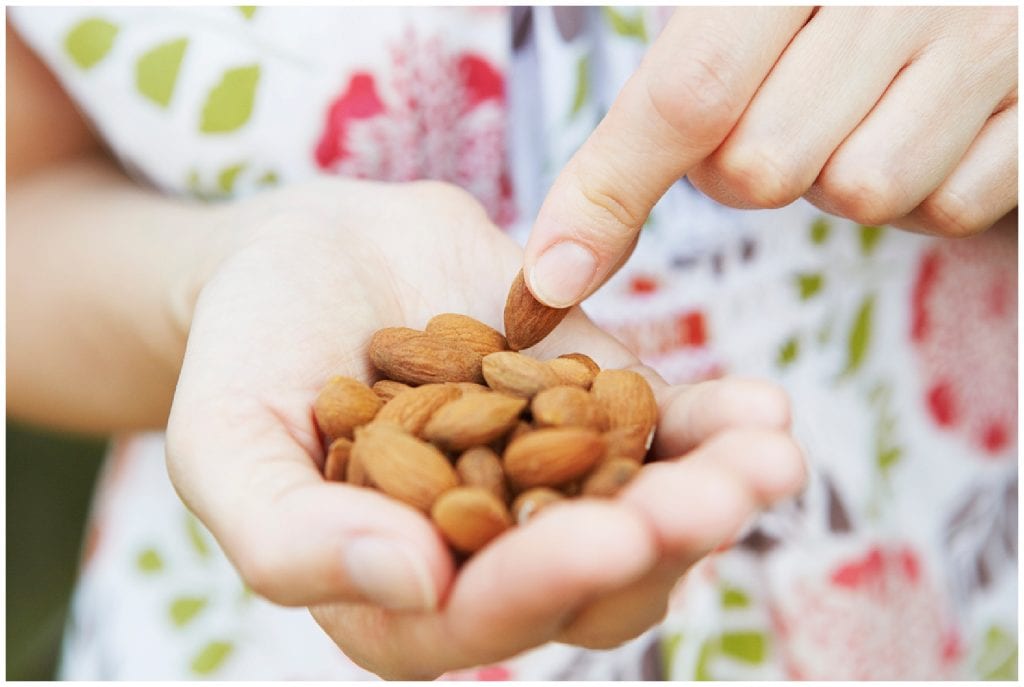 Pretzels
If you want more of a filling take-along snack, pretzels are a good carby choice. Most kids love this in some form – either twists or sticks – and they will stay fresh for you as long as you keep them sealed.
Trail mix
Trail mix is a great way to bring a variety of treats along from sweet to savory. You an make it yourself and include dried fruit, nuts, pretzels and more. You can buy it pre-made or make it yourself.  Just make sure your children like everything that goes into it if you decide to make it.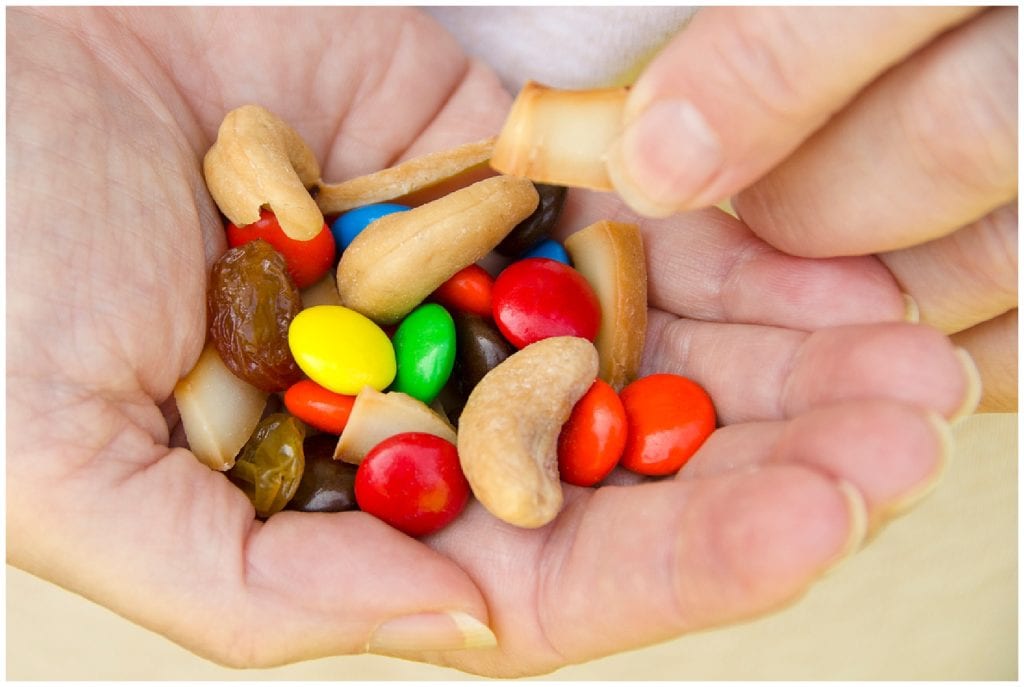 Granola or Granola Bars
Granola is another great snack that can be filling and can include some of the other items on this list like dried fruit and almonds or other nuts. It's easy to make at home with ingredients you like so you don't even need to buy it from the store. This is a great recipe for homemade granola bars.
String Cheese
Stonyfield makes a delicious organic string cheese that has 7 grams of protein per serving and 0 sugars! My son loves string cheese, so this snack is always a top choice for us. The only thing is that you need to keep it chilled. We have a smaller bag cooler that we bring with us for cold snacks or a lunch box will work for a few hours too.
Fruit leather
Remembered the fruit roll-ups of your childhood? Well, not there are fruit leather products on the market that are better for your children than the ones we ate. There's plenty of organic and natural brands out there that use natural products in them, and you can even make your own!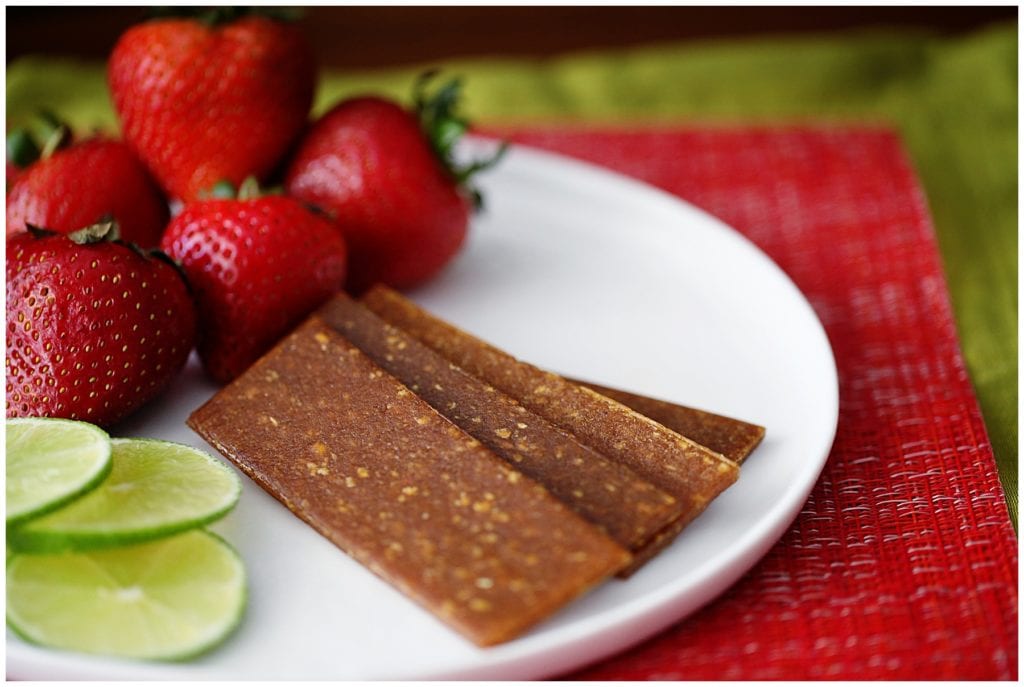 Popcorn
My kids love this as a snack and it's a fun one to bring with. They're always delighted to have it. My only issue is that it's not as filling as some of the others on the list like the yogurt products or other card items.
Raisins
I separated these out from the dried fruit because I feel like raisins are in a class all their own. They are a favorite childhood snack of mine and something my kids – especially my daughter – now love.
What other snacks would you include on this list?
For more information on the Stonyfield Organic Yogurt Snack packs, click here. For more information on Stonyfield as a company, click here.
You can also learn more about why you should pick organic dairy products here, and find out how to shop for more organic foods here.