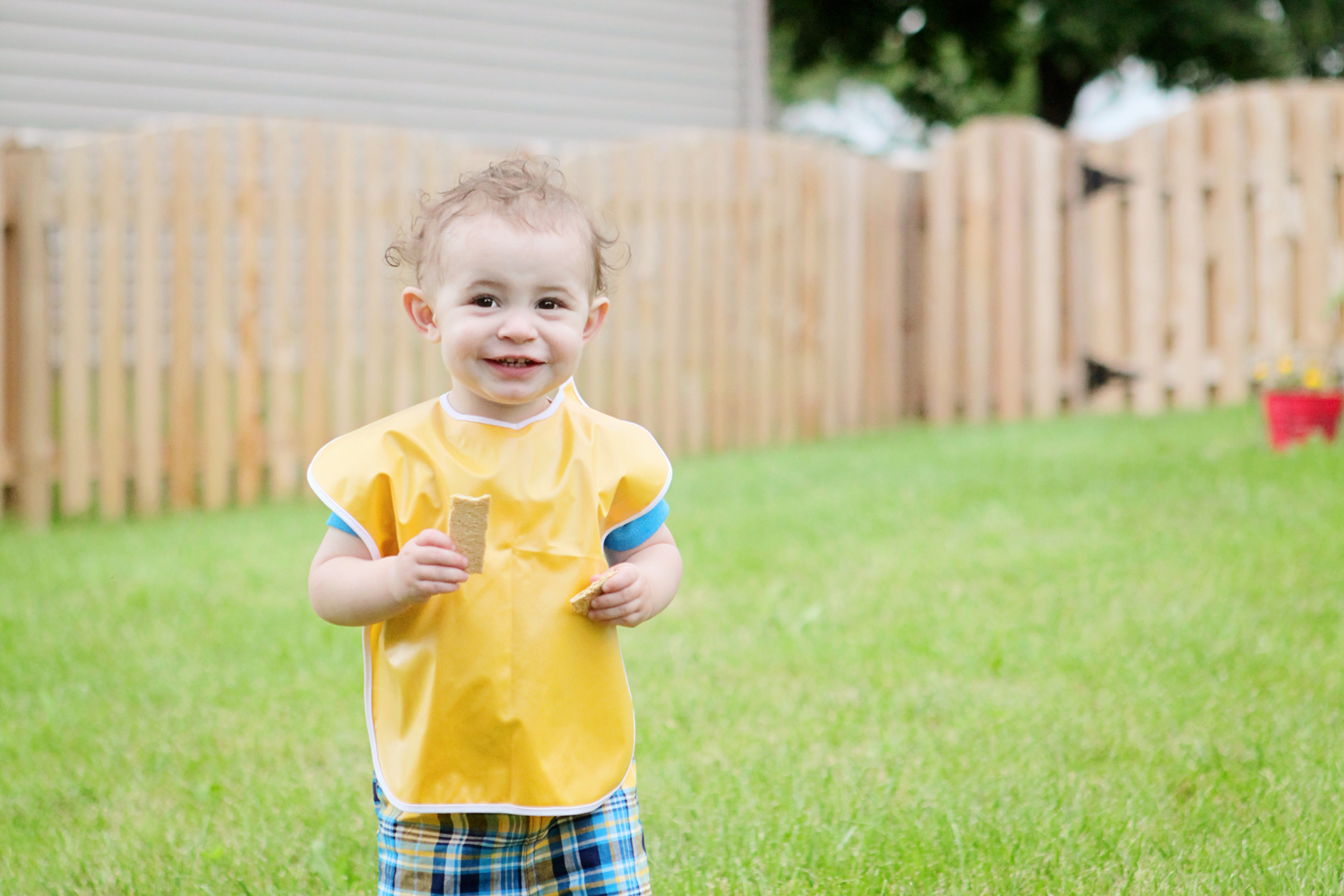 Meal time is always an excuse for my kids to make a good mess, especially in the toddler stage when they are first being introduced to some foods. Spaghetti and blueberries seem to wind up in their hair, on their faces and worst of all on their clothing.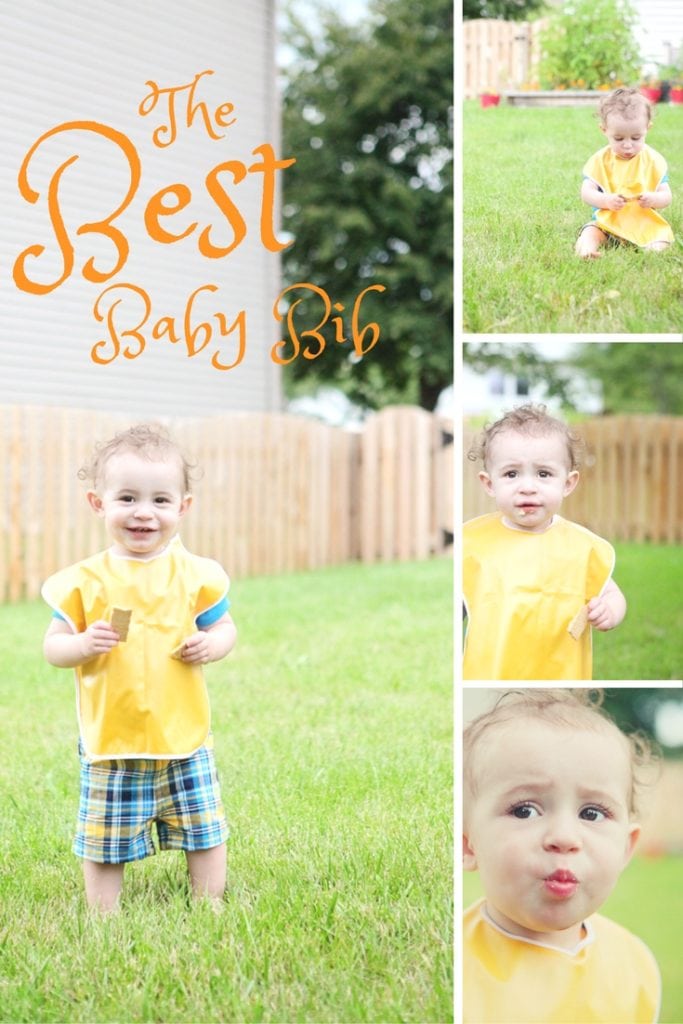 I've not yet found the magical cure for getting some really difficult food stains out of clothing.  I also had not found a bib that seemed to help hinder the destruction of their clothing, until now.
I recently received a set of Toddler Toppy bibs and I have to say, I was skeptical that any bib would work so well for me. I had tried it all – plastic and cloth with Velcro and snaps and pockets – and was really convinced there was nothing out there that would actually help to keep my kids (now just my son) clean.
But, these bibs were different straight from the start and here's why.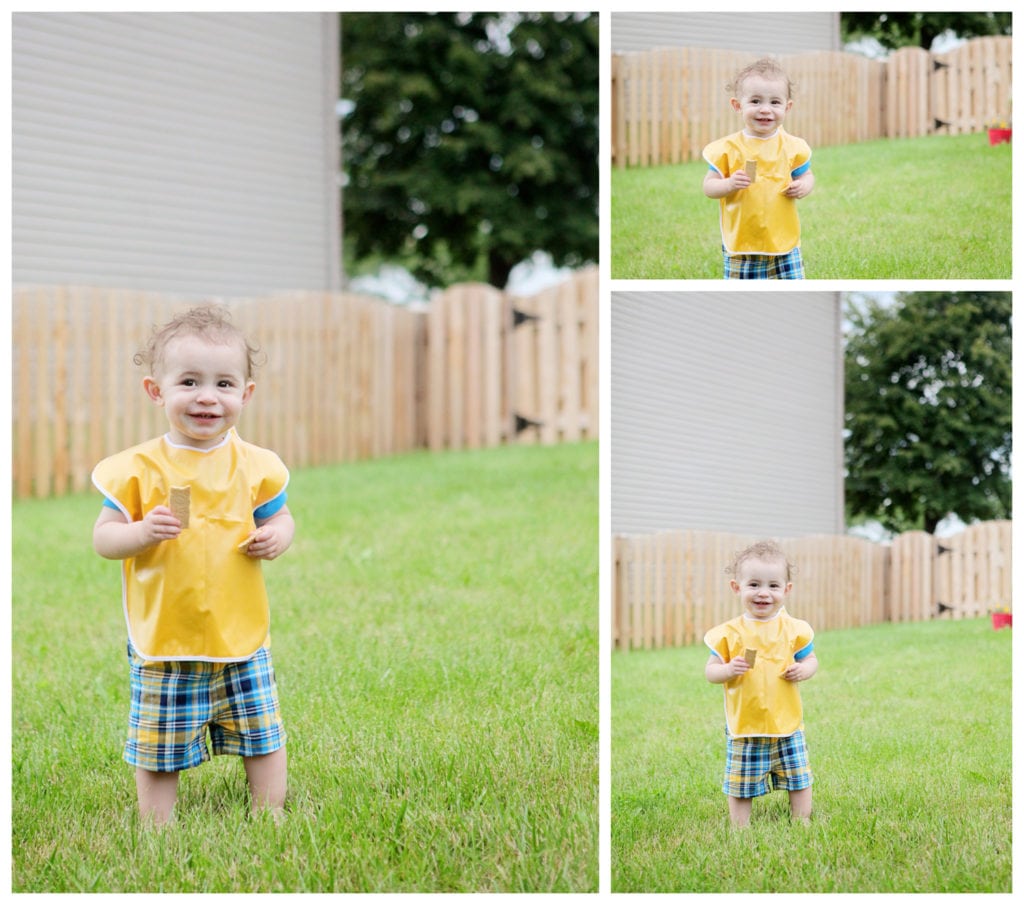 They are BIG!
The bibs actually cover my son from the neck and then lay on his lap. They measure 13 inches wide and 18 inches long, or 11 inches long once they are on your sweet babe.
As I'm sure most of you know, most bibs stop at the chest, which really doesn't protect anything except the top of a child's shirt. That leaves the lap wide open for mass destruction at meal times. I love (LOVE!) that this bib acts as not only a bib, but as a napkin for him too. I'm finally not having to spot treat all his summer shorts because this bib provides great coverage for his entire shirt and his lap.

The material is AMAZING!
The bibs are made of semi-absorbent material on the front and are completely water proof. In my quest for bibs, I've hated straight plastic bibs because they don't hold the food and it always slides onto my kids' laps. The material eliminates most of this and what doesn't stay put, just rolls down to the portion of the bib covering my son's lap.
Additionally, because these bibs are waterproof. I can just throw them in the wash and they come out clean – something I never experienced using cloth bibs, which have been my bibs of choice until now.
And, just FYI, I usually don't have to put them in the wash at all. Thanks to the great material, I usually just run them under the kitchen faucet, giving them a quick hand wash before I hang them on a cabinet to fully dry. Who needs more laundry anyways?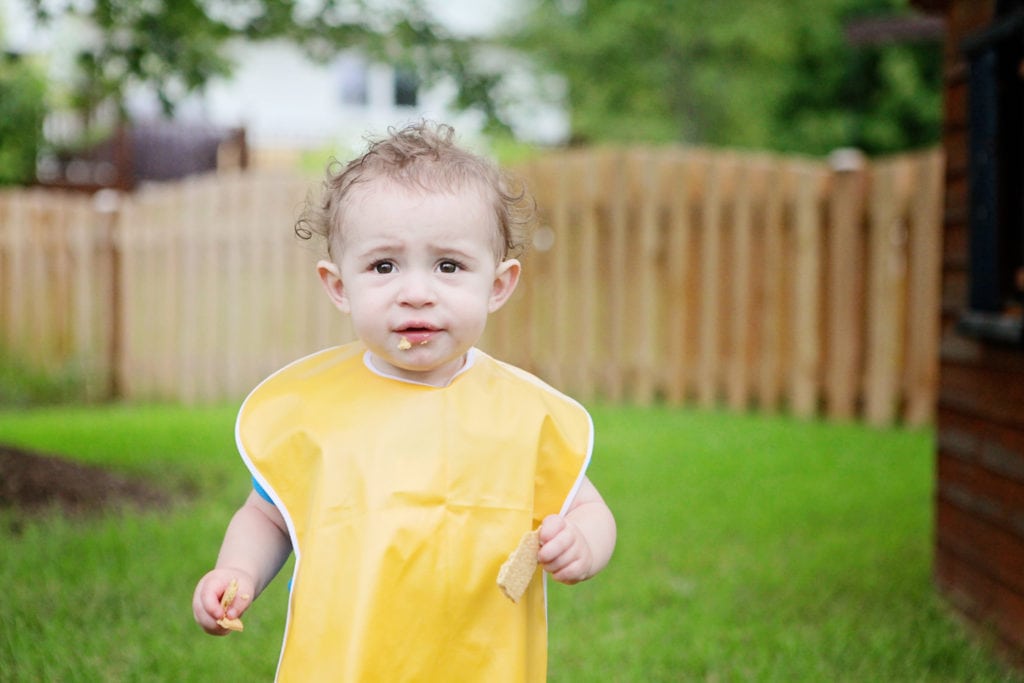 Double SNAPS do double duty!
The snaps on these babies will hold up against any baby. My son has an awful habit of ripping off his bibs because he can. If he can pull at it and make it some kind of fun let's-take-the-bib-off-100-times game then he will do it. They have a double snap that is strong and durable, but its really easy for me to get on and off.  These bibs allow me to win the game now.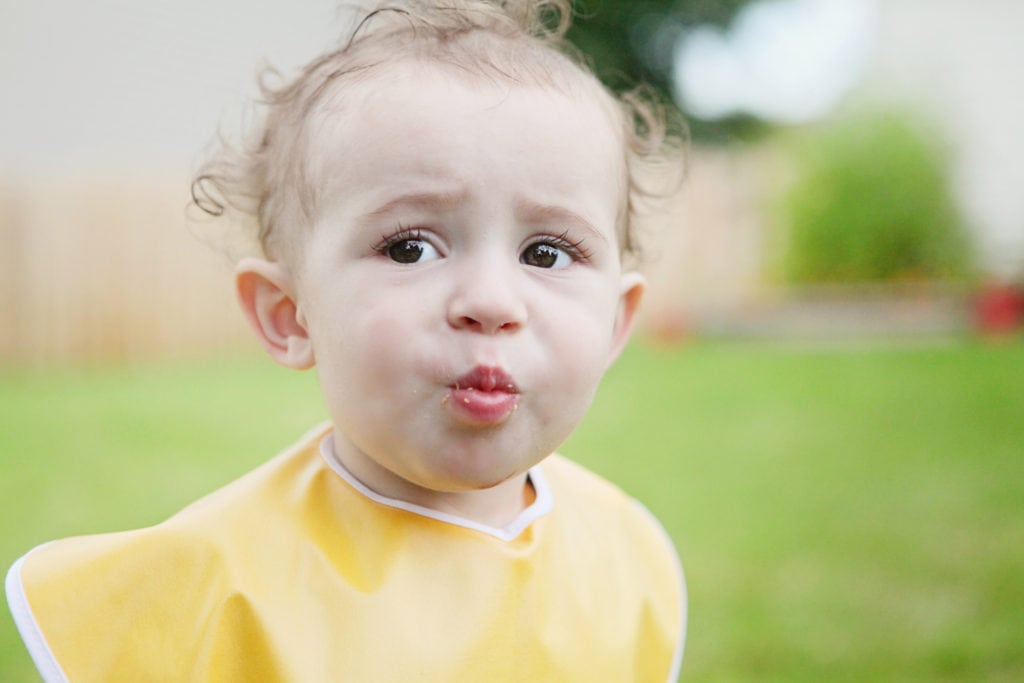 Made in the U.S.A.
Lastly, if you are from the United States, you will appreciate that these bibs are made here. The fabric and binding is also all sourced in the U.S.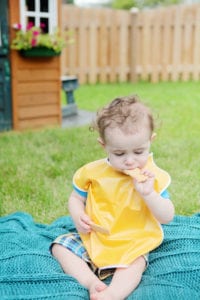 You can purchase these bibs in packs of five which is great because you can keep a couple at home and a couple in your diaper bag at all times. You get the bibs and a wet bag for $23.99, which is honestly a steal compared to some other bibs I have purchased or needing to buy clothing over and over again due to staining.
Daycares can also purchase these in bulk and as a mom with kids in daycare, I get so angry when my kids go to school in something clean (and lots of times new) and come home with it stained. This use to happen ALL THE TIME with my daughter and I would be irate. Kids grow so fast and even the cheapest clothing isn't cheap when you have to keep buying it over and over because the stains won't come out. I'm actually thinking of sending one with my son to his school when he starts next week. I may also casually mention this review to them because I'm sure other parents have this problem too.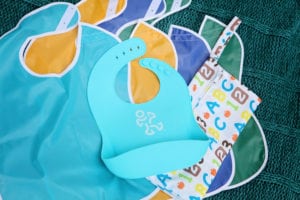 I honestly can't rave enough about the Toppy Toddler bibs. They have really been a lifesaver at meals with my son and I can actually say that I won't use any other bibs from now on.
Check out Toppy Toddler here and click here to purchase the bibs we received.
We were given a set of Toppy Toddler bibs in exchange for an honest review. All thoughts and opinions are my own.