This is a post sponsored by COUNTRY Financial. All thoughts and opinions are my own. This post may contain affiliate links.
With the New Year off to a start everyone is thinking about how to become a better version of themselves. There's no denying that now is a good time for a fresh start whether you want to lose weight, be more organized or save more money.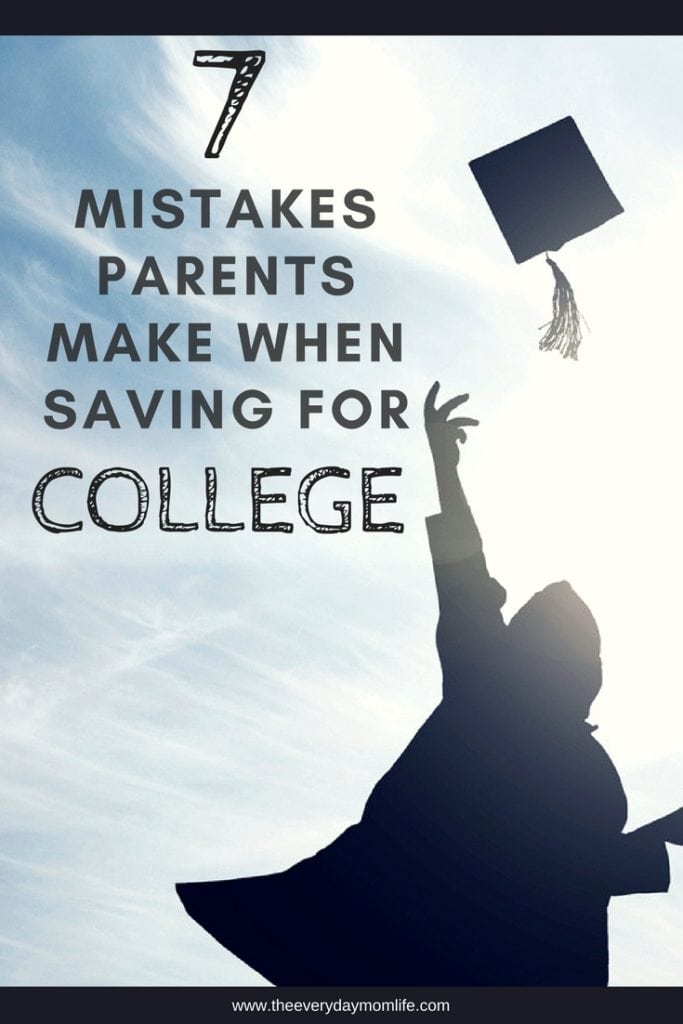 If you fall into that last category, you already probably have plans for that money – nest egg, retirement, new car…But, have you considered that this would be a great time to start saving for your kids' college education too? 
Often times parents feel like their savings choices are limited and we as parents make some mistakes along the way when it comes to saving for our children's education. I know I have. 
Here are 7 common mistakes parents make when saving for college and hopefully they will inspire you to begin thinking about this important
Mistake 1: Waiting To Get Started 
A lot of people I know procrastinate on starting college funds for their children (or fail to start at all) because they feel like they can't afford it. The bulk cost of college is so overwhelming that it just feels like an uphill battle to start. That's not very motivating.
However, the earlier you start the more they will have. We opened accounts for both of our kids right after their baptism so we would have some place to put the money that they received. Our intention was that those accounts would become the place we continuously added to as well. There are a lot of small ways you can save for school, like putting change from purchases into a savings account, that won't make it feel as burdensome.
Mistake 2: Not realizing all the options you have
Some people think that the only option for saving for school is a bank account. Once you look into it you realize there are actually quite a few options that will allow you to save for your child's higher education. I've outlined a lot of the options here, but the short list is:
Savings account

Automatic paycheck withdrawals

Keep the change

Investment savings, such as 529 Plans and IRAs

Education savings accounts
Once you take a deeper look into these options, I'm pretty sure you will be able to find one that will work for your life.
Mistake 3: Depending on scholarships or grants
To be blunt, not every child gets scholarships and grant. It's just how it works. Don't rely on these to pave the way for your kid when it comes to higher education.
If you have started dreaming about these options while your child is still a baby, you might want to think again. Perhaps you plan on them being a football star or a stellar student in all honors classes with a perfect SAT score, but your child might have other plans. There's no way to tell who your baby will become as they grow. Don't count on them fitting into your picture of what life should look like. Make sure you plan for them to be whatever they will be.
Mistake 4: Considering only in-state 529 plans
You can open 529 investment plans in any state. Sometimes other states may have lower fees. To find out more about 529 plans, click here. 
Mistake 5: Not setting realistic expectations about school choice with your child
I know we all want to believe our kids can be anything and go anywhere. Let's be realistic though. The "go" anywhere part might have to be limited when you're talking about college.
If your child dreams about going to school on the other side of the country but you simply cannot make that work, you need to have a conversation about that. If your child has no idea what they want to do with their life, perhaps a community college is a better option for two years. That way they can explore options without exploring the depths of your wallet.
The point is to not give up your voice when it comes to where they want to go to school. Maybe they can't go out of state, but maybe they can have their pick of a handful of really great state schools. Maybe they want to have the four year experience, but need the two years at community college to make a four-year school possible. We all want them to be able to make their own decisions when it comes to a place they'll call their new home, but you need to have a say and possibly set boundaries in that decision too.  
Mistake 6: Using your 401K
Don't do this. Just don't. If you have a 401k you need to continue to invest in that for you versus taking a loan from it to pay for school.
Mistake 7: Not saving at all
Some people will tell you that it's better to save for you, meaning your retirement, versus saving for your child's education, and a lot of people count on financial aid to carry their child through school.
While you should save for your first, you owe it to them to see if you can help them too.
As far as aid goes, financial aid loans don't cover everything and most financial aid come in the form of loans instead of grants. I had a ton of loans coming out of college. In fact I'm still paying them off. I don't want that life for my kids and if I can help with that at all, I want to. It's much less expensive to save for school now than take out a bunch of loans, incur the interest and then end up owing double or more later.
Take the first step and give your children the gift of a brighter future, visit COUNTRY Financial for financial tips and ongoing support. Follow them on Facebook, Twitter, and Instagram as well for more updates.