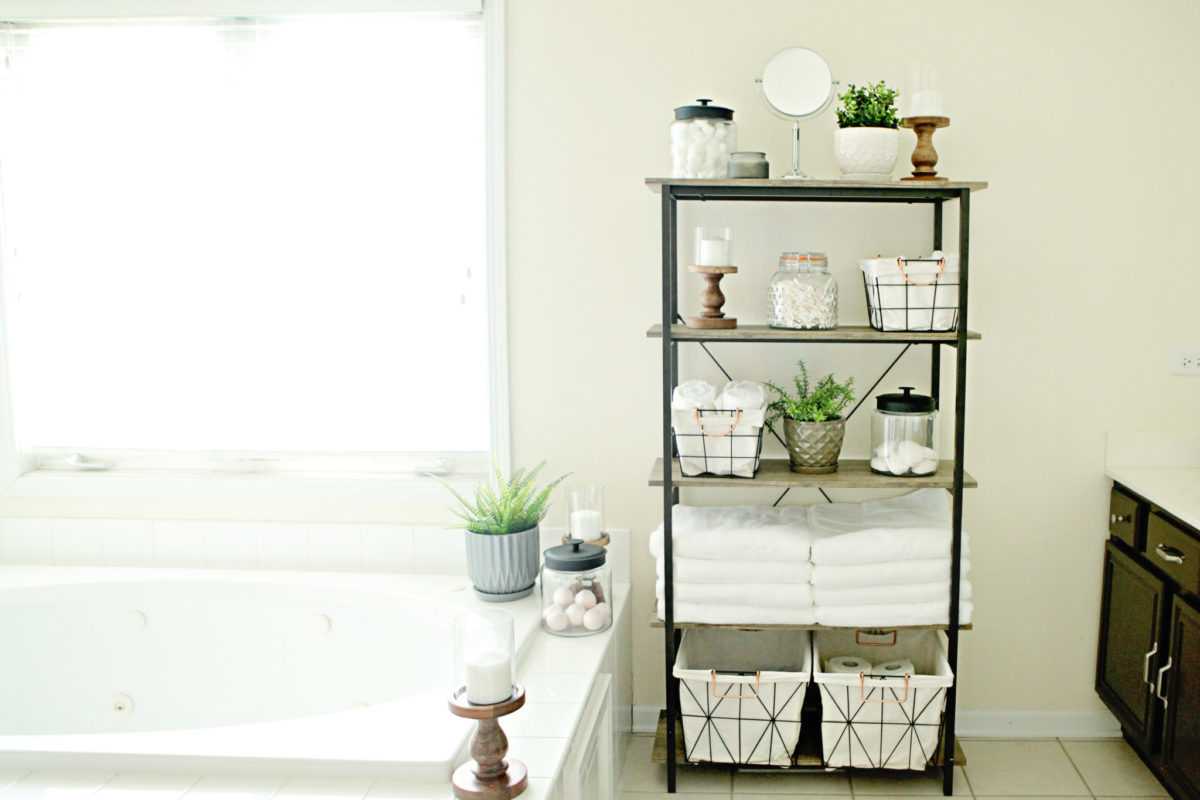 Our master bathroom has been the one room in our house that we really haven't touched. Each time we think about doing something, it never seems to make sense. We know anything small would equate to a facelift for the space and the bathroom needs more than a facelift.
The room is laid out poorly with a small, stall shower, a giant soaker tub that I hate and enough space in the middle of the room that you could do a cartwheel (If your body is still young enough to allow you to do a cartwheel without seriously injuring yourself.).
All that space and there isn't a linen closet to be seen.
Our closet is attached to the bathroom so technically we could use that, but something feels off about that idea. It just seems to be bad design. I don't want to store my clean towels in the same place I store my shoes.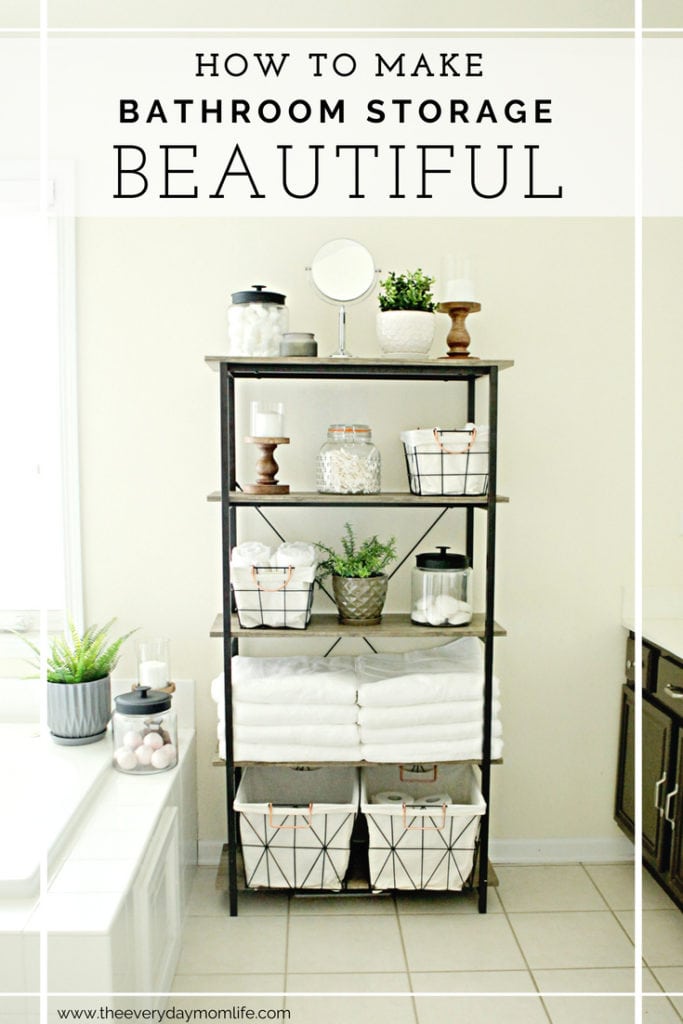 While we can't yet afford to do the big renovation of our dreams, I knew I needed to solve this storage issue since we've lived here almost eight years.
When I partnered with Big Lots and found the Stanford Rustic 5-Shelf Bookcase I knew it would be the organizational solution of my dreams.
I'm a big fan of using great pieces of furniture in surprising spaces. I have a vintage dresser in my office, I use a couch table as my desk and now I have a bookshelf in my bathroom. All of these pieces may not have been designed for these spaces, but when you tip toe outside the box, you can see that they fit perfectly.
In particular, this bookshelf from Big Lots is working out splendidly. The best part is, I was able to use it as a functional storage piece while making it decorative.
Find out how I organized everything with Big Lots products below!
Decorate with everyday items
Since I had a storage space problem in this bathroom I knew I needed to use the bookcase to store and organize the items we use on a daily basis. However, that's doesn't mean you can't make it visually appealing. Think about inventive ways to display these items or hide them in a way that will coordinate with the look you're striving for. Use jars, canisters, baskets and more to help organize in spaces that will be visible but still make it look decorative.
I love using clear, glass jars to hold cotton balls, Q-tips, extra soap and more. If you take the products out of their packaging, you will see that these functional products can make a space decorative too.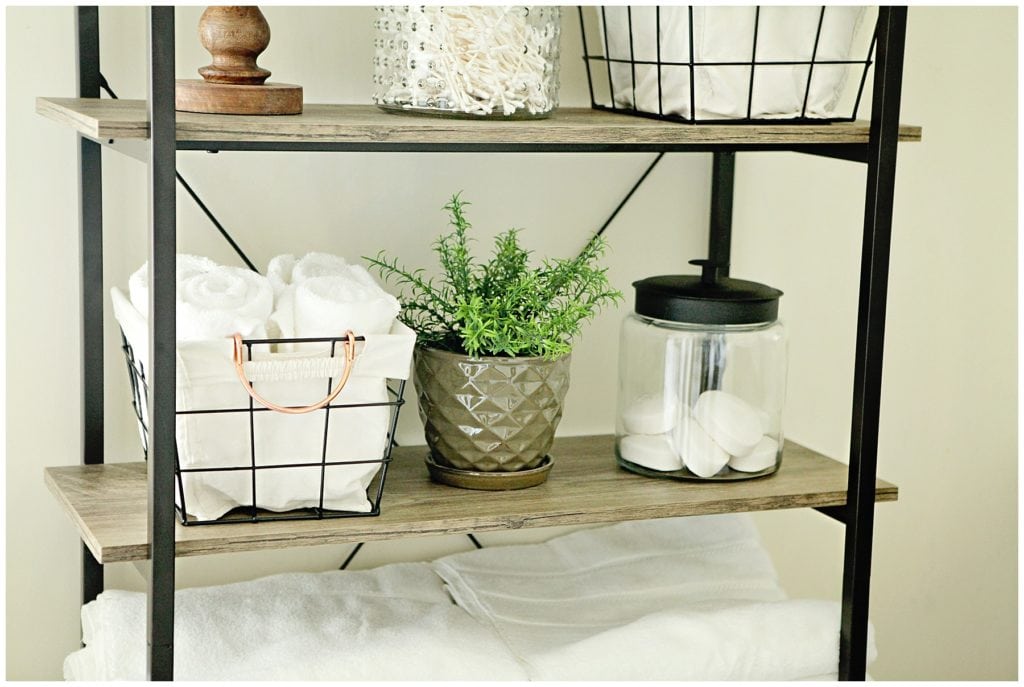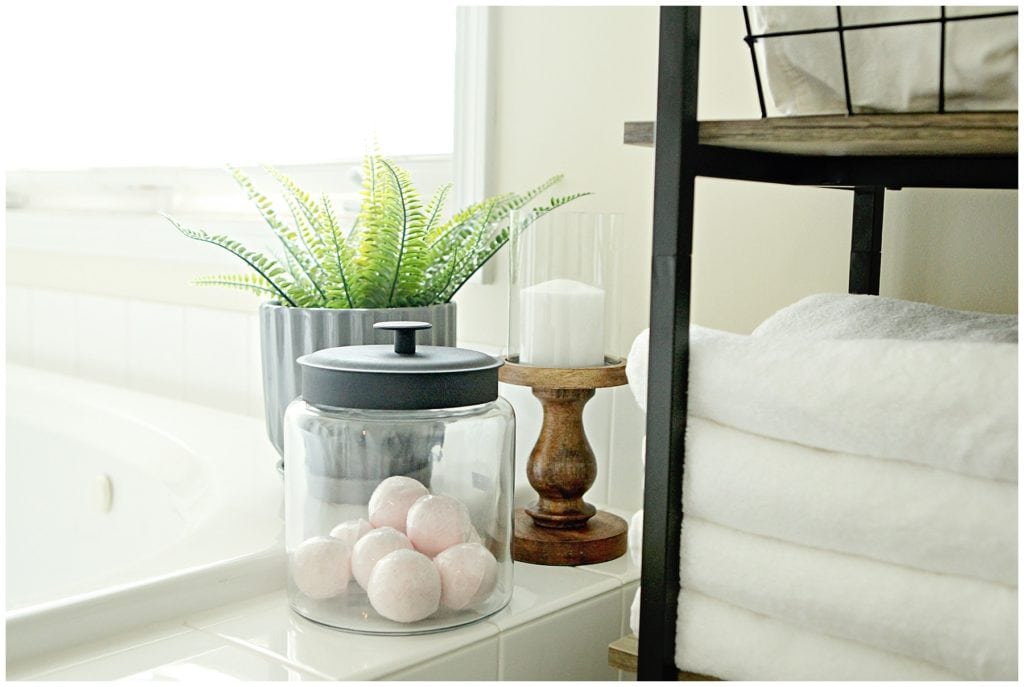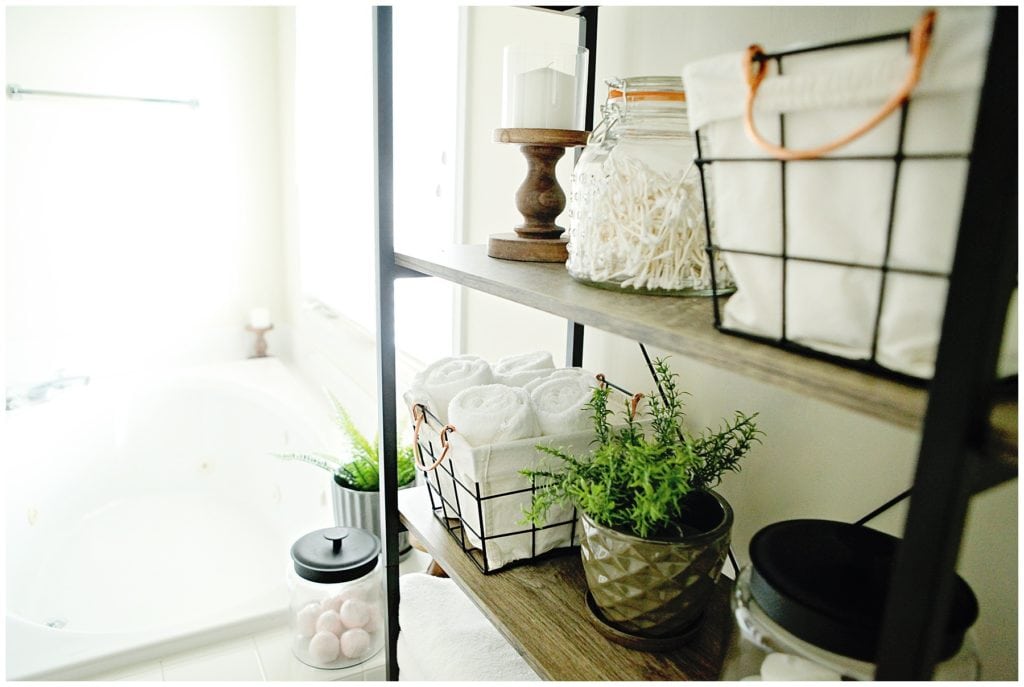 Put the bulk at the bottom
I started by visually anchoring the whole unit with two large, wire baskets from Big Lots. Since the baskets are a bit bulky themselves, they add a weightier presence to the bottom of the bookshelf that makes sense from design perspective. From an organizational perspective, these baskets allow me to store big, bulky items from the bathroom like extra toilet paper, feminine products, wipes and more. These baskets also allow me to hide these items, which aren't the most visually appealing.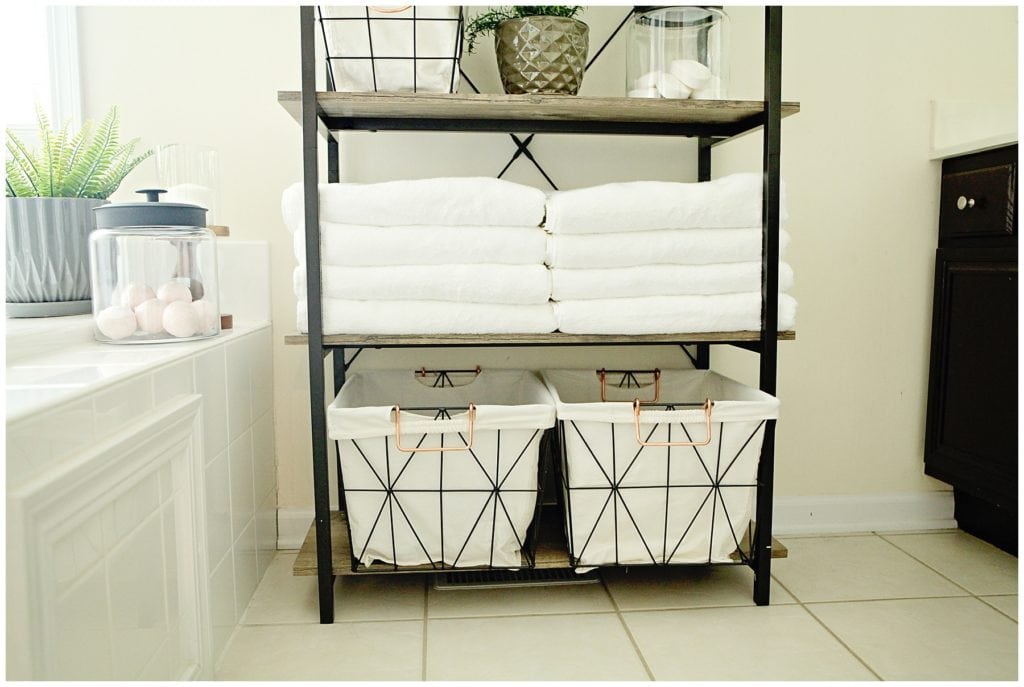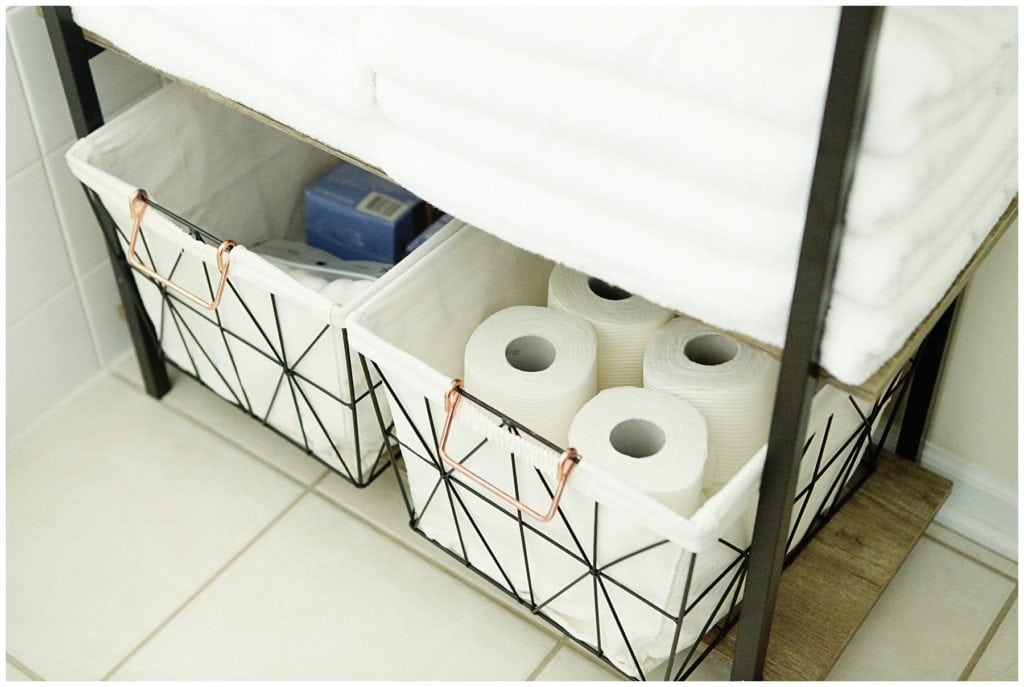 Display most-used items at eye level
When thinking about the bookshelf from an organizational perspective, I wanted to make sure the items we use every day were well within our reach. Hand towels, wash cloths, extra toothpaste, Q-tips and more are all in places where we can quickly grab them and go. Everything can be seen visually so we don't have to hunt for it or dig when we are rushing around in the morning.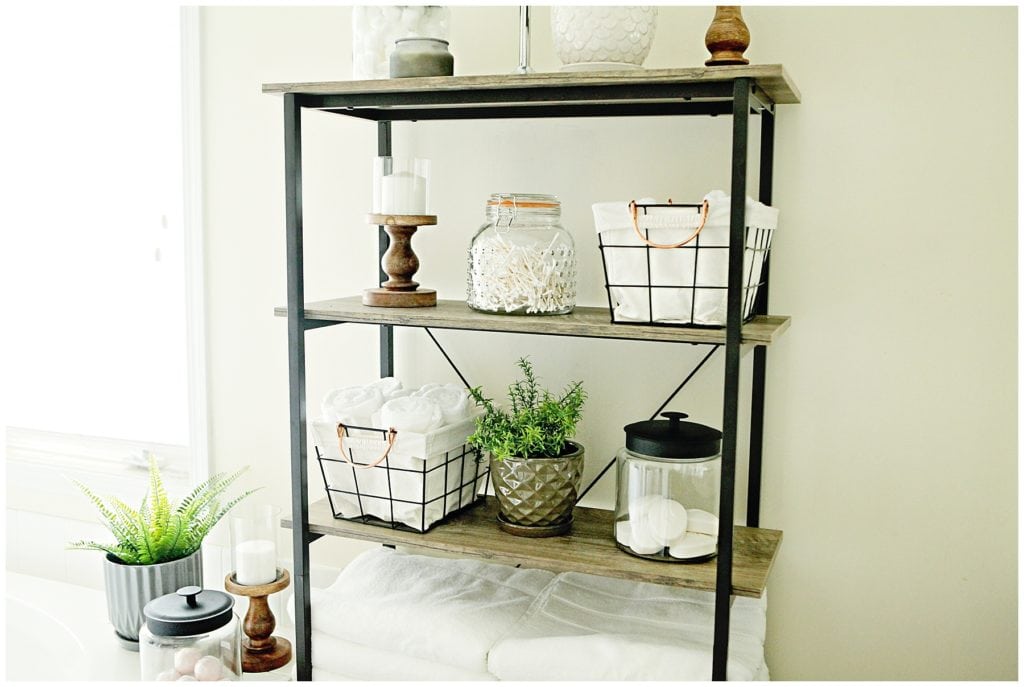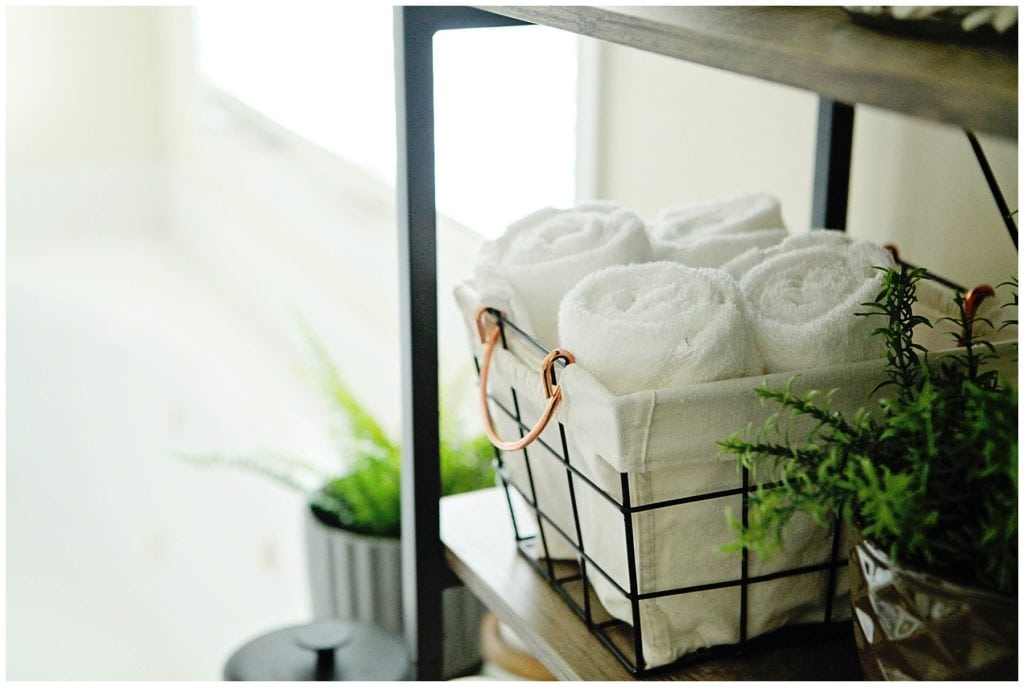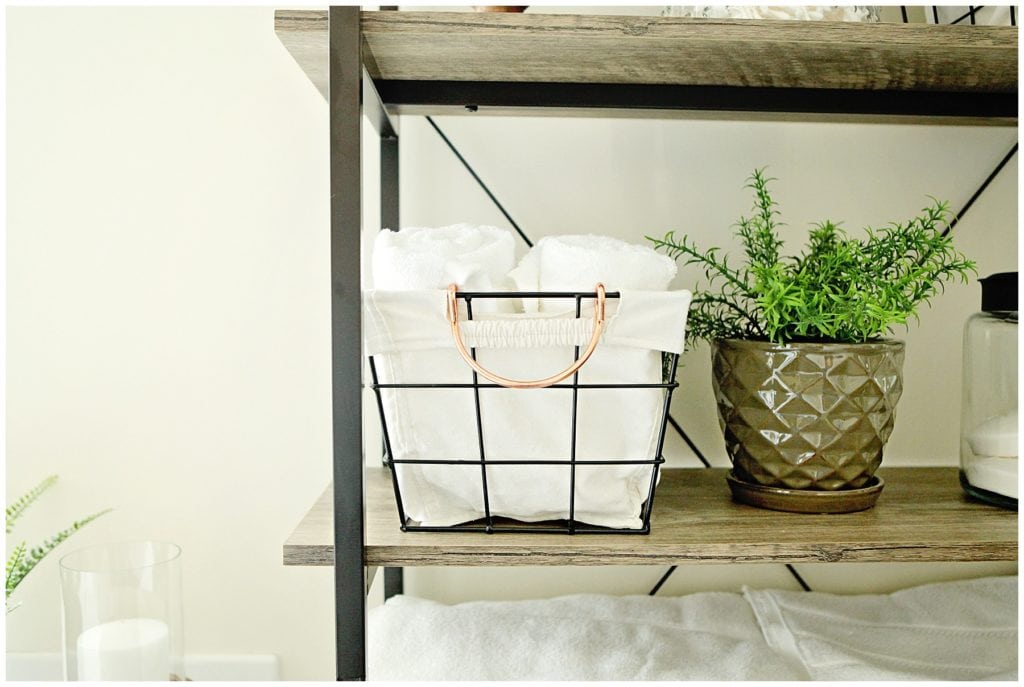 Use one color of linens for a uniform look
Whatever color you decide to go with for towels in your bathroom, stick with it. I don't apply this same rule to my kids' bathroom because they actually have a linen closet and I don't care that they have a rainbow of towels behind the closed door.
However, since I knew my bathroom towels would be on display, I picked up a bunch of white cotton towels from Big Lots when I bought the bookshelf. They are high quality towels that I was able to get for less since I purchased them at Big Lots. I also purchased matching hand towels and wash clothes so there wasn't anything throws my eye off when looking at the shelf.
Using one color and seeing the uniform look, makes me calmer in some way. I feel like I can take a deep breath when the colors all match. White also makes the most sense for me since I can just bleach them if they get dirty.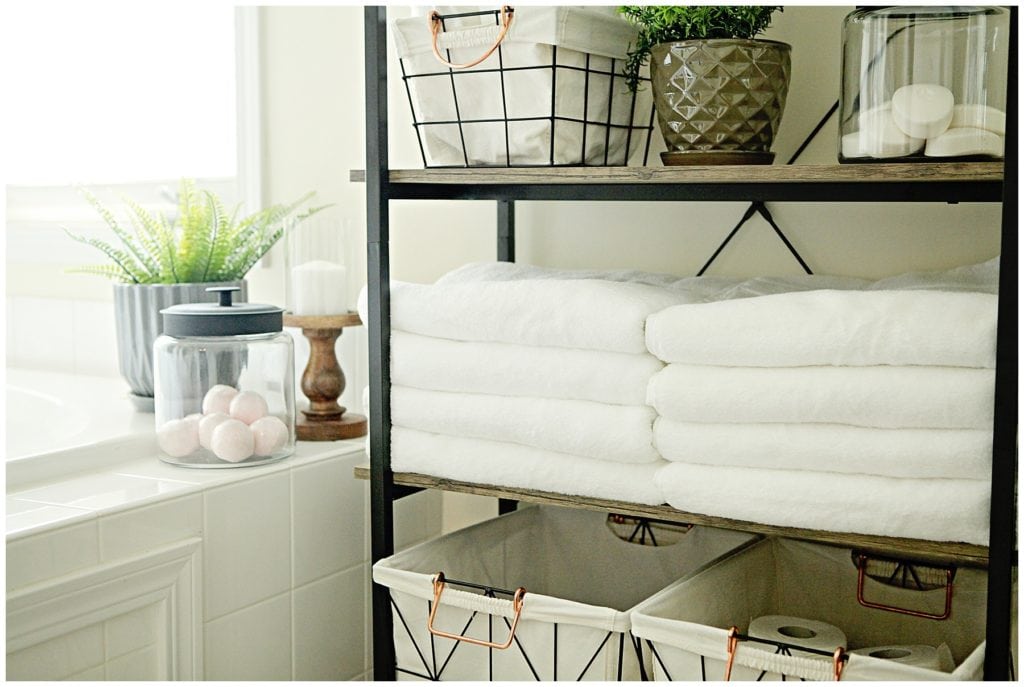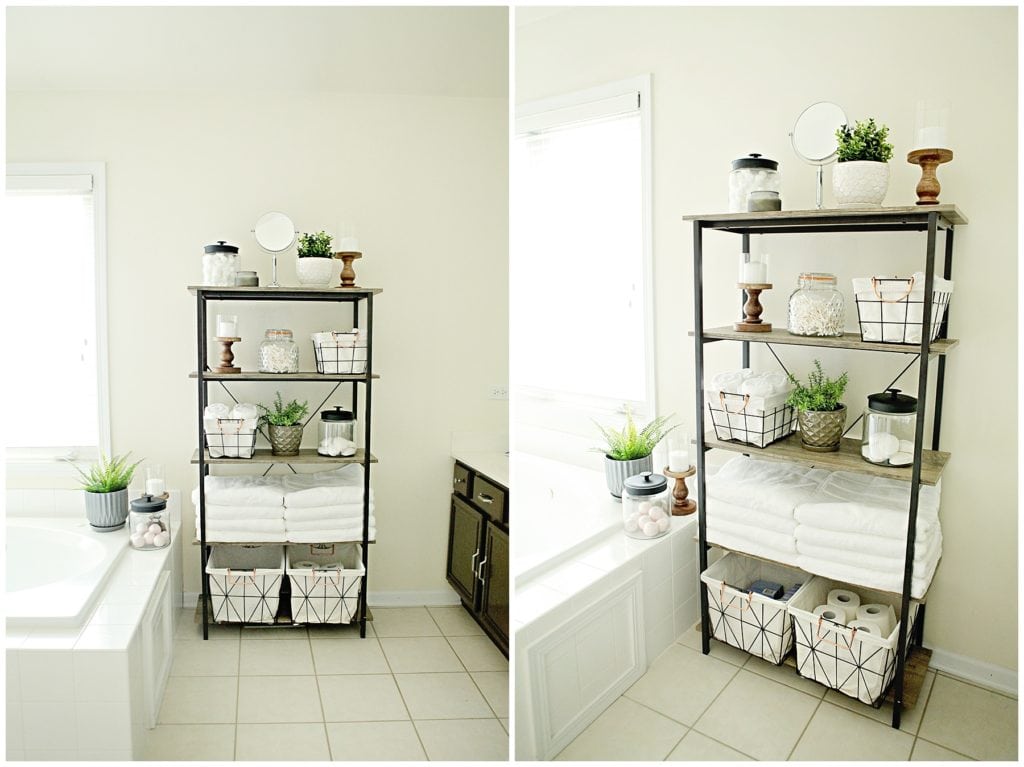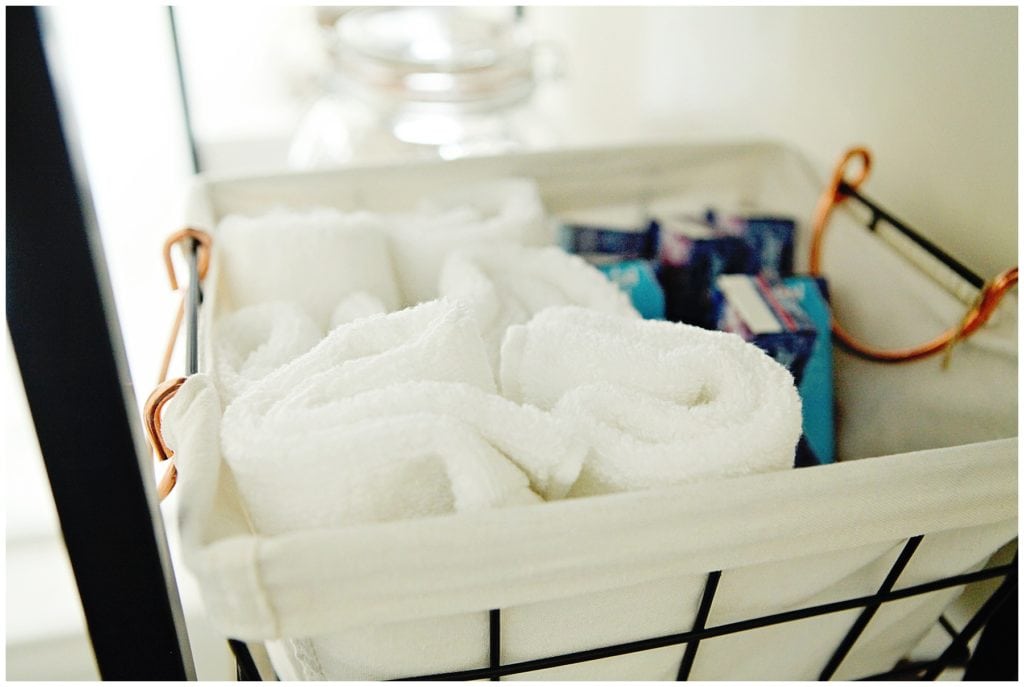 Decorate in threes or fives to create interest
Three is the magic number. Most of the time, I will have three items on a shelf. It's due to the rule of threes which says that odd numbers of items are more appealing, memorable and effective. Using an odd number of items will help you create interest on your shelf and it forces your eye to move around more, which makes for a visually interesting experience.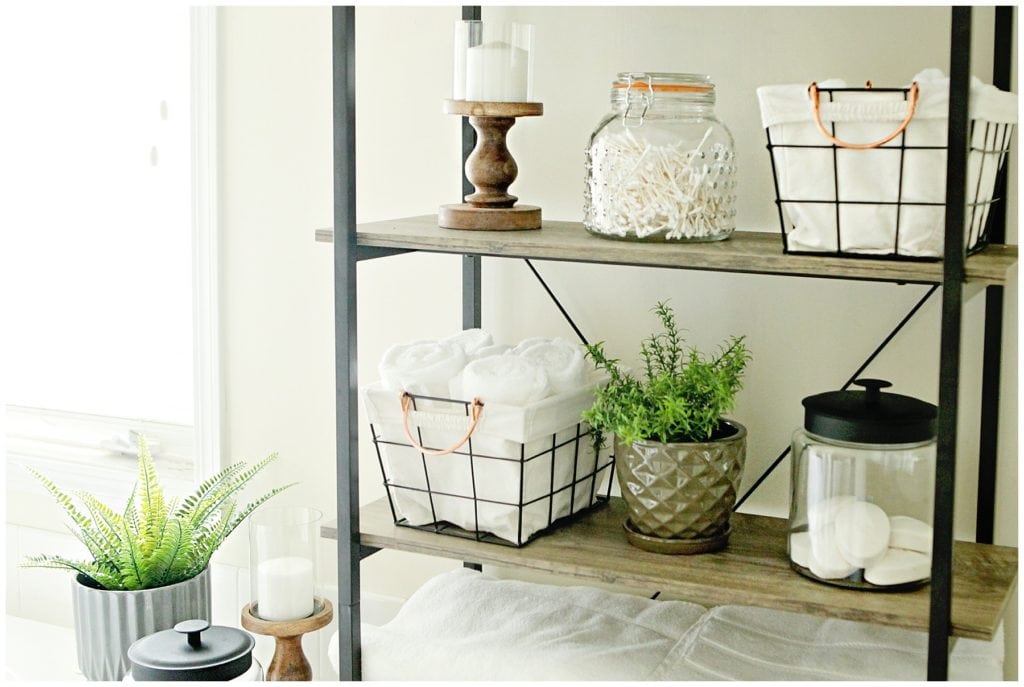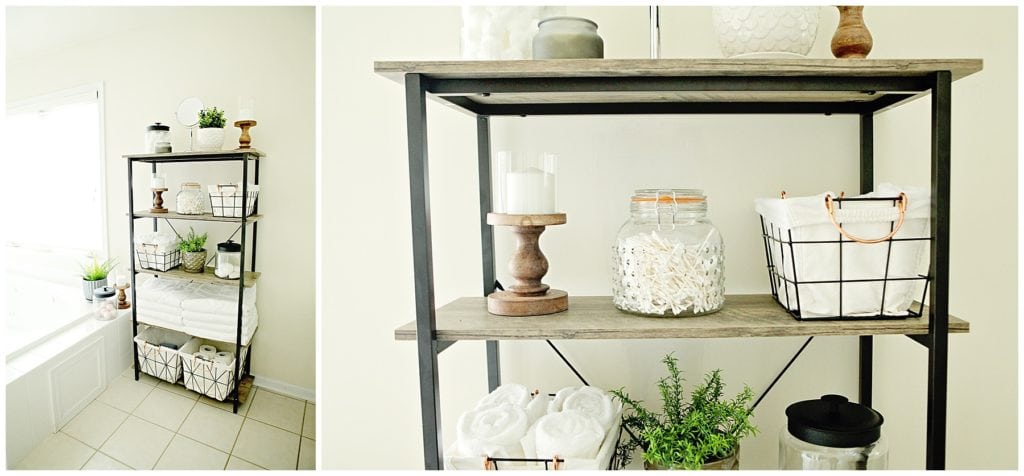 That said, when I use weightier items, like the baskets, two is a good number to go with because:
They fill the shelf
It creates symmetry.
Use textures, different materials and patterns
Whenever I'm decorating something I try to use different textures, materials and patterns to provide more interest too. I like to mix it up between sleek items like the large, clear, glass canisters from Big Lots and items that will grab your attention like the beautiful, wooden candle sticks and textured planters (Also from Big Lots!).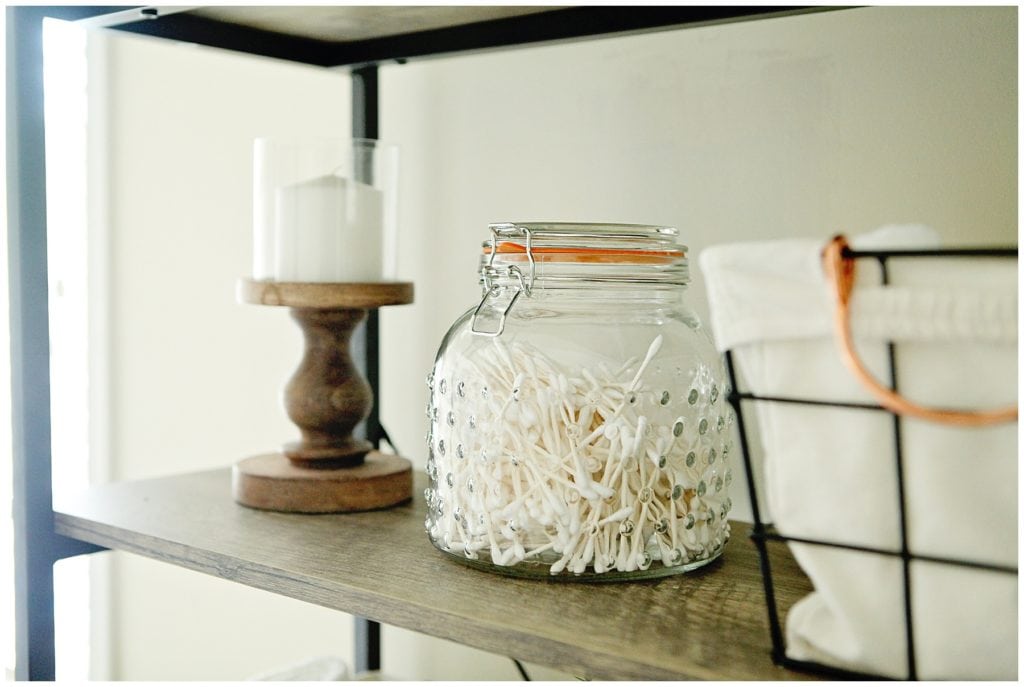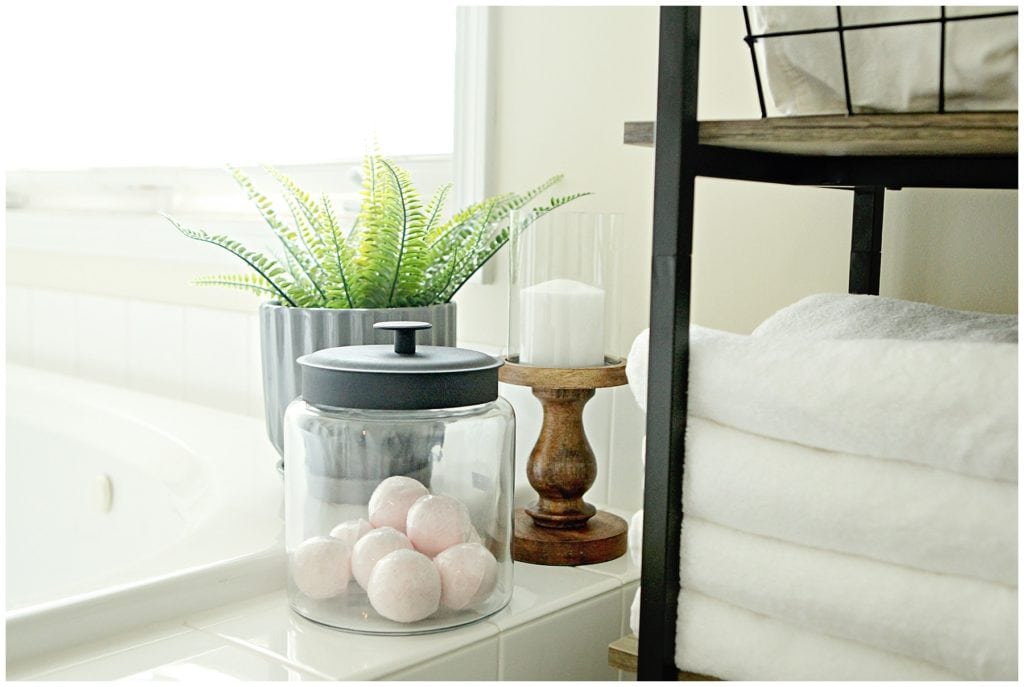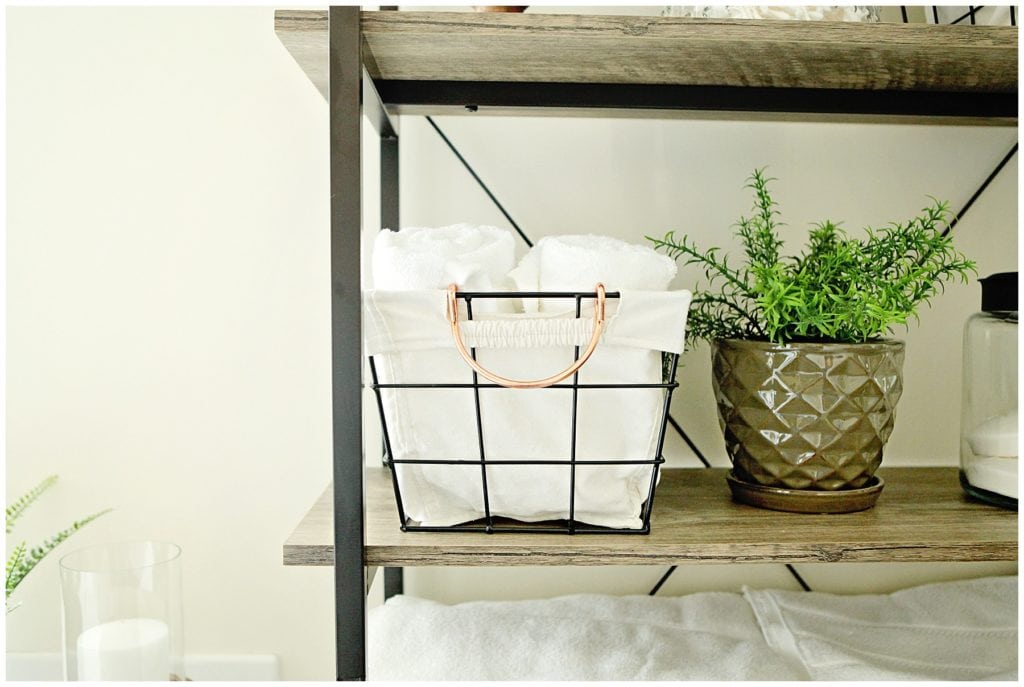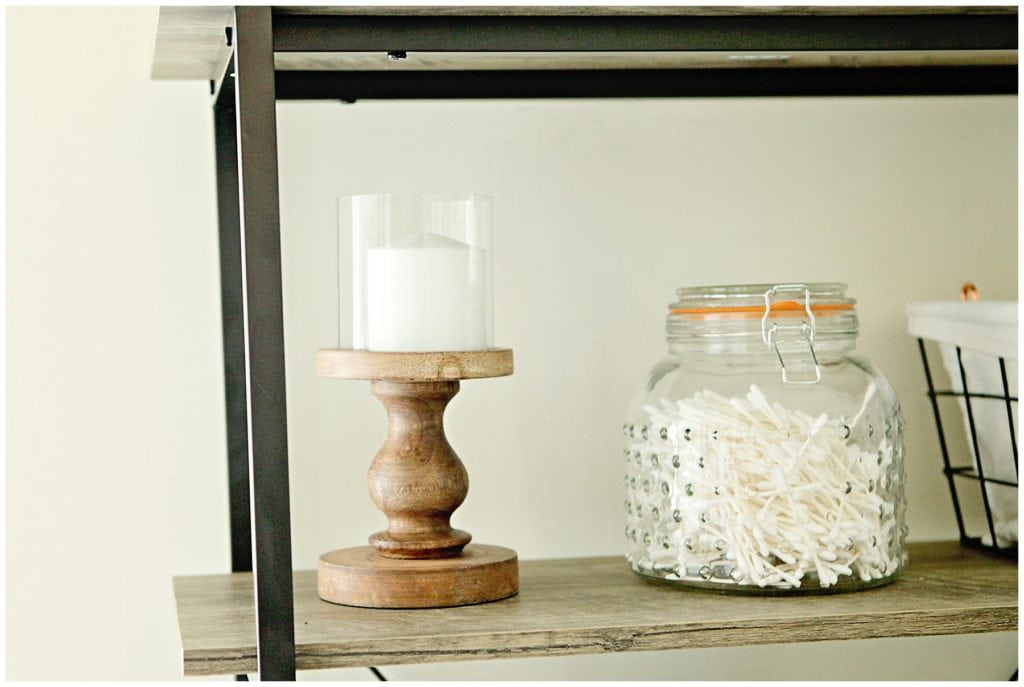 Don't forget the green
I love plants. I feel sort of cliché calling myself a plant lady but every time I go into a store that sells plants, it's a struggle for me to walk out without buying one. I was able to grab a couple beautiful, neutral planters from Big Lots and used them to pot some plants that would hold up to lower light situations. As you can see I have a giant window in my bathroom, but we generally keep the blinds closed because my husband thinks everyone wants to see us naked.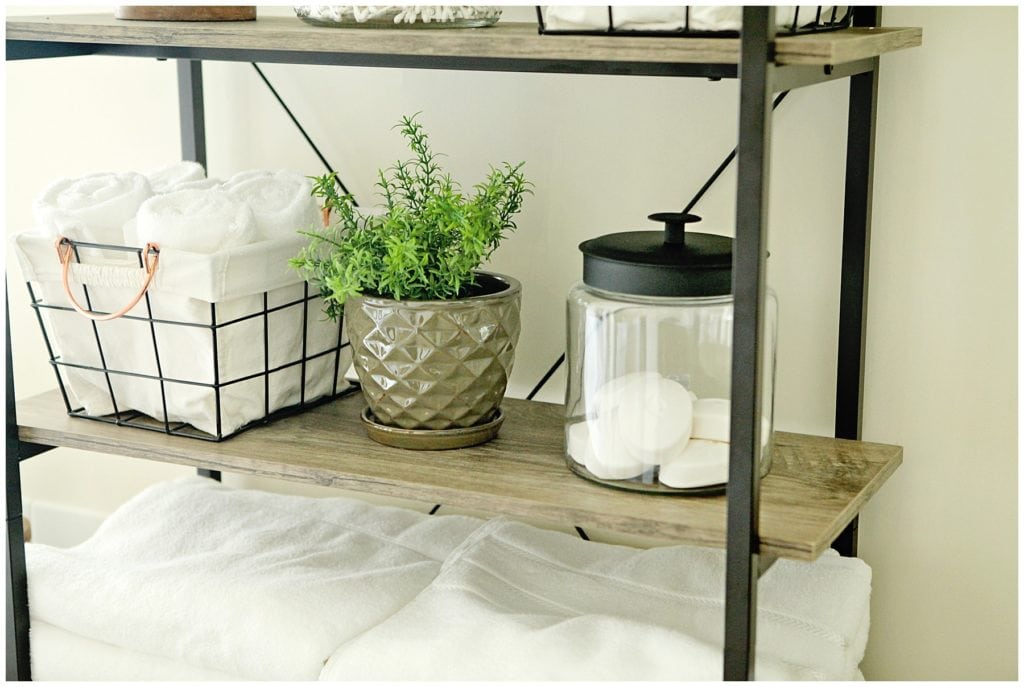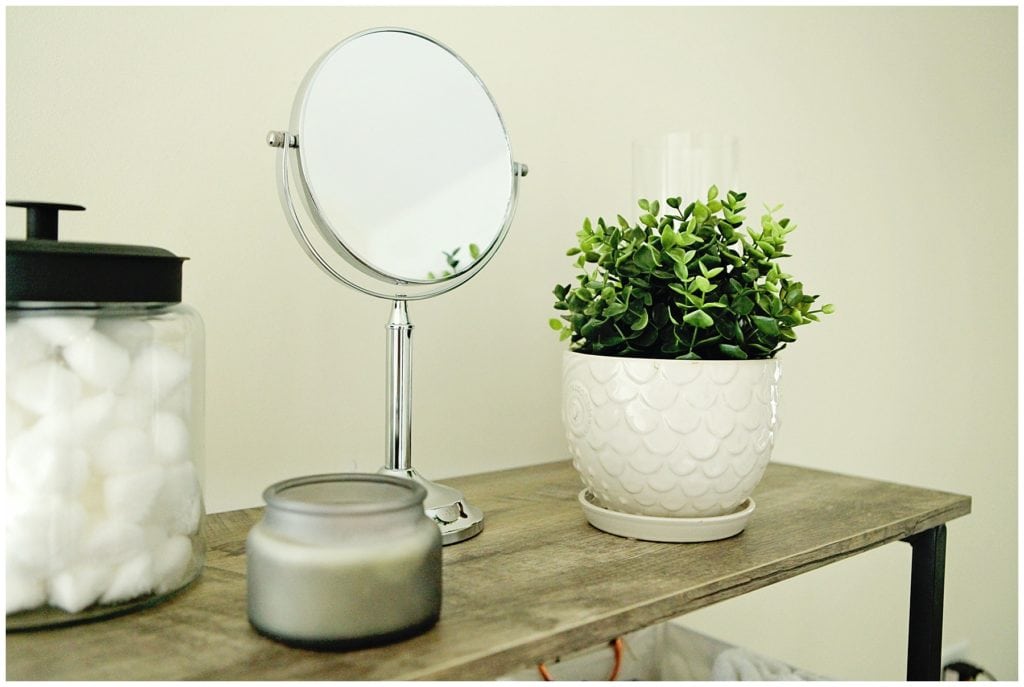 So, while I may be years away from getting the bathroom renovation of my dreams, Big Lots has helped me to make the space much more tolerable and, if I do say so myself, beautiful.
Check out your local Big Lots and see what discoveries you can find that will help you to solve space issues or create beautiful little spots in your home.