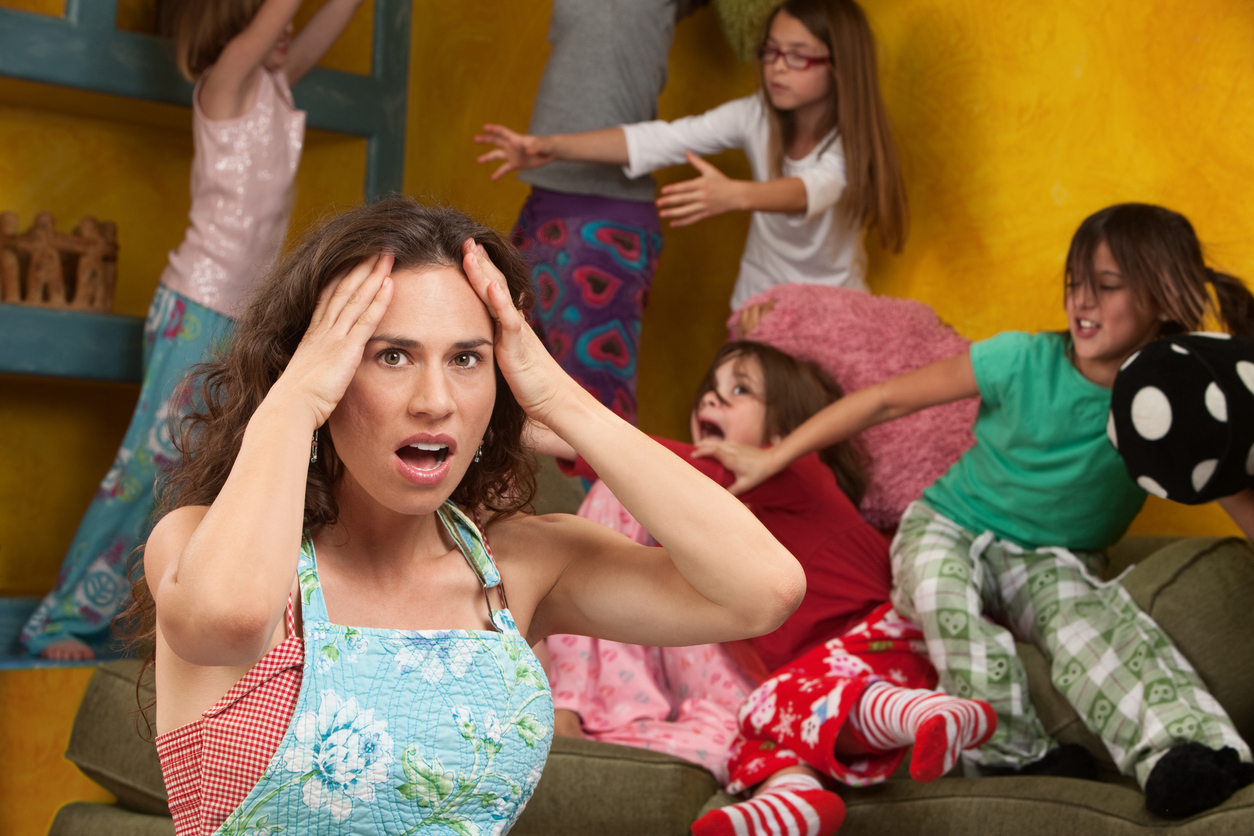 Throughout my entire childhood and adolescence, my mother was the caregiver to six of my cousins. Her sisters returned to work after having their babies, and my mother opened her arms and her home to all of their kids.
At one point, there were nine (nine!!) kids at our house during the summer. She potty-trained, sleep-trained, taught to crawl, walk, talk. I never really remembered her being frazzled or overwhelmed, just full of love and willingness to raise more babies that weren't technically her own.
But Could I Do It?
After my own sister had twins in the spring of 2016, she knew she wanted to return to work. We briefly discussed me watching her kids when I had my own children, but at the time, I was engaged and working a full-time job in marketing and sales.
Well- as fate would have it, my husband and I started our own family 9 months after we got married, and we decided it would be best for me to stay home and raise our baby boy, R.
The topic was brought up again with my sister if I thought I could watch her kids. I agreed instantly- of course I could handle three kids! I was raised in a family of five and watched my mom master the art of having a herd of children in her house at all times. I am incredibly close with all my cousins and loved the idea of my kids having that bond with my sister's kids.
Little did I know, I would become pregnant 9 months after having R, and there would be 4 kids under 4 in NO time at all.
My Little Daycare Begins
In January of 2018, I took on the role of caregiver for my niece and nephew. They are about 1 year older than R. I had them 3 days a week until August when I gave birth to N, and then I took about 8 weeks off to get a handle on 2 under 2. I have to be honest- thinking about bringing 2 more kids into the mix was daunting.
But here we are, 2 years later and I THINK I have it down. I have hard days- when all 4 kids are crabby, no one wants to take naps (oh naps- glorious naptime. It is my respite), or when their playing mainly just includes dumping every bin of toys out and then leaving it all like some sort of toy tornado just blew through.
I think when family or friends ask you to become a caregiver for their children, it is an automatic response to want to say yes. You love their kids, the thought of the extra money is great (yes, my sister does pay me), and it seems like an easy way to add some variety to your day. However, it is so much more than that.
Things to Think About For At Home Childcare
Schedules
I am naturally a Type A person. I crave order and organization; schedules are my thing. In my opinion, to stay sane with 4 under 4, schedules are a saving grace. My kids and niece and nephew are all on schedule when I have them.
N takes a morning nap and during that time is a quiet art or reading time with the three toddlers. When N wakes up, we play outside for a bit, and then everyone eats lunch together. N and R go down for afternoon naps, and my niece and nephew will either take a short nap or it is "rest time" on the couch. I will turn on a movie and they can either read or watch the movie.
This rest time also helps me catch up on household chores, clean up the kitchen after lunch, and generally catch my breath.
After all naps are over, we (weather permitting) head outside to burn off steam and hang out until they are picked up. I like outside days- my house stays much cleaner.
Activities
I have an art bin that I keep in the playroom with washable crayons and coloring books, chalk for the chalkboard wall in the playroom, and Kinetic sand. The kids know where it is and know how to get to it. During the summer, we paint outside. I also have a huge roll of butcher paper that I will unroll on the floor and just let them have at it. Boredom is the key to trouble, so having enough to do will keep them happy and busy.
I haven't gotten brave enough to take them all on an outing this summer, but I am hoping to explore the splash pads and parks that are all over the place. Again- less time in the house to create toy tornadoes!
Personal Well-Being
Being a mom is a really tough job. Being a mom AND caregiver to other kids is tough, if not tougher. You really have to consider if it is a responsibility you are able to take on.
Not to mention, there is a certain guilt that hovers around when you, not the parent, are the one that witnesses a lot of milestones.
That first step, or first word, or first successful potty time- to be the one that experiences those things first is hard for some parents. In my own experience, sometimes it's better to just not tell them it happened!
Be willing to bring more sickness into your house, more temper tantrums, and more mess. You will likely have to take deep cleansing breaths throughout the day (deep breath another bin of toys being dumped out deep breath).
However, mixed in with all of that is more love and hugs and laughter. I am so grateful that R and N see their cousins so much during the week and will have that bond that I did with mine.
Those summers hold some of my dearest memories, and I can only hope it will be the same for my children.
In case you need some activity ideas, here are some easy preschooler activities for the days you're dead tired.