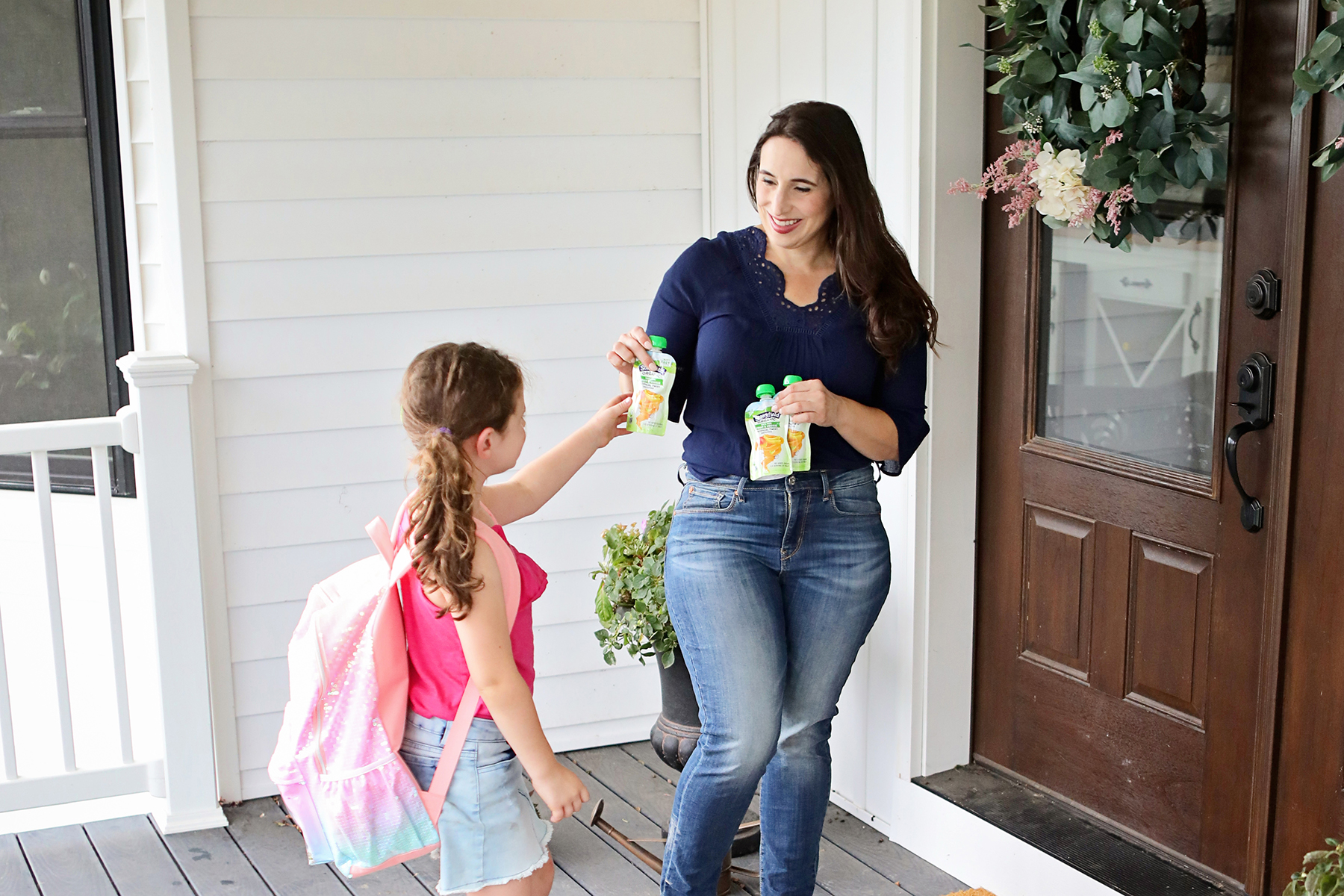 With school back in full swing, I'm not the only one who has a kid coming home starving, right?
Every day after school it's like we have a little hungry bear rummaging around in the pantry looking for something to eat.
I've been trying to make sure my kids make healthier choices when it comes to snacking this school year. They only get 20 minutes for lunch and then one snack at school so at 3:30 hunger strikes.
And I get it. I get hungry too then. I always need a cup of coffee and something a little sweet around that time. I understand that they're looking for the same thing (Minus the coffee, of course!) with after school snacks.
If I don't plan ahead and have a line-up of snacks when they get home, the default ends up being some kind of junk food. Instead, I've started keeping a list of nutritious after school snacks that I can count on to feed the kids (and me too) when they come home famished.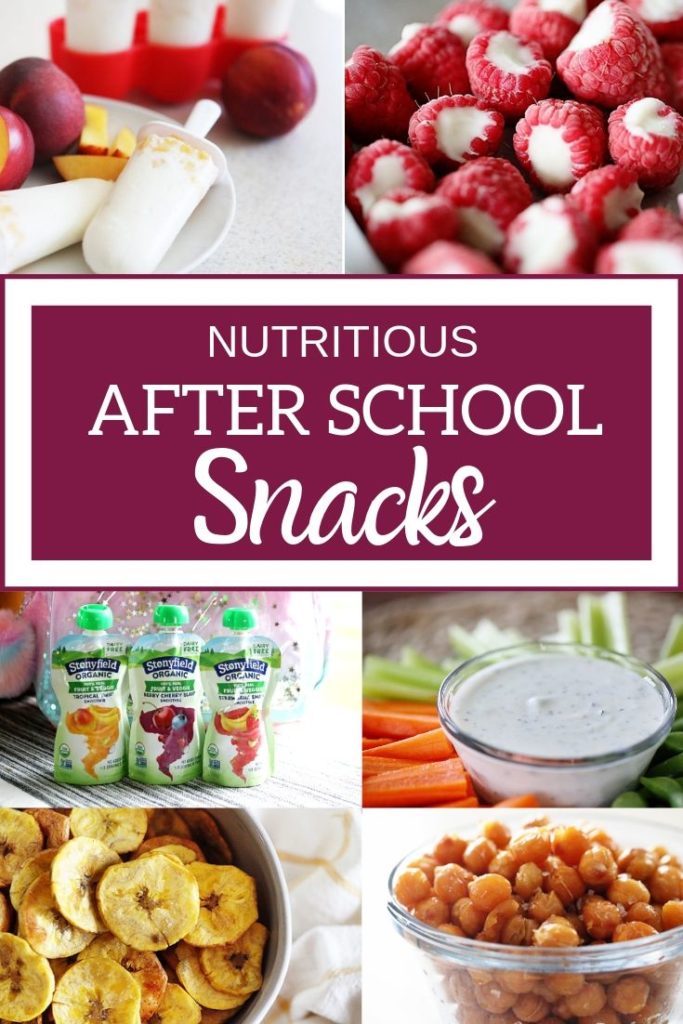 In partnership with Stonyfield Organic, here are 10 ideas I hope you can add to your after school snack list too.
Roasted chickpeas
Chickpeas are legumes that are high in protein. Perfect for when the kids come home hungry to fill them up and replenish their protein levels.
Roasting them is simple! Simply combine one can of chickpeas with 2 Tbsp. of olive oils and roast in the oven at 425 for 15-20 minutes. Sprinkle them with salt and then enjoy!
You can also use barbecue sauce if you want to mix it up.

Stonyfield fruit and veggie pouches 
Stonyfield Organic's fruit and veggie pouches are delicious smoothies that your kids will love. They use coconut cream instead of traditional dairy. They're also made from 100 percent fruits and veggies.
Each pouch contains 6 simple ingredients and is half a serving of fruits and vegetables. There's no added sugar, not preservatives and they are all USD certified organic as well as non-GMO project verified.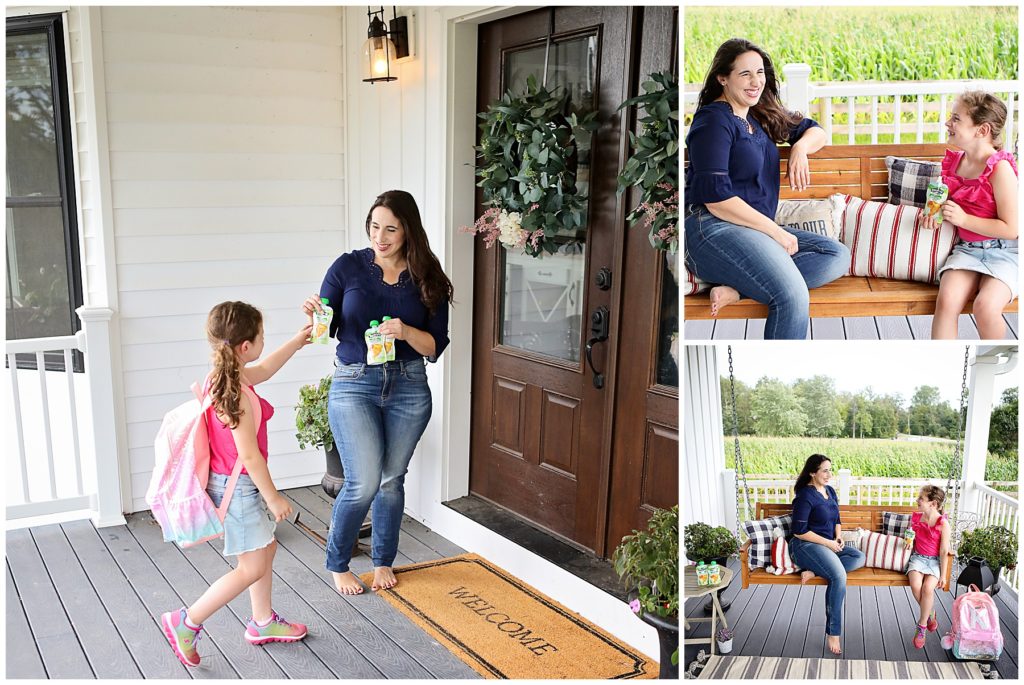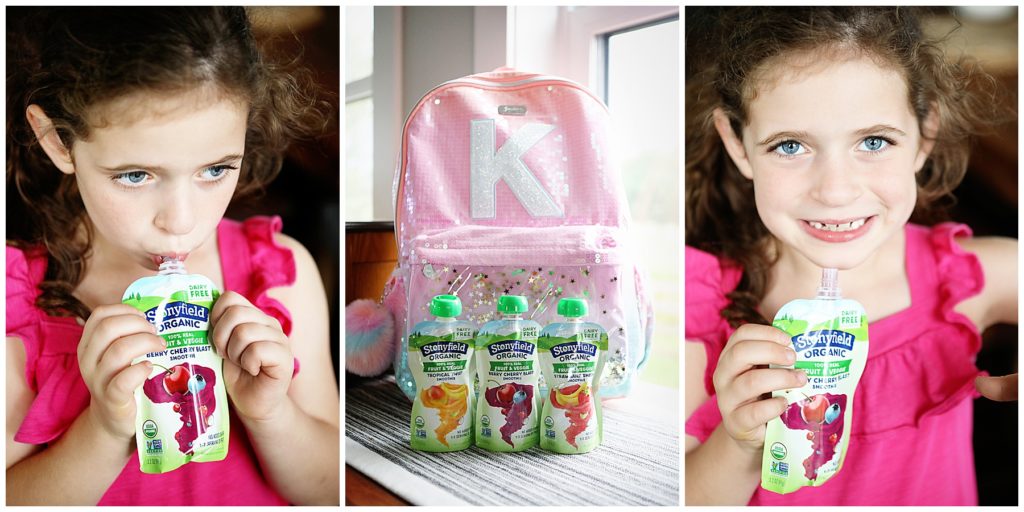 The Stonyfield Organic flavors include:
Tropical Twist Smoothie, made with Organic Mango Puree, Organic Pear Puree, Organic Banana Puree, Organic Carrot Puree, Organic Coconut Cream, Organic Lemon Juice Concentrate.
Strawbana Smash Smoothi, which includes Organic Pear Puree, Organic Strawberry Puree, Organic Banana Puree, Organic Coconut Cream, Organic Sweet Potato Puree, Organic Lemon Juice Concentrate.
Berry Blast Cherry Smoothie, made with Organic Apple Puree, Organic Blueberry Puree, Organic Cherry Puree, Organic Coconut Cream, Organic Beet Puree, Organic Lemon Juice Concentrate.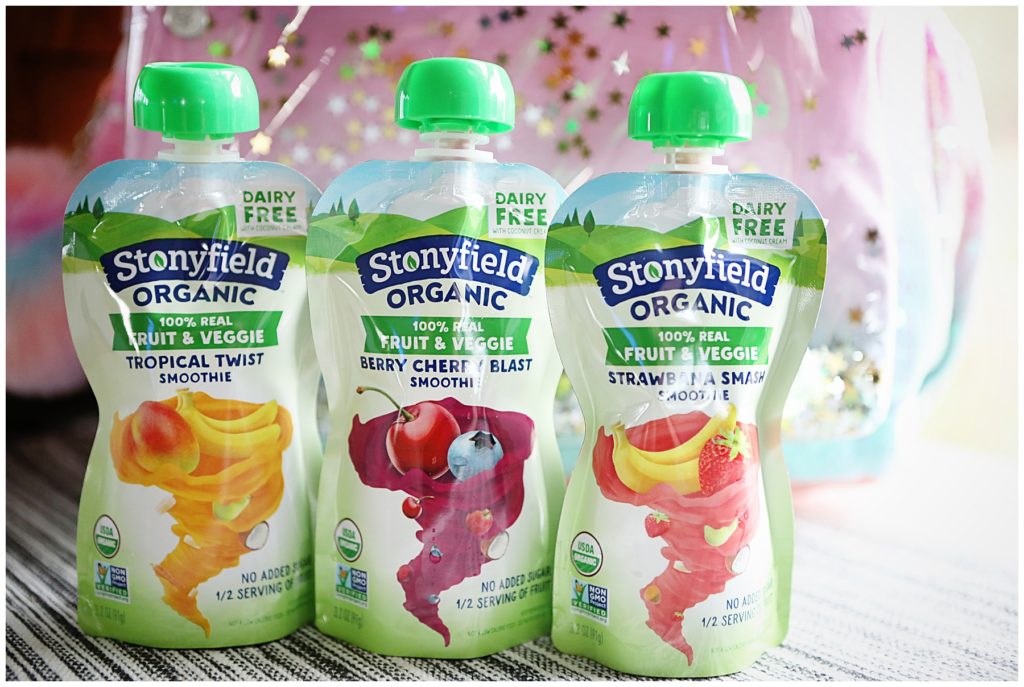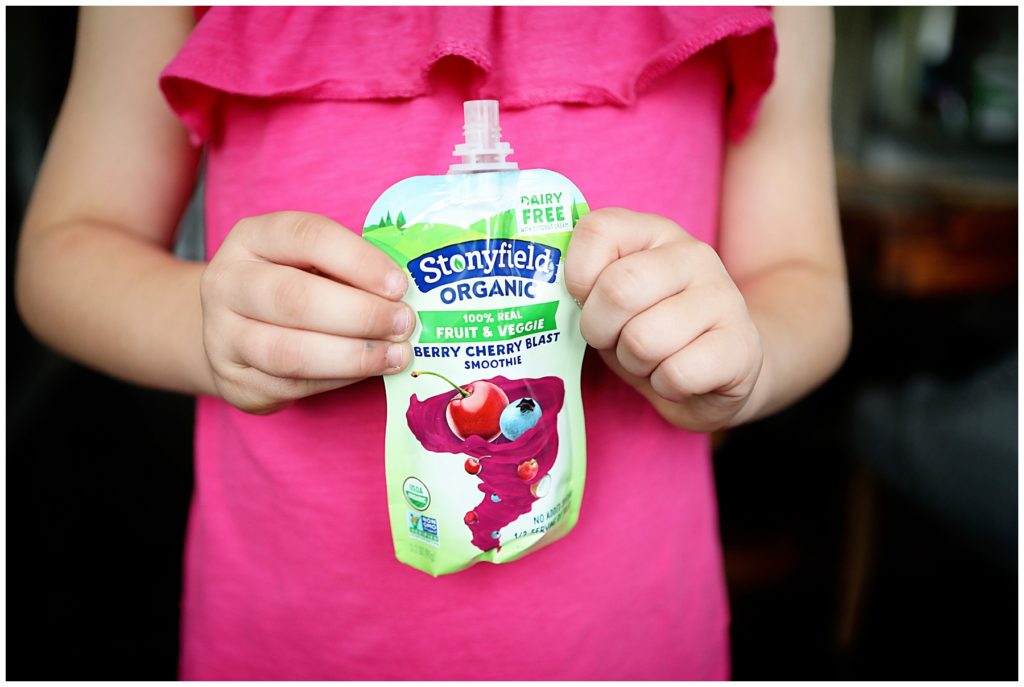 My kids are loving these and they don't really know that they have vegetables included in them. It's helpful for me because my son refuses to eat almost any vegetables so I like to sneak them in where I can.
I also like to add these to my daughter's lunch box or slip them into her book bag for the afternoon snack. You can find them at Whole Foods right now and they will be available in more stores starting in January.
Apples and peanut butter 
This is a snack that's always on someone's plate here. I actually love to eat this combo in the afternoon when I'm craving something sweet and the kids have followed suit. Simply slice your apples and give them a small cup of peanut butter to let them dip in.
No-fry French fries
Hear me out. I didn't add French fries to the list because I'm an awesome mom. I added them because I make them with potatoes and bake them. Potatoes contain more potassium than bananas and are a good source of B6, fiber and magnesium. But my kids don't know that. They just know they taste good and fill them up. You can find my recipe for perfectly seasoned potato wedges here.
Frozen raspberries 
This one is so fun and it feels like an ice cream treat! Basically, I stuff raspberries with Stonyfield Vanilla Whole Milk Yogurt and freeze them. After about an hour you can take them out and serve. I love these for the first few weeks of school and the last few weeks of school when temperatures are still warm in the afternoons.

Plantain chips
These are just delicious and a good alternative to potato chips! With a natural sweetness, they are a good source of Vitamins A, C and B-6. Like potatoes, they also contain magnesium and potassium. Find the recipe for mine here.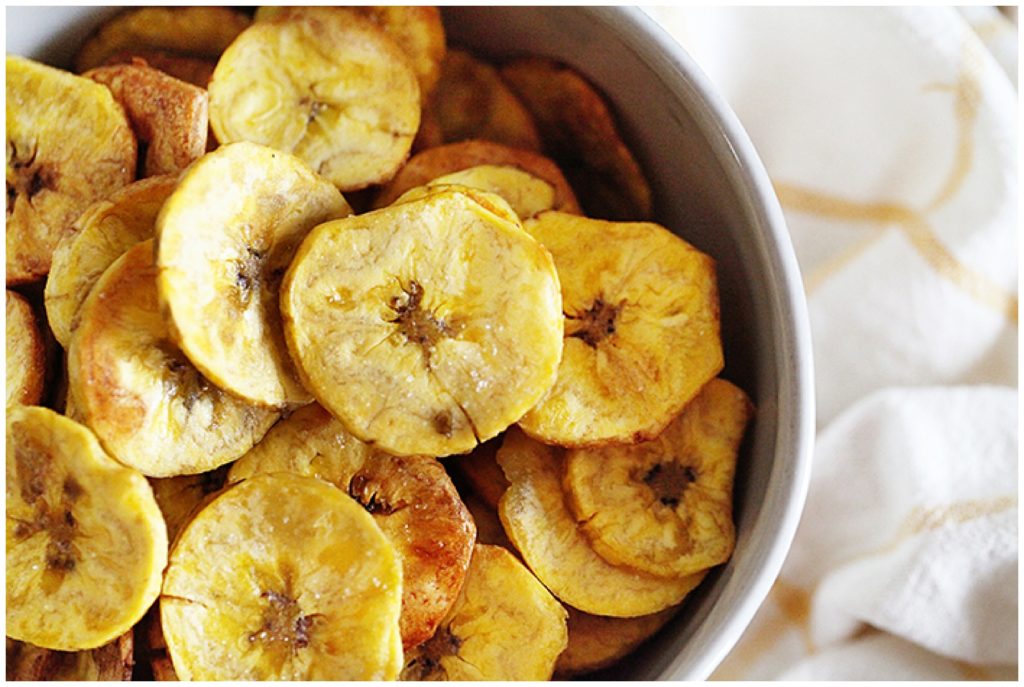 Fresh veggies and homemade veggie dip
I made this ranch dip from Stonyfield Greek Yogurt and my kids can't really tell the difference! After school I serve it with some carrots, snap peas and celery. Just watch your spouse. If he or she is anything like mine he will eat it all. 🙂 Get the recipe here.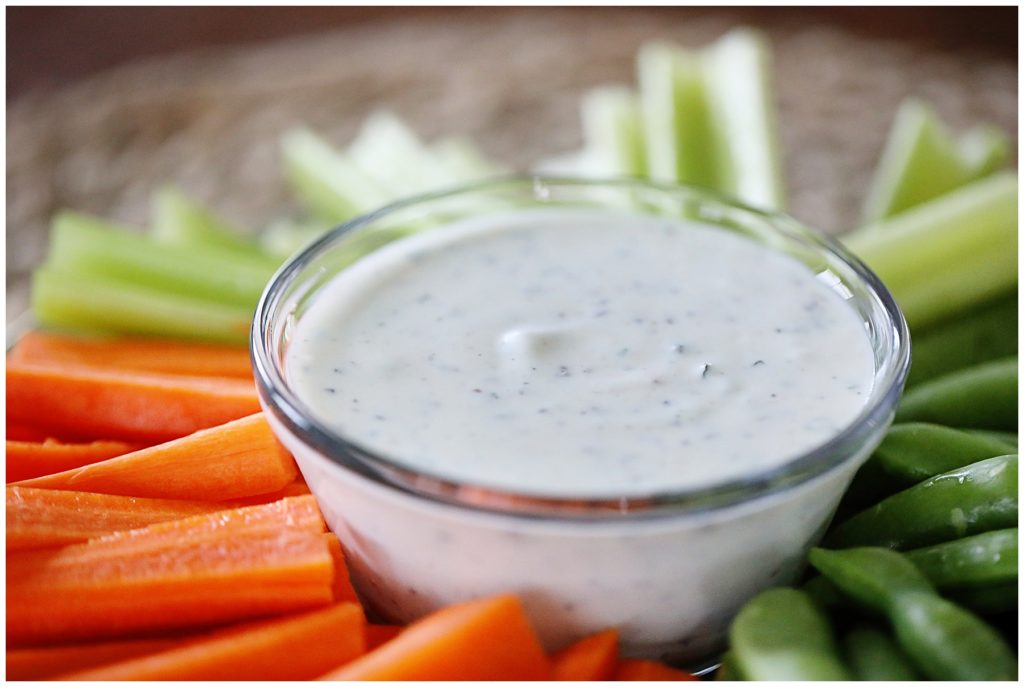 Granola, fruit and yogurt cups 
As a fast snack around here we like to eat some crunchy granola over a small bowl of yogurt. We also like to add blueberries, raspberries and other fruits that are in season. It's fast, easy and nutritious. You could also try cereal and make something llike these three parfait ideas.
Zucchini chips 
Another potato chip substitute, zucchini chips are an inventive way to get your kids to eat a few more vegetables. The key to making them taste more potato chip-like it to slice them as thin as possible. Then you have to bake them low and slow. Find a great recipe here.
Fruit and yogurt pops
These are so simple to make! Simply mix together some water and your favorite yogurt flavor. I use Stonyfield Vanilla Whole Milk Yogurt again. You can add any fruit that's in season at the time. During back-to-school, I like to add in stone fruit like peaches and nectarines since it is perfect this time of year. Here is my recipe.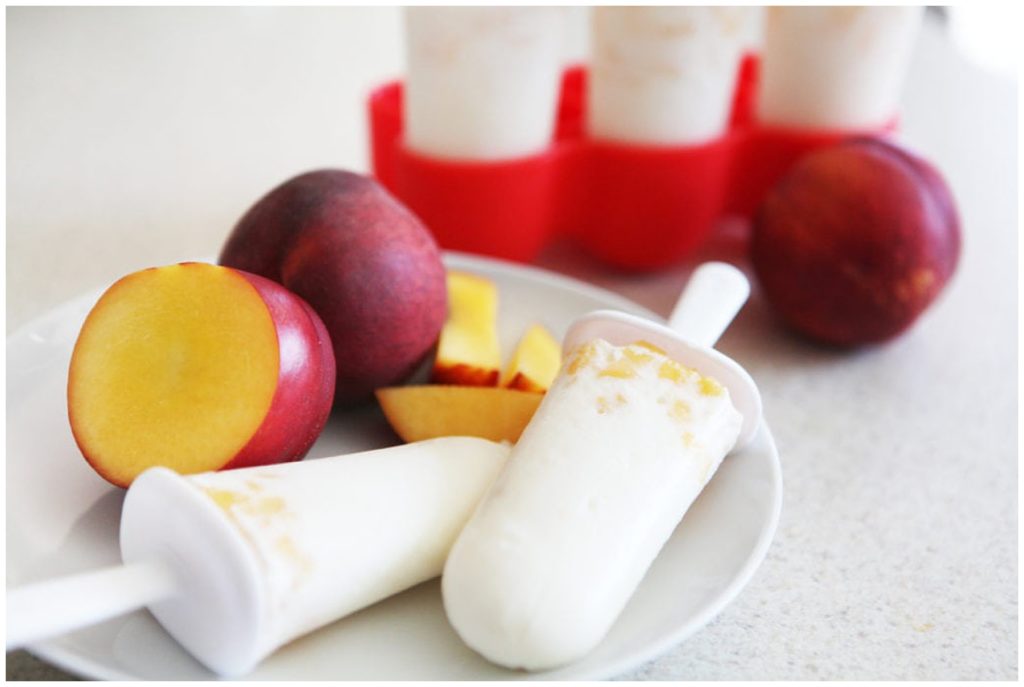 What else do you like to give your kids when they come home hungry?