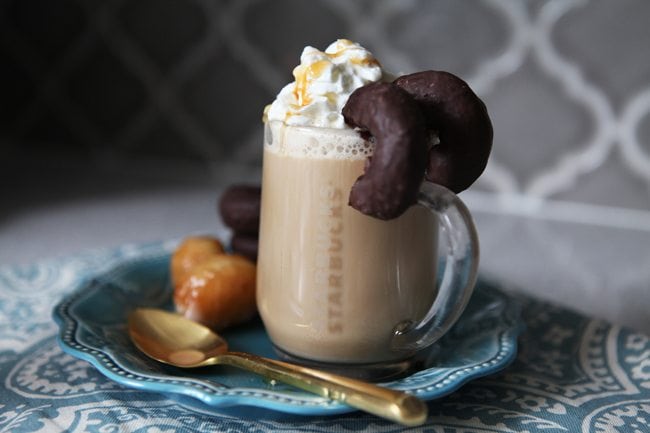 I, like most moms, love coffee. You might even say I live off it some days. Lately, it has been my lifeline. My son has been sick and waking up at midnight and 4 a.m. He doesn't go back to sleep until his fever has broken, which is usually about an hour and a half after his meds. My daughter climbs into bed with me every night at 11:30 p.m. or 1 a.m. and proceeds to snuggle me (AKA lay halfway of top of me and kick me at random intervals throughout the night). If you do the math, you can see I'm up a lot.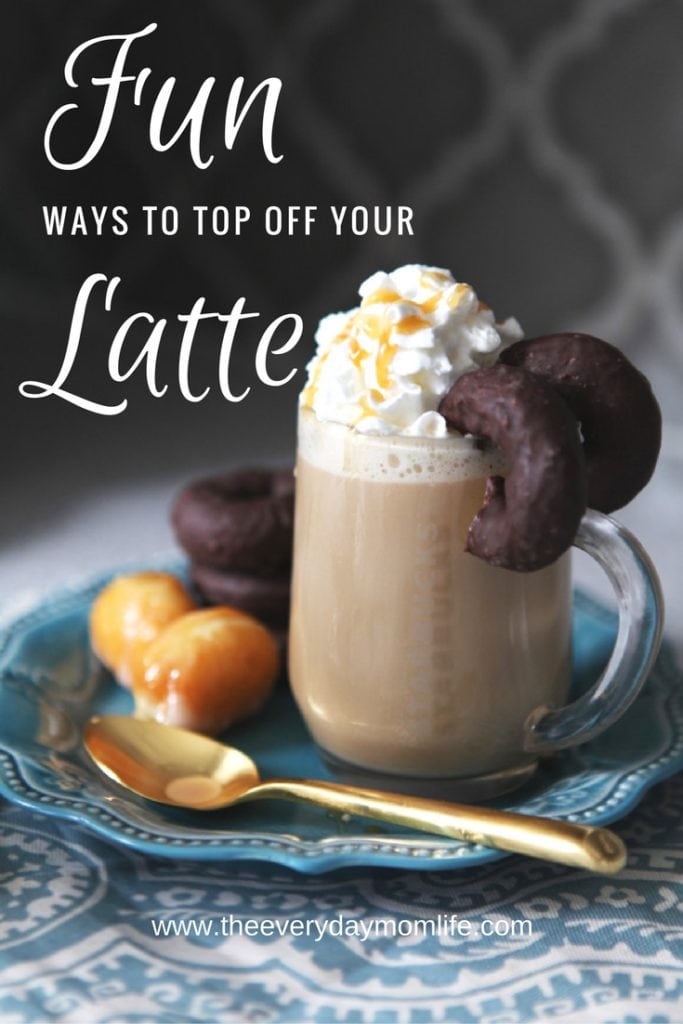 I like my coffee with a lot of milk. Most of the time it isn't even a straight coffee anymore. It's a latte. I have a tough time starting my day without that smooth, creamy texture and sweet taste that has the added bonus of the caffeine. It's my morning salvation. If I have time, I like to top it off in a fun, unique way too.
Imagine how thrilled I was when I learned that Starbucks® has come out with an at-home latte for Keurig machines! With the new Starbucks® Caffé Latte K-Cup® I can now have my morning lattes in three different flavors – caramel, vanilla and mocha – and for a limited time they also have Pumpkin Spice (Yay!) and Peppermint Mocha (Yum!). As an added bonus these K-Cup® pods are made from milk with no artificial flavors.
You can find the new Starbucks® Caffé Latte K-Cup® pods at grocery stores nationally, but they are different from the K-cups® you may be familiar with. There is a two-step process to get that delicious Starbucks® taste right at home. However, it's simple and quick, which is great because I don't have that much time in the mornings that I go to work.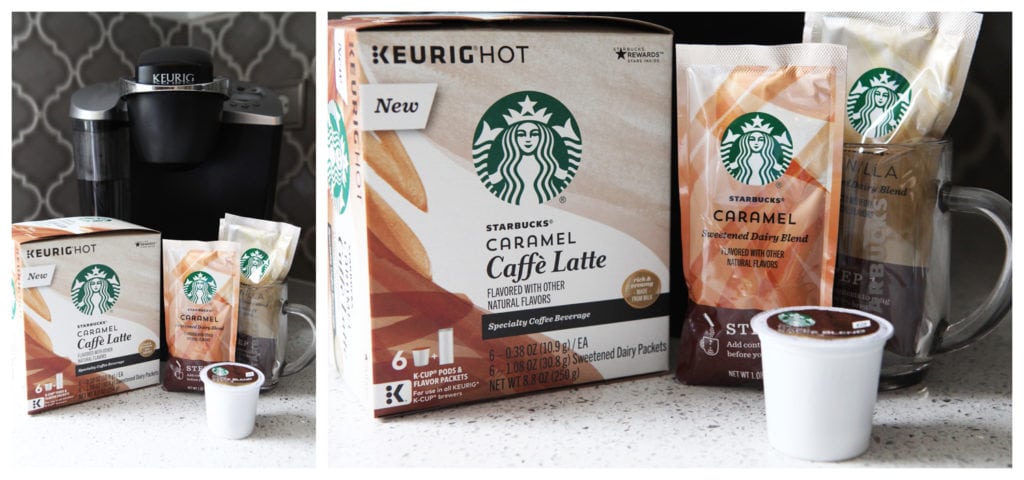 On mornings I get to stay home or work from home, I've found that I love to top off these new brews with some creative toppings that really help me wake up the right way whether it's in the morning or afternoon.
Check out the two, easy steps below to learn how to make the new Starbucks® Caffé Latte K-Cup® pods on your Keurig® machine and then keep reading to see the fun ways I've topped off my morning and afternoon lattes.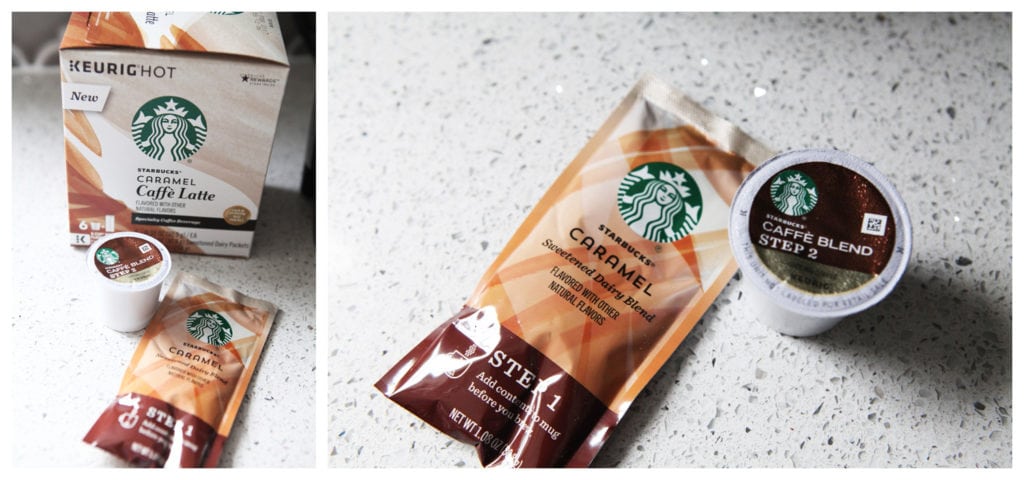 Step 1: Pour the flavor packet into your coffee cup.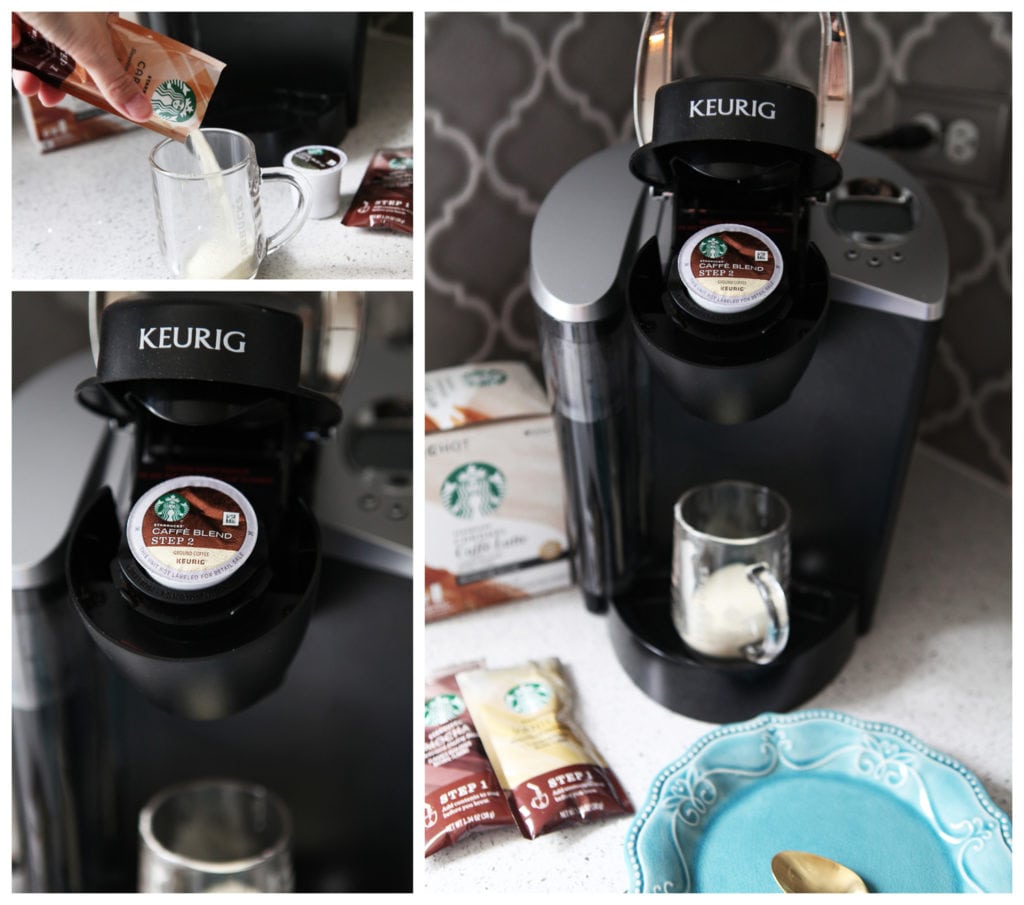 Step 2: Brew as you normally would with your K-Cup® pods & stir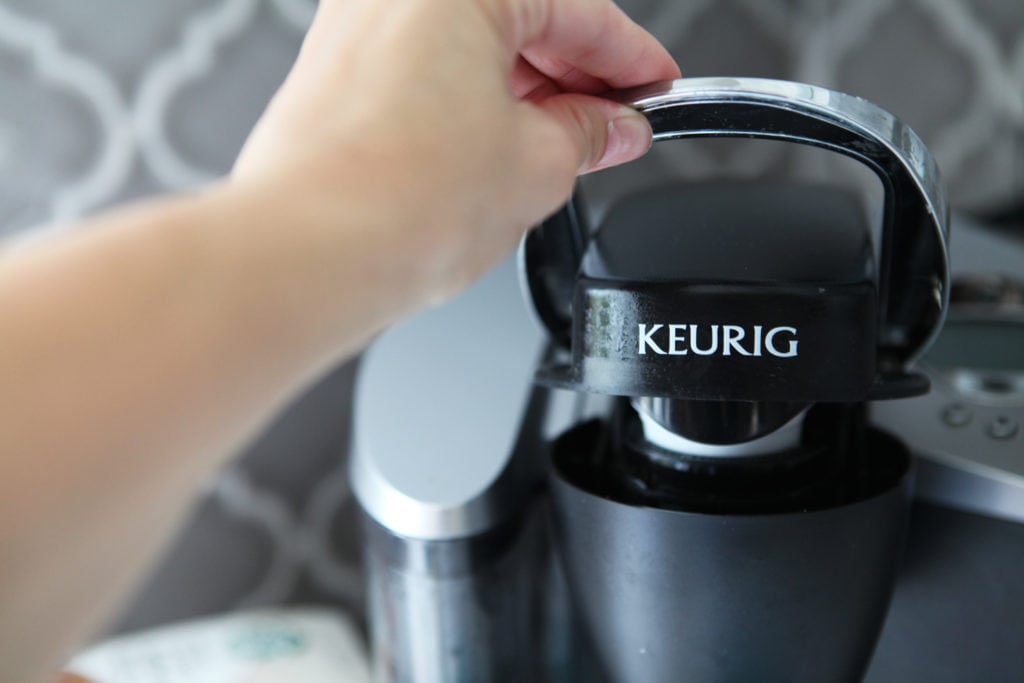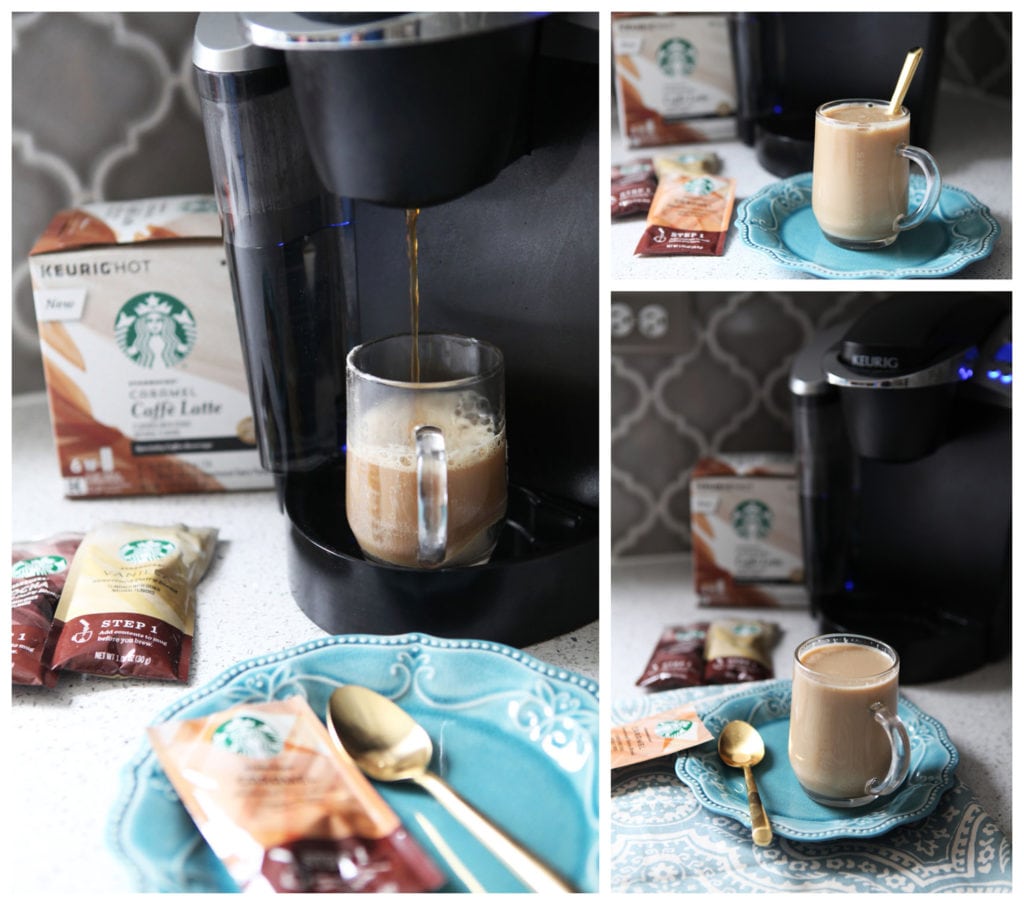 That's it! It tasted just the way I love my lattes – creamy with an even coffee to flavor ratio – and I didn't need any additional milk, creamer or sugar. My husband even started drinking them and he is a black-coffee-kind-of-guy.
Since these lattes were so delicious and I could have them at home, I decided I wanted to top them off deliciously too. I created a few, fun ways to top off these new brews at home and they have really helped me wake up happy.
Check them out and let me know which would be your favorite!
Latte & Donuts
To me, a latte needs whipped cream! This one has whipped cream, caramel sauce and a few donuts on the side in case you need a little something to nibble on at breakfast time. The chocolate donut was the perfect little bite to compliment my sips of the caramel Starbucks® Caffé Latte. Keep your kids (and spouses) and from those donuts! They're your's, mamas.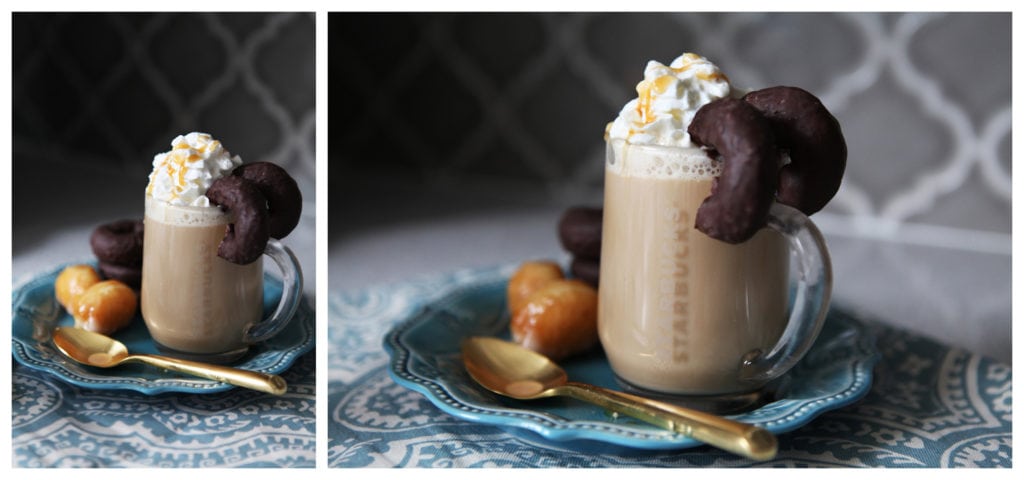 Caramel Biscotti
Can you believe that I never dunked my biscotti in my coffee until I tried this? I honestly didn't even really eat biscotti because I thought they were too dry. It's because they're meant to be dunked.
I'm not even sure how it's possible that I've been missing out on this for so long. My Italian grandmother would be shocked. But you guys, this almond biscotti soaked in the new, vanilla Starbucks® Caffé Latte brew was like a small bit of heaven in my mouth. Seriously, you need to pick some of these up and try this combo for the morning or afternoon. You will thank me.

Tasty Turtle
You know those afternoons each day around about 3 p.m.? The time where stay-at-home moms are counting the minutes until their spouse comes home and working moms are counting the minutes until they can leave the office? Those times, you need this. Or even on a Saturday afternoon, after driving your kids from activity to activity, you need to treat yourself to this. The caramel sauce, the chocolate sauce and small sprinkle of pecans make this one indulgent drink, but it is exactly what you need when you hit that 3 p.m. rut.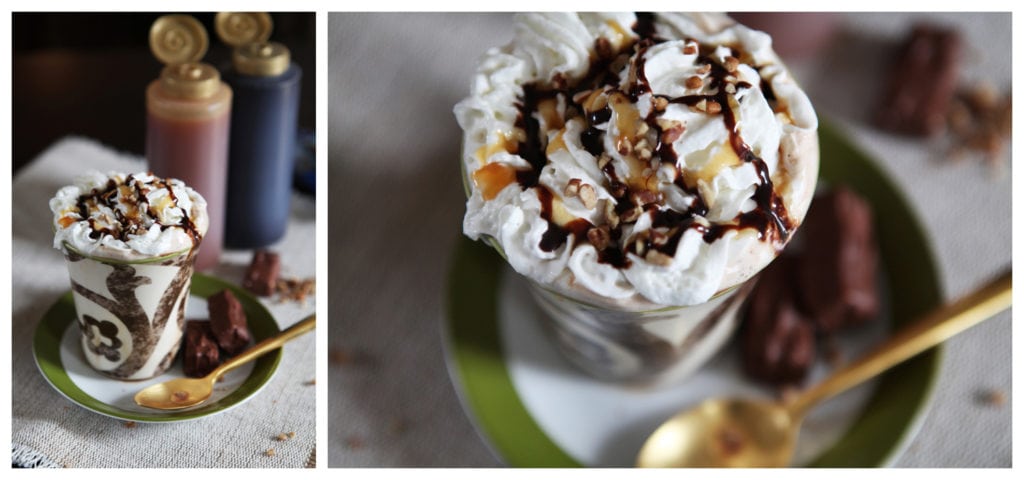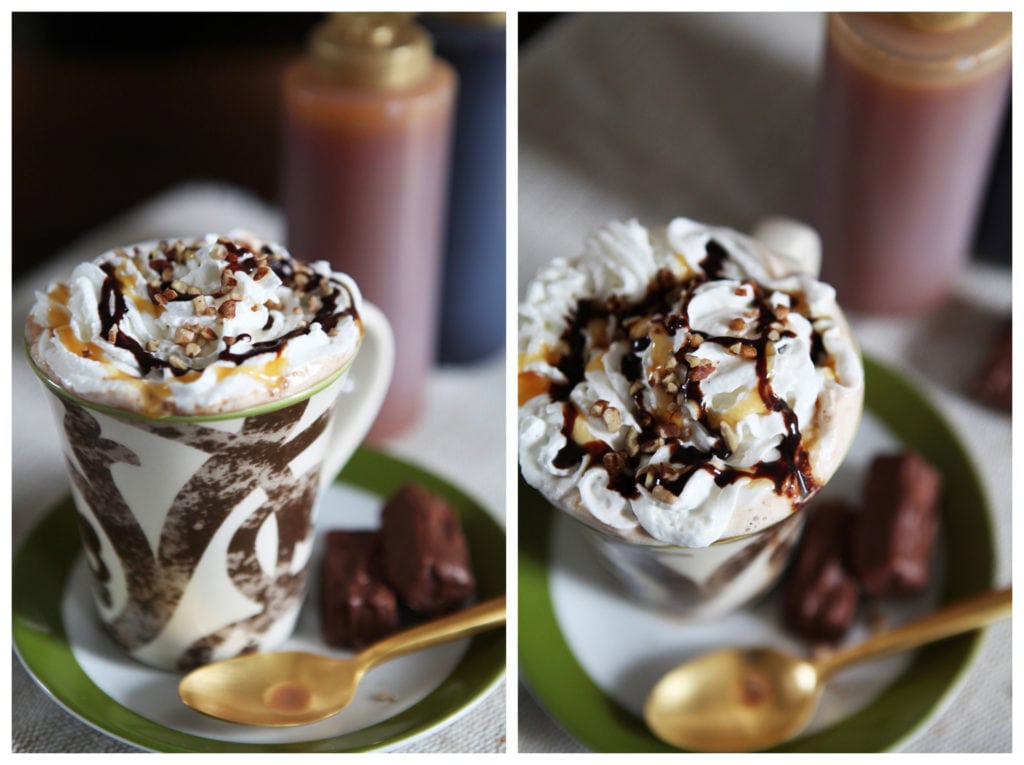 Cookie Cutter Cute
If you take whipped topping and freeze it in a cookie cutter you can make the cutest, seasonal latte toppers. If you do this just for you, it will certainly make you smile. But, share the wealth and the coffee with friends ladies and do this for a party this Halloween, Thanksgiving or Holiday season. Not only that, but I found this works well when your coffee is warm or cold.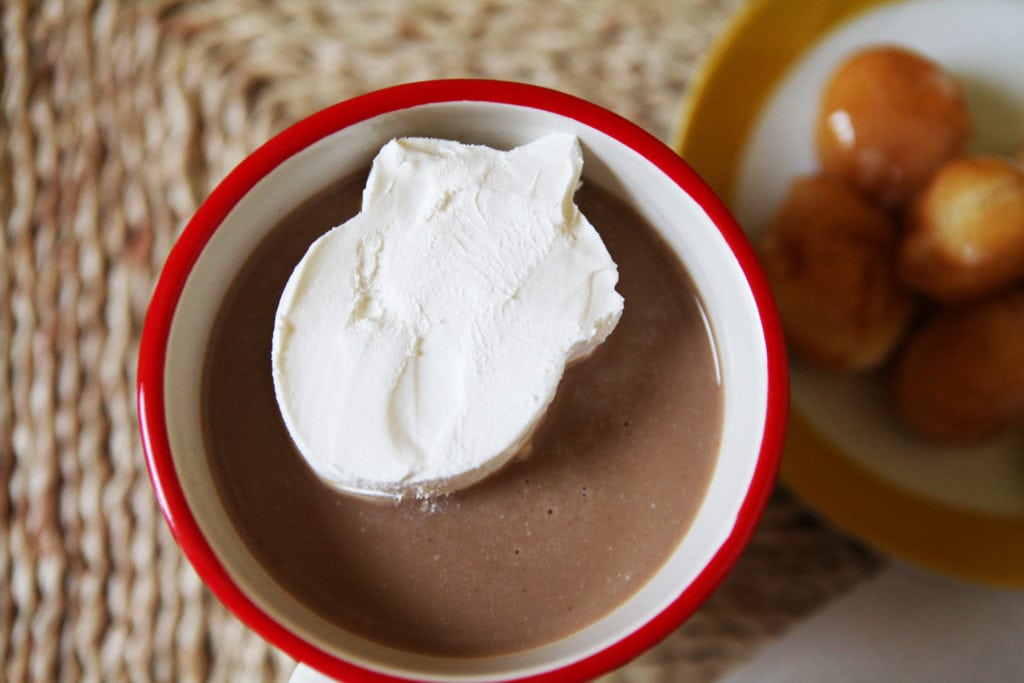 So what do you guys think? How you would top it off?
For more tips, click here. For recipes, click here.