Last year I bought my daughter three backpacks throughout the school year. They ripped, the zippers went wonky and on one, the strap broke. It was so annoying each time we had a new issue and, due to the issues, ended up spending more on backpacks than I had ever intended.
She was only in kindergarten last year, so I can just imagine how this is going to go when she actually has real books that she has to carry.
This year, I've done my homework.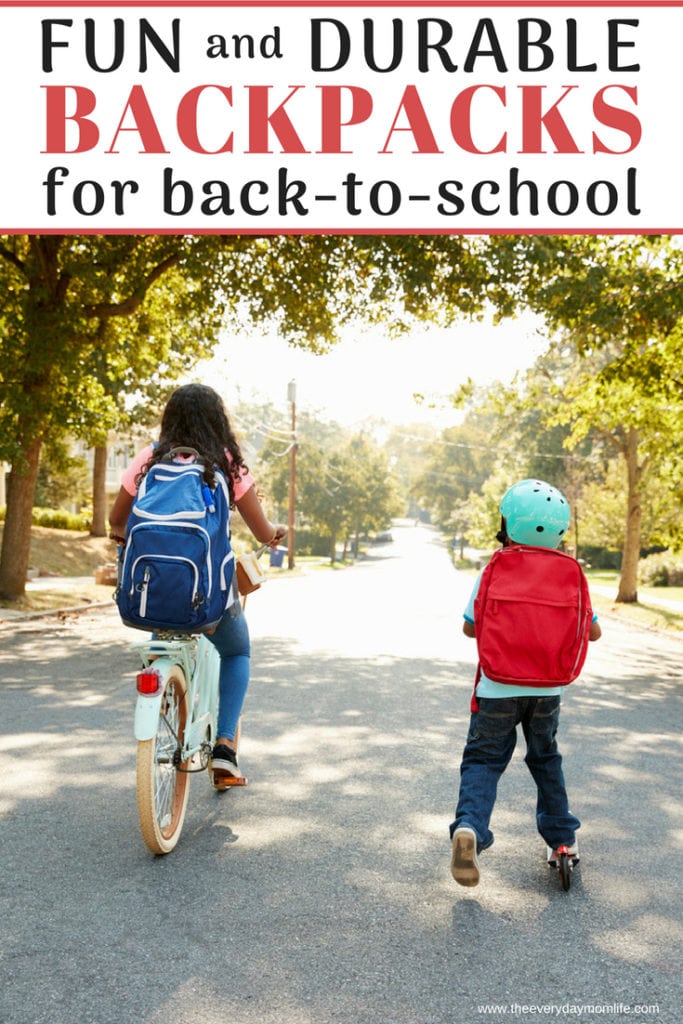 Here is my No. 1 tip: Avoid the cutesy ones your kids will beg you for and go for the bags built to stand up to all the pencils and books.
I've found 10 bags that I think will actually go the distance this school year.
Bag 1
I'm starting with the bag we ended the school year with last year. This one lasted the last six months of the school year and it will be the bag we start the year with this year too. So far, there are no holes and there isn't even any fraying at the corners. Zippers are all in tact. I like the material because it feels thicker than her other bags and it's proven to be more durable. I'm actually hoping it lasts the whole year this year too. Fingers crossed. My daughter loved the purple and I loved that it wasn't a character property that she was going to be sick of the second a new one came out. If you don't have a kid that loves purple, this bag comes in a variety of colors and prints for girls and boys. This bag is also under $30.

Bag 2
JanSport is a brand most people are familiar with it because they grew up with one of these bags. I've had at least three of these throughout my school-age years and today I still use one as a gym bag. And since you're probably familiar with them, you know they last. They are made of a durable material and come in a crazy amount of print that will work for elementary school, high school and even college. These things are build to last. Solid colors go for around $20 while printed bags range in price.

Bag 3
If you have a young daughter and you're looking for a printed bag, this one is probably for you. In fact, I'm sort of afraid my daughter might see this on the site and want it. The bag comes in a variety of prints but I'm betting the most popular one will be this unicorn print. Based on reviews and the look of the fabric, this one seems like it will hold up. If you're looking for a bag with a print that for a tween or teen, there are other prints available in this too that are a bit more mature.

Bag 4
If the unicorn print wasn't awesome enough, try this bag from Lily & Drew in one of their fun prints like this cat print. This bag is a bit smaller than other bags (Comes in two sizes – medium and small. Order the medium size for school.) but it has a nice laptop/tablet pocket for those kids who work off tablets in school. It is made from straight canvas so as long as your child doesn't use it as a skateboard, it should hold up for a bit. This bag costs $20- $30 depending on print.
Bag 5
This bag is from The North Face. Obviously known for it's outer weather gear, this bag looks a bit similar to a hiking bag and could probably be used for that too. It' s made from polyester and has a front mesh pocket for storing small things. There is an internal zippered pocket for tablets or laptops and (my fav feature) there is reflective safety piping for those evenings when it's dark by 4 p.m. It comes in a variety of colors and retails for about $60 – depending on color.

Bag 6
This one is probably for the boys. This Under Armour bag is made from polyester and nylon, which I like. It sounds indestructible to me – your tween might have other plans. It has a water-resistant finish and the front pocket is also water resistant for valuables.  It also boasts a abrasion-resistant bottom. It has a 15-inch laptop/tablet sleeve and a padded back. It comes in a variety of colors for girls and boys and your child will probably be on-trend for $60-$90.
Bag 7
This bag is super cute with polka dots in a variety of colors. I love that it's made out of the durable nylon fabric and it comes in two sizes.  It has plenty of pockets for those children that like to stuff them full of treasures and notes and there is a laptop compartment too.
Bag 8
This one is for the pre-schooler mamas. I know it's going to be tough on you letting your little peanut go off to perhaps their first days of school, but as they walk away these bags will make you smile. My son would love this spiky, shell backpack or this dino one. These are water resistant and made of neoprene, which is durable and can be washed (but air dry). It's perfect for younger kids who don't have too much to carry but still need a place to put important papers and art projects.
For more parenting picks and tips, click here.