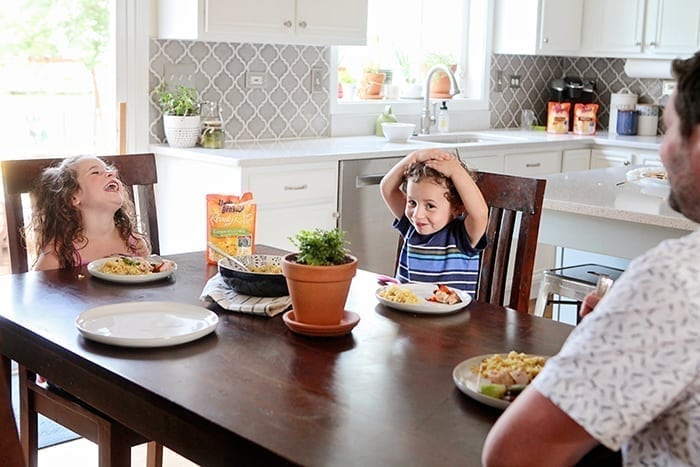 All families seem to have so much on their plates now days. With parents working, children's extracurricular activities, taking care of a home and the other little details, life can feel a bit chaotic.
It's so tempting to cut some things out to make up for lost time. Grabbing some fast food in the car on the way to a practice, ordering a pizza when you get home late, eating in front of the television so everyone can unwind their brains without having to communicate – it's become the norm for a lot of households today.
But instead of cutting out our family mealtime together, we should be savoring in it. Science has proven that chicken soup (and vegetables and whole grains) is good for the soul when we eat it together.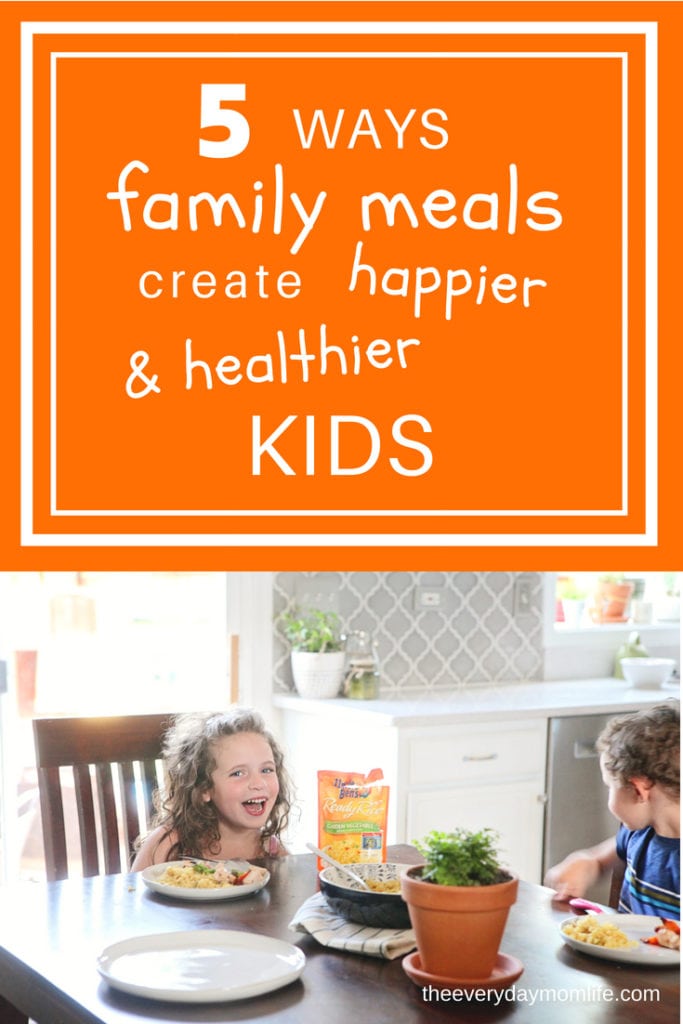 When it comes to our kids, a study from the Universite de Montreal found that kids who regularly eat dinner with their families tend to be happier and healthier.
"The health benefits of a family eating together include everything from improved eating habits and a healthier body weight to stronger academic performance in school and less stress for teens," said Liz Weiss, Ms RD. LDN andDietitian Expert for Uncle Ben's. "Some studies have looked specifically at dinner, while other research has focused on mealtime in general."
But how exactly does sharing a meal together impact our children's well-being? Together with Uncle Ben's we're breaking down some of the studies and looking at the reasons meals together help to make children healthier and happier.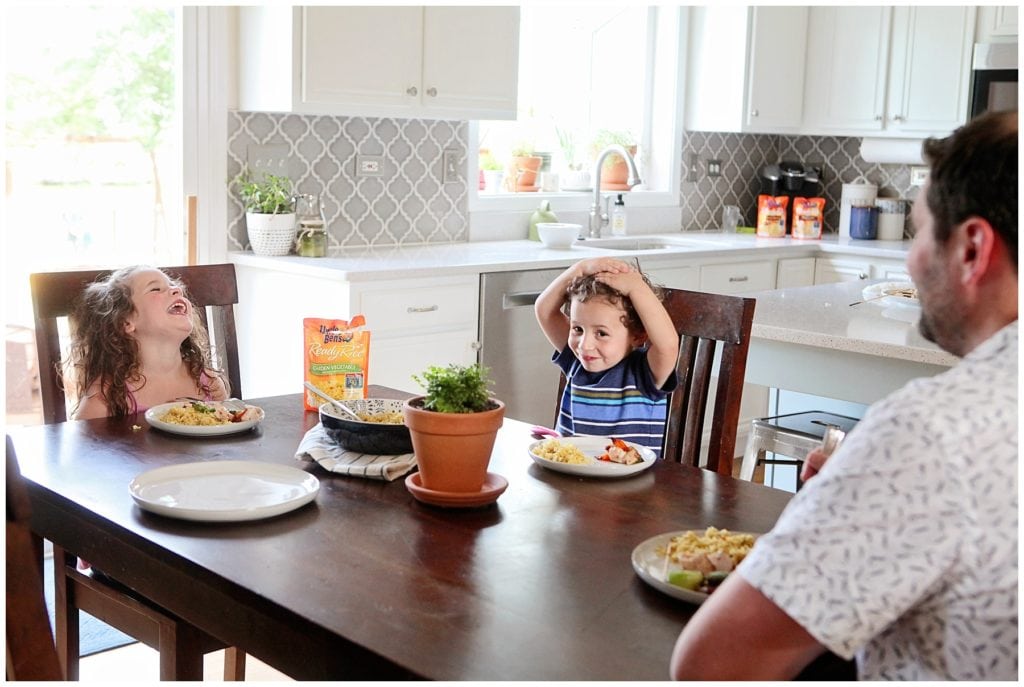 Mealtime supports literacy
If you think kids are just learning table manners at dinner, then you're missing out on the full story.
Beginning with very young children, research has found that meals together help with vocabulary, telling and understanding stories and learning how to speak in a manner that is culturally appropriate.
This research specifically, which was published in New Directions for Child and Adolescent Development in 2006, found that kids learned 1,000 rare words – not on the list of 3,000 most common words – at the dinner table. This number dwarfs the less than 150 rare words children pick up from parents reading them story books, according to the research.
For school-aged children, a study published in the Journal of Marriage and Family found that regular meals together are one of the best predictors of high achievement scores, even more so than time in school, homework or other extracurricular activities.
Breaking the habits with positive choices
If you're in a chicken nugget rut (or deep ditch that you can't seem to claw your way out of), more meals together might help break the fried, round chicken habit. This includes also spending tome together shopping and cooking, which can entice kids to try new foods.
"Cooking and shopping with kids are perhaps the best ways to break them from the chicken nugget or mac & cheese rut," Weiss said. "Children are naturally curious and creative, and they love hands-on activities, so introduce them to a world of new foods by taking them to the supermarket or farmers' market. Let them pick a new vegetable to bring home and prepare. And then invite them into the kitchen to play with new foods. Ripping lettuce for a salad, blending a smoothie with naturally-sweet mango, or stirring blueberries into a pancake batter can open their minds and taste buds to trying new foods."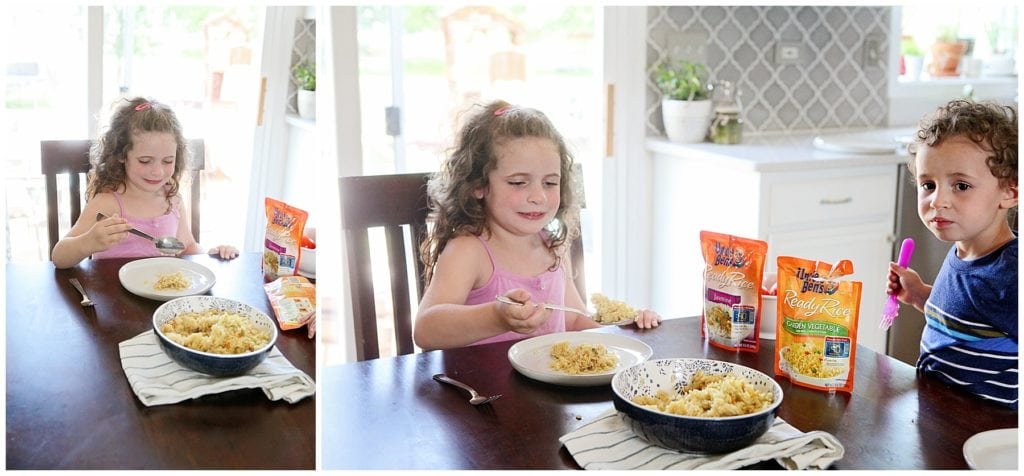 Also, variety really is the spice of life for family meals. Serving different vegetables, fruits and whole grains for different children might seem difficult, but if it helps to create a more nutrition-focused future then it's worth it.
For instance, we typically have two kinds of Uncle Ben's Ready Rice available. My kids prefer any type of white rice, but when I add a new one to the mix they'll give it a try.
"One child in the family might prefer the flavor and texture of raw veggies—carrots, bell pepper strips, or sliced English cucumber served with a favorite dip—while the sweet flavor and soft texture of roasted cauliflower or broccoli florets might appeal to another," Weiss stated. "As for grains, make half of your family's grains whole grains, and again, incorporate a variety. Try whole wheat bread, whole grain pasta, and whole grain brown rice. For ease and convenience, choose Uncle Ben's Boil-in-Bag or Instant brown rice, and be sure to check out their many rice and vegetable recipe ideas at UncleBens.com."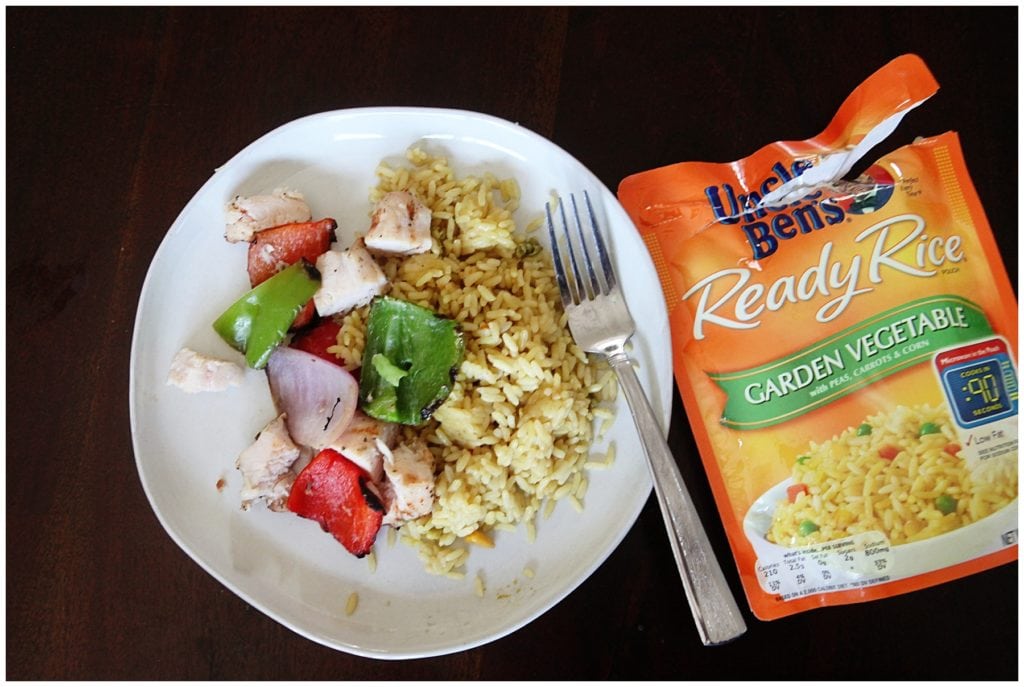 Model behavior
As parents we know that our children are watching us. They pick up on all the things we do – good and bad. Sometimes they surprise us and pick up on things we don't even realize that we do. This also includes meal behavior.
When children eat regular family meals with their families, research has found that they tend to eat more well-rounded diets that include vegetables, vitamins, whole grains and micronutrients.
Personally, anytime my 3-year-old (AKA the pickiest child in the universe) sees something on my plate that might interest him he asks what it is. Sometimes he tries it and sometimes he doesn't but watching me eat nutritious foods makes him more likely to try them. Apparently juggling works as motivation to try foods too.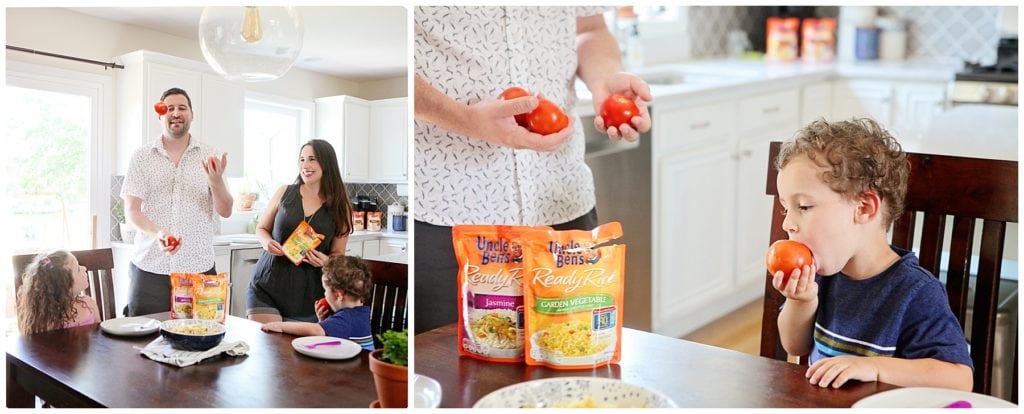 While the frequency of family meals tends to decline as children age, research published in the Journal of the Academy of Nutrition and Dietetics has found that teens who ate more family meals are less likely to be obese as young adults and more likely to make healthier choices once living on their own.
Impact on Teens
The teen years are tough. Anything parents can do to lessen the struggles of life at that point can be helpful for them in their present state and as adults. This includes having regular meals with them.
Some studies connect teenage behavior to family mealtime. In particular, a study from the Journal of Adolescent Health linked family meals to lowering the risk of teen behaviors such as smoking, binge drinking, drug use, school problems, eating disorders and more. A 2014 study even showed that kids who were victims of cyber bullying were able to recover better if they were having family meals frequently.
But curbing bad behaviors isn't the only impact that frequent family dinning can have on your children.
A New Zealand study indicated that spending mealtimes together can also impact teens positively. It found that frequent family meals were associated with "higher well-being scores" and lower "depression scores."
Connection points
It's not just the foods that make an impact at mealtime. It's you.
"Eating any meal together can have a positive impact on children of all ages. The magic comes when adults and kids eat together and when distractions like the television and cell phones are removed from the meal experience," Weiss said.
"Sharing a family meal can happen anytime and anywhere. It's about kids and adults connecting. And remember, too, that "family" mealtime can include any combination of adults and kids. It can be a grandparent, a caregiver, or just one parent who is present, engaged, and enjoying time with the kids."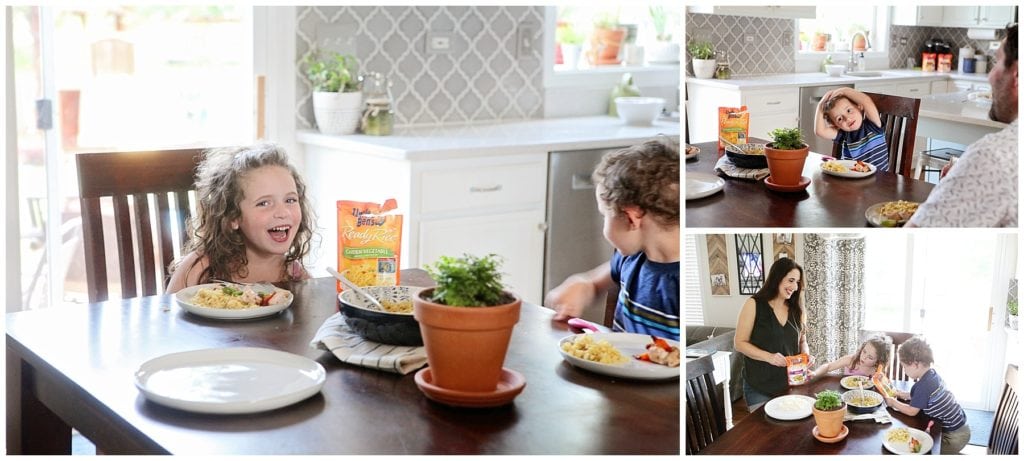 For ideas on how to incorporate more veggies and whole grains into your family meals, visit the recipe section of the Uncle Ben's website here.
Uncle Ben's has 83 (83!!!) family friendly recipes here and ready for you to use to create your family's magical meals. Grab this coupon to get started.
For more parenting tips, click here.