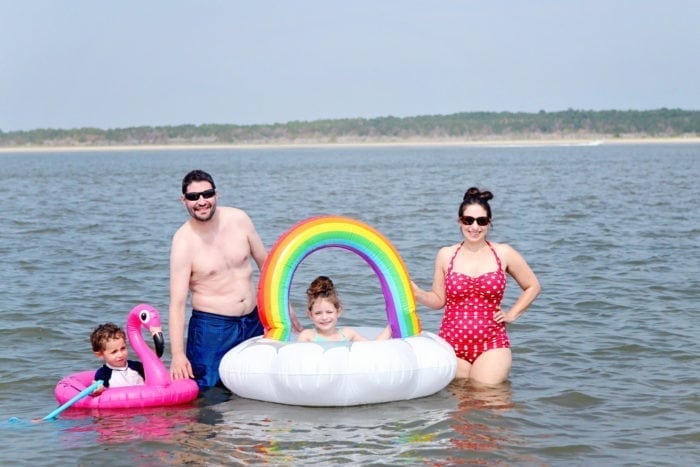 I was knee deep in salt water with my camera slung around my arm. My sunglasses were poised on my forehead, so I could get a clearer view. I was watching my family play through the lens – something I do often when I'm hoping to capture the short, magical moments of childhood.
They were having a wonderful time jumping into the waves, splashing and trying to catch little fish. They all had big smiles on their faces and were surely making memories that would last a lifetime.
As I was standing there someone tapped me on the shoulder.
"Do you want me to take a photo of all four of you?" asked a stranger.
The lady looked like an older version of every mom. Hat on her head, sunglasses covering her eyes, skin a bit more leathery from age and body just a bit saggier from carrying babies throughout her life. She reminded me of me in 10 years.
"Um, that's ok," I said hesitating.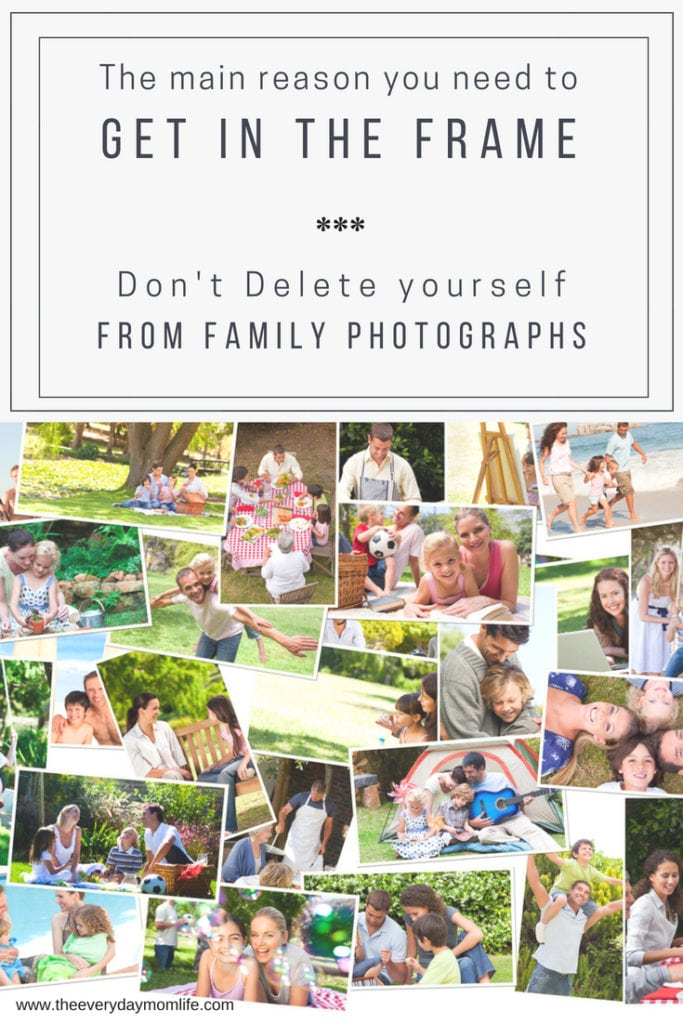 I haven't been anxious to get in front of the camera this year – at all. I haven't been able to run, or do any exercise really, in months due to a knee injury and it's been making me incredibly self-conscious. I've completely resigned myself to the fact that I'll never be a thin mom/woman but I like to at least be fit. This year I feel nothing but flabby.
That morning even my daughter told me that I just looked, "fine."
"What's that mean?" I asked her.
"Like beautiful but I say fine," she replied.
"Oh," I said. "So I'm beautiful and they mean the same thing?"
"Pretty much," she said. "But they're different."
Could she be anymore convoluted?
"So which one am I?" I asked.
She looked me up and down. "You're fine."
With those honest words from an almost 6-year-old I gave up all hope of looking good that day. But I honestly didn't care.
I had told myself on this vacation that I wouldn't care about how I looked. That I am a real woman, who weighs a real weight, who struggles with real woman body issues and bad genes that are infused with cellulite.
I was pushing all that aside for this vacation. I wanted to have fun with my kids and not feel like I couldn't eat fun, vacation-like foods just because the wardrobe for the week was a swimsuit.
Somewhere inside I had actually made complete piece with that because I wanted to enjoy my kids and this little break from life and the world's expectations.
But that didn't mean I wanted to be photographed at this most glamorous state.
"I'm more comfortable behind the camera," I told the woman on the beach. "I'm always the one taking the pictures."
"So was I," she said. "So there are no pictures of me at all those moments from all those vacations."
Internally I groaned because I knew this woman was right. I knew I needed to get into the frame, no matter how I was feeling at the moment.
My kids are still so young that it's likely the lifetime of "memories" I was hoping they would make wouldn't really last forever. In fact, my son who is almost 3, might not remember any of it at all.
But all of the world's nagging perceptions were still whispering to me – you haven't showered in three days, you're not wearing any make-up, your hair is up in the worst messy bun in history, etc.
The kids are cuter. They are effortlessly photogenic and it seems so easy to let them be the stars of all the photographs.
But by never getting in the frame, I've been deleting myself from their history this summer. The problem with being on the other side of the lens is that you're attached to the moments but you're never a part of them.
This one-in-a-lifetime summer that will literally only happen once – when my daughter still loves to play with me, when my son still loves to hang all over me when he's tired, where they're both still so curious about the world and soak up everything I say to them like little seas sponges…I won't ever get this summer back.
My son might have a few good years in him still, but my daughter…I already see her pulling away and an almost-tween attitude emerging each time she rolls her eyes at me and tells me, "Whatever." It won't be long before she prefers to be by herself and playing with me in the surf will be a memory – one she probably won't even recall unless there's photographs.
So I set the camera up for the stranger and waded out to where my family was playing.
Still feeling self-conscious, I hid a portion of my body behind this giant, obnoxiously large floaty we bought for my daughter, put one hand on my hip so my arm would look slimmer and turned my body straight toward her, almost like I was squaring off to do battle with the camera.
Then we looked and smiled, or attempted to get us all smiling and looking, and the stranger clicked away. She even turned the camera vertically to get a variety of shot of us.
I thanked her as she handed the camera back to me and then scrolled through the photos. I expected to see a chubby woman who was attempting to look and feel younger than I really am.
But I didn't. All I saw was me – and them. There we all were, knee deep in the water, having a good time.
All in all, not bad.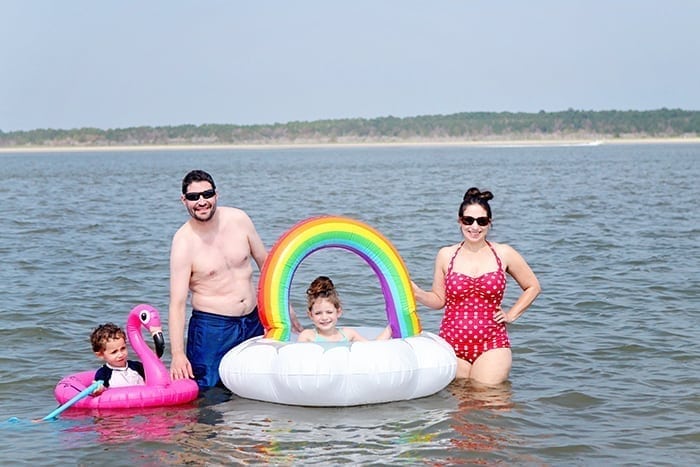 I walked back to our towels, put my camera under one and waded into the water back to my family.
We jumped into waves, sat in the surf as water splashed our faces, looked for seashells or "treasures" as my daughter calls them, kicked on boogie boards and finally walked back to the condo exhausted and happy.
Someday they will look back at the picture from today and see me – a mom with ghostly white skin who eats ice cream with them, who's body sags a bit from breastfeeding and C-sections, who has larger than "normal" thighs handed down from generations of woman who have struggled with the same feelings of inadequacy. They'll also see the mother that they loved – the woman who snuggles them at bedtime when they're afraid of the dark, reads them books about faraway places to inspire their imaginations, brushes their curly hair (even when it's a nightmare) to show them how to take care of themselves, makes them dinner every night to give their bodies nourishment, helps to clean their rooms so they can actually find their favorite toys, colors with them to get in a few moments of calm and quiet and put less time into herself to make their lives better. They'll see it all when they look at that photograph.
The thing about those magical childhood moments is that they are short. There's a finite amount of time where our kids still believe we are cool enough and fun enough to be a part of their lives in a way that's engaging, impactful and beautiful.
Don't systematically erase yourself from their history because you're concerned about the way you look. They don't need a glamorous, young, perfectly fit mom who won't eat ice cream with them. It's ok if you look, "fine."
They just need you. Don't delete yourself from their childhood memories.
For more mom life experiences, click here.