Dear Teachers,
Thank you for dealing with my crazy this year.
In this whirlwind season of finale things – final tests, final grades and final fights over what my child is going to wear that day – I want to take a moment to press pause.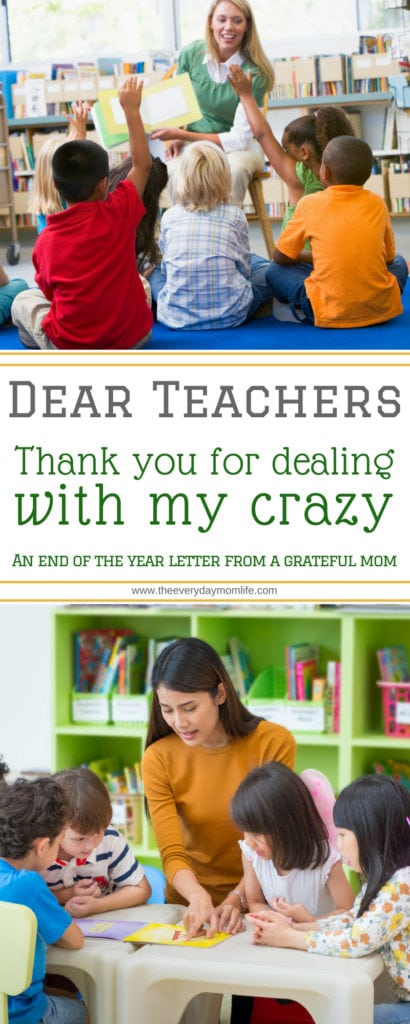 I want to acknowledge the bitter sweetness that comes with the end of the school year and saying goodbye to teachers that we have come to know, appreciate, love and perhaps most importantly, rely on.
While I'm sad that my child grew another year older in the blink of an eye, I'm beyond honored that you were a part of it and helped to shape the girl she is today.
It seems like just yesterday when I asked her to pose on the front step, with a sign that dictated her age, likes and dislikes – a tradition for almost all parents now that marks the beginning of a new school year. In reality, that was nine months ago and at the time I was so nervous for what the year would hold.
Being new to the school district, I wasn't sure about the processes, the policies or the people. I was anxious about sending my daughter into a new building that I didn't know or understand.
I know I was a pain in the beginning – emailing you multiple times per week about different issues my daughter was bringing up with me; someone kicking her under her desk, losing library books, homework not being done, being pushed on the playground and perhaps, most worrying of all, a threat made against her.
So, I appreciate, and I am grateful for your efforts to calm my crazy. I appreciate the emails back to me, the escalation of issues, the conversations with other students and the Vice Principal calling me personally to chat after Parkland – when I was so distraught that homeschooling became a very viable idea in my head.
When I look at you I see everything that you are – creative, giving, talented, compassionate, organized, thoughtful and perhaps most of all, patient.
These qualities are truly gifts that not everyone can possess, and you have gifted the academic world with your talents. You gifted my world.
In deciding to teach you picked out your place in a broken system where you are underpaid, generally under-appreciated and now tasked with the responsibility to help raise other people's children, and possibly, guard them with your life.
You purchased classroom items with money from your pocket and decorated your rooms so that our kids – my kid – would feel at home and safe.
You decided that you would somehow find it within yourself to teach to the test because your district relied on you AND teach to the child because the child relied on you.
You decided to get up early to be at the front of the class and to stay up late grading papers and putting together lessons plans that would help the kids learn while also keeping them interested.
You worry about the slow learners, the kids that sit by themselves at lunch, the children that come from difficult homes and the children that don't have enough to eat.
You give them all multiple chances to get the answer right and you allow them to make the mistakes that will help propel them forward to learn the lessons of life.
You deal with the small problems like teaching kids how to express their feelings with their words or showing them how to be kind to one another, so the large problems can be avoided.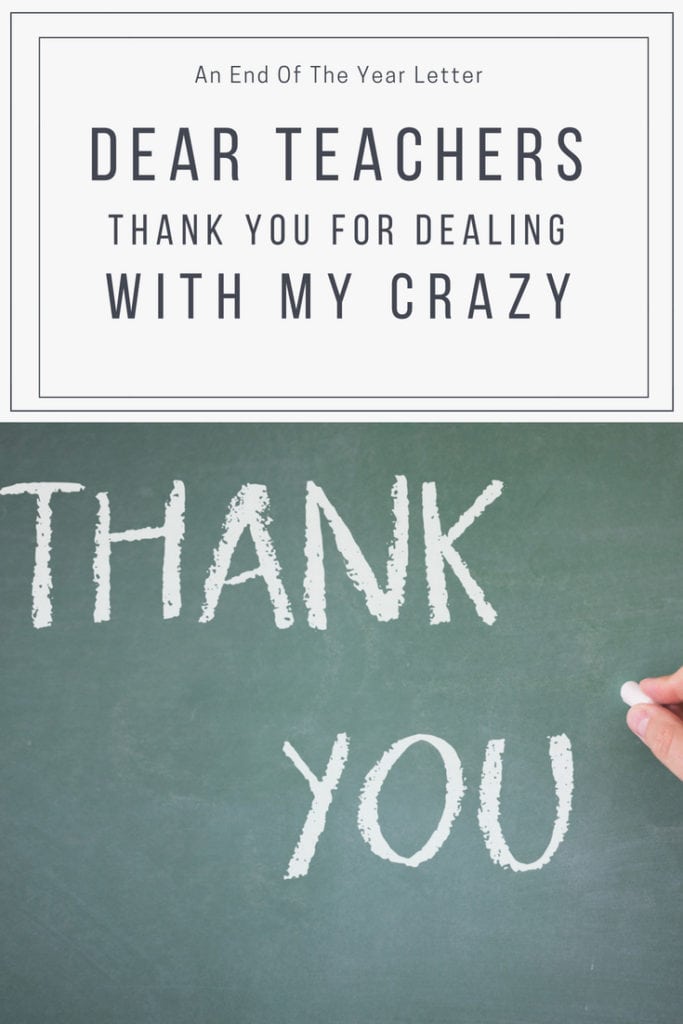 You chose to care and with that you chose to give so many things that will make them remember you for the rest of their lives. You are a part of them now, perhaps even in some ways that their parents never can be.
Sure, this could be just another year to you. A year where you repeated the same lessons, the same homework and responded exactly how you have every year for your entire career.
But it wasn't, and perhaps it never is.
As I watched you teaching them, I knew that.
I knew that even though you didn't get to pick them, you appreciated each of them and loved each of them for the little people that they are – even the difficult ones.
I knew that even though you had tough days or days when you weren't feeling your best, you put on a happy face, walked into the classroom and gave your time and attention.
I knew that you impacted them in ways that we can only dream of right now. I knew you helped shape their hopes and futures.
So as you clean off the walls, send home the art projects and enter final grades into the system, just know that I appreciate everything you have done to take my child, and all our children, to the next level of life.
You have taken my little dreamer with a big heart and shown her how to spell, read and solve simple math. You have given her the foundations of her future and inspired her to create, ideate and, if possible, dream even bigger about what she can accomplish in life.
As I prepared to take her last day of school photo this year, I noticed that the notes from her first day were still scrawled on the back side of the chalkboard. They say:
Kindergarten
5 years
Favorite Color: Pink
Loves: Flowers & Descendants
Wants to be: Teacher
Thank you from the bottom of my heart.
Sincerely,
A grateful mom
For more parenting experiences, click here.