Updated: Since originally publishing this post on this website it has been posted on the Huffington Post Parents page as well as several other sites. All content originated here at The Everyday Mom Life.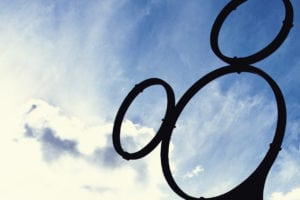 The news broke today that a little boy at the Grand Floridian Resort in Walt Disney World was playing in the shallows of a lagoon and dragged away by an alligator. According to the reports, the said to be 2-year-old was splashing around at the water's edge in about one foot of water where a no swimming sign was posted. The alligator grabbed a hold of him and he was gone. They have yet to find him, or find what's left of him. (Updated: He has been found.)
Let the parenting judgement begin. We all know it's coming from people who hide behind computers in the safety of their homes.
You would have done it better, right? You wouldn't have ignored the signs. You would not let him splash around in the water on a hot night. You would have been there next to him. You would have killed that alligator with your bare hands. You wouldn't have let go.
I don't know exactly what these parents are going through, but as the death date/birthday of my son approaches this weekend, I have a good idea about how they are going to feel now.
In the last 12 hours, these parents have lost everything in the happiest place on Earth. It's a place where dreams come true and the last place in the world you expect nightmares to happen. A place where you are served pancakes in the shape of a mouse, princesses are close enough to touch and even adults believe that magic really exists, even if it's just in the eyes of their children as they witness the spectacle that is Disney.
These parents are destroyed. They are second guessing every decision that lead up to this, every decision that has occurred since this. They have lost everything.
In the days ahead, the internet will judge them. The internet will judge the actions of the authorities, who are now killing every alligator they find in the lake, just to find a piece of this boy.
When I lost my son I didn't have to deal with the judgement from anyone but myself, and along with the loss that was almost too much to bare. So before you pull out your pitch forks to hunt either these parents or these authorities, put yourselves in their weary shoes and show them some grace.
The parents will never be the same again. As a mother, just the idea of losing one of my children makes tears well up in my eyes and, if I let it, brings uncontrollable sobs. Just the idea. Can you image if that was an actual reality? Can you image the decisions you would have to make as a parent in the next few days?
They, together with authorities, will need to determine when the search concludes. How do you stop searching for your child? That decision seems unfathomable to me.
They will need to determine what to do with the body, if they even get one. I've made the decision and you are never prepared for the thought of that, no matter the question.
They will need to decide what goes on his headstone. They will need to decide what type of services they hold. They will need to figure out what is said to their family members. They will need to figure out how to say goodbye and they will need to figure out how to live again – broken.
They will never be who they once were. Their marriage might never recover from this. Losing a child is one of the hardest trials a marriage will ever face and there is a very good chance that after losing their son, they will lose each other too.
There is plenty of blame to go around and no one to shoulder all of it because the weight is crushing.
In the moment that it takes a split second for life to go wrong, for an accident to happen, life changes forever.
The fact of the matter is, life can be cut short for anyone. You wouldn't have allowed your child to do this you say. You would have obeyed the signs. Because no parent has ever let their child swim in a place with "No Swimming" signs, or ice skate on a pond that says, "No Skating," or watched as their child drove away in a car or boarded an airplane or taken their child to see the gorillas at the zoo?
In a world where there are so many things you cannot control, including all the actions and decisions your children make in life, you still would have done it better, right?
As these parents mourn and the search continues in the next couple of days, take a step back before you lash out at them. Remember that you cannot control all that goes on in life, especially when animals are involved. Remember to show compassion for their loss and the decisions to come. Remember to hug your kids a little harder, kiss them good night and love them as much as you can.
One day, it could be your child in a tragic accident and the last thing you will need are other parents telling you how they would have done better. Because even when you think you have lost it all, it's amazing what other people can still take from you.