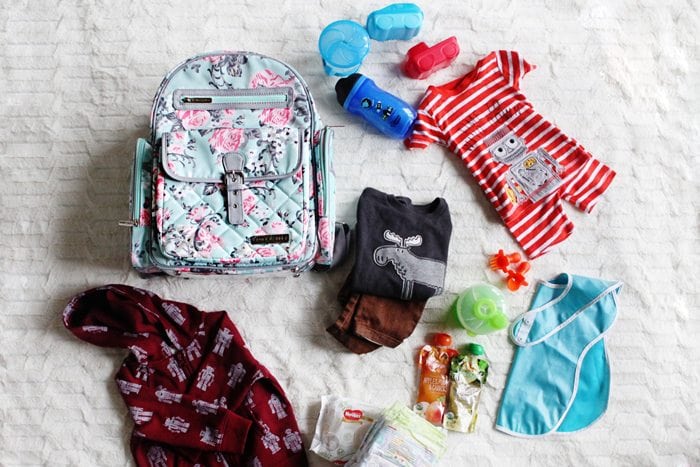 There are days that I wish I could carry less of a load – literally and figuratively. Figuratively I don't think I'll feel like this until my kids are older, but I literally thought I would be done lugging around things once we were done with the baby stage. I was wrong.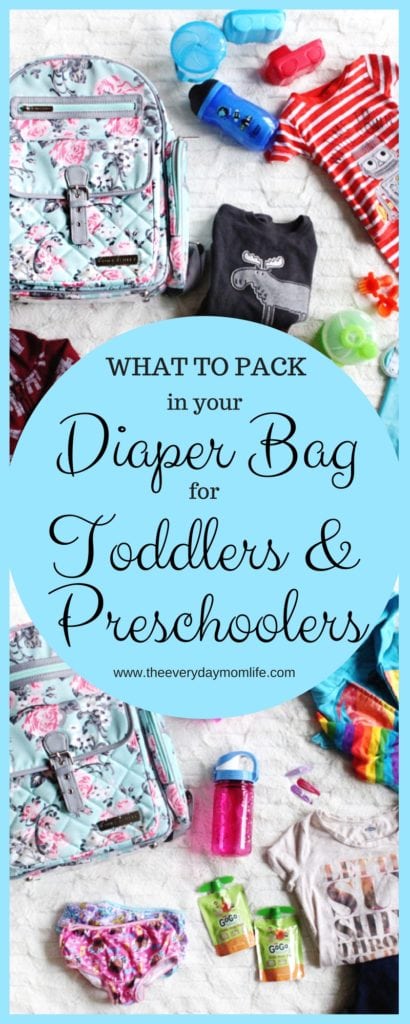 Today as we are running all over the place, it feels like I have to carry even more things for two children who are past the infant stage. I definitely carry just as much, if not more, now that my kids are older. Not only is it important that I have a list of the items that each of them need, but it's also important that I have a diaper bag that will work for us.
This diaper bag from Laura Ashley is great because the backpack style lets me wear it and chase after the kids no matter where we are – whether we are at grandma's house or the park. In the grocery store I love how the straps allow it to attach to the side of the cart so my son doesn't sit there kicking it.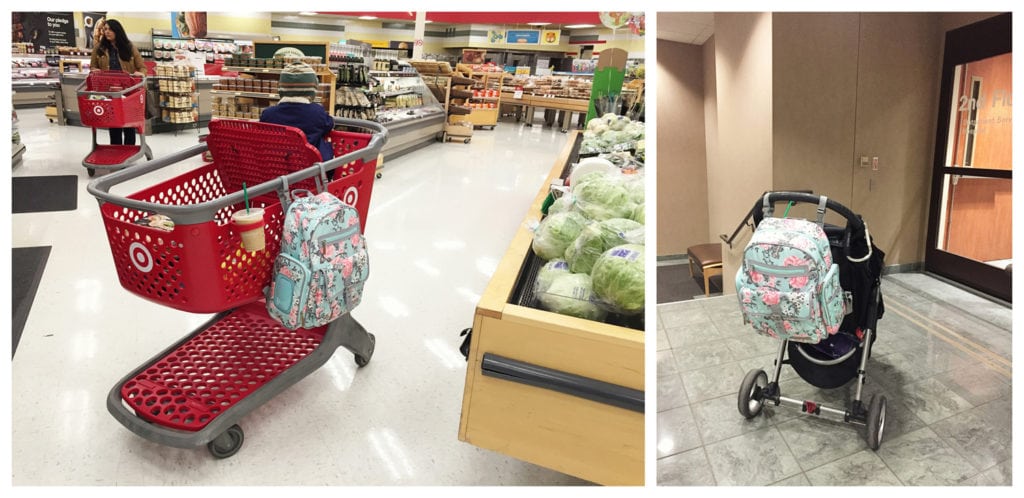 The Laura Ashley diaper bag not as big as some other diaper bags on the market but I find that if I pack well all the kids' stuff will squeeze in.
Check out my must-have to fill the diaper bag below!
Diaper Bag Essentials For Toddlers And Preschoolers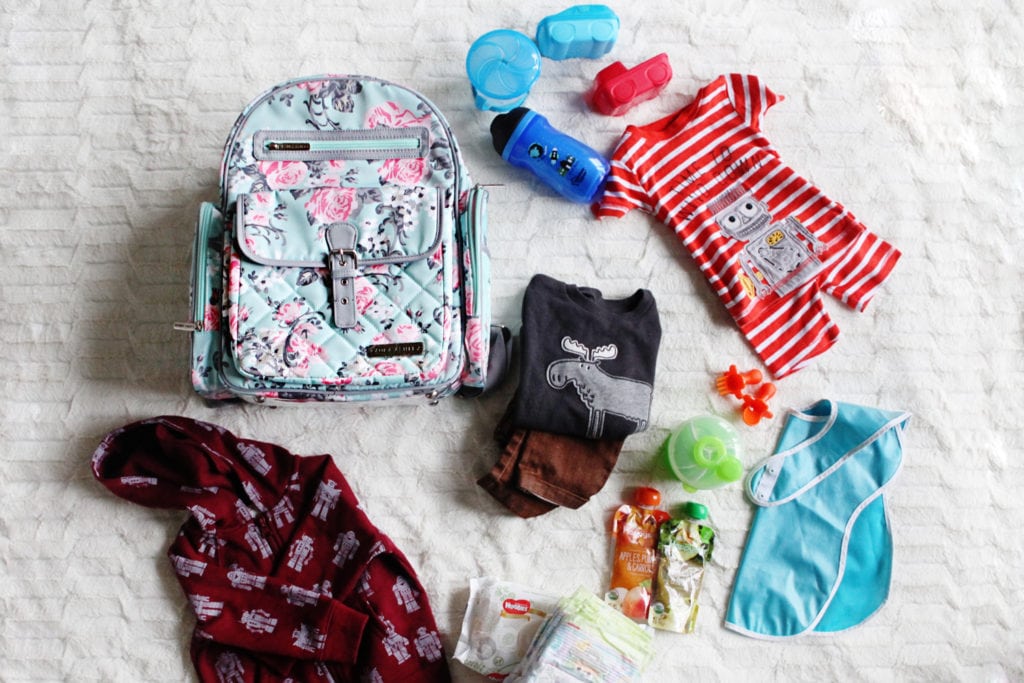 Toddler Diaper Bag List
Diapers or Pull-Ups
Depending on what toddler stage you are in, you might need either diapers or Pull-Ups. These a an obvious place to start when packing because you've already been packing diapers for at least a year at this point, maybe two years.
Wipes
Even though we've kissed the baby phase good-bye, I carry wipes on me at all times. Baby wipes are like Duct Tape for moms. You can practically do anything with these. I love having them handy for messes, boogers, sticky hands, messy faces and of course, poop. I love the position of them in my new Laura Ashely diaper bag because I don't have to dig to find them and can just grab one even if I'm wearing the bag.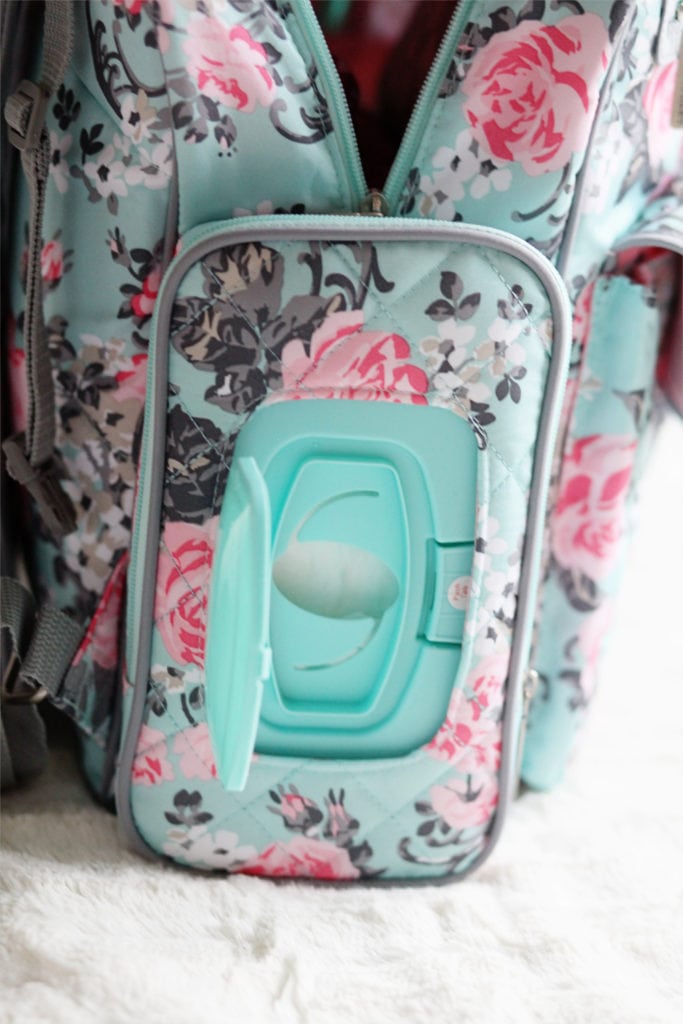 Change of clothes
Accidents happen. Especially if you are potty training or if you have a messy toddler. I'll dress my son and then 10 minutes later he will somehow have his hands and shirt covered in marker. I can sometimes clean him up with baby wipes, but other times the fabric on the shirt isn't as forgiving. An extra set of clothes (or two) is a must for us.
A sweat shirt or hoodie
We live in the Chicagoland area and the weather is temperamental here, at best. T's always best to dress in layers and I like bringing an extra layer along in case with need to add it with an afternoon temperature dip or are in a store that gets cold.
Snacks & snack traps
Since my son is under two we bring multiple snacks along with us when we go out. Sometimes he eats them, most of the time he doesn't. However, I don't like being caught off guard for the rare moments he is hungry so I make sure I have them in our diaper bag stash. I always bring pouches because it is the only way I can really get any vegetables into this picky kid, fruit or Goldfish. The car snack holders featured double as toys when we are at a restaurant.
Bib
My son is not the neatest eater in the world. I honestly think he would like to be but he has a ways to go. A bib is still a necessity for us to try to avoid using that change of clothes I mentioned. This one pictured here has been our favorite for a while. You can find a full review here.
Child-sized utensils
I carry these with me just in case we end up eating lunch out of grabbing a snack somewhere because I want something my son is comfortable using. Most forks and spoons at restaurants are made for adults and look like weapons in my son's hands.
Bottle & possibly formula
My son is still taking a bottle and is on toddler formula so this is another add for us. I'm hoping we can get rid of the bottle soon, but for now this is something in our bag.
Toddler Cup
I always like to make sure the kids have water with us so we pack a sippy cup for all trips, no matter how short they may be.
Pajamas
If I know we are going to be out later in the evening I always bring a pair of pajamas. My kids both always fall asleep in the car and they can get much more comfortable if I've thought ahead and added pajamas to our bag.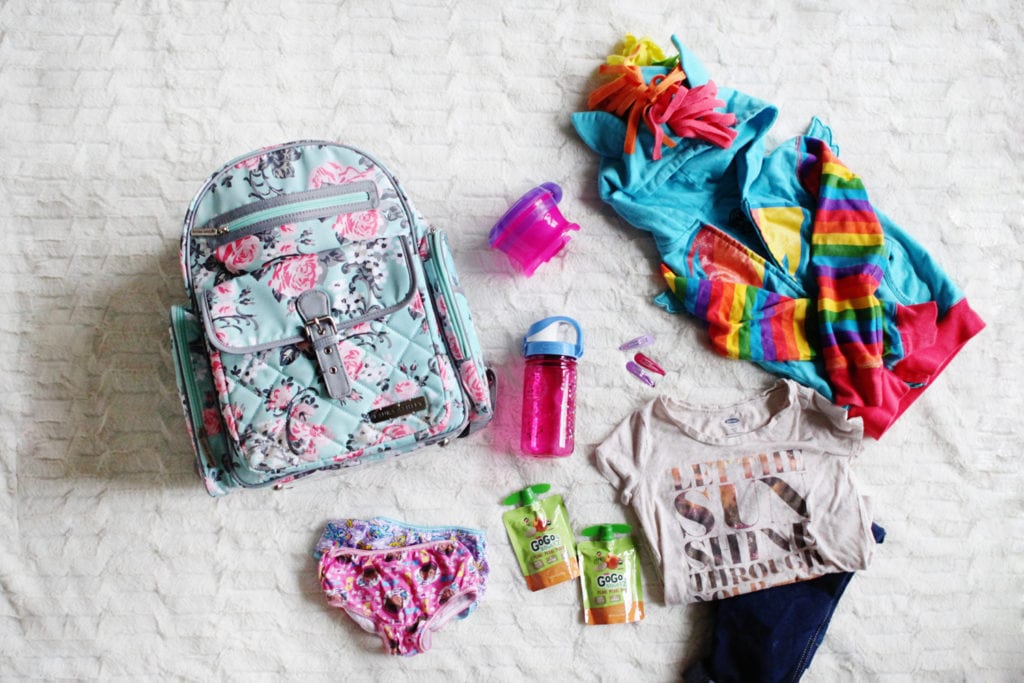 Preschooler Diaper Bag List
Extra underwear
My daughter will be five soon, but every now and then we run into a situation where we need to have an extra pair of underwear. I try to keep a couple pairs in the bag – just in case.
Change of clothes
Like the underwear, a change of clothes are a necessity for us. She still has a tendency to drop things on herself when she is eating, mainly because she isn't paying attention.
Hoodie
Similarly to my son I always like bringing her favorite hoodie with us or even a light jacket. It just allows us to be more flexible should the weather change.
Snacks
My daughter gets cranky when she's hungry so snacks for her are a necessity. I still give her pouches sometimes to sneak in some veggies. Plus, seeing her eat this inspires my son to eat his. We also bring fruit, muffins, fruit snacks and crackers.
Water bottle
Everyone in our family has their own water that we bring with us.  I'm big into drinking water throughout the day so I'm hoping the kids will lead by example.
Hair clips
If you follow me on Instagram or you've been reading the blog for a while you know my daughter has some crazy-curly hair. It's become important that I have hair clips handy because even when we put it up, it tends to fall in her face and when it's down, which is her favorite way to wear it, it gets in her eyes a lot.
Pajamas
These aren't pictured but similarly to my son I will pack pajamas for her if I know we are going to be out late. I sort of wish I had room to pack some for me too.
Optional: Tablet
I refuse to bring the iPad with us most days and it never makes an appearance out at a restaurant. However, I realize there are people that may like it for the entertainment factor and it can be considered an optional add. I do bring it with us on longer road trips that are more than an hour and a half. We've driven across country and it was a life safer.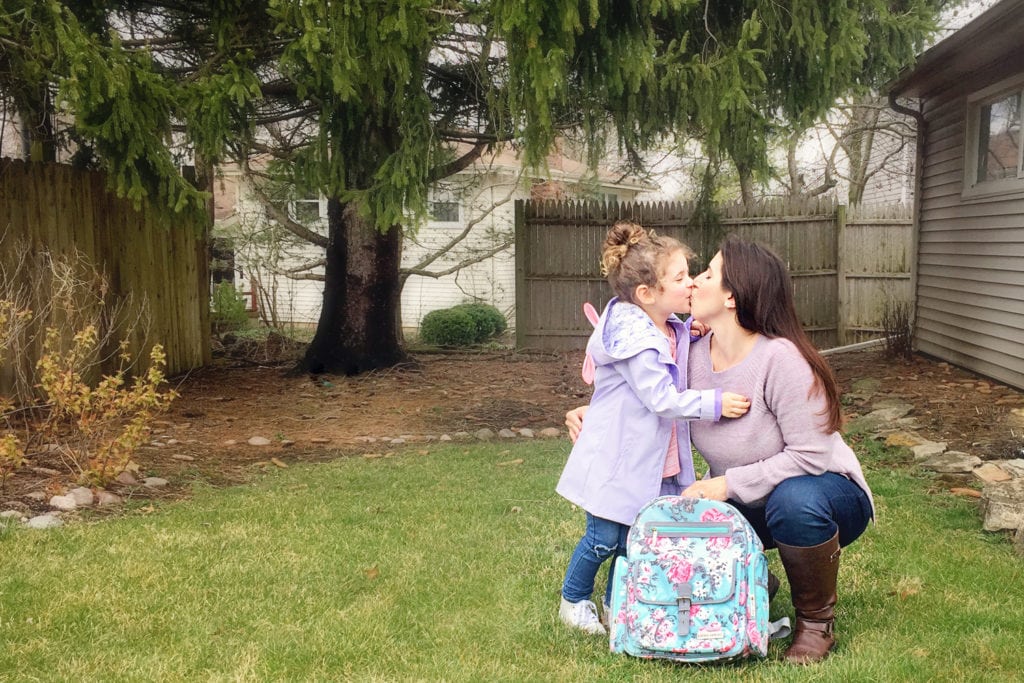 Overall, we can fit everything we need in the Laura Ashely diaper bag and I love the cute floral design that's in line with what the brand is known for. The exterior of the bag is microfiber so it should wipe clean of most messes, but I haven't had it long enough to test this out yet. Keep in mind that microfiber isn't waterproof so if it's raining this might not be the bag to bring out that day.
This diaper bag as well as bottles, sippy cups, pacifiers and other accessories will be available soon on the Laura Ashley website and at retails such as Babies R' Us within the next few weeks.
What are your diaper bag must haves for your toddler or preschooler?