As we were snuggled on the couch one night last week my daughter asked, "Mom, when are my teeth going to fall out? All of my friends' are falling out."
I smiled this question and the sentiment behind it. This little girl that I made, who was once a small baby, is growing up and I'm not ready to deal with it. She, on the other hand, is in a rush.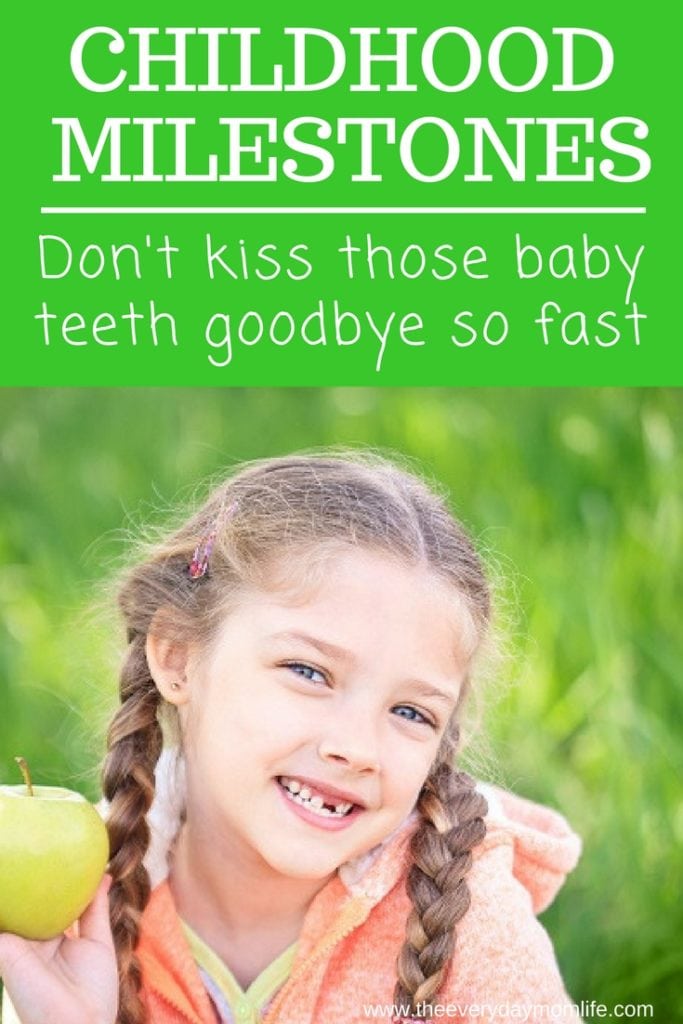 "Soon," I replied to her question. "Remember some of your friends are already 6 and you're still 5."
With a July birthday she is one of the youngest in her class. Most of her friends in kindergarten were celebrating their sixth birthdays this fall and while she is very capable of keeping up with them academically, I can see her yearning to keep up with them physically too. These small things like losing your teeth, getting your ears pierced, moving into the big girls' clothing section and having sleepovers are rights of passage for her.
She's ready for it all. I'm not.
As my kids have grown I've never been sad to say goodbye to the baby stage in life. Generally, I'm having a lot more fun with them at their current ages because they can speak and are more capable.
But this simple question about baby teeth touched something inside me that made me long for the baby I once held in my arms. It made me realize that as much as I enjoy the ages my kids are now, they won't stay these ages and we will soon move into a new phase of life with them – a phase when all the baby teeth will be gone, when she will want to straighten her curly hair, when she won't fight with her brother to sit on my lap at night and when she will want to redecorate her room to reflect some obnoxious cartoon property, or worse, a boy band. She has already started plastering her drawings all over the tree I painted in her room at 7 months pregnant.
Mostly now when I look at her I see a little girl, or worse yet, the shadow of the moody teenager that she's going to become. Baby teeth seem to be my last thread tethering me to the baby she once was.
When I was a child, my grandmother used to tell me that she was going to give me no-grow-up pills. I laughed about it when I was young and told her she was being silly. I rolled my eyes about it as I grew into a tween and teenager because at those ages you have adulthood milestones insight and think you know it all.
My child is now somewhere in between these things at 5 1/2-years-old. Sometimes she giggles at me when I tell her I want to keep her small. Sometimes she yells at me (in a voice that's not really yelling) and tells me that she can't stay little forever. Then, sensing some hint of sadness in me and some sense of longing in herself, she adds that she will live right next store to me and come to see me every day.




We mark a lot of milestones in life by what's happening with our teeth, which I never realized until now. Whether we are waiting for them to come in, waiting for them to fall out, wishing for two front teeth for Christmas or praying to God that we don't lose them in old age, they mark transformation in our lives.
My baby is wanting to rush that transformation right now, and understandably so. She sees it happening to all her friends and knows it's going to happen with her soon too.
After we talked about how some of her friends are almost a year older than her I added, "Don't rush it."
I wasn't just talking about her teeth, of course. I was talking about all of it. So often we get held up in life waiting for the next milestone and we don't appreciate the one we are in. However, it's difficult to impress that idea on a 5-year-old when I've just finally stopped rushing myself.
Instead I simply told her, "It will happen soon enough."
She seemed satisfied with that answer, for now. She snuggled back into me and fell asleep there about 20 minutes later.
I was satisfied with that answer for now too. And, knowing that "soon enough" would really be "too soon", I leaned back, wrapped my arms around my baby and soaked in the moment.