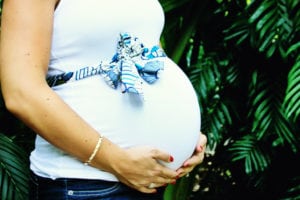 I am pregnant. For the last time. I have a 3 year old and I am due in just twenty days with my second. I am so happy and can't wait to meet her. We have always wanted 2 children and I feel really lucky we are going to get them.
We tried for a long time with both and ended up getting a little help with this second one when the doctor prescribed medication to help me ovulate. We were lucky it was a fairly simple fix. I am going to be 36 this year and I know people are having babies later and later, but we also know this is it for us.
The start of both of my pregnancies were hard. I had lots of nausea and anxiety praying I wouldn't miscarry. At the beginning of this one I herniated a disc in my back and was very limited on options to correct it due to be being pregnant. It drug on for months and made everyday tasks very difficult, if not impossible. I hate to say it but I wished away many days, praying for relief and time to pass quickly, to just feel like myself again.
Finally in May, I turned a corner. I was able to manage my pain. I was able to play with my son and enjoy my time without the agony of the pain I had lived with for months, or the medication I took to control it.
So here I am, just 20 days left and I feel…sad. I know all the good things that are coming and I am overjoyed at the thought of those. But the truth is I feel sad that I will never be pregnant again. Even the hard days, when looking back, seem like a gift somehow.
There are few moments in life where you get the chance to be a part of a real miracle. I will never get to tell my husband again that we are pregnant. We won't get to announce it to our family ever again. I won't get to feel those first few flutters as the baby grows and begins to kick, or those rolling kicks that take my breath away at the end of pregnancy.
I went to bed a little after midnight and woke up at 5 a.m. this morning. I have never been a good sleeper and pregnancy doesn't help that. This morning though, as I sit here writing I am sad at the thought that in a few weeks I won't feel this amazing life growing in me. I won't look down and see my stomach sway with movement and wonder what she will look like. Who will she be?
I know in a few weeks I will be desperately in love with a new baby, busy with my first baby and probably overwhelmed by all of it. I know I will sleep better and won't have the aches and pains I have now. I won't have to pee every 20 minutes or feel like throwing up because I smelled something that an hour ago I couldn't wait to eat. I know there will be relief in having my body back. But for now there is a little more bitter in this ending. A baby girl will be just the thing to make it sweet.