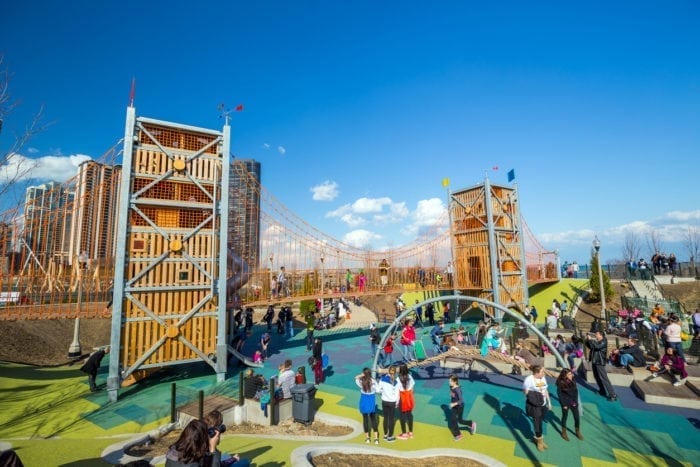 Life may be an adventure, but at what point are you ready to let your kids adventure on their own? A new (old?) kind of playground is testing the limits of parents' sense of adventure.
So-called adventure playgrounds have been popular in Europe for about a century and are now taking hold in major cities in the United States. These playgrounds can take many forms but are generally a cross between natural and junkyard playgrounds. Combing things like sensory gardens, climbing poles, old tires, shakily-constructed platforms, ropes and netting, man-made zip lines, rickety slides and even hammers and saws. Often, parents aren't allowed in.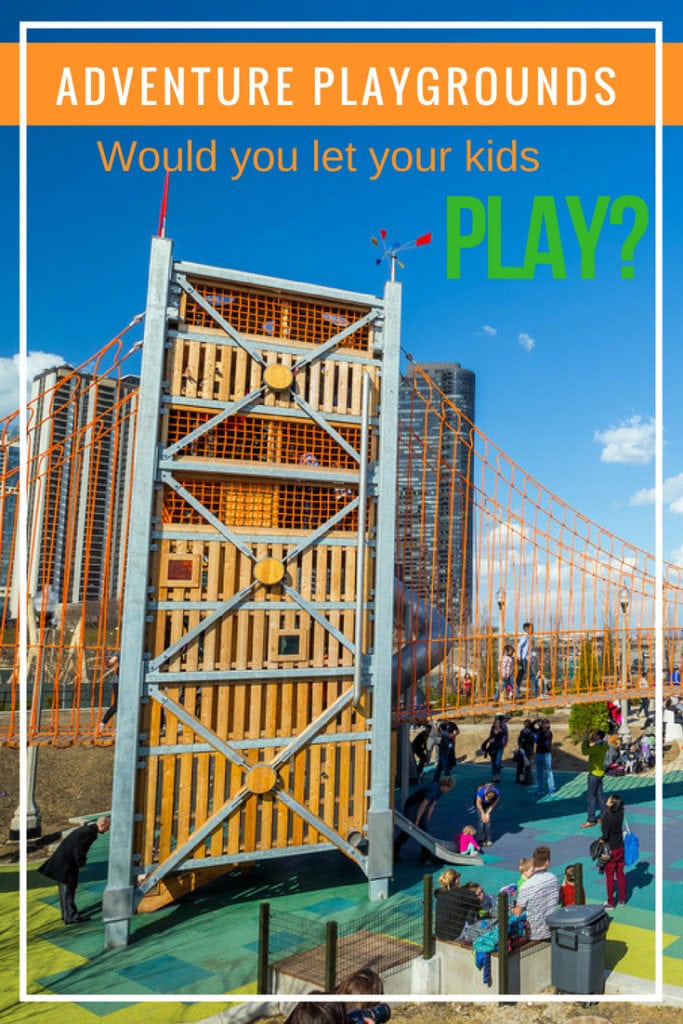 A sign scrawled in painted, wobbly letters outside the New York City adventure playground called The Yard reads: Your children are fine without advice and suggestions.
Rebecca Faulkner, the head of the non-profit adventure playground, opened the 50,000 square foot playground last summer and says it's a place where kids can make their own decisions. Parents are left out so that they can be retrained to leave their kids alone.
"This is a space where children can make their own decisions about what is quote unquote 'risky,'" she said in an interview with the CBS affiliate in New York City.
Most of the parks have "play workers" or adults that offer some supervision but no direction for the kids. But the playgrounds are designed specifically to introduce risk into childrens' play.
The argument is that in making playgrounds safer, we've made them too safe and are stifling creativity, decision making when it comes to risky behavior and, basically, coddling our children to the point they can't make any decisions on their own.
It's a children's' wonderland," said Rebecca Faulkner, Ph.D. and executive director of Play:GroundNYC, in an interview with an NBC affiliate. "It's a junkyard heaven with loose parts and all kinds of materials for kids to play and build and create and also to destroy. Play today for so many children looks really different than that. There are few opportunities for them to play unsupervised without adults telling them how to do it."
In fact, researchers from the University of Minnesota recently followed more than 400 children over an eight year period and found that the more children were coddled throughout life, the more they struggled in school and with making friends.
"Over protective parents, or what we're calling helicopter parents, can often interfere with a child's ability to learn how to self sooth, how to take care of themselves," said child and adolescent psychologist Jennifer Hartstein in an interview with the Today Show. "And the problem with that is they never actually learn how to regulate emotions for themselves."
Play supervisors in the park back up the independent play concept as a way of teaching children how to be kids.
"This is a mess," said Steve Caudle, a play manager at the adventure park in Sacramento, California, to Capital Public Radio in March. "It's a junkyard where kids can be kids the old-fashioned way. Imagination, creativity, socialization – you get it all here."
One of the U.S.'s first adventure playgrounds to open was in Berkeley, California in 1979. It's located next to the Berkeley Marina in San Francisco Bay and has play structures that have been built by the children over the years. It's been featured in Architectural Digest and Condé Nast Travelers named it one of the 10 best playgrounds in the world.
In 2013, the then coordinator of the Berkley playground Patricia Donald told the Sacramento Bee that the idea for the playground came from post-war Europe.
"Originally, there were 24 Adventure playgrounds (nationwide) in the 1970s," she said in that interview. "The idea came from post-war Europe, where kids really liked playing around in the rubble, creating their own fun. That's what we like to do. We tell our staff there's a fine line they have to walk. We want to keep it safe but don't want to step on toes and stifle kids' creativity. If a child takes a saw, we make sure they know how to use it and that a clamp goes with it. Some kids may not have backyards, and they may not have dads. They may not be exposed to things like this. This gives them the opportunity to play, but also get life skills."
So, how adventurous are you? Are you ready to let your kids adventure out on their own in these new, old-fashioned playgrounds?
For more parenting experiences, click here. For more news, click here.