I'm last on my To-Do List. Somewhere after the kids, my job, my husband, the house, the dog, family parties, yard work and normal, weekly errands – like grocery shopping and cooking dinner – you will find me.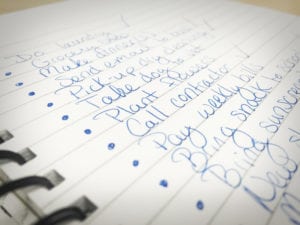 I always told myself I would still be important in the grand scheme of life and not put myself last on my list. I never envisioned being a frumpy mom. That was before kids, obviously.
Today, I often show up to things with my hair up in very poor, wet "mom bun" because I am the last to get dressed and have zero time to do anything with my hair before we rush out the door. I'm busy trying to remember if I have packed diapers, wipes, extra outfits (because poop happens), snacks, PJs (if we will be gone for a long time) and anything I have actually committed to bring to whatever we are rushing off to.
All this makes it so easy to default to the stereotype of a busy, semi-crazed mom living off caffeine and kisses while covered in boogers. We all know it's a struggle to find time to do the simple things – showering, putting on makeup, wearing something other than sweat pants or yoga pants.
Even though I really struggle with this (especially lately), I am a huge proponent of taking care of yourself as a mom and giving yourself me time. You need it. I need it. We all need it, ladies.
I know we are all supposed to feel empowered these days to look anyway we look while parading around in public without make-up and unwashed hair, but the truth is, I don't really feel good this way. I do it, but I don't feel like the best version of myself.
After my son, I was battling some postpartum depression and just doing the simple things was helpful for me because taking care of myself and looking better, made me feel better. Today, I still find there are some very simple things that will change my entire outlook on my day.
Here are a few of those things. I don't do each of them every day, but if I can check a couple off the list, I find I can climb out of my frump mom rut.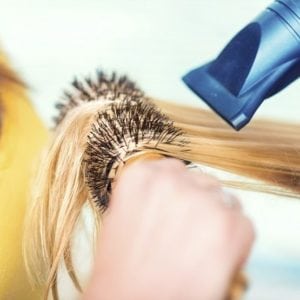 Doing My Hair: By this I don't mean putting my hair in the mom bun. I mean actually drying and styling my hair makes me feel better. I did it twice this weekend. TWICE. That's like some sort of small miracle. It takes about a half hour for me to completely dry my hair and during this time, if my husband isn't home, my daughter will entertain herself by playing a game on her iPad or playing with her My Little Ponies. My son is the issue now since he is only 10 months. My solve has been to bring the exersaucer into the bathroom so he can play and I can keep an eye on him at the same time. If you don't have room in your bathroom for your exersaucer or some unit of child containment, consider moving your hair drying/styling activities to another room.
Wearing Actual Pants: I don't have anything against yoga pants. I'm wearing them right now. But, I've found that putting on a pair of jeans changes my outlook on what I'm wearing, and makes me feel like I haven't just rolled out of bed.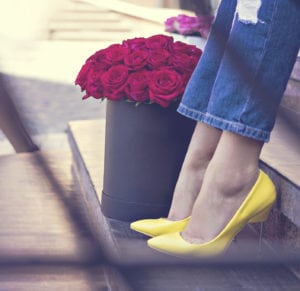 Take Off The Flip Flops: I'm not really one to lecture people on footwear. My footwear is often inappropriate. My husband will tell you that when we were dating I once wore high heels to hike. (In my defense, they were wedges.) I never thought flip flops would be a staple. After all, I wore heels when I was 9 months pregnant. (I'm vertically challenged. Don't judge!) Now though, even I have succumbed to the convenience of flip flops. But, try putting on actual shoes with your outfit, either heels or flats. If you own nothing but flip flops, go reward yourself with a pair of new sandals for summer. I just bought a new pair of cute gold wedges, totally impractical, but they make my feet look shiny and new.
Put On Jewelry: This is one of my favorite things to do to make me feel like I've pulled everything together in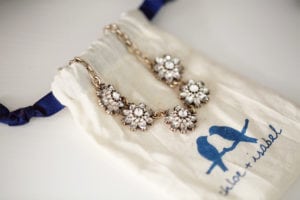 the morning. I love jewelry and a simple necklace or bracelet can always add a little sparkle to my life. I was recently given a necklace from Georgia's Jewelry Box and it's honestly perfect to help me dress up any outfit, even jeans and a T-shirt.  The quality is beautiful and it's my new favorite go-to accessory when I want to feel polished. I can't wait to add to my collection from her shop! It takes two seconds to put on a fun necklace or earrings, but it makes all the difference in how I perceive myself. I bet it will change your outlook too.
Exercise: I know this one is hard. I KNOW. I know you are tired. I promise this will help. I love to run. I'm not sure where this new found love came from because when I was younger I hated it. Now it clears my head and helps to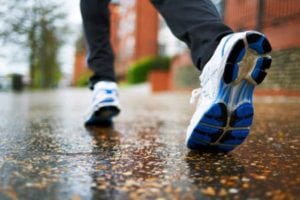 refocus me. I think about my day, my decisions or sometimes I just tune out for 15 minutes. That's it. Just 15 minutes helps me. You don't have to run. Dance it out, stretch, do sets of jumping jacks and push-ups – do what you like to do, but just do it. If you are a stay at home mom, I know it can be difficult to find time for this with kids running around. Try it at nap time. If you're a working mom (like me), you might feel guilty you are taking more time away from the kids. I swear though, the endorphins work so well for tired mommies.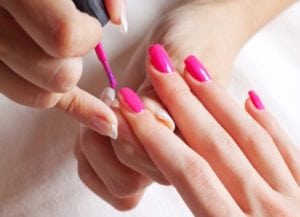 Outside Of The House Pampering: This could be getting your nails done, getting a massage, getting your hair done or even getting your make-up done at the beauty counter. Try to do this for yourself at least once a month. You deserve it. Go by yourself and just veg out with your thoughts. Have your partner watch the kids and return the favor the next weekend so they can get pampered too.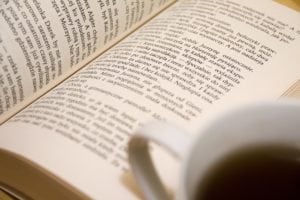 Read A Book: I've been really bad about this since returning to work, but I love to read. There is a lot to be said for getting lost in a world that isn't your own. As long as your children actually sleep once you put them to bed at night (unlike mine), grab a great novel and emerge yourself in another place, another time or even another realm.
Night Out: This can be a date night or it can be a Girls' Night Out. Just get out. Get a sitter, or have your partner hang out with the kids, and leave the house. Make time for date nights because your marriage is just as important as your children.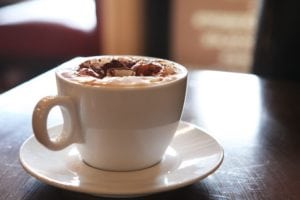 Reconnecting with your spouse, without someone else demanding your attention, is critical to having a good marriage. For a girls' night, you don't have to do anything crazy. You can do something simple. Go for coffee and just talk without being interrupted. Drink your coffee while it's still hot. You know, live it up!
I know these are basic. They are all things that seem easy. It seems like you should be able to make these happen. But we all know they are harder to do than you think. It's hard to make room for you on the To-Do List when you're the one taking care of everyone else, but just make sure you add yourself in there somewhere. Don't lose yourself in checking off items on your list. Don't forget to live while you're making everyone else's life work.
– I received a free necklace from Georgia's Jewelry Box in exchange for writing a review on the blog. All thoughts and opinions are my own.