I've had an insane two weeks at work. I've been leaving before 7 a.m., returning around 8 p.m. and eating horribly in between. Today was my last planned crazy day at the office and I'm in need of some serious relaxation time. My brain is exhausted, my body is craving fresh fruit and my soul just needs a bit of a recharge.
This weekend (and next week while I have a few days off), I have some plans to decompress and re-center myself so I feel a bit more like me again instead of an employee on autopilot. In case you have weeks like this too, I thought I would share the tactics on how to relax after a crazy week at work or at home.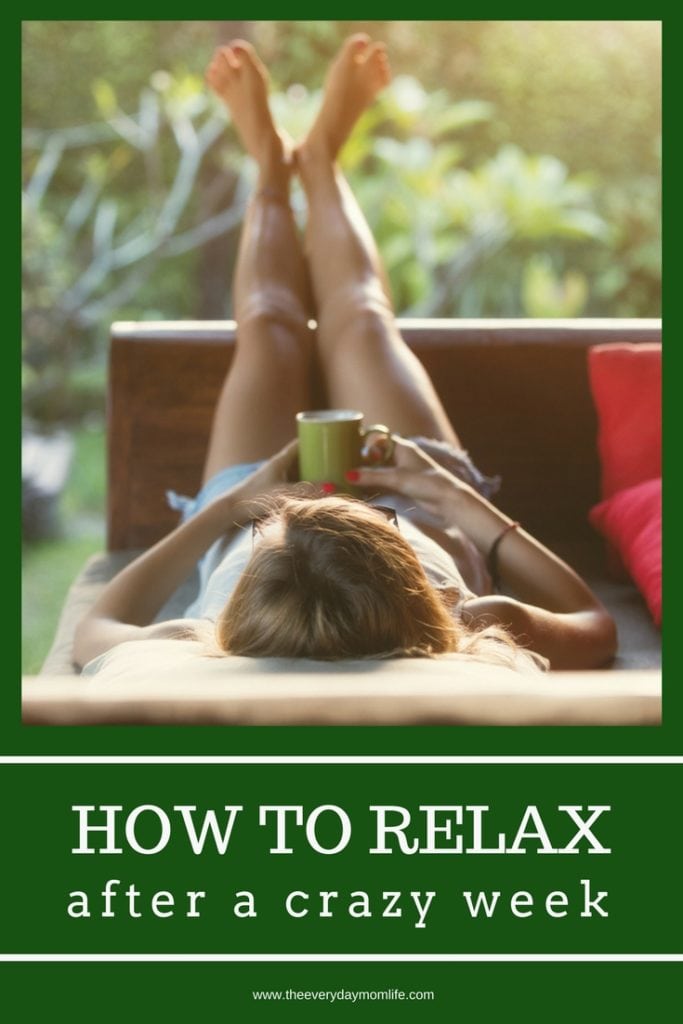 Disconnect
Close the computer. Don't check your email. Leave your phone charging on the nightstand as you go about your day untethered. Let work go for the weekend. It will all be there when you get back. It can wait a little longer so you can focus on you and the most important things in your life.
Quality Time With The Kids
Speaking of the most important "things", make sure you break away and get in some quality time with the kids. I honestly can't wait to do this. I have missed them so much. I feel like I was actually traveling for work versus commuting between the meeting venue and home every day. This weekend I am planning a day at my aunt's cabin on a small lake to just spend some time outside with each other. I'm taking the kids by myself and leaving my husband at home. He has been the primary caregiver this week so he could use the break and alone time. I'm imagining watching them play by the water and relaxing. In reality, they are 1 and 4 so at the very least, I'll be chasing the 1-year-old. I don't even care though. Running after him is a much better way to spend the day than sitting in a stuffy conference room or walking a convention hall where the sun never shines.
Quality Time With Your Significant Other
Or, you could send the kids off to grandma's and spend sometime with your significant other. It's amazing how busy life can get and you can feel like you're going through the motions with your relationship instead of participating in one. Go to a restaurant, put your phones away and talk. Hold hands, reconnect and do whatever you need to do to feel like your relationship with your partner is the most important one. Challenge yourselves to talk about something other than work and the kids. Click here for some fun date ideas. 
Quiet Time
In direct contrast to that quality time in No. 2, I find that I also need quiet time. During this time, you don't necessarily need to do anything. In fact, if you can get to a spot where there is no T.V., no radio, no children screaming or dogs barking; just be. Soak in the silence. Something magical happens when you are able to achieve real silence.
Close Your Eyes and Breathe
While you're doing No. 3, try to just close your eyes and breathe. I find that this helps my body to further relax and it is actually a good way to fall asleep.



Exercise
My body feels like blah. Serious confession. I'm disappointed in myself this month. I love to exercise. Like LOVE it. I love what it does for my body and my mind. It instantly makes me feel better. I don't get to do it as much as I would like to and I certainly haven't done it much this month at all. I plan on exercising all weekend and August is going to be my revival month.
Cook
I really enjoy cooking. If you don't then feel free to scratch this one off the list, but I honestly get lost in being able to create something yummy. My plans for this weekend involve keeping it fresh and keeping the portions appropriate so I don't completely negate No. 5 up there.
Organize
After being out of the loop at home, the house is sort of a disaster. My husband does a great job keeping up with doing things like the dishes, but when there are toys all over the place it makes me a little twitchy. The same thing with clothing in the closet. I have a giant need to feel like the space I'm in is my happy place and, in my head, that place never looks like the disaster that is waiting for me in my family room. Once it is re-organized, I feel accomplished and I feel like I can fully relax.
Read
It's been ages since I've gotten lost in a good book, but this is a big one for me. There is no easier way to be transported from your world and into someone else's when you curl up with a good book. Check out this post if you need some suggestions.
Color
You've probably seen the adult coloring books that have exploded onto store shelves in the last year or so. You may think it's something that only kids do, but it is actually been proven that coloring can help reduce stress. You don't need to have an adult coloring book to do this either. Color with your kids and sneak in some of the quality time while you de-stress and bond.




Pamper Yourself
At one point in my life, before kids and before marriage, I had a great job and was able to get a massage and a manicure once a week. Those days are long gone. My last massage was over a year ago and my last manicure was two months ago. If I can squeeze this in, I love to pamper myself. It can be part of my quiet time, the closing-my-eyes-and-breathing time and it makes me feel like I'm really doing something just for me again, which I believe is needed and important for mental and emotional health. Even if you all you can do is break away to take a bath or an extra long shower, light some candles and soak up the relaxation benefits. A little me-time where you do something rejuvenate yourself makes all the difference at the end of a long week.
Veg Out With A Show
I have to admit, I don't watch a lot of television anymore. There are a few shows I will record and catch up on when I feel like I need a dose of downtime though. Or, I seem to always be able to find something on HGTV, Discovery or the History Channel that can peak my interest. Like reading, this is a great way to get caught up in a story that is outside of your life. Fictional characters, fictional problems always give me a little bit of freedom from my own.
How do you like to decompress after a crazy week? What would you add to the list?
For more mom tips, click here. For more health tips, click here.