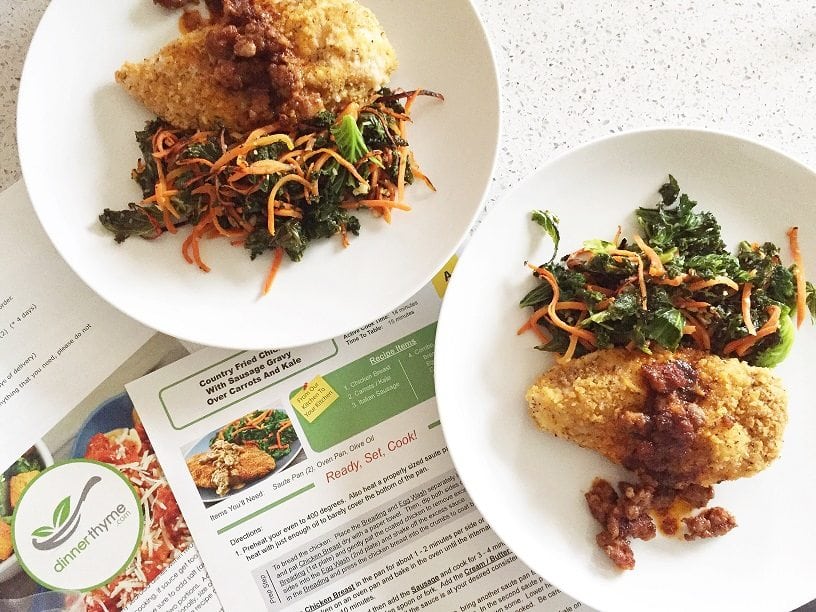 Even though I work from home part-time now weeknight meals can still be hectic and difficult for me. Meal prep time always comes up when my son is starting to wind down for the day and just wants to be loved. He often ends up clinging to my leg while I'm chopping things in the kitchen. It's far from ideal.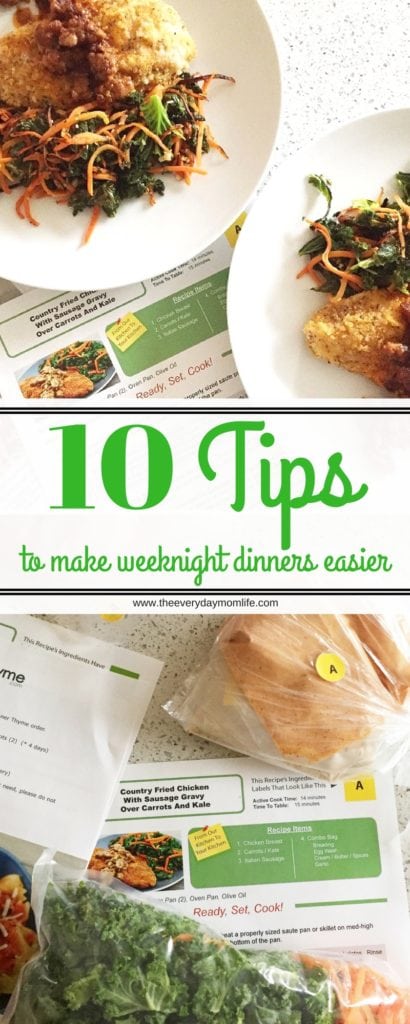 My husband and daughter rush in through the door anywhere from 5:15 to 6 p.m. and are starving. They both want food right away and if I don't have dinner ready to go they both start looking for snacks.
So that I can be efficient, and attempt to appease all members of the family, I've developed a few practices that have helped me make weeknight dinners run more smoothly and feel less stressful. These work for us now and worked for us when I was working full-time outside of our home. I hope they work for you too!
Meal plan ahead of time and communicate it.
Before I go grocery shopping I always write out, on paper what our meals will be for the week. This helps me stay organized and focused when shopping and also helps me to see my dinner "plan" for the week. Once I have my plan in place, I share it with my husband and we write it on a chalk board we have in the hallway. When I was working he would often get home before me and have to start dinner prep, but since I am the one to grocery shop he often wouldn't know what dinner was actually supposed to be. This remedied the situation for us and has actually helped me to feel like we are more of a team.
Meal prep on Sunday.
I'm going to be honest. I am bad at this. I know it's all the rage right now but I'm just not good at being that organized when it comes to prepping entire meals. However, I have taken some positive, baby steps here. For items like veggies and lettuce, I chop them after I go grocery shopping and store them in the fridge for the weeknight meals. This especially helps us to eat more salads throughout the week and can take some of the prep time out of preparing weeknight meals.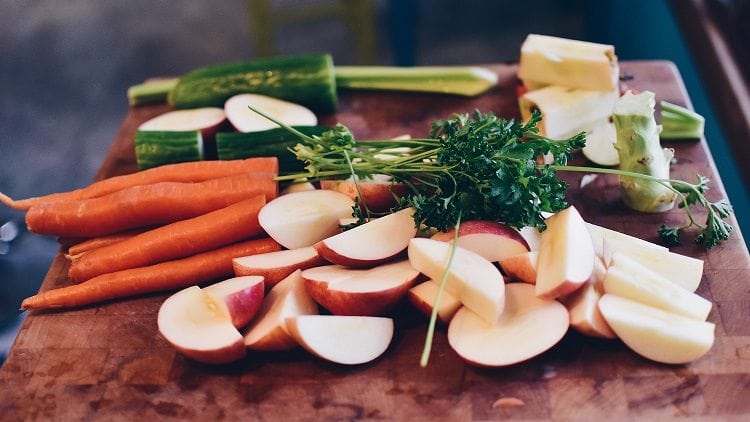 Buy frozen veggies or pre-washed and bagged.
I know that everyone wants fresh nowadays, and believe me I try to eat it as much as possible too, but frozen can work really well during the week. I also really love the pre-washed, pre-cut veggies that steam in a bag. These are a staple in our house during the week. When you want to make sure you get in your greens, I love these two ways I can get our veggies in without all the washing and chopping time involved.
Use a food delivery service to supplement a few nights.
We've tried a few meals delivery services in the past and most recently we partnered with Dinner Thyme to try their service. We really enjoyed that the recipes were things our daughter would eat and that the vegetables were pre-cut so we didn't waste our time doing that when there is sometimes just an hour and a half between the time everyone gets home and the time the kids go to bed. I also loved how they lettered their bags for each meal so we were able to easily tell which ingredients we needed that night.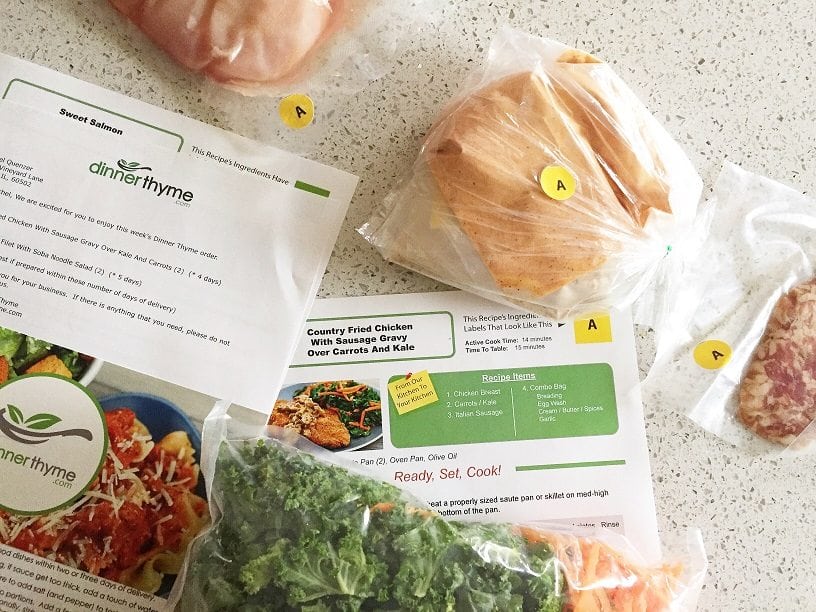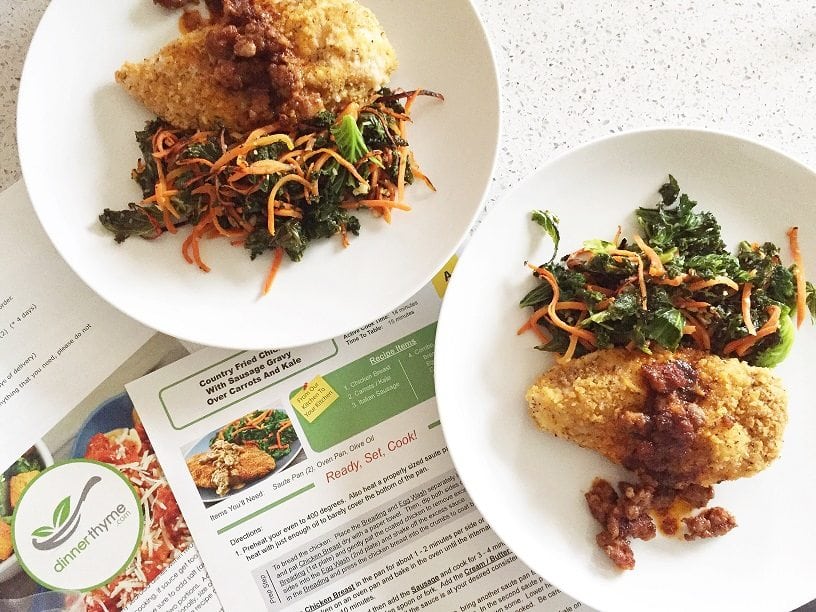 One sheet or one pot.
I feel like I've recently re-discoverer my love for sheet pan meals and have started using these at least once week. A lot of these meals are often meals you can make in 30 minutes or less and are chocked full of vegetables and good proteins. The added bonus they provide is that there isn't a lot of clean up afterwards. You are about to see more of these on the blog soon. One pot meals also have a similar benefit.
Make pressure cooker cooking an option.
If you don't have a pressure cooker, consider it. I received this one two Christmases ago and love it for making meals in a timely manner. It can cook frozen chicken in 20 minutes and give you anything from desserts to sides to main dish meals. You have to allow time for the pot to come to pressure so I don't recommend using it to make things with a lot of liquid during the week. Soup is a good example of something that will take a long time to come to pressure.
Fall in love with crock pot cooking.
My crock pot is my weeknight dinner time BFF. Even now with me being home I still rely on it for its ease of use and convenience. It's perfect to set in the morning and forget about again until dinner time.
Plan for leftovers and re-purpose them.
I recently started making a meal a week that we can use as leftovers. It is usually a crock pot meal and then I re-purpose the meat. For instance, I used my Peanut Chicken Crock Pot Recipe on Night 1 and served it over cauliflower rice. On Night 2, I made Thai Peanut Chicken Flatbread. I really love doing this and you are going to start seeing more of these paired meals on the blog soon.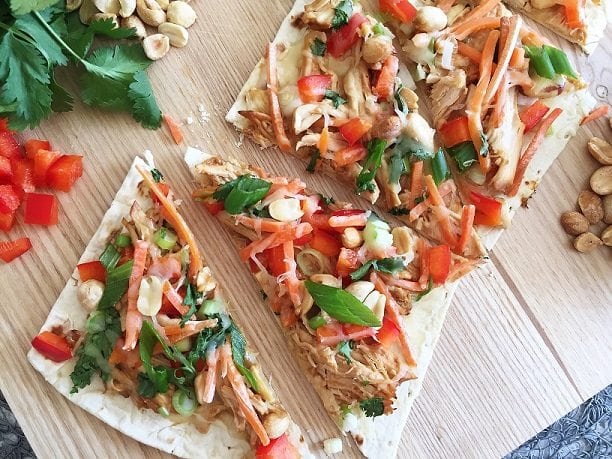 Use raw foods to round out meals.
If you feel like you are missing out on some vegetables or a serving of fruit, slice some up and put it on the table. This will save you any cook time and I find that usually when vegetables are available, my husband and daughter will eat more of them. I love to do this with carrots, peppers, tomatoes and fruits.
Be realistic about what you can cook in the amount of time you have.
This might actually be the most important tip. When you are planning for weeknight meals it is imperative that you are realistic. You cannot make a meal that takes an hour to cook after work when you have bedtimes to attend to. I am sometimes bad about this because I get wrapped up in a love of creating with food and then before I know it its 6:15 p.m. This is my family's must-eat-or-will-rage time. Instead of getting to this point I've focused on using all the tips above to keep meal-making at a half hour or less so we can be done with dinner and unwinding no later than 6:30.
How do you handle weeknight dinners? Any other tips to share?