I love a good bowl of soup. Better yet, I love a good bowl of soup that includes ramen noodles!
I grew up on ramen. It was my lunch of choice as a kid and the obviously throughout college it was a staple in life. While it's certainly not something I eat everyday, it still holds a special place in my stomach. With the recent addition of gourmet ramen bowl recipes to the foodie scene, I feel like ramen has grown up with me. Instead of just a bowl of soup and noodles, it's really become more about a dish they can span a lifetime and cultures.
There is some disagreement about the origins of ramen noodles – whether the noodles were originally from Japan or China – but the instant noodles were invented in Japan in 1958 according to the Maruchan Ramen website.
The name "ramen" is the Japanese pronunciation of Chinese word and in a Japanese poll, the ramen noodles were named the greatest invention of the 20th century. You can debate whether that's true or not, but I've never met anyone that didn't like ramen, including my picky kids.
In an effort to make a dinner everyone would enjoy, I decided to make my own ramen bowl at home and make a meal everyone would love by allowing them to customize it with a ramen bar. I was able to make this in 15 minutes so it made it perfect for a workweek night. Check out the delicious results below.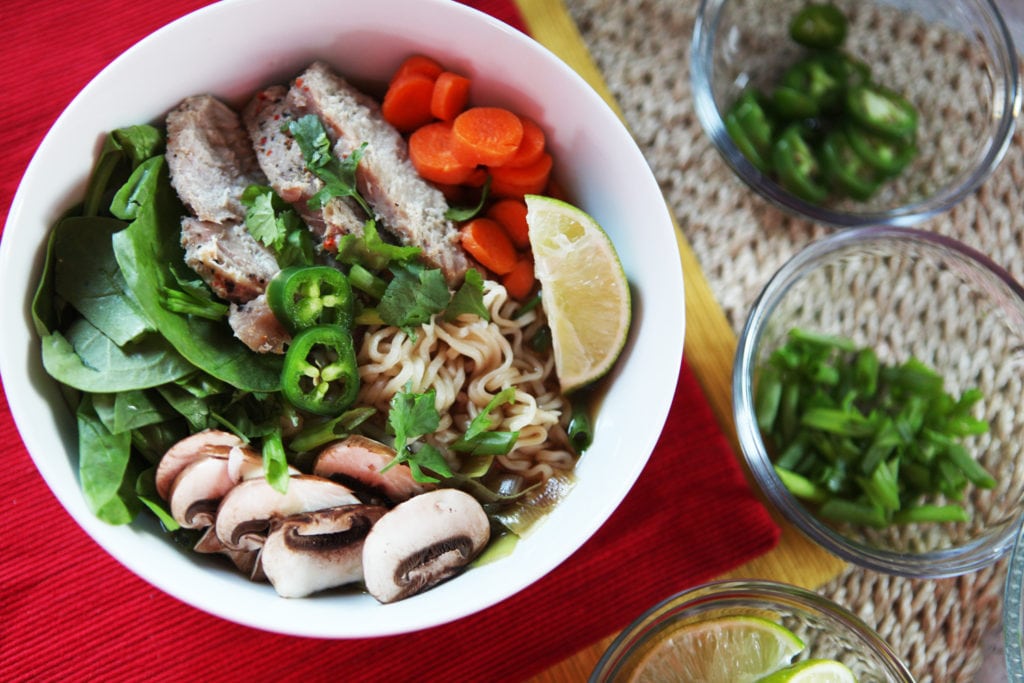 Ramen Noodle Bowl Recipe
Ingredients for Soup Base Recipe (Serves 3)
6 oz. ramen noodles of your choice. Usually this is 2 packages.
2, 14.5 oz. cans of beef broth
1 cup of pasta water
3 leeks, chopped
4 green onions, white bottoms only. Reserve tops.
Ingredients for Ramen Bar
2 cups of spinach
2 carrots, sliced
2 Tbsp. of vinegar
2 jalapeno peppers, sliced
2 limes, quartered
½ cup of cremini mushrooms, sliced
Small bunch of cilantro
Green onion tops
Protein of your choice. I used leftover pork roast slices. You can certainly use chicken or beef. I recommend using leftovers so you don't feel like you are making two meals for this one.

Steps
1. Add the cans of beef broth to a pot and bring to a boil.
2. Wash all your vegetables thoroughly (especially the spinach) and cut. Add them to individual bowls.
3. Add the vinegar to your sliced carrots in a bowl and coat.
4. Once beef broth is boiling add your chopped leeks and the white bottom parts of the green onions.
5. Cook ramen pasta. I cooked mine in the microwave, one package at a time. Each took 5 minutes to get the noodles cooked perfectly.
6. Reserve one cup of water that the pasta was cooked in and add it to your beef broth soup. No need to keep the rest.
7. Re-heat your protien of choice. I popped our's in the microwave for short spurts of 30 seconds at a time. I didn't want to dry it out.
8. Add your noodles to your bowls and spoon broth over them. A lot of people like to eat their ramen noodles without a lot of broth, but I love a good broth so I add more and I kept adding after the photos were taken.
9. Set out toppings and let everyone add them as they desire for their own custom ramen bowls!
I will say that my daughter pretty much topped her bowl with nothing and just ate it as regular soup and noodles. My son only ate the noodles since he is just 1. If you have school aged children, this should be a big hit in your house and it was so easy that they could even help you prepare some of it.
Happy Eating, friends! If you're also a fan of soup, check out this slow simmer vegetable soup, this roasted cauliflower soup and this carrot soup.